General Information
Duration: 11 days/10 nights
Date: No fixed, up to your decision
Start/End: Hanoi/Hanoi
Tour Route: Hanoi – Mai Chau – Nghia Lo – Mu Cang Chai – Sapa – Fansipan Peak – Bac Ha – Ha Giang – Quan Ba – Yen Minh – Lung Cu – Dong Van – Ma Pi Leng Pass – Ba Be Lake
Highlights: Luong Son Market, Ban Lake, Lac Village, Cum Village, Xa Linh Rouge, Hang Kia Village, Muong Lo, Khau Pha Pass, Tu Le Village, Nga Ba Khin, Kim Noi Village, O Quy Ho Pass, Indochina Summit – Fansipan Mountain, Silver Waterfall, Heaven Gate in Quan Ba, Vuong Chi Sinh Ancient House, Puong Cave, Dau Dang Waterfall, Pac Ngoi Village
Tour Customizable: Definitely! (Tell us your specific requirements in the inquiry form)
Guides: Local Guide (English Speaking Guide, Other Languages depend on your Request)
Tour Type: Adventure
Tour Categories: Vietnam Adventure Tour Packages 
Active Level: Moderate
Transportation: Private first-class air-conditioned motor coach
Accommodation: Listed below or equivalent. Rooms with private bath or shower, hotel taxes, porterage, tips, and service charges
Brief Itinerary
Day 1: Hanoi – Mai Chau – Mai Hich (L, D)
Day 2: Mai Hich – Xa Linh – Hang Kia – Moc Chau (B, L, D)
Day 3: Moc Chau – Phu Yen – Nghia Lo (B, L, D)
Day 4: Nghia Lo –Tu Le – Mu Cang Chai (B, L, D)
Day 5: Mu Cang Chai – Than Uyen – Sapa – Cat Cat village (B, L)
Day 6: Sapa – Tram Ton – 2800m (B, L, D)
Day 7: 2800m – the top of Fansipan – Tram Ton – Sapa (B, L)
Day 8: Sapa- Bac Ha visit – Ha Giang (B, L)
Day 9: Ha Giang – Quan Ba – Yen Minh – Lung Cu – Dong Van (B, L)
Day 10: Dong Van – Ma Pi Leng Pass – Meo Vac – Ba Be Lake (B, L)
Day 11: Ba Be Lake – Hanoi (B, L)
Day 1: Hanoi – Mai Chau – Mai Hich (L, D)
This morning, we take a scenic drive to Mai Chau Valley (Hoa Binh Province) – one of the closest attractions to Hanoi where we can find a truly rural life of ethnic minorities. During the drive, we stop for visit and take photos at some verdant tea fields, Luong Son Market, and ethnic villages with their houses on stilts. In the early afternoon, we arrive at Mai Chau and then have lunch with a Thai family in Lac Village.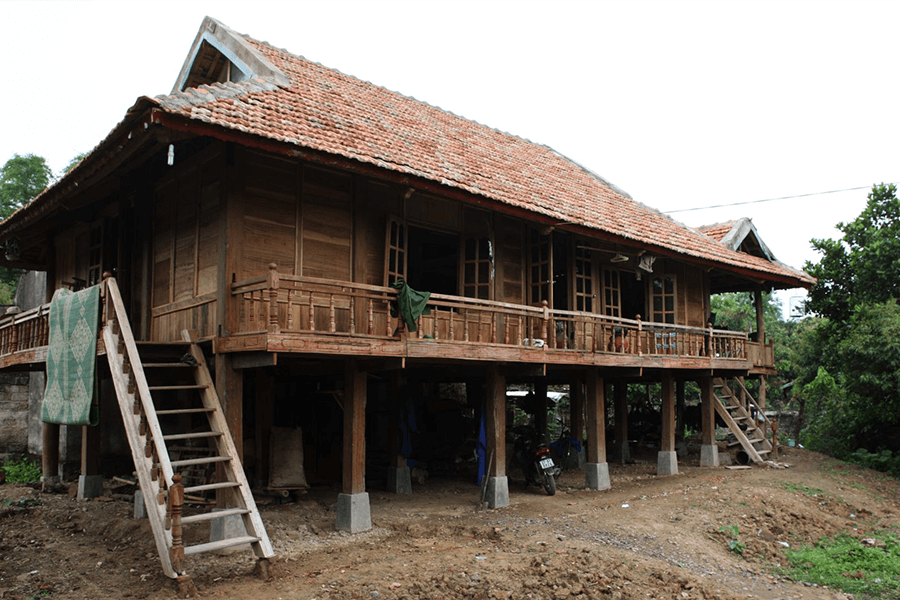 After taking a short rest, we visit Ban Lake before driving about 8km from Lac Village to Cum Village. From here, trekking through villages and the foot of mountains, we will see the habitation of Thai people for over a thousand years. Next, we walk to Mai Hich Village within 2 hours to marvel at a majestic view of mountains and the wide cultivated valley of rice and vegetables. At noon, we check into a wooden house of stilts and then prepare dinner with the help of localhost. Enjoy our meal while having an informal talk with all members of the family. Overnight in Mai Hich home-stay
FYI: Homestay is equipped adequately with mattresses, a mosquito net, and a hot water shower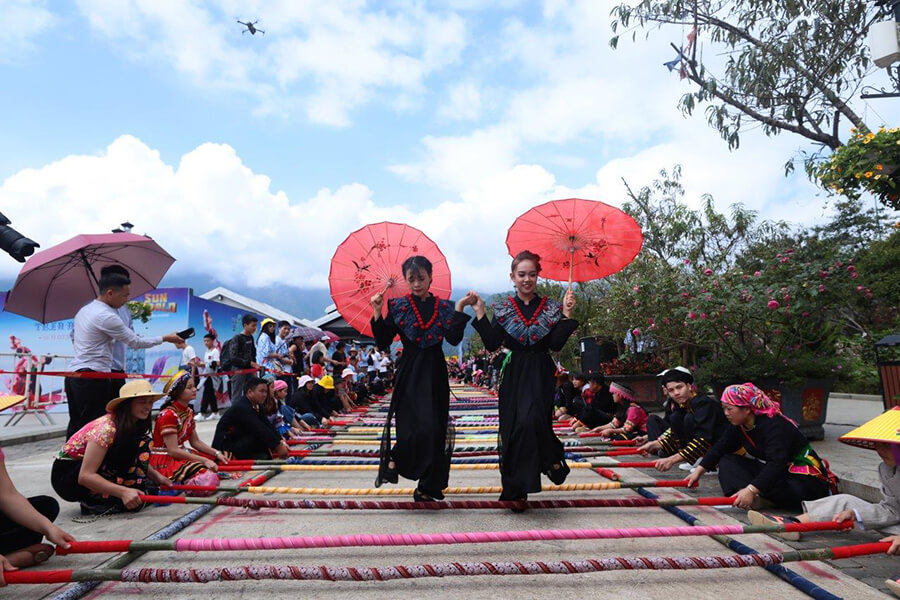 Day 2: Mai Hich – Xa Linh – Hang Kia – Moc Chau (B, L, D)
Morning guided sightseeing in some H' mong villages in Xa Linh Rouge, next to a mountain pass on Highway 6. Then, we take trekking in 3 hours to Hang Kia Village located in a valley and mostly settled down by H'mong people. Afterward, heading to the Northwest about more than 60km, we set our foot at Moc Chau Plateau which is famous for the cultivated and grown place of green tea and dairy cows. Enjoy our dinner at a cozy local restaurant then overnight in a hotel.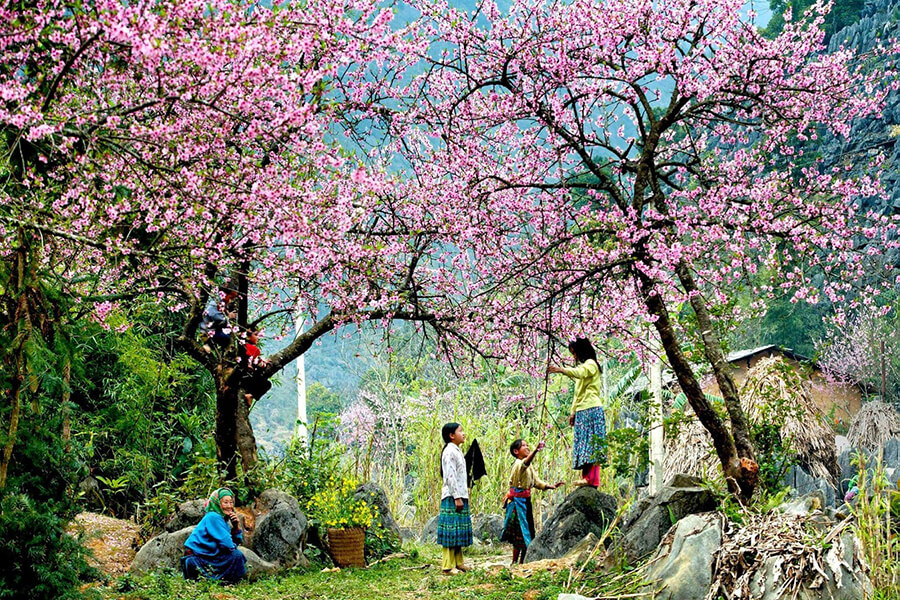 Day 3: Moc Chau – Phu Yen – Nghia Lo (B, L, D)
Itinerary today starts with the trip to Phu Yen – the oldest town of Son La Province then continue with Nghia Lo (Yen Bai Province) which is well-known for "hoa ban"- a symbolic flower of the Northwest area, Muong Lo rice, five-color sticky rice, brocade and "xòe Thái"– a traditional dance of Thai people.
After checking into a hotel in Nghia Lo, alongside the valley of Muong Lo, we will take a walk around the village to get a closer look at the daily life of residents, especially Black Thai people. Back to the hotel in Nghia Lo for dinner. Overnight here.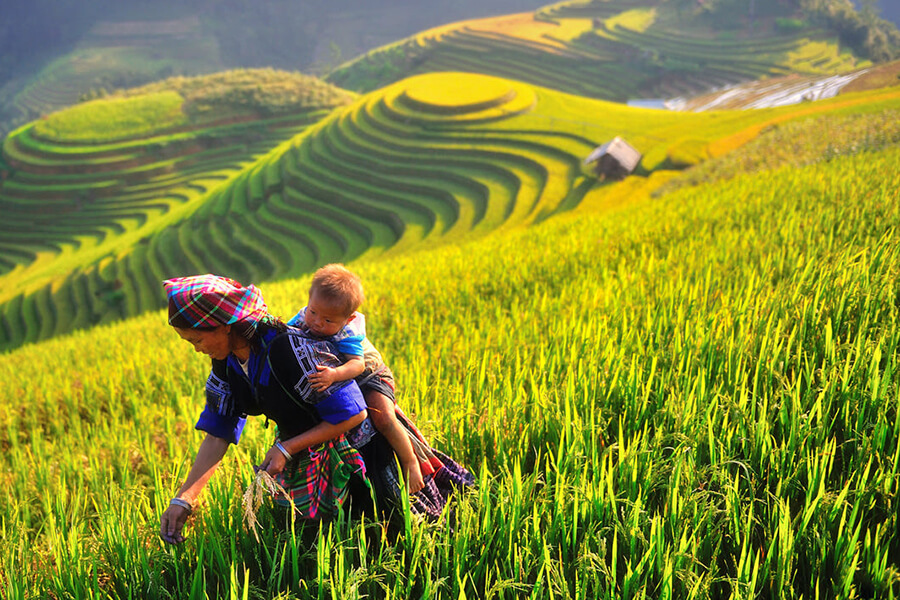 Day 4: Nghia Lo –Tu Le – Mu Cang Chai (B, L, D)
Leave Nghia Lo this morning, we take a scenic drive to Mu Cang Chai. To get to this town, we have to drive through Khau Pha Pass known as one of the four largest passes of the Northwest where we can experience the mighty landscape of mountains, forests, and enormous paddy fields. Besides, on the road, our driver will stop the car at Tu Le Village to let us rest, walk around and enjoy the scenery. Then, continue the trip with a visit to the H'mong village of Nga Ba Khin before driving more than 7km to set foot on another H' mong village of La Pan Tan. Arrive at Mu Cang Chai in the early afternoon.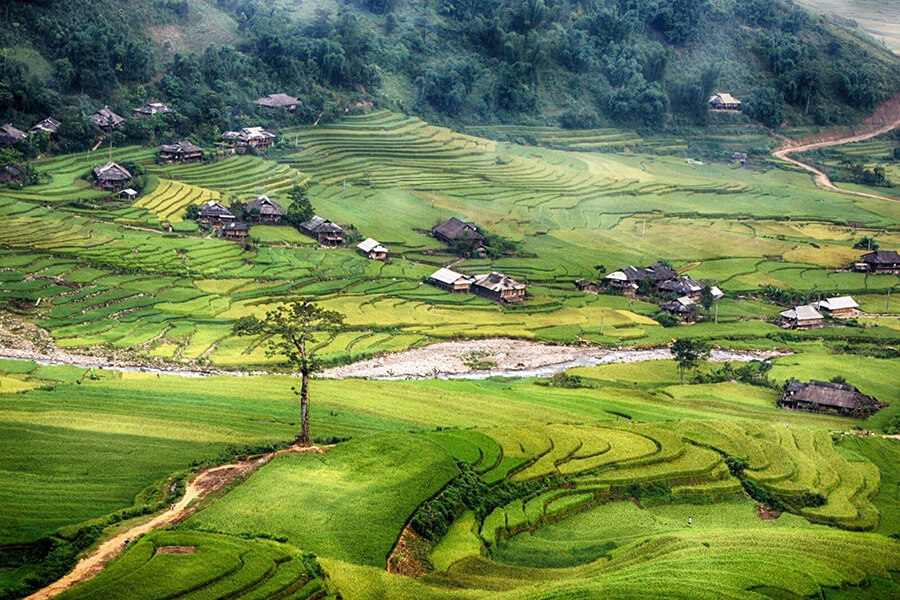 When in Mu Cang Chai, we first check into a Thai people's house and then have lunch with their family. After taking a short rest, we move to Kim Noi Village by walking. In the late afternoon, we return to our home-stay for preparing a meal with the host. Enjoy dinner and overnight here.
Day 5: Mu Cang Chai – Than Uyen – Sapa – Cat Cat village (B, L)
This morning, we shift round to the North and take 4 hours driving – Sapa is the next site in our journey. On the way, besides beautiful green tea fields in Than Uyen, visit a Thai Village with short trekking of about 2-3km. Have lunch in Than Uyen's local restaurant before continuing the trip. On the rest of the road, we can see the panoramic view from one of the highest passes of Vietnam – O Quy Ho Pass (2047m) and the Indochina Summit – Fanxipan Mountain (3143m)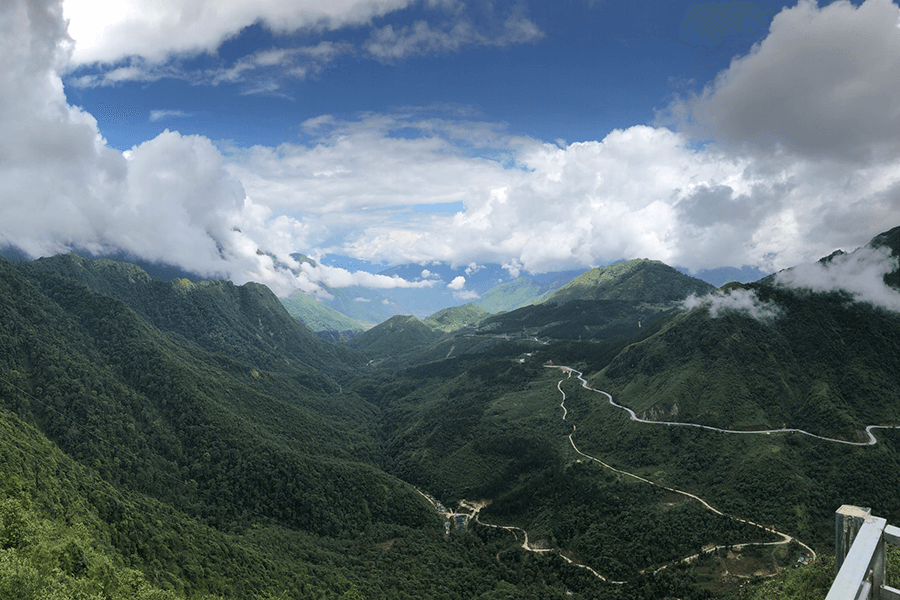 Take a short rest after arrival in Sapa, we walk down to Cat Cat Village – a living place of Black H' mong people. Here, we get deeper insights into local people's life by seeing ethnic women selling colorful brocade traditional dresses in small houses or ethnic children playing together in the front yards, etc; enjoying the fresh air and peace of the mountainous area.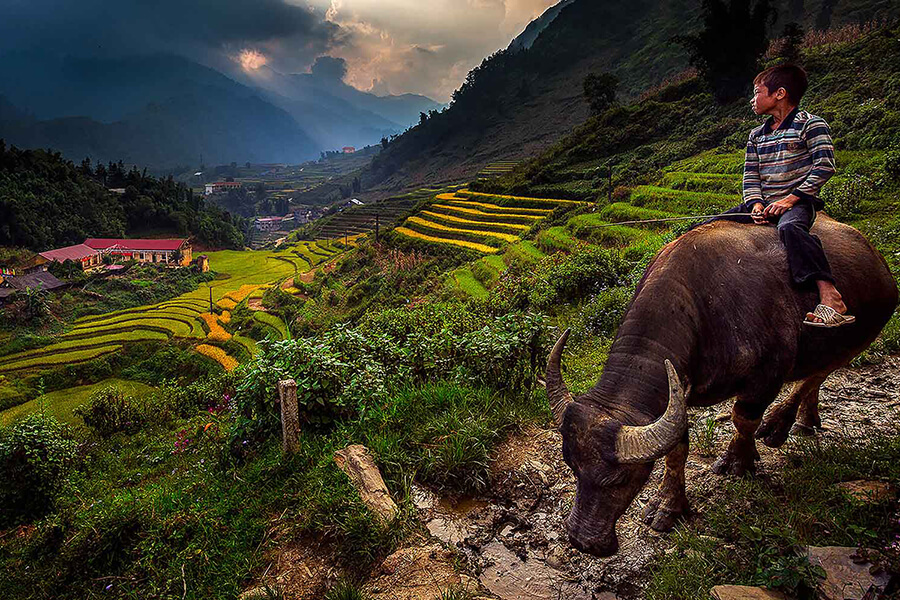 Next, we move to a hydroelectric center and a beautiful waterfall, then hear our local guide introduce its history and other related interesting stories. Back to the hotel in Sapa center when it gets dark. Enjoy our free dinner and overnight here.
Approx: 5 driving hours/ 1-hour lunch
Day 6: Sapa – Tram Ton – 2800m (B, L, D)
This morning, our driver will take us to Silver Waterfall before having breakfast. After climbing up the stairs within 20 minutes, the waterfall makes its appearance spectacularly in front of us. Then, we drive farther to Heaven Gate – a must-visit attraction of Sapa known as the highest peak of Vietnam's road. From here, we can marvel at Fansipan – the top of Indochina and mighty landscape of surrounding mountains and forests. Lunchtime will be taken place in a convenient spot in the forest.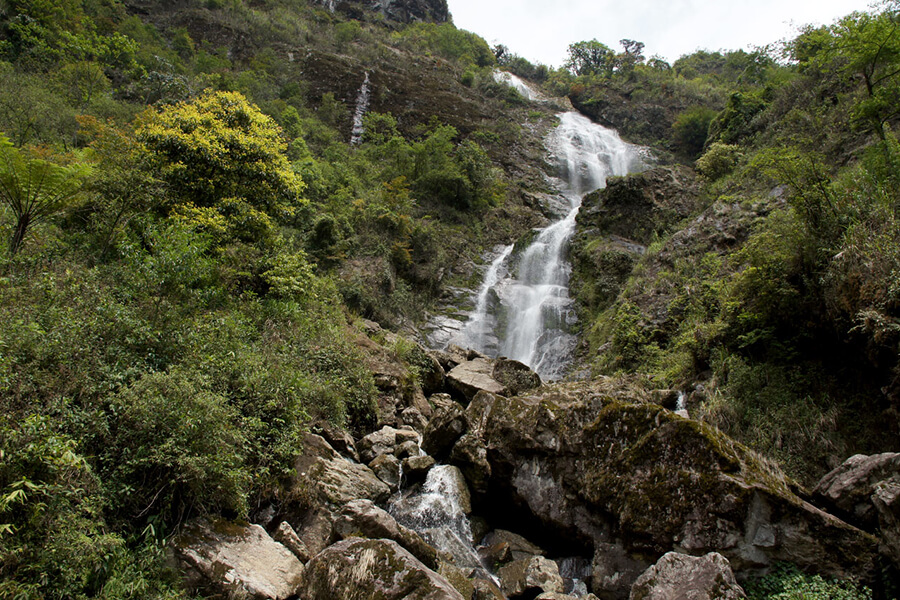 After having a break, we continue our trekking tour to the campsite and enjoy the breathtaking landscapes of Sapa and Lai Chau Province during the hike. In the late afternoon, we arrive at the campsite at 2800m ASL then rest and enjoy dinner after a long walking day.
Approx: 0,5-hour driving/ 6 hours walking/1-hour lunch.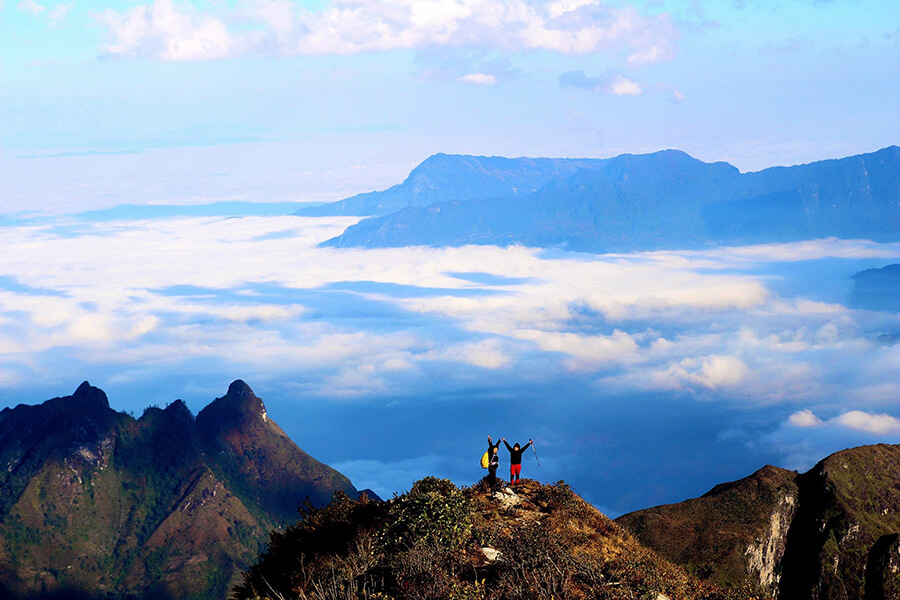 Day 7: 2800m – Fansipan Peak – Tram Ton – Sapa (B, L)
Located at the height of 2800m and known as the "Indochina Summit", trekking to the Fansipan peak will be our highlight today. Gaining victory over ourselves and enjoying the breathtaking scenery of nature are certainly the most unforgettable experiences in this journey. After a few minutes of resting, we hike down to the campsite and have lunch.
Then, following the trail and stone steps in Hoang Lien National Park, we meet our car to return to our hotel in Sapa where we can relax after a long trekking day.
Approx: 0,5 hour driving/ 7,5 hours walking/ 1 hour lunch.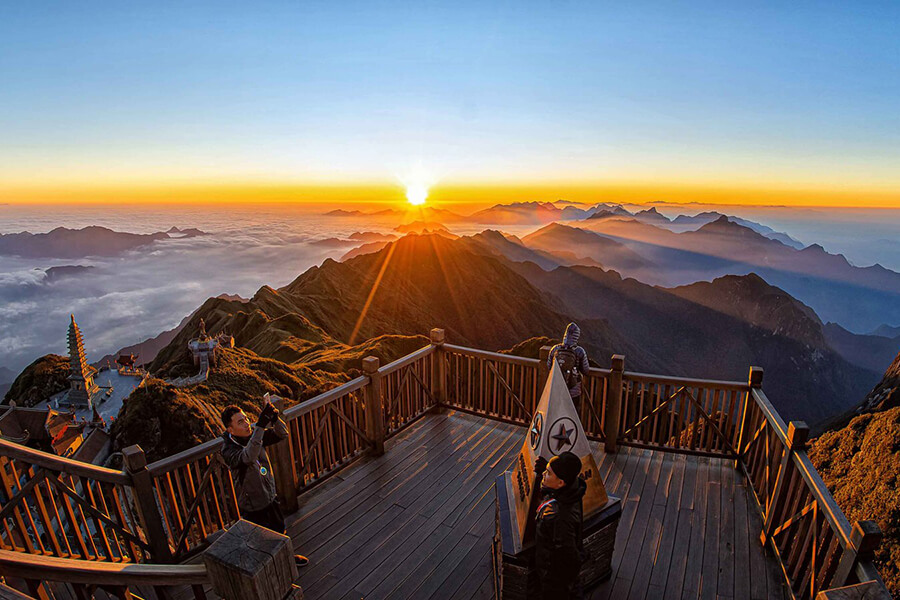 Day 8: Sapa – Bac Ha visit – Ha Giang (B, L)
If our trip falls on the weekend, we will visit Can Cau Market– a famous ethnic market in Bac Ha Town that is only taking place on Saturday morning and Sunday morning. After breakfast, our driver takes us to this town within 3 hours. Passing Bao Nhai Bridge, we set our foot in Can Cau Market and start exploring the bustling and hustling atmosphere here.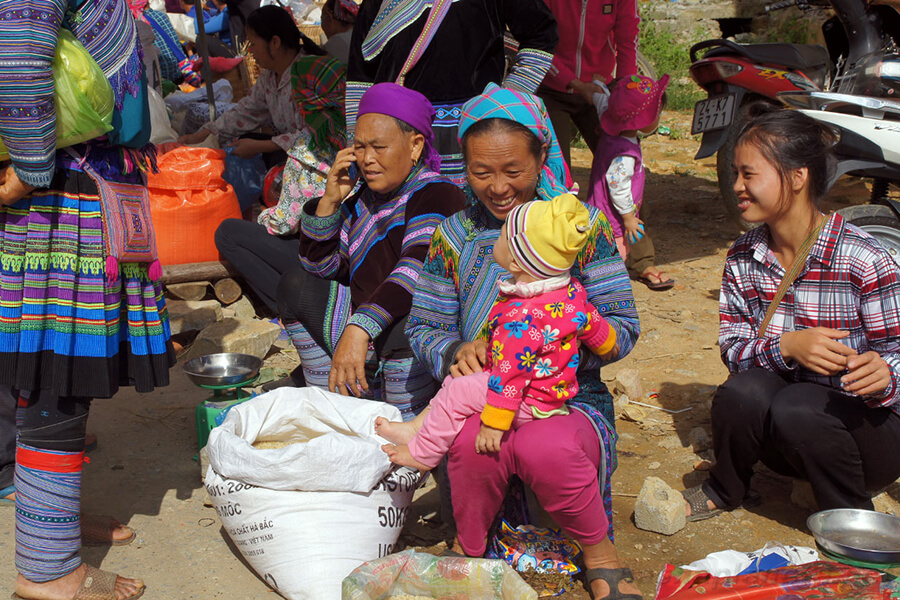 We can find various types of products and easily buy a unique souvenirs like brocade or silver items for ourselves. Transfer to Ban Pho Village – a small village of Nung and Flower H' mong people where they grow many vegetables and fruit trees, especially plums. Stroll around and witness their daily life of them before visiting a local house and tasting a kind of ethnic alcohol named corn alcohol. In the late afternoon, back to the town and check into our hotel. Overnight in Bac Ha.
Approx: 3-hour driving/ 1.5 hours walking.
Day 9: Ha Giang – Quan Ba – Yen Minh – Lung Cu – Dong Van (B, L)
Leave Bac Ha this morning, we shift the direction to Dong Van – the largest rocky plateau of Vietnam. On the way, we stop for a visit and take photos at Lung Cu Flagpole then enjoy the majestic landscape from Heaven Gate in Quan Ba before continuing climbing the chain of limestone peaks. We also visit several H' mong villages with old mud houses built in colonial style. Specially, all the house will light their lanterns at night 3 times per month.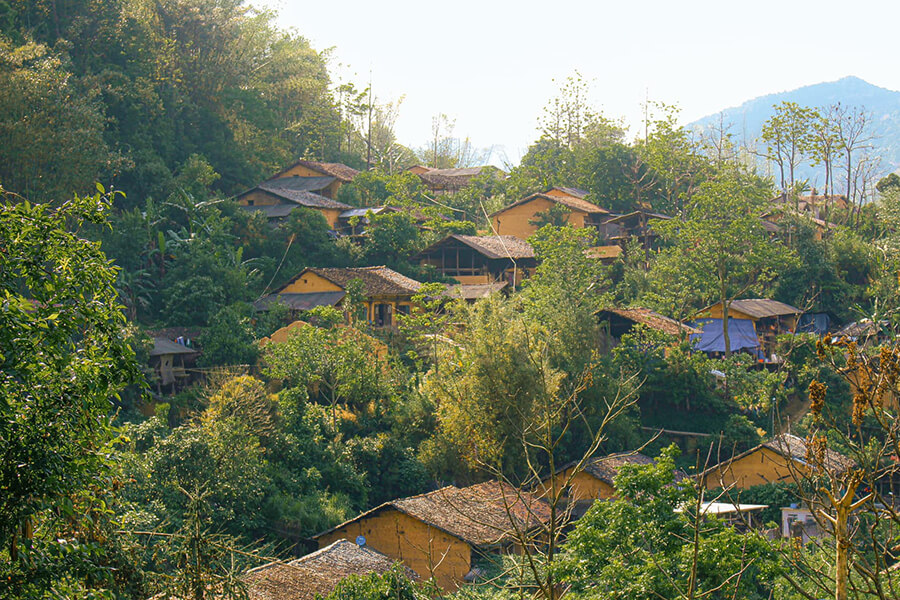 Located 12km far from Dong Van, Vuong Chi Sinh Ancient House is our next site. He was considered the King of the H'mong in Dong Van in the Indochina War. The house is a palace made from stone and wood of the Qing Dynasty in Chinese architecture style. Afterward, we back to Dong Van for dinner and rest. Overnight in a hotel.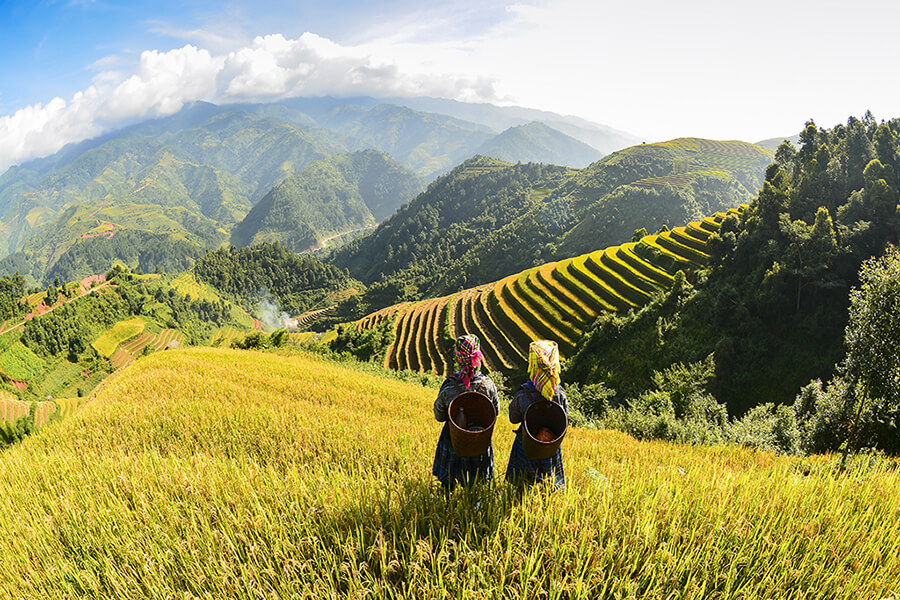 Day 10: Dong Van – Ma Pi Leng Pass – Meo Vac – Ba Be Lake (B, L)
Similar to Can Cau Market, Dong Van Ethnic Market (Ha Giang Province) is only available on weekends (Sunday). If we are lucky, we will visit it where we can buy a variety of products and ethnic items and get more insights into local people's life.
Leave the market, we drive along the Nho Que River and get amazed when witnessing the whole breathtaking scenery from the top of the most magnificent pass in Vietnam – Ma Pi Leng Pass. After 2 hours, transfer to Meo Vac to have a short break before driving to Bac Kan. In Ba Be Lake, we will enjoy the tranquil landscape and relax after a long day with the nice river view from Pac Ngoi Village. Have dinner, beer time, and overnight in a beautiful homestay.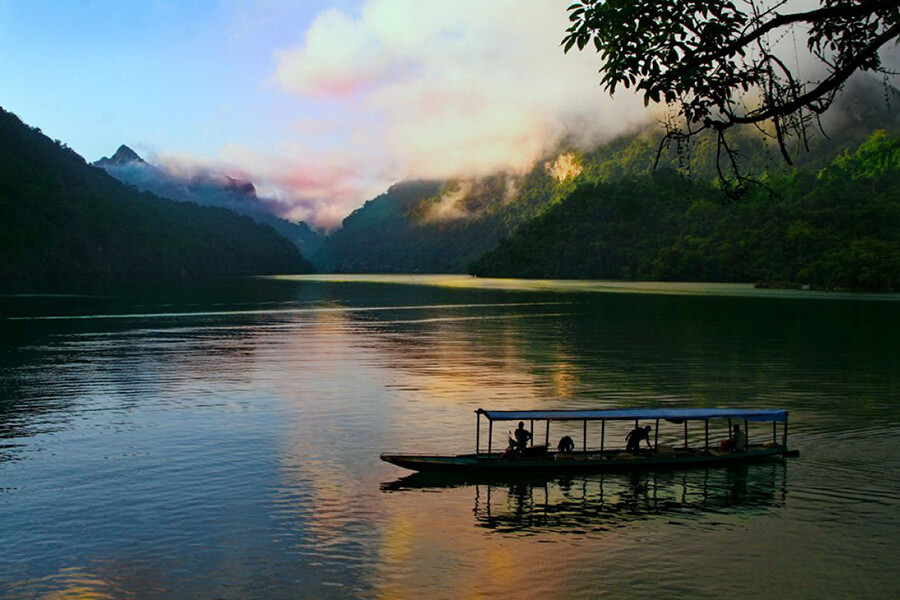 Day 11: Ba Be Lake – Hanoi (B, L)
Morning sightseeing with a local guide introduces us to Ba Be Lake – the largest natural lake in Vietnam with over 650 hecta of the area and around 8km of length. Take a boat and row it along the river, we will visit Puong Cave in Ba Be National Park before marvel at Dau Dang Waterfall. Afterward, take a stroll around it while waiting for our lunch in a local restaurant. In Pac Ngoi Village, we have a short break before preparing to go back to Hanoi. Arrive at Hanoi in the late afternoon where your holiday ends. See you soon on another Vietnam vacation package with Go Vietnam Tours!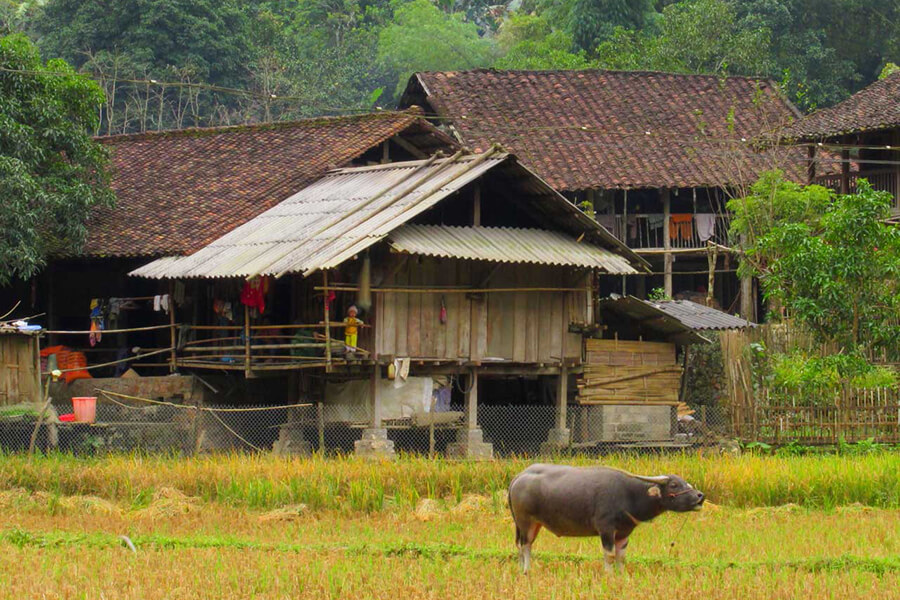 "Free Inquiry this tour or create your own trip with a travel expert"