With its striking landscape, gripping history and rich culture, Vietnam is ideal for anyone wants to find a simple life. Avoid the crowd as well as the noise of the city,  A trip to Vietnam will be an unforgettable experience in your life. Immersed yourself in the stunning views that would be the ripe terraces, the ethnic villages hide in the mist or the endless mountains, all appear in your eyes as picturesque. What are you looking for? Take your pack back, the beautiful nature is waiting for you.
General Information
Tour Route:  Hanoi – Mu Cang Chai – Sapa – Ninh Binh – Hanoi
Duration: 9 Days/ 8 nights
Start/ End: Hanoi/ Hanoi
Tour Type: Discovery and Experience
Tour Customizable: Definitely!
Guide: Local English Speaking Guide
Transportation: Private Transportation by air-conditioned car or motorbike
Brief Itinerary
Day 1: Hanoi – Tonkin Show
Day 2: Hanoi – Mu Cang Chai
Day 3: Hang Co Vua Village – Hua Khat Village
Day 4: Exploring the hill tribe – Drive to Sapa
Day 5: Sapa Trekking
Day 6: Sapa – Cat Cat Village
Day 7: Sapa – Fansipan by cable car – Drive back to Hanoi
Day 8: Hanoi – Ninh Binh –Tam Coc – Hang Mua Cave – Biking to Thung Nham 
Day 1: Hanoi Arrival – Tonkin Show (D)
Welcome to Vietnam! As soon as you set your foot in Vietnam, our tour guide and driver will be awaiting you. Then, transfer you to your hotel in Hanoi
Operated only Tuesday, Thursday, and Saturday, The Quintessence of Tonkin Show is one of the most interesting shows in Hanoi at this stage. The Show lasts from 7.30 PM to 8.30 PM and draws inspiration from the spiritual history of the nearby Thay Pagoda telling the story of the pagoda's founding by venerable monk Tu Dao Hanh. The show is made by hundreds of performers, with an interactive stage, state-of-the-art technology, and a stunning setting too. Tokin's show has become an unmissable highlight of any trip to Hanoi.
Note: If your tours are on Monday, Wednesday, Friday, or Sunday, the Water Puppet Show is also an ideal suggestion.
Day 2: Hanoi – Drive to Mu Cang Chai (L, D)
Wake up early with the traditional breakfast, ready for your Vietnam adventure tour. We head you to Mu Cang Chai which is known as one of the most landscapes for an adventure tour in the North of Vietnam with the ripe Terrance. Through the pane of glass, you will see how Vietnam beautiful is! With the devious path around the mountain, the landscape loomed out of the fog.
Arrive at noontime, have lunch at the restaurant.
This afternoon is time to wander around and villages nearby the resort. Then, go to the top of the Khau Pha pass. Don't forget to bring your camera if you don't want to miss the specular landscapes. Continue on the trip, get on the bus and move to the Mam Xoi hill area. In the late afternoon, back to your hotel in Mu Cang Chai.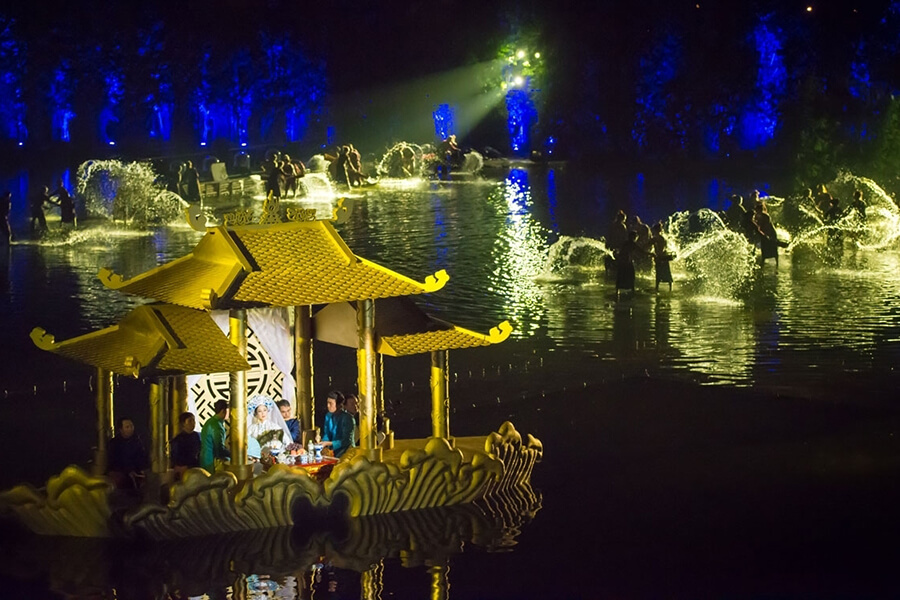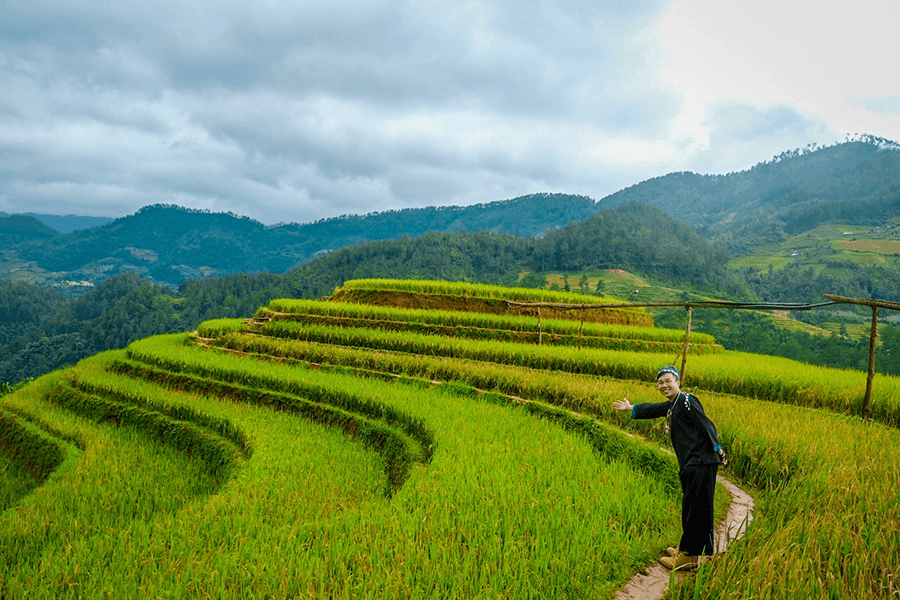 Day 3: Hang Co Vua Village to Hua Khat Village (B, L, D)
Wake you up by the sound of birds, enjoy the fresh air in the morning and have a great breakfast before walking from the small village of H'mong which is named Hang Co Vua. Follow the terraces fields and conquer the pine forest, and enjoy the fresh air cool in the middle of nature and mountains will make you full of energy. Along with the small road in the forest, you will have the opportunity to look at the forest orchid flowers, hear the birds singing, and the occasional squirrel in a tree, which will make you relaxed more than ever. After 2 hours walk, you will encounter villages where people Hua Khat ethnic minority Hmong live, where you'll discover extremely simple lives and many wild characters. Although there is a language barrier, it seems that there is no distance between you and the locals. Because they are friendly and always welcome any guests to visit their home.
In the afternoon, after lunch, you continue to go to Cai Dong – La Khat Village and enjoy the picturesque scenery of Mu Cang Chai where the beautiful scene and simple life of the Hmong people are the highlights of your first day. Overnight at Ecolodge.
Day 4: Exploring the hill tribe – Drive to Sapa (B, L, D)
Good morning! Today we depart for a visit to the Thai village. From the Ecolodge, you will visit the Hmong villages where you will have experience as a local in the North of Vietnam. Then you walk for 2 hours on the trail, it is also the border between two provinces of Yen Bai and Son La. Standing on the trail, you watch the spectacular terraced fields in Ngoc Chien valley. Immerse yourself in the beautiful scene here, which is considered an ideal destination for you to take a lot of pictures. Standing down from above, you will be startled and ask yourself is this work of man or god. Continue the trip, through the pine forest, and down the valley, you will discover the life of the Thai minority. You also have an experience at the stilts located along the.
Enjoy the lunch with the locals. Take a rest, and then you have time to go through the small streets in the village to interact with the local's people.
Back to your hotel for checking out and then move to Sapa.
Overnight in Sapa.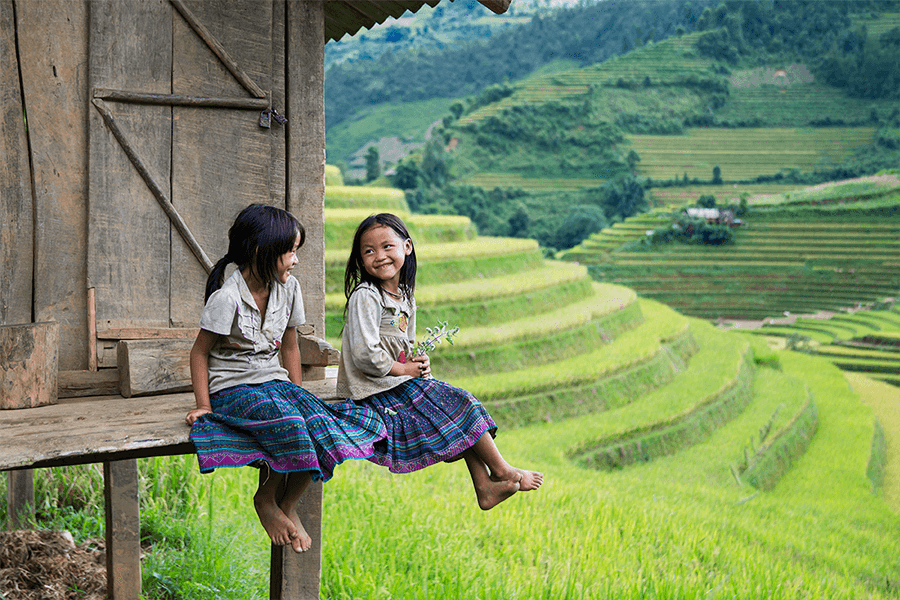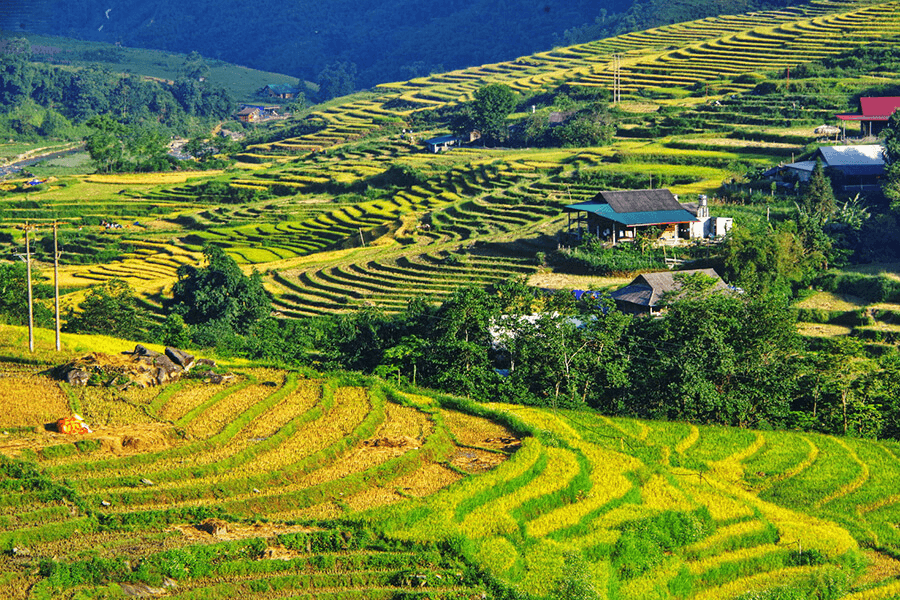 Day 5: Sapa Trekking (B, L, D)
You will be greeted by the local tour guide who will give a brief introduction about the whole tour. After that, the trekking expedition starts. Along with the main road, onto hilly mountainous trails, you will be led to lush vegetation, pine forest, and fresh air. Matra is the newly added location in a series of villages in Sapa that visitors can go to. It is about 5km from the town of Sapa, here is the home of over 50 households of the Thai People. Ma Tra village has restored the traditional flax weaving loom, forging tools, and carved silver production as part of tourism. After 3h walks from Matra, you will then reach Taphin village where the Red Dao and H'mong reside. With this mix of ethnicity, the culture in this village is rather exciting and colorful. Lunch will be served on the way to a local family.
It's your time to visit the unique caves in the Taphin area. This cave system is small and meandering, leading in all different directions but will eventually lead you to one point. The village also has an old monastery built during the French colonial period. There is also an arts and crafts house displaying and selling authentic jewelry made by the locals. In the late afternoon, you will take your car back to the town.
Day 6: Sapa – Cat Cat Village (B, L, D)
Met up at your hotel in Sapa with a local guide and driver for a short transfer to Cat Cat village. After a couple of minutes, you follow steps going downhill to Cat Cat village. On the way, you will see a waterfall and a hydroelectric station before continuing the trek on a dirt trail through rice paddy terraces. Pass through the spectacular scenery while walking along a narrow river, which will head you toward Y Linh Ho village of the Black Hmong minority.
After lunch, the Muong Hoa valley will be the next station in your journey. A visit to Lao Chai village and Tavan village is an interesting destinations on trekking routes. Return Sapa from Tavan by car.
Overnight in Sapa.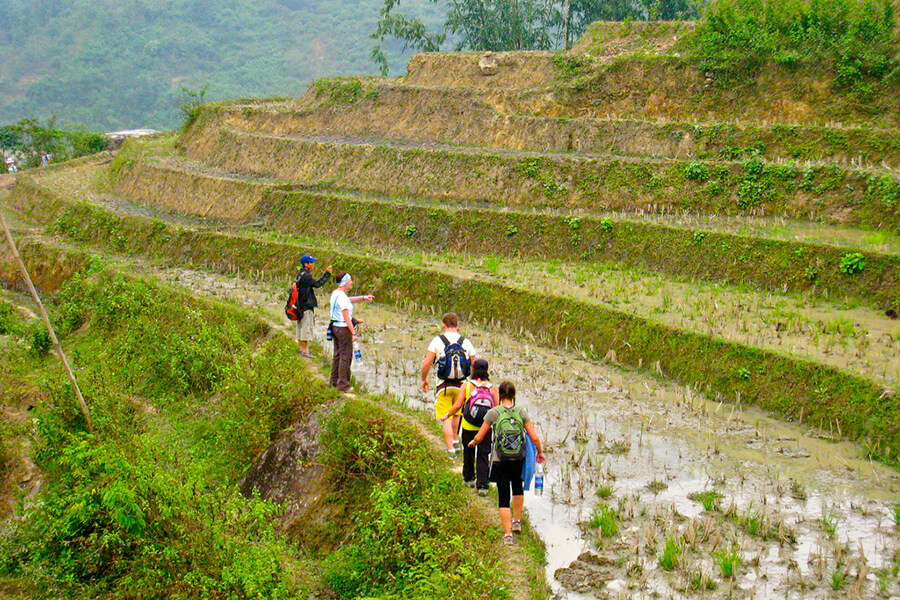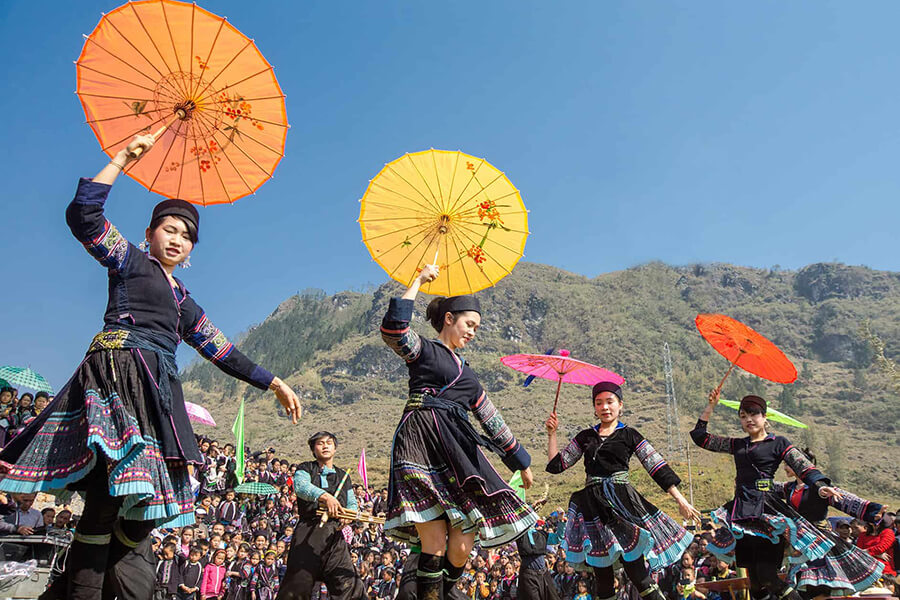 Day 7: Sapa – Fansipan by cable car – Drive back Hanoi (B, L)
Today you will visit the highest mountain in Indochina. After breakfast at the hotel, we take a 4-minute Mountain Train through valleys, viaducts, and tunnels offering beautiful views of surrounding villages as well as nature. Reaching the Cable Car station, we get off the train and enjoy another 20 minutes cable car ride up to the top. Normally, if you reach it on foot, it takes at least two or three days to climb to the Roof of Indochina However, with the newly three-rope cable car system, you can see the panorama of the mountains from the peak. After a 20-minute ride, we start challenging ourselves with 636 high steps up to Fansipan Summit – which is considered 'The Roof of Indochina' with a 3,143-meter height. Enjoy the spectacular scenery of Hoang Lien Mountain and lush forest, we walk down to the cable car station and ride back. Take the Mountain Train back to town and have lunch in a restaurant.
Take a limousine sharing van back to Hanoi. Check-in hotel in Hanoi for overnight.
Day 8: Hanoi – Ninh Binh – Tam Coc – Hang Mua Cave – Biking to Thung Nham (B, L, D)
Pick up at hotel in Hanoi, we will take the 2-hour drive to Ninh Binh which is around 100 Km away from Hanoi. On arrival, we will climb up on the Ngu Nhac mountain to visit Bich Dong Pagoda, an ancient pagoda originally built-in 1428. We then take a 10-minute drive to our hotel – Tam Coc Garden, a luxury and eco-friendly resort nestled in Thung Nham (Nham Valley) to check-in and have lunch.
In the afternoon, we will have a traditional sampan rowing on Nham River to Thung Nang (Sunshine Valley) (1.5 Km from the hotel) or you can take a bicycle ride to Tam Coc (Three Grottoes) where you take a 2-hour rowing boat in the river and then on land to Thai Vi Temple. If time permits, we go to Hang Mua with more than 486 steps to get an overview of Tam Coc. In the late afternoon, we will cycle back to our hotel, and rest by the pool until dinner. Overnight in Tam Coc Garden.
Approx: 2.5hour driving / 2 hours walking /1-hour biking
Day 9: Hoa Lu Temple – Hanoi Departure (B, L)
After breakfast at the hotel, we will have free time to relax by the pool, just wander around the beautiful surrounding of the hotel or visit Mr. Hieu's garden with different colorful flowers. At around 11 AM, we will check out and transfer to Hoa Lu to visit our Ancient Capital dated back from the 10th and 11th centuries, which is known as one of the rice fields broken by picturesque limestone mountains. It features several dozen monuments, including King Dinh and King Le Temple & Tombs… Lunch in a local restaurant and then drive back to Hanoi.
End of our service! Our driver will transfer you to the airport. Back to your home, don't forget to tell us about your 9 days in Vietnam. Thank you for joining Vietnam vacation with Go Vietnam Tours!