Say hello Vietnam,  welcome you go to the beautiful country, the land is known by many fascinating landscapes, the majestic high mountains, the heritage sites and the terraced rice fields being in the ripe crop, which surely make you be hypnotized at the first sight. With 12 days in Vietnam tours, we offer to you the cycling tour to the north of Vietnam, where you will visit the hill tribe, people, cycling through the rugged hilly road which brings to you the best experience. Join us and let's conquer one of the most beautiful road frames in Vietnam!
General Information
Duration: 12 Days/ 11 Nights
Date: No fixed departure dates. You may go whenever you wish.
Start/ End: Hanoi/ Hanoi
Tour Route: Hanoi – Lao Cai – Muong Khuong – Lung Khau Nhin – Cao Son – Coc Ly – Bac Ha – Lung Phin – Na Tri – Suoi Thau – Nam Hong – Nam Thuong – Vu Linh – Ha Noi
Tour Customizable: Definitely! Tell us about your specific requirements.
Tour Guide: Local English Speaking Guide
Accommodations: Hotel, Homestay
Number of Cycling Days: 9 Days
Brief Itinerary
Day 1: Hanoi Arrival
Day 2: Hanoi City Tour – Take the Night train to Lao Cai
Day 3: Lao Cai – Muong Khuong
Day 4: Muang Khuong – Lung Khau Nhin – Cao Son – Coc Ly – Bac Ha
Day 5: Bac Ha – Hoang Thu Pho – Ta Van Chu – Cau Vau – Lung Cai – Lung Phinh
Day 6: Lung Phin – Ban Gia – Na Tri
Day 7: Na Tri – Quang Uyen – Thu Ta – Nam Ly – Ho Thau
Day 8: Ho Thau – Nang Don – Chieu Lau Thi – Suoi Thau
Day 9: Suo Thau – Nam Son – Nam Ai – Nam Hong
Day 10: Nam Hong – Thong Nguyen – Xuan Minh – Lam Thuong Village
Day 11: Lam Thuong – Thac Ba Lake
Day 12: Vu Linh – Son Duong – Hanoi
Full Itinerary
Day 1: Hanoi Arrival (D)
Say hello to Vietnam! Arriving at Noi Bai International Airport, the Go Vietnam Tours tour guide and driver will be waiting for you. Welcome you with a tight hug and then transfer you to your hotel at the heart of the Hanoi capital. Hanoi, the capital of over 1000 years old, the antique and dynamic city of Vietnam, took off a unique old-world charm and several of the most striking colonial architecture in Asia. Take a short rest and the tour guide will tell you the schedule for the coming days. Let's enjoy the specialty here, a cyclo ride through the bustling streets in the Old Quarter to discover the ancient and modern beauty of Hanoi. End of the short Hanoi city tour at the Old Quarter, have dinner in a typical Vietnamese food restaurant.
Have a beautiful night at Hanoi!
Day 2: Hanoi City Tour – Night Train to Lao Cai (B, L, D)
After breakfast in the hotel, our guide and supported bus meet you at 7:30 a.m. in the lobby ad commence to explore Hanoi city and start to visit some well-known historical relics such as Ho Chi Minh's Mausoleum, his Former Silt – house Residence, the Presidential Place and One Pillar Pagoda. Keep going to see the Temple of Literature which was built as a temple to Confucius, and is known as the first Vietnam University dating back to 1070. Then, let's go to visit the Museum of Ethnology where you will be opened to your knowledge about the population of Vietnam displaying Vietnam's 54 Ethnic minority people. By the giant knowledge, our tour guide will provide the meaning in the architecture as well as the detail each of ethnic minority people. Have lunch in a local restaurant, after lunch, discover 36 ancient street and Dong Xuan Market.
Back to your hotel for taking a shower and relax. At night, let's enjoy the unique Water Puppet Show to hear know Vietnamese traditional instruments and singing from the live musicians who play throughout the show. Have dinner before taking the train station to catch the night train to Lao Cai. Overnight on the train.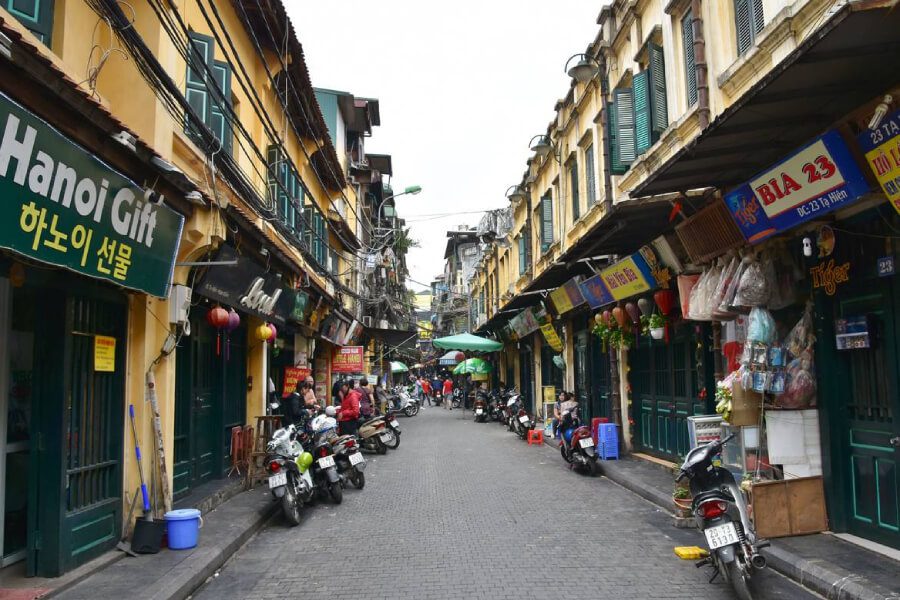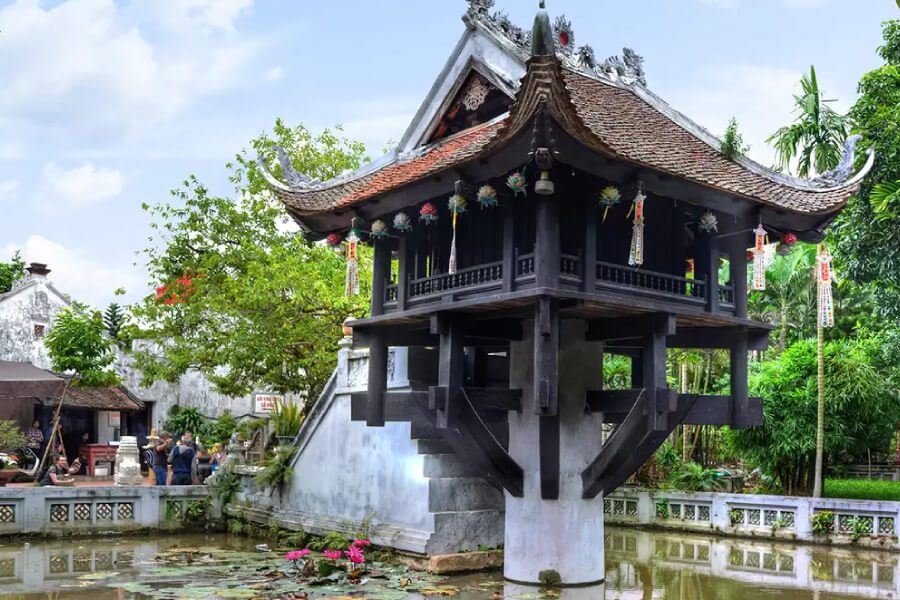 Day 3: Lao Cai – Muong Khuong (B, L, D)
Have breakfast in the hotel in Hotel, we depart early to Muong Khuong Sunday Market. Muong Khuong is the frontier district of Lao Cai province, which adjusts to Yunnan Province. Muong Khuong is known as the home of 14 different hill-tribe peoples, and the major is the H'mong people. Additionally, you have a chance to capture fascinating landscapes and colorful people on the way to the market. Continue to the cycling tour, we kick off our pedal to villages, you can cycle leisurely around the village and have a chance to talk with local people and take pictures with kids.
Overnight in the hotel
Cycling distance: 53km
Day 4: Muong Khuong – Lung Khau Nhin – Cao Son – Coc Ly – Bac Ha (B, L, D)
Get up early to see the sunrise, we bet that you will be addicted to this scenery. Surely that you have full energy and then we ascend first 7 km to the summit and then down the hill to Chay river and then challenge 35 km climbing to the summit. Today will be a hard day and challenging day for all of us. Ride along fronter road between Vietnam and China which lead to Bac Ha town. On the way, we enjoy the breathtaking scenic beauty of the Chay River and rice terraces on hillsides. Have lunch en route, after lunch meal, continue to conquer the last pass before descending to Bac Ha Town.
Overnight in hotel
Cycling distance: 78km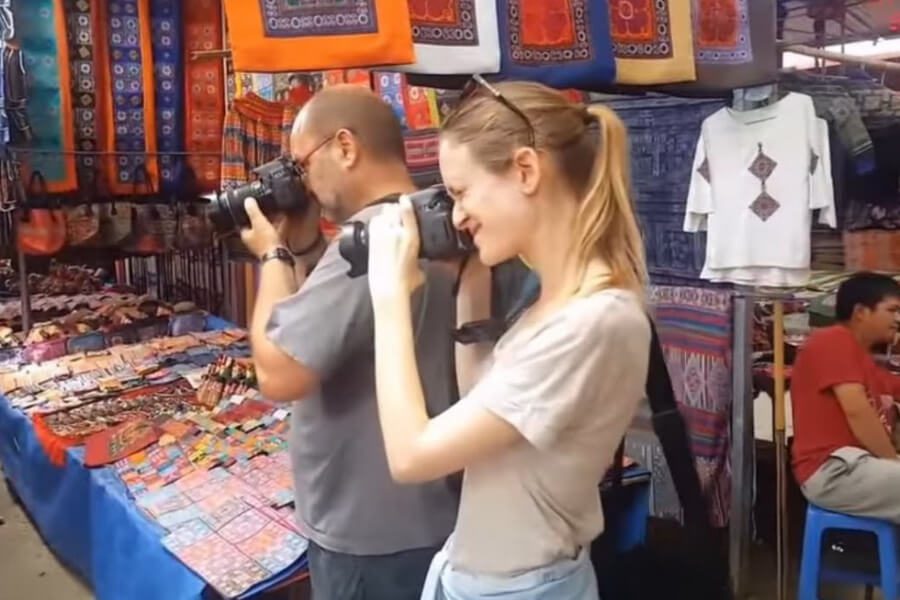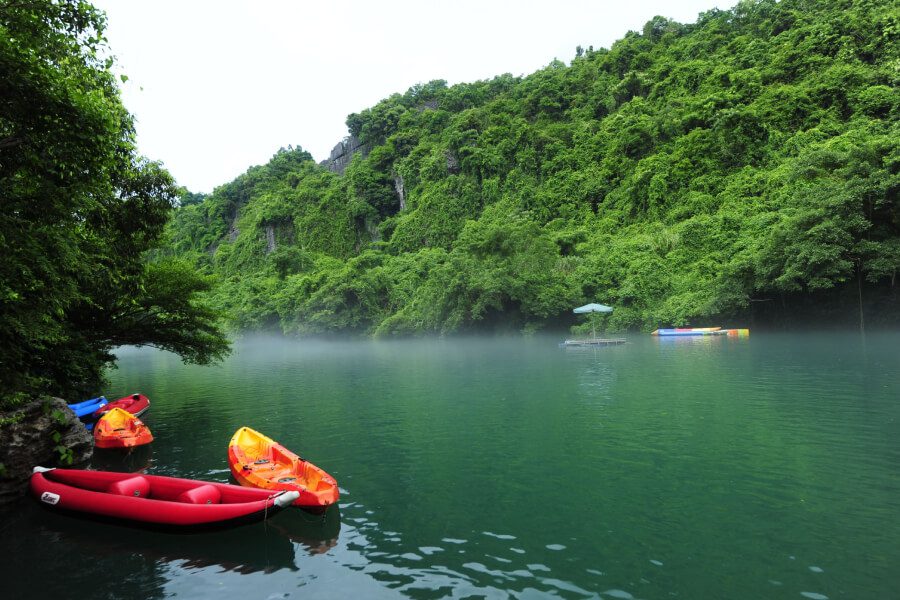 Day 5: Bac Ha – Hoang Thu Pho – Ta Van Chu – Cau Van – Lung Cai – Lung Phinh (B, L, D)
Today is actually interesting and highlight day in our trip, if you're lucky, arriving at Bac Ha on Friday night or Saturday night, you have a great chance to join and visit the colorful hill tribes market on Saturday Morning in Can Cau Market or Bac Ha on Sunday Market. This is a unique market opening for locals every weekend, and they will exchange their own products. Moreover, the market is not only open for trade but it also is the place for girls/boys to find their partner. Back to your hotel for breakfast, and prepare for a cycling trip. We kick our bike tour from our hotel, cycling through town to the authentic village of hill tribes, where the locals start your life from a hundred years in this region.
Enjoy cycling 6 km on the tarmac road with the undulating road, then biking to Ta Van Chu where Hmong people live. Cycle on single track trail and buffalo path, cross some streams and hillside lead to Can Cau Market. Spend our time visiting Sartuday Market ( If today is Saturday).
Enjoy the picnic lunch. Continue our trip to Lung Cai on the concrete road then turn off on a single track leading to Lung Phin Village to stay overnight.
Cycling distance: 58 km
Day 6: Lung Phin – Ban Gia – Na Tri (B, L, D)
Today, let's cycle through the untouched region, passing many quaint hill tribes villages, through thick tropical forests, and crossing some streams during our trip. We also contemplate brilliant scenery and unspoiled nature, sightseeing as we cycle through the best scenery of North Vietnam. Today is really a challenge to you when biking to the small trail and dirty path, sometimes, we carry our bikes over the stream and waterfall.
Overnight in homestay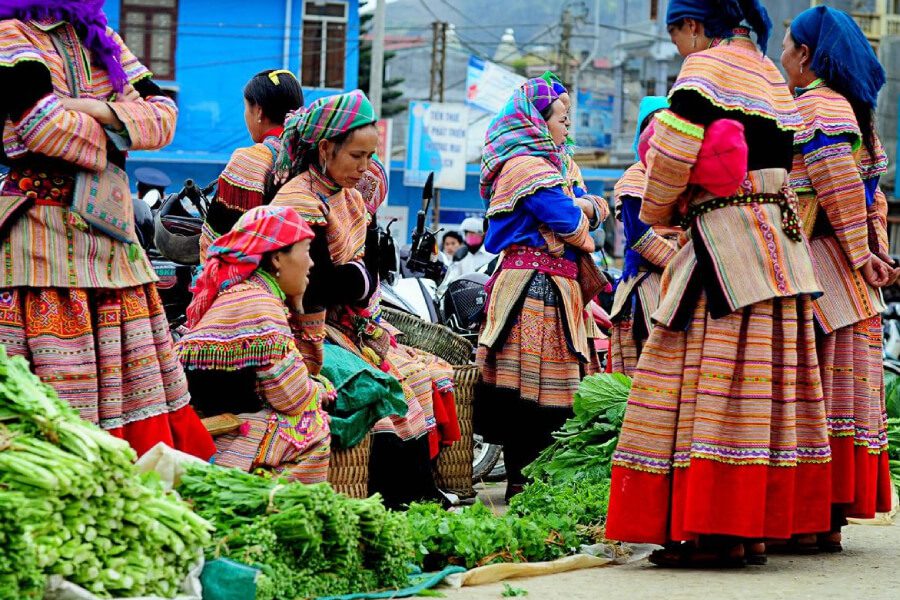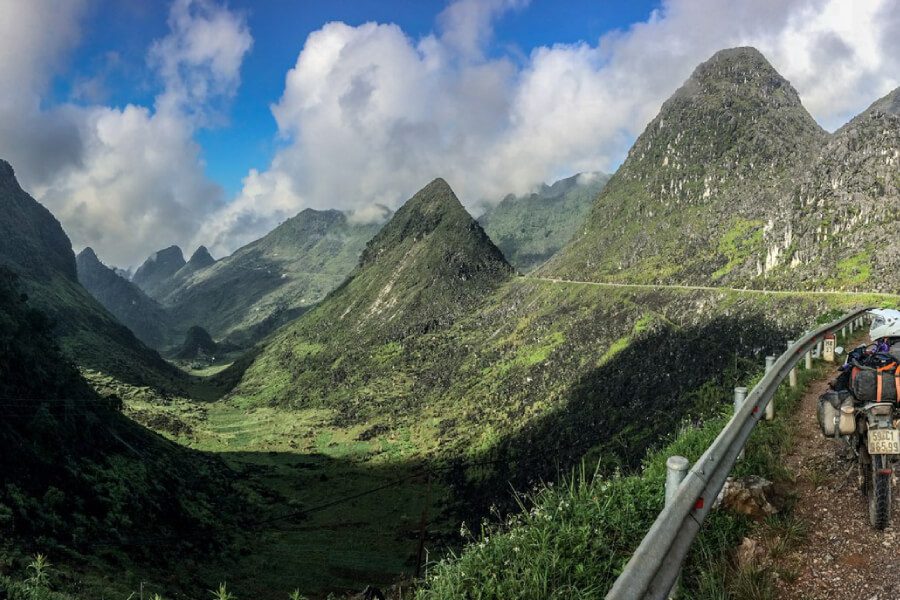 Day 7: Na Tri – Quang Uyen – Thu Ta – Nam Ly – Ho Thau (B, L, D)
Breakfast with your host, we commence our trip from your homestay, setting our way to Quang Nguyen and Nam Ly, Ho Thau.
Today, we cycle 62 km ascending on a single-track trail, buffalo road, motorway, and dirt road. We cycle from village to village to admire captivated scenery and outstanding scenic beauty. Today, the cycling trip is divided into 2 stages. The first stage will be easier than the second. We cycle on the tarmac road and the concrete road leads to Nam Ly village. Continue to the second stage, which is more challenging, from Nam Ly River, cross-stream to the hillside. Keep on track along the hillside to Ho Thau at 1000 meter elevation.
Have dinner and overnight at the Dzao hill tribespeople.
Day 8: Ho Thau – Nang Don – Chieu Lau Thi – Suoi Thau (B, L, D)
The Warm shining sunrise will give you full energy today. From your homestay, cycling on a single track and dirt road leads to Nang Don, bike and see the impressive mountains, take photos and then move to Chieu Lau Thi. Here, let's see the different colorful tribes from Dao, Mong, Tay, Nung, etc.
Have dinner and stay overnight with Hmong Family.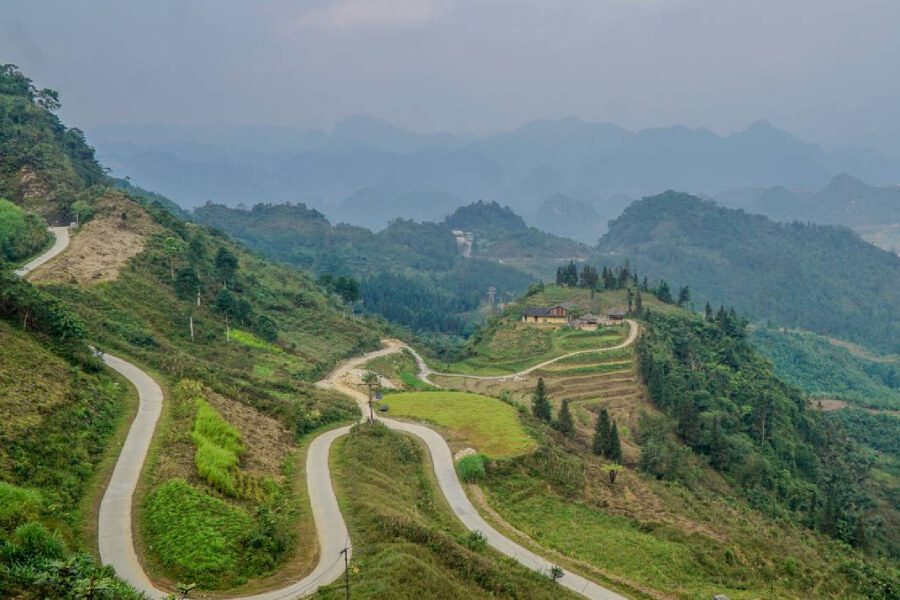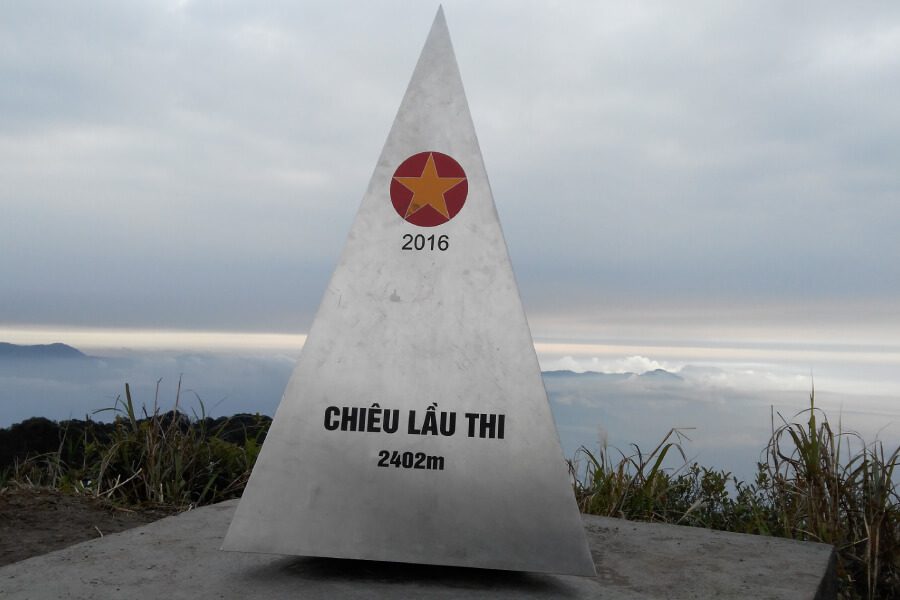 Day 9: Suoi Thau – Nam Son – Nam Ai – Nam Hong (B, L, D)
Get up in a mysterious place and paradise of rice terrace paddy, contemplate pristine nature, and do outstanding sightseeing. Let's feel tea or coffee in Vietnamese style before going out for hunting cloud, hanging over our heads, or passing leisurely in front of our homestay. We lick off our pedals from the homestay, cycling on the slope for a few kilometers before descending the ride to Nam Ai, Cycling through the best rice terrace tea farms, on the dirt road, single-track trail, buffalo pass is the highlight of our trip today.
Overnight in homestay
Cycling distance: 49 km
Day 10: Nam Hong – Thong Nguyen – Xuan Minh – Lam Thuong Village (B, L, D)
Today is the last day of our amazing cycling trip through Hoang Su Phi National Rice Terrace Heritage. Cycling on the scenic route leads to Thong Nguyen Town then we turn up to the single track trail and the dirt road leading to Xuan Minh village. Upon arriving at Xuan Minh, turn on the dirt road, and motorway to Bac Quang. Have lunch in a local restaurant. After lunch, we kick off our pedal to cycle on a single route, passing from village to village and rice paddy to Lam Thuong green valley.
Overnight in homestay
Cycling distance: 87 km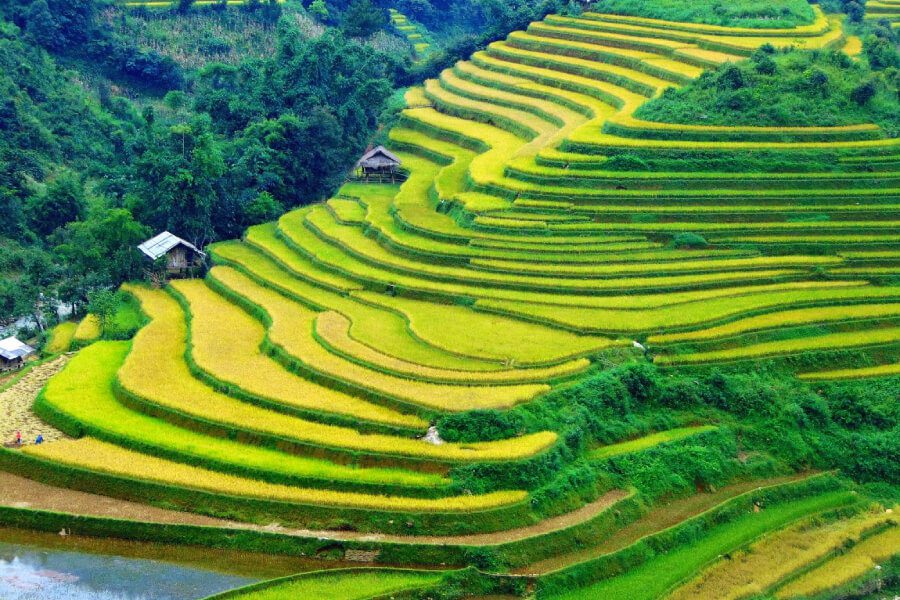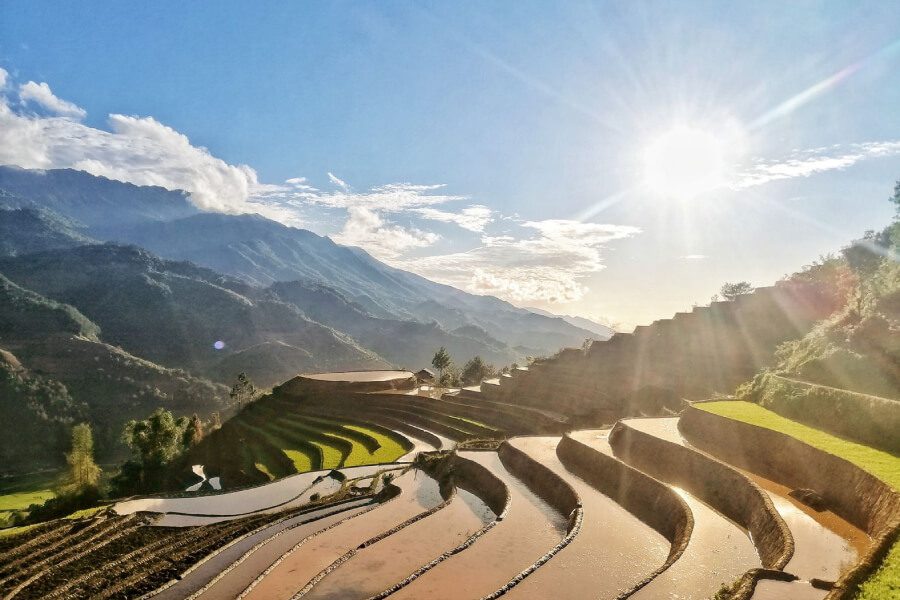 Day 11: Lam Thuong Village – Thac Ba Lake (B, L, D)
Wake up! wake up! Let's enjoy a great moment in the morning. Participate in morning activities with the Hill Tribe People in the village, and interact with school kids on the way to go to school. Cycle on a narrow undulating country route, passing dozens of stunning and lush valleys to Thac Ba lake. Here, drop in the Dao village and you will have time to communicate with them, visit the village, and be more understanding of the local life. In the afternoon, time to relax, take a walk in some local villages or take a boat trip to explore the fascinating Thac Ba Lake.
Overnight in homestay
Day 12: Son Duong – Hanoi (B, L, D)
Enjoy pristine nature over the lake in the morning from the window, you will be impressed by the picturesque lakeside. After clearing the bill and checking out, we kick off our pedals to ride Son Duong on single track and tarmac road. Go to the local market and don't forget to take a lot of pictures in a variety of colors. We also pass a lot of green tea, gum tree, and palm gardens which are grown on the hillside. Upon arriving in Son Duong, we stop for lunch in the local restaurant. Continuing to Tam Dao on newly paved roads with leisurely space. Arriving in Dai Dinh and taking on the bus transfer to Hanoi.
Have to say goodbye to Hanoi, our driver will transfer you to NoiBai International Airport to back home. Hope that 12 days in Vietnam will bring to you the best experience. Don't forget to tell your story during your trip! Thank you for joining Vietnam tour with us!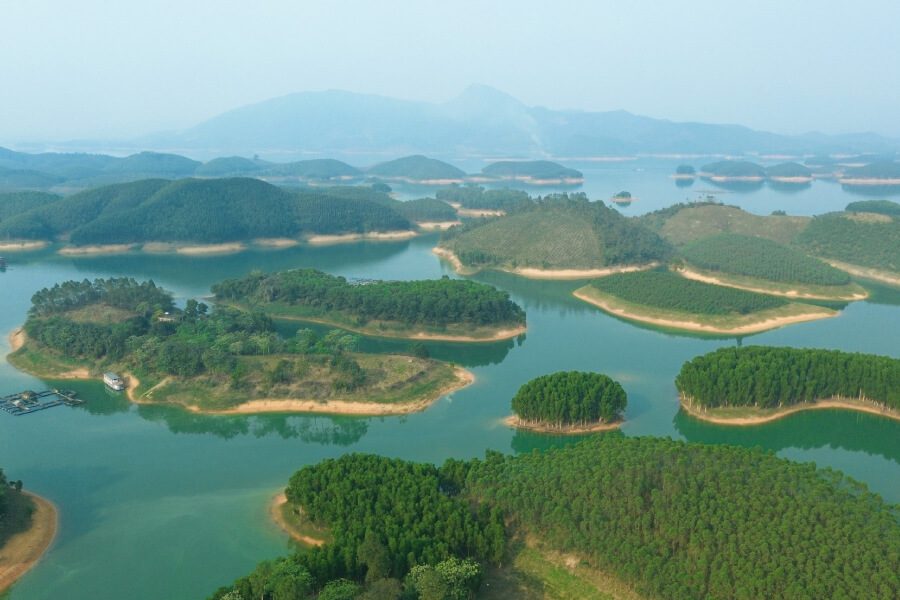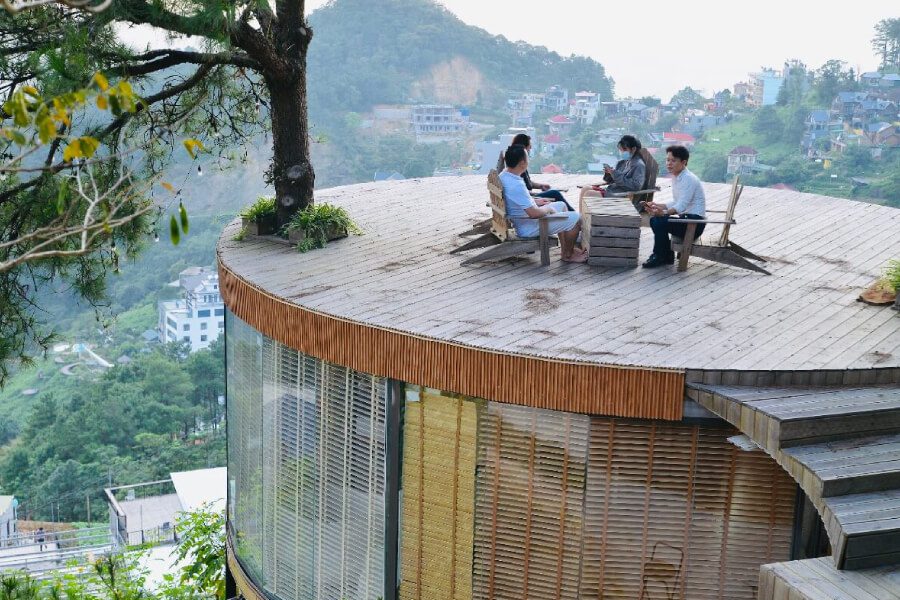 "Free Inquiry this tour or create your own trip with travel experts"