Vietnam Adventure Tours – Go Vietnam Tours
If you are an adventurous person, love the nature spots of Vietnam, love the dusty frame roads of Vietnam, Vietnam adventure tours will be the best experience for you. What's more interesting when cycling around the traditional villages, passing through the green paddles, or visiting the famous places in Vietnam. As the local tourism Company in Vietnam, Go Vietnam Tours is always proud to be one of the pioneers in providing community tourism products to our clients including the best adventure tours in Vietnam as well as Vietnam nature tours. Booking Vietnam adventure holiday packages with us, we ensure that your vacation in Vietnam will be more interesting than ever! don't hesitate to let us know your ideas, we will help you to create your own  Vietnam tour packages.
Adventurous lovers choose Vietnam Adventure Tours:
Cycling
Only two wheels will bring you to the most stunning views, each destination that other vehicles are unable to reach.
Vietnam adventure trekking tour
Strolls around rustic villages to challenging trekking across epic mountains, Vietnam adventure holidays are designed to capture the mesmerizing beauty on foot.
Adventure holidays Vietnam kayaking water
Whether kayaking, snorkeling, or on boat trips, discover the most unspoiled natural scenery on Vietnam adventure trips centralizing around waterways.
Adventure tours Vietnam motorcycle
 Go on Vietnam active holidays like a local by the most feature transportation to create your own lifelong memories.
Vietnam adventure tour packages with various multi activities
Each experience is a new challenge for you combining cycling, trekking, and kayaking together to experience a distinct taste of the S-shaped country.
Here are the Top Vietnam Adventure Tour Packages you can follow. Choose one of your interests, take your backpack and let's go to Vietnam!
Ha Giang Tours & Day Trips
Imagine a spectacular destination in the extremely North of Vietnam where the mountains run one after another horizontally coupled with the picturesque terraced rice fields. Contrary to normal trips to hustle and bustle cites, yours 5 days 4 nights Ha Giang tour will capture the most primary beauty of a fascinating scenic vista featured by fresh air and the quintessence of long-lasting traditional customs of H'Mong, Tay, Giao and Nung ethnic communities. Notably, the fair market is also an amazing place to approach the tribes' lively life and a chance for purchasing the local goods and staples is waiting for you!
---
Essential Guide for Vietnam Adventure Travel
Vietnam has become the favorite destination for those who love adventure activities. From the North to the South of Vietnam, where you choose any activity during your stopover. To make sure that you enjoy the best trip in Vietnam as well as your Vietnam Adventure Tour is safe, Go Vietnam Tour offers tips during Adventure activities in Vietnam you can follow.
Clothes
Caves are often cold and wet, so you should prepare thick clothes, waterproof and comfortable when walking, climbing ... To keep body temperature stable, you should wear a wool coat or coat overcoat. Just like in any other Vietnam cycling tour, you should also prepare pads for your knees and elbows in case of crawling in tight spaces. Besides, clean clothes are also needed before you go home.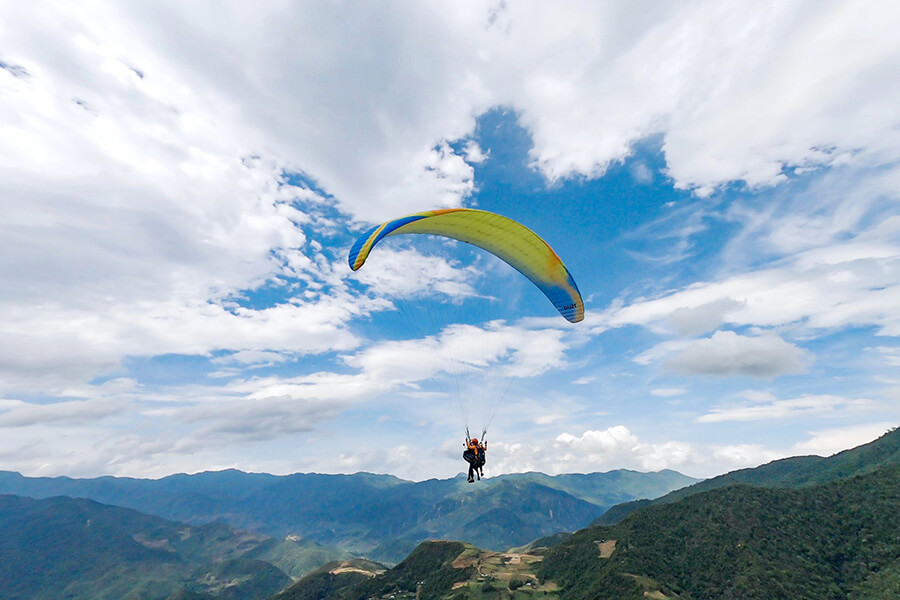 The basic tools needed are lights, helmets, cave maps, candles, waterproof matches, oval rings, 8th rope, ropes, gloves, medicine, water filters, and an ambulance. and a compass to make traveling to Vietnam easy. In addition, the following should be noted:
Lights
: You should use high-power lamps that can be used for long periods. Each person should prepare at least 3 torches (carry spare batteries).
Capes
: Some cave ceilings are often rugged and stalactite, so use hiking hats. If not available, replace it with a worker hat or helmet, necessary for all adventure activities in Vietnam.
Food
: You should bring water because the water supplied in the cave is not clean enough. Depending on your plan, you may be able to carry around the right amount of water. Essential foods are fruits, synthetic proteins, and processed foods. That's because this activity wastes as much energy as a walk-in Vietnam.
Small bag
: You should use a small bag to hold the most used things.
The Highlight Notes Needed When Exploring Caves in Vietnam
Members should keep their distance when moving. The most experienced people should lead the group and another good person should go at the end. When the members do not catch up, the leader must stop waiting for the team to stabilize. You should also observe the leader adjusting your speed. This is an essential Vietnam travel guide for every tourist. Do not disturb the lives of cave creatures like bats, and snakes ... because they can endanger you during such adventure trips in Vietnam. In the event of an attack, wash the area clean and then bandage and take care of the pain carefully. When you get lost, the first thing you should do is keep calm and handle the situation. Light candles and turn off all flashlights to save energy and try to remember the way back. If you realize that you are not in the team, the rescue team will find you. Therefore, the best travel guide for you in Vietnam is that you should sit back, listen and wait. In case of dealing with obstacles that prevent you from moving, turn around to avoid unnecessary accidents. Do not go alone. Do not use the old cords or ladders found in the cave.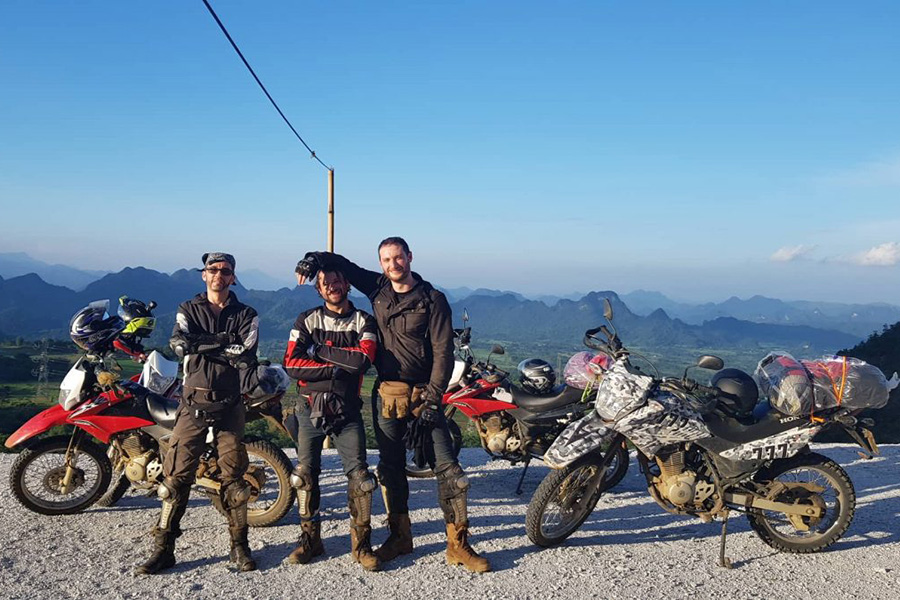 Other Essential Notes in Vietnam Adventure Tours
You should write the most detailed plan, record the exact location of the store, the direction you have followed, the point you have passed ... then clamp it to the schedule. This will help rescue teams deploy their search plan faster if you get lost. Of course, the following notes are only for emergencies and with some bad expectations. However, it is better to be well prepared for any upcoming situation. When you feel safe, you can better enjoy the exciting and wonderful adventure in Vietnam and create memorable experiences when exploring caves in Vietnam, or anywhere else in the beautiful world.
Top 10 Vietnam Adventure Destinations Worth Going
Vietnam is one of the most suitable choices for those who love interesting adventure destinations. Each destination offers unique features that are sure to bring an unforgettable experience of Vietnamese landscapes and cultures. Escape from bustling cities to reach accessible outdoor destinations! Here is the list for outdoor lovers, from the mountains in Sapa to the small towns of the Mekong Delta. Your Vietnam Tour Vacations would be incomplete without a day trip along with the picturesque mountain roads on a motorbike, or an escape with rural adventures. So, check the list, which cannot miss in your Vietnam Adventure Tours.
1. Sapa 
Sapa is a world-famous mountain town located in Lao Cai province in northwestern Vietnam. Sapa is famous for its endless terraced fields, walking trails with picturesque views, and bustling ethnic towns with crowded markets. If you are looking for a way to escape from the metropolitan scene of Hanoi and want to explore the daily lives of many ethnic groups, Sapa is the stopover in your journey in Vietnam.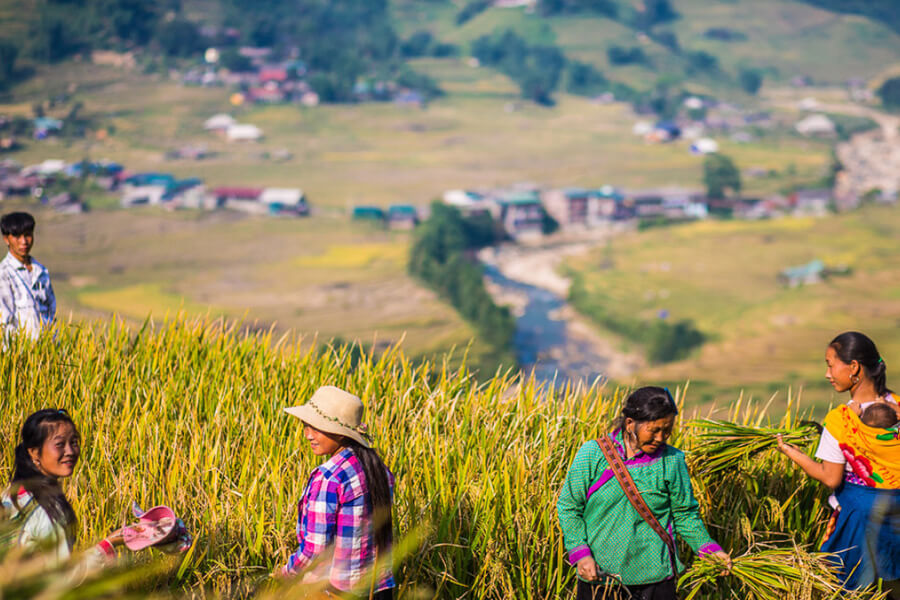 2. Ha Giang
From September to December each year, Vietnamese people and tourists flock to Ha Giang province to witness the fields of buckwheat flowers in full bloom. Located in northern Vietnam, the highland of Ha Giang is not only known for its breathtaking scenery but also for the adventure of seeking after it. The winding upland challenges the most experienced drivers, and motorcyclists, they create exciting racing tracks.
3. Ancient Hoa Lu
Located in Ninh Binh, Hoa Lu used to be the ancient capital of Vietnam under the Dinh dynasty (968 - 980). This destination is still ancient architecture from the Vietnamese feudal period, marking an important period of Vietnamese history. Hoa Lu is located in a rugged mountain region, surrounded by majestic limestone mountains. Besides, you can also join boating tours to discover the wild beauty of Ninh Binh. From the ancient town of Hoa Lu, visitors can visit Tam Coc - Bich Dong by boating across the Ngo Dong River or Thung Chim - the habitat of many rare and precious birds of Vietnam.
4. Cuc Phuong National Park
Located in Southern Vietnam, Cuc Phuong National Park is truly a great place for you to stay after modern life in the present time. Walking through the park's jungle, you can feel the misty atmosphere of a tropical forest in South Asia with stunning views. The highlight of this destination is the millennial tree, listed as the oldest tree in Vietnam. There is a center to save turtles and prey in the national park and you can take care of those animals if you receive assistance from the center. Cuc Phuong National Park is an attractive destination for those who love trekking or Vietnam nature tours.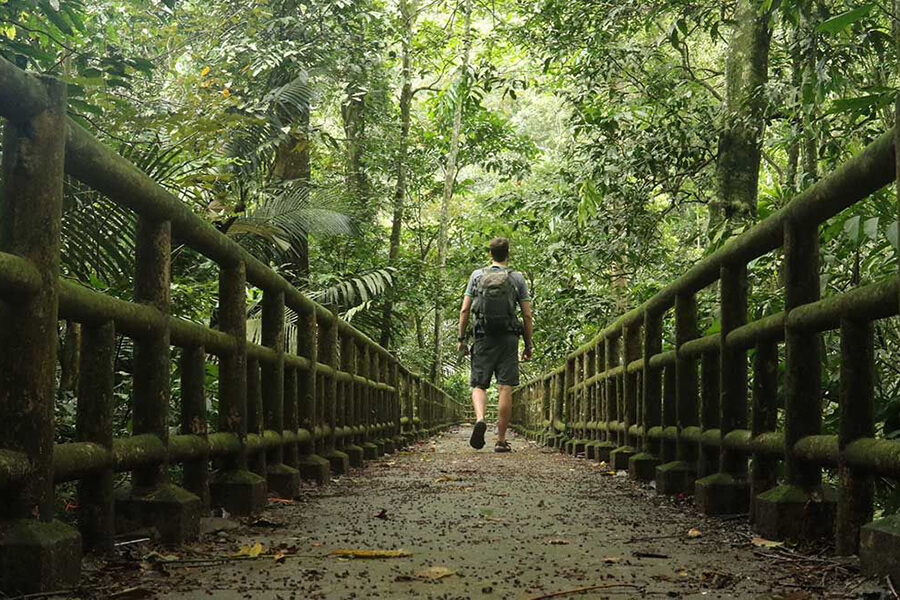 5. Phong Nha - Ke Bang Park
Phong Nha - Ke Bang National Park is one of the best destinations for adventure tours in Vietnam. Along with the beautiful view of the jungle, the most noticeable thing in the park is probably the trip to explore the world of the cave kingdom. There are many spectacular caves in the park, listed as impressive caves in the world like Son Doong cave. This is the largest cave in the world so far with a length of 5 km. Here is really an ideal suggestion for those who love adventure tours to explore the hidden treasure in the biggest cave in the world.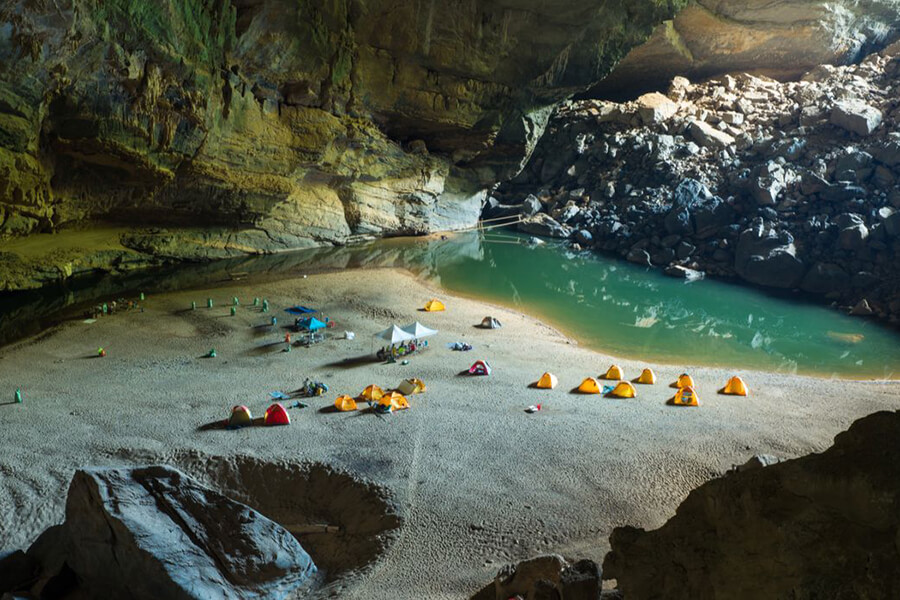 6. Phu Yen
Like other regions in the South Central Coast region of Vietnam, Phu Yen province has the most spectacular beaches and unique coastal landscapes. Its most famous feature is Ganh Da Dia, a scenic spot with layers on layers of stones. Known as the windiest province in Vietnam, with a special location between two mountain ranges, the coastal meadows of Phu Yen Canh have emerged as one of the most popular tourist attractions in Vietnam after they became the main backdrop for a local blockbuster (Toi Thay Hoa Vang Tren Co Xanh) that most local family is familiar with.
7. Da Lat
Dalat is the capital of Lam Dong province in the Central Highlands of Vietnam and it is considered the most romantic and mysterious city in Vietnam. Tourists come to Dalat for the romantic flower fields, colonial villas, and most importantly, its temperate climate. Others, however, seek adventures during haunted trips to haunted hotspots and exotic sites like the Black and Red Hotel or the Crazy House. Here is also considered a worthy place to visit for an adventurous lover.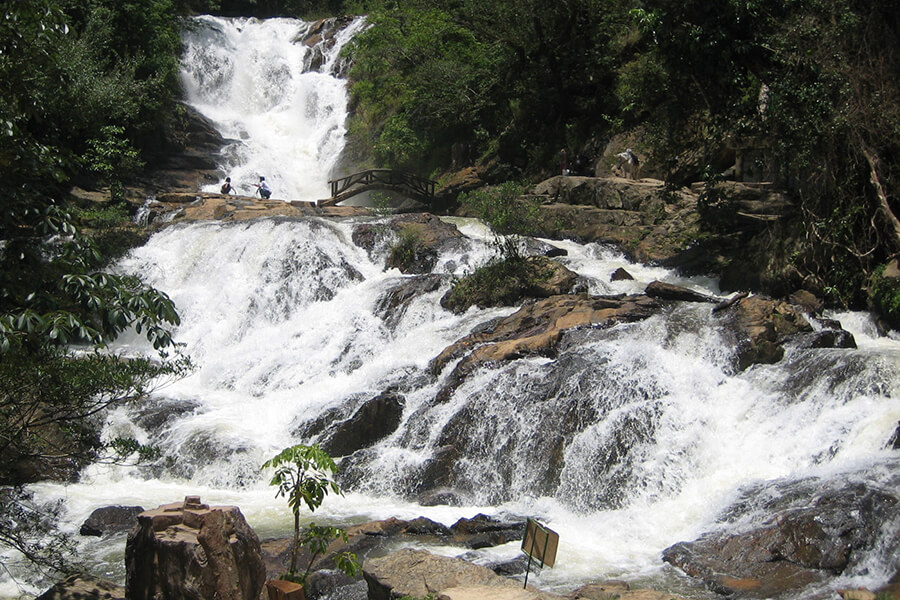 8. Mui Ne
Known as a family-friendly beach city in central Vietnam, besides beautiful beaches and spectacular seafood, Mui Ne is also home to the largest sand dunes in Vietnam. In fact, people don't go to the city so much because of beaches like sandboarding, an activity in Vietnam just for Mui Ne. Wander around the sand dune area are local vendors offering bite-sized shrimp cakes served with caramelized fish sauce - a specialty that recreates weary travelers at the end of the exciting sandboarding sessions. Be sure to catch the sunset at the dunes!
9. Cam Gio
Beyond Ho Chi Minh City, there is a place that cannot miss on the list of Adventure destinations in Vietnam. Can Gio Monkey Island is bristling with curious travelers who are ready targets of resident monkeys, which is known as the home of the monkey? Through the direct interactions with these cheeky animals, visitors can also learn about their natural habitats, their species, and how they are preserved in Vietnam.
10. Mekong Delta Provinces
The provinces in the Mekong Delta are increasingly popular as a destination for travelers seeking the experience of the garden lifestyle. It is ideal to travel on the motorbike along with the rice fields and explore towns in provinces like Kien Giang, An Giang, and Can Tho. And go shopping in the floating markets, Khmer towns, or boat trips along with the mangroves forests and enjoy special homemade meals with locals.