If you are ready to discover an incredible trip in Vietnam, Ha Giang is a fantastic experience worth traveling. In 7 days Ha Giang adventure tour, you will travel through some of the most dramatic sceneries. Passing through the crocked mountain pass, visit the field terraces in ripe, or visit the hill tribe villages surely make you fall in love at first sight. Ha Giang, All the things you need now, bring your camera, take your backpacks and go to Vietnam to explore the hidden treasure in the north of Vietnam.
General Information
Tour Route: Hanoi – Ha Giang – Meo Vac – Dong Van – Lung Cu Flag tower – Yen Minh – Tam Son – Yen Minh – Hoang Su Phi – Thong Nguyen – Hanoi
Duration: 7 Days/ 6 Nights
Start/ End: Hanoi/ Hanoi
Tour Type: Discovery and Experience
Tour Customizable: Definitely!
Guide: Local English Speaking Guide
Transportation: Private Transportation by air-conditioned car or motorbike
Brief Itinerary
Day 1: Hanoi – Ha Giang
Day 2: Ha Giang – Meo Vac
Day 3: Meo Vac – Dong Van
Day 4: Dong Van – Lung Cu Flag Tower – Yen Minh – Tam Son
Day 5: Yen Minh – Hoang Su Phi – Thong Nguyen
Day 6: Hoang Su Phi Trekking
Day 7: Hoang Su Phi – Ha Noi
Day 1: Hanoi  – Ha Giang (L, D)
Depart Hanoi for a 7-hour drive to Ha Giang, the best destination for those who love an adventure tour in the north of Vietnam. En route, stop in Tuyen Quang at noon. After the meal, continue the trip to Ha Giang which is known as the northernmost province in Vietnam, consisting of breathtaking scenery, a colorful array of hill tribes, and vibrant local markets.
You're in Ha Giang in the late afternoon, check-in is at your hotel, and take a rest after a long trip. Then, start your tour by going to visit Tay Hill Tribe village, beautifully set in a stunning valley close to the tow. Overnight at a hotel in Ha Giang or a homestay at a Tay Village.
Day 2: Ha Giang – Meo Vac (B, L, D)
Wake up early to see the sunrise in a beautiful place. I bet that you will fall in love at the first sight at Ha Giang. A breakfast in Ethnic group style will be an idea for you. Take a fantastic 6 hours drive to the town of Meo Vac, which is near the Chinese border. On this trip, you will pass many villages, inhabited by different colorful Hill Tribe groups. Most of the Hill Tribe is the H'mong hill tribe. H'Mong Hill Tribe is belives to have migrated from southern China into Vietnam only over the last 300 years and up to now, they live in villages throughout the north of the country.
During the journey to visit the villages, don't forget to stop en route to take amazing views such as Quan Ba Pass, Quan Ba Heaven Gate,…At midday, you will have a break for lunch in a local restaurant in Yen Minh town before continuing the scenic drive to Meo Vac. The karst landscape in the afternoon will definitely amaze you. Arrive at the town, back to your hotel, the remainder of the day is free at leisure Overnight in Meo Vac.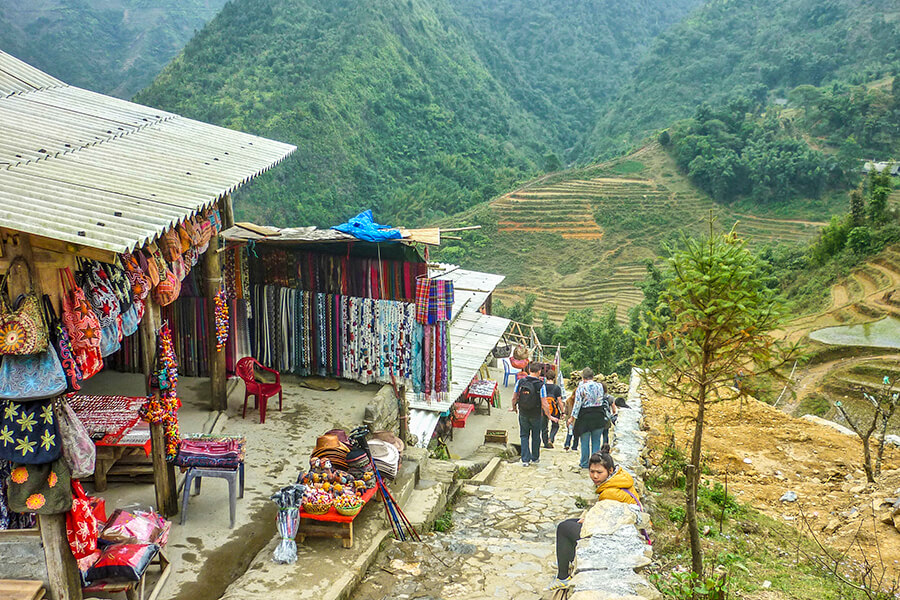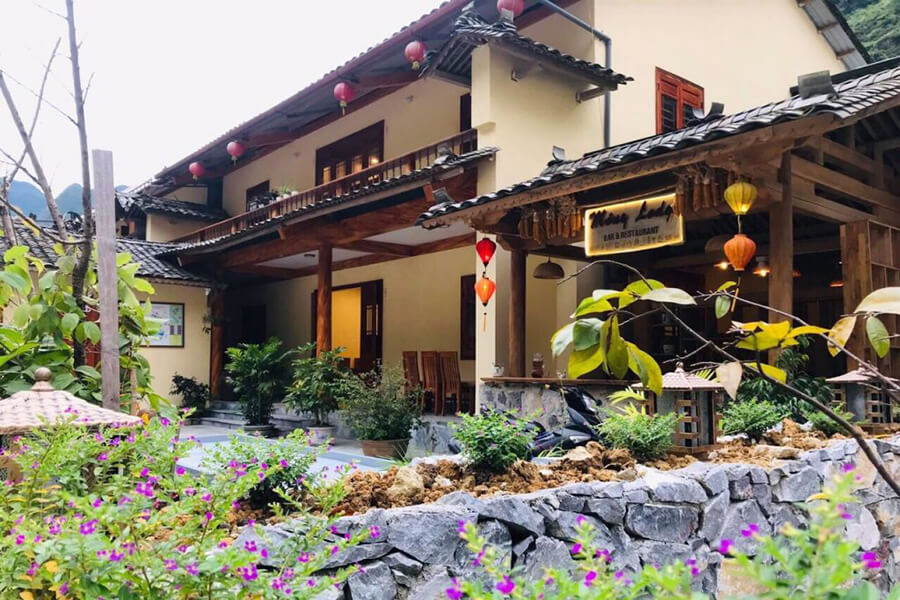 Day 3: Meo Vac – Dong Van (B, L, D)
Good morning Meo Vac, a beautiful landscape is waiting for you. Start today to visit the fabulous Meo Vac Market, where the locals are the vendors will buy the traditional products made by them. They buy and sell fresh produce as well as dry goods (a suggestion for you to visit the market on Sunday, which is more crowded than others). Then, we will head off to Dong Van, one of the highlights of our trip. In the journey, stop at Ma Pi Leng, which is also known as "Heaven's Gate Pass" as it gives the feeling of touching the sky.
The driver skirts the Chinese border through a deep valley. Have a stop at the best corner for some taking photographs and admire the august scenery. Arrive at Dong Van around lunchtime and check into a hotel. In the afternoon, take an easy hike along the road of the Old Quarter and the further to see the rice field from a small path that goes along the mountains.
Dinner and overnight at a hotel in Dong Van
Day 4: Dong Van – Lung Cu Falg Tower – Yen Minh – Tam Son (B, L, D)
The following day in Ha Giang to drive to Lung Cu, the northernmost point of Vietnam. Climb to the top of the tower for a panorama view over the area which is very near the Chinese border. Then, walk to visit a village of the Lo Lo hill tribe to learn about their unique culture and customs. From Lung Cu, we continue driving to the Palace of the last H' mong King which is located in Sapin Village. At noon, enjoy lunch at a local restaurant and then drive onwards to Pho Bang Town where old-style Chinese influenced houses can be seen. It's really special when you can visit these traditional houses made from clay houses and feature distinctive "yin and yang" tiler roofs. Walk around the narrow streets of this charming town before heading for Tam Son.
Overnight at hotel in Quang Ba.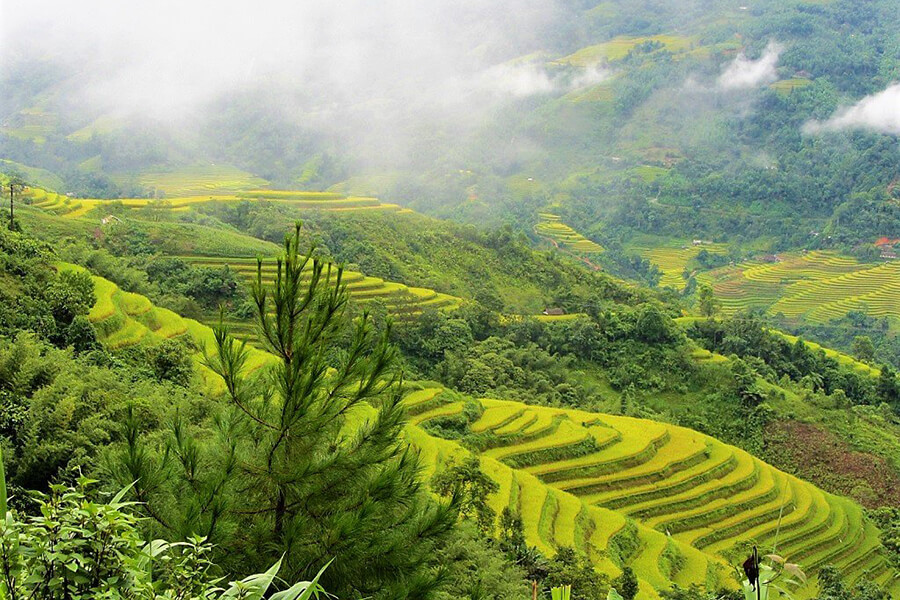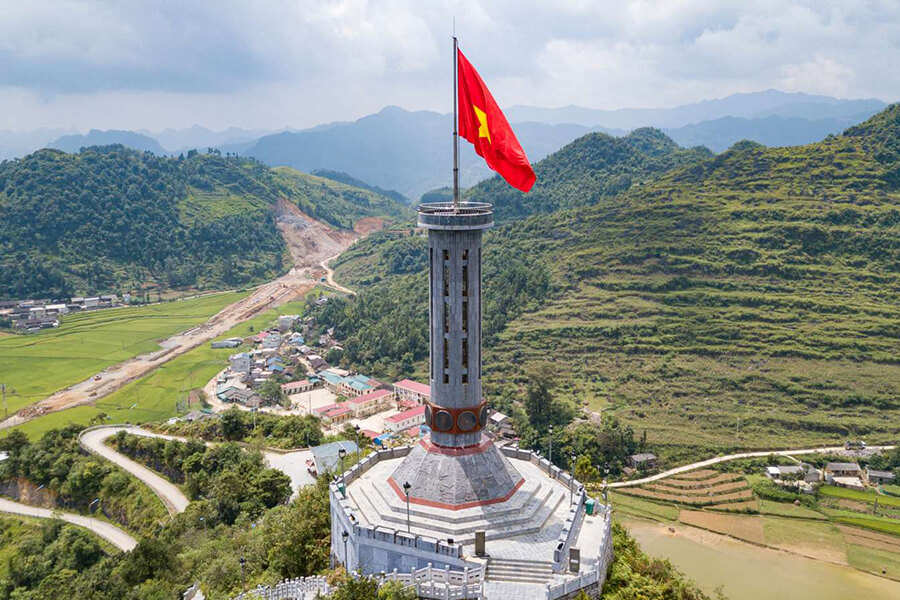 Day 5: Yen Minh – Hoang Su Phi – Thong Nguyen (B, L, D)
Morning in the north of Vietnam will never make you disappointed, take a lot of photos of this beautiful moment. Drive back to Ha Giang city on the same road, you can see the difference in the topography in the Hoang Su Phi area from the places you have visited in Meo Vac & Dong Van. The marvelous scenery of Ha Giang will make you speechless, a Ha Giang enriches our adventure.
Upon arrival at Pan Hou ecolodge, check in and overnight at the lodge.
Day 6: Hoang Su Phi Trekking (B, L, D)
Today, trekking to visit the hill tribe villages in Hoang Su Phi such as Tay, Black Dao, and Red Dao people. Along the hike, you will have a chance to view how marvelous the rice terraces are. How peaceful Hoang Su Phi is, a picturesque will exist in front of you. Join in the daily activities of the locals and have wonderful experiences at Hoang Su Phi. Back to the lodge around 4.00 p.m. the rest of the day is at leisure or you can enjoy the optional traditional treatments (special massage and herbal bath of the Dao people).
Overnight in the lodge.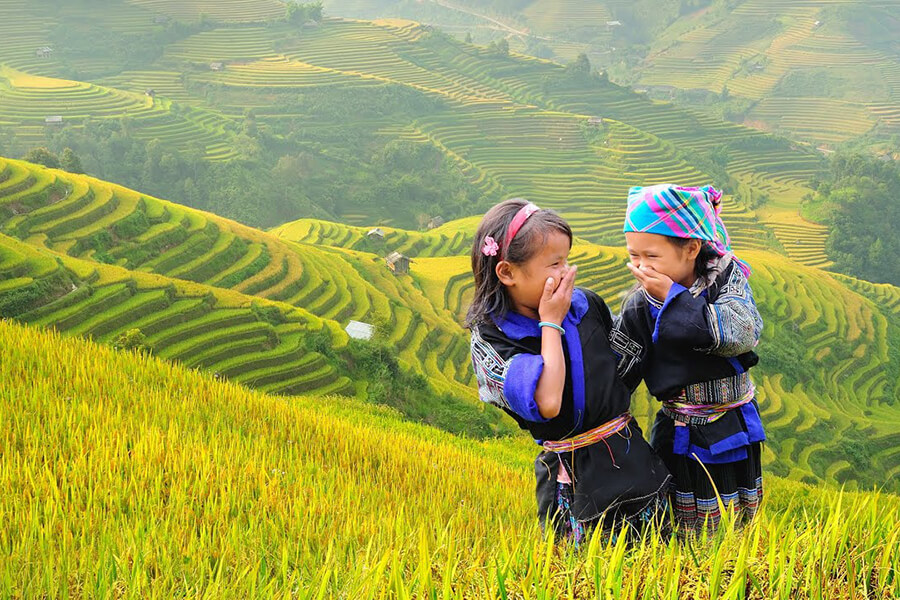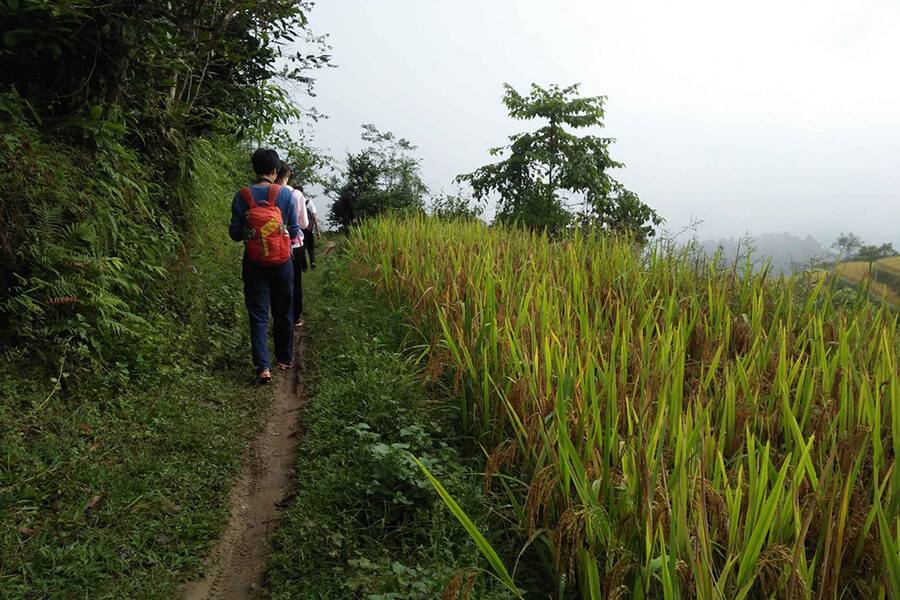 Day 7: Hoang Su Phi – Hanoi (B, L)
Enjoy the last breakfast at the lodge. It's time to say goodbye to Ha Giang to return to Hanoi to start another trip. Have lunch on the way. We wish you have a happy moment during the trip to Ha Giang. Thank you for joining Vietnam tour with us!
"Free Inquiry this tour or create your own trip with a travel expert"