Vietnam Family Tours – Go Vietnam Tours
Vietnam Family Tours, Holidays & Packages will be an amazing suggestion for you and your kids. Vietnam is known as a country rich in tradition & culture, which is the place to help your kids open their minds and relax on vacation. As the expert leading the Family Tours Packages in Vietnam, we offer to you the best places in Vietnam from the North to the South. Companying with Go Vietnam Tours, let's enjoy the spectacular landscapes, the unique culture, and the historical sites where both of you and your kids get more understanding about Vietnam – this charming S-shaped country.
What Makes our Vietnam Family Travel Unique & Distinctive?
Tour itinerary, activities specifically designed for family
A variety of food catered suitably for both kids and
Each destination provides private vehicles, the driver for the flexible itinerary
The professional tour guide is well-trained, kid-friendly, patient; responsible
Tour design to suit your children's age
100% Customized for Vietnam Families' Vacations
Free inquiry tour and share your plan 1 – 1 with our travel expert. You can also customize your family tours. Our mission is that you and your children have quality time while both have fun exploring Vietnam during your Vietnam family tour.
Here are the top Vietnam family trips in 2023 – 2024 we offer to you! Let's consider carefully choosing your interest, or tell us if you want to customize tours.
Every essence of these Vietnam family packages. Go Vietnam Tours offers a family holiday to explore the remarkable natural, cultural, and historical wonders in the beautiful S - shape land. You and your children will have a great time together with relaxation moments combined with exciting activities. From the north to the south of Vietnam, your children will earn the deepest childhood impressions for years. It's will be an unforgettable trip for family members.
---
Essential Guide to Travel with Kids in Vietnam Family Tours
Vietnam is the best idea for family vacations. Owning the stunning landscapes, the fabulous beaches, and a large number of World Heritage Sites surely provide you, kids, the wonderful opportunity. If you are planning your trip to Vietnam, especially, companying with your kids, this post below will give you the essential tips when traveling with kids in Vietnam.
Travel to Vietnam, What Should be in Your Luggage?
The whole family will be there, in a totally strange country, so what should be packed will become a big concern especially if you are going with your newborn or kids. Heavy luggage is not comfortable at all, however, we also don't want to have that exhausted feeling when looking crazily for something really necessary at that time. Vietnam is known as a shopping paradise in Southeast Asia, so necessities are certainly widely available at an interesting price. Clothing, shoes, flip-flops, umbrellas, casual cosmetics, etc. are easily found in Vietnam or will be provided by thoughtful hotel staff, personal guides or even lice are your tour operators. You can pack lightly for your good. But you'll also need some special things to make your family vacation go as smoothly as possible. And we suggest the list provided below may be helpful for families planning to visit Vietnam: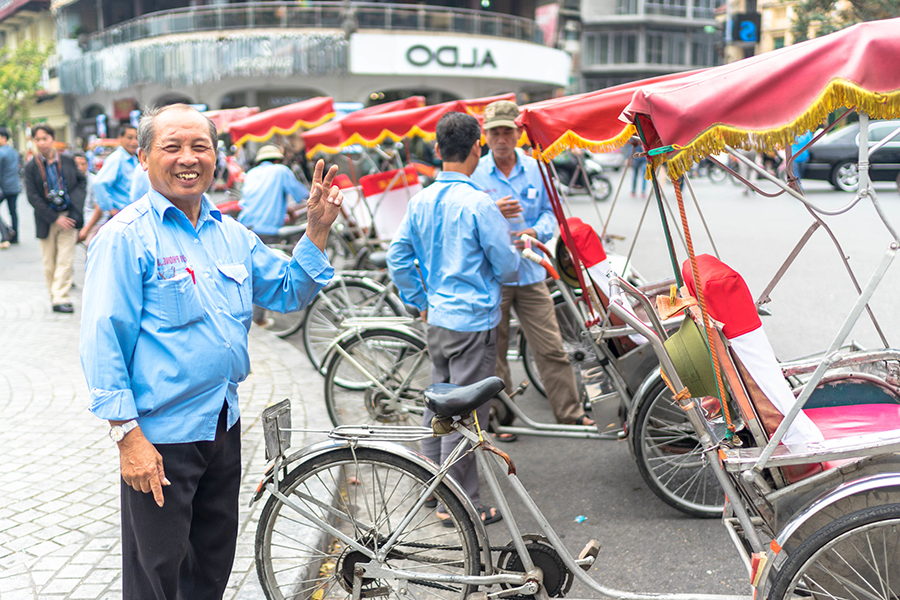 Travel Documents:
Obviously, Travel documents, which include passports, visas, travel insurance certificates, air tickets, and tour vouchers. For the Vietnamese Visa on Arrival, please make sure you have 2 passports sized 4 cm x 6 cm photos and $25 for the stamping fee per family member.
Money
Of course! In Vietnam, you could use cash and credit card (just make sure you let your card issuer bank know you're going to use your card in Vietnam for security). You should have a number of Vietnamese Dongs for your convenience (and for your great feeling of a millionaire!), in case you cannot prepare much before the big trip, take easy to exchange money in Vietnam, and don't worry, many restaurants and places accepting foreign currencies.
Medication
Medication which is cannot on any trip, and includes a doctor's letter if you are carrying a large amount of medication, prescription glasses, and contact lens solution if required. Insect repellent will be useful if you go with your kids.
Camera
A camera will soon become your inseparable thing because this country is too beautiful to miss even a small scene. Taking a camera is necessary for your trip, which will save your trip along your Vietnam Tour as well as save the happy moment with your kids. Or if you don't have a camera, always keep your smartphone by your side to make sure that each moment of your children cannot miss.
Kids' Stuff:
When your kids are happy, you are happy. Make sure all of your kid's essentials are packed and ready, perhaps with their favorite toys, comic books, snacks, and coolest outfits… Adults like to enjoy new things yet kids prefer their own familiarities.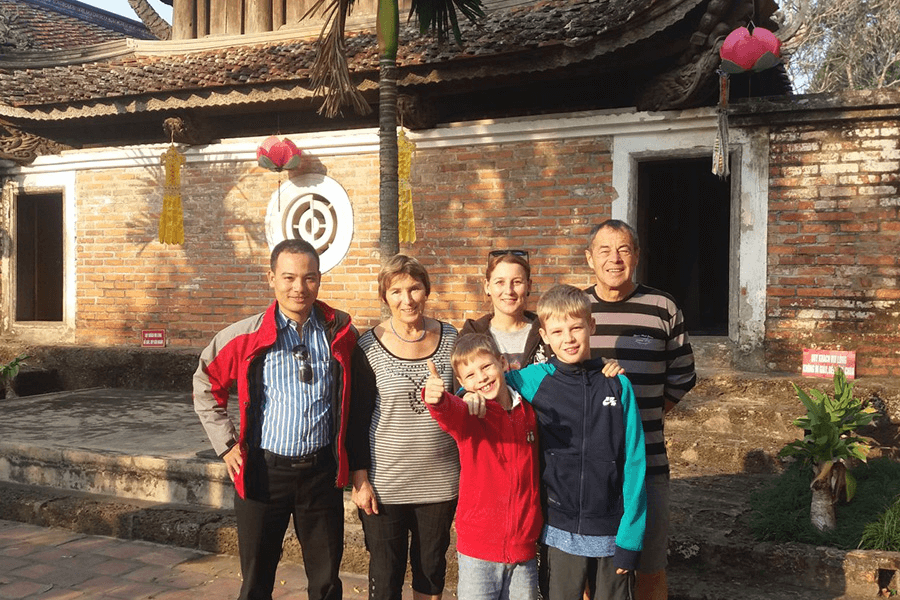 2. Weather in Vietnam
If you travel solo or travel with buddies, having a clear mission of experiencing and discovering, the weather sometimes is not a really big problem. In some cases, the inconvenient condition is even preferable as it could avoid tourist crowds. But if you travel with your family, the weather patterns of Vietnam will be something that is noteworthy. Despite the fact that lies entirely within the tropics, Vietnam's climate surprisingly varies from region to region. Because the destination is possible for year-round travel, you can choose a time schedule and place of interest that is right for you and your family members. It's not a bad idea to experience the cold of winter in the northern highlands and sunbathe on some of the beautiful, sunny beaches in the south, just on a trip. A good study of Vietnamese weather during your stay also helps a lot with your packing list!
Weather in the North
In the North of Vietnam, there are 4 seasons in a year: Spring, Summer, Autumn, and Winter. Spring with warm weather lasts from February to April, which is the best time to help plants grow fast and flowers bloom brightly. Next, the summer with hot and showery weather lasts from May to August. The sun shines all day time, and there are occasionally sudden thundershowers that refresh the day. Autumn with cool air and dry and slightly windy weather last from September to November. And it is considered that this is the most beautiful season of the year with yellow leaves falling on the streets and yellow bright shining in day time although sometimes typhoons bring in some heavy rain and flood in the central part of the country. Winter with cold and dry weather lasts from November to January. If your
Vietnam tour package
is in the north of Vietnam at this time, you also have a wonderful chance to see snow in the mountains, which makes Vietnamese people eager to go and take nice photos on their trip.
Weather in Central Vietnam
The center (from Nha Trang to Hue) sunbathes most of the year and enjoys its showers for the whole of November and December. Located at an altitude of 1500m, the weather is cooler than the coastal area, mostly from November to March. Da Nang and Hue both experience typhoon activity from mid-October to mid-December when the climate becomes cooler, more overcast, and wet.
Weather in the South of Vietnam
The Southern region is predominantly sub-equatorial with two main seasons wet rainy and dry. From April to September is wet rainy season ranges. Showers often rain heavily but stop quickly. From October to May, it's time for the dry season. The weather becomes hotter with all days of sunshine. However, it becomes much cooler at night.
3. Vietnamese Cuisine Suit to Your Kids?
Food plays an important role in the trip. If you don't know what to eat or where to eat in Vietnam. Then, Vietnam is a different story, because this national culinary art is so wonderful and varied that it can fascinate anyone. Unlike other Asian countries, where Western tourists sometimes cannot find anything that suits their tastes, Vietnamese culinary arts are combined with Asian culture. Asia and the West because of their rich history. Therefore, anyone can find something that suits their stomach, regardless of their age or nationality. Big cities like Hanoi or Ho Chi Minh City (Saigon) are truly a culinary paradise where you can find any kind of restaurant for your family, from vegetarian and French delicacies to a famous Italian dish famous for Vietnamese cuisine. The soul of culinary art is really right on the sidewalk, yet convinced? A banh mi or a bowl of Pho Pho will undoubtedly prove their reputation. The countryside is where you can experience the traditional Vietnamese meal really cooked by the inn owner. And the beaches are fantastic with exotic seafood. The best thing is they are at very good prices. In this country, you can enjoy the true meaning of the spirit of Eat, Pray, and Love God. However, if you have a problem with allergies or your child needs something special, you will need to discuss with your staff your family status and food ingredients before having a great meal.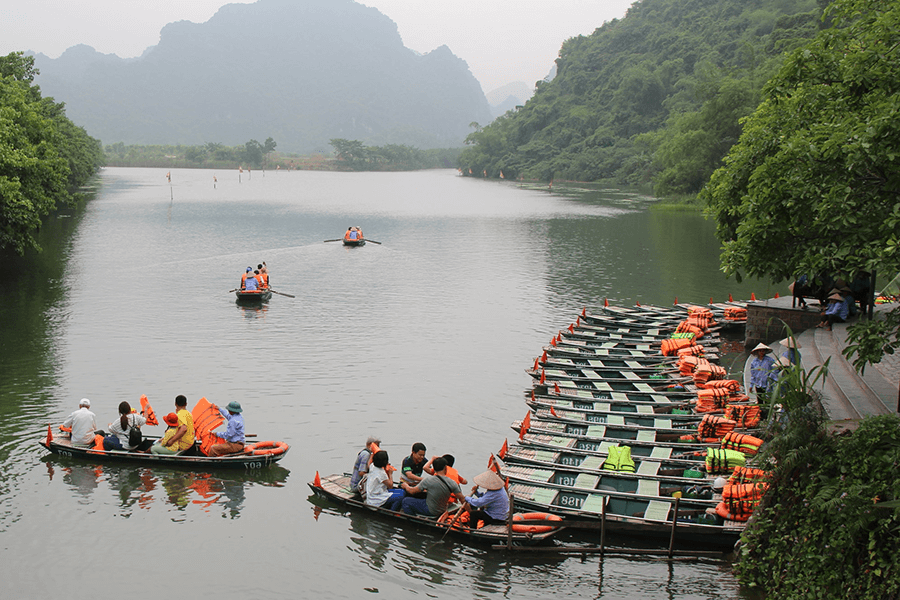 4. What Trips Suit Your Kids?
Because there are so many things here to explore! This country will be a paradise or a mess; It all depends on your plan. You can go for a walk, enjoy a water puppet show, visit temples and pagodas, trek in the mountains, etc. These are countless. So all you need to do is clarify your family's travel goals, whether it's a cultural adventure or a beach trip. You can find helpful hints in our top
Vietnam Family Tours
above, and here are some other facts for families traveling with children:
Cyclo:
For a thrilling street tour of a city, you can beat a spin in a Vietnamese cyclo. You also can negotiate with the driver and don't be afraid to tip. Pagodas and temples: The southern temples are very wild and magical, the temples in the North are lacquered and gloomy. Visit on the full or ask at your hotel - when Buddhists come to burn incense and pray.
Pickup Soccer:
Vietnamese children spend time in the park watching football, and they will be very nervous if your children join them. You can join them.
Custom tailors:
You are total can create your own trip to Vietnam, that suits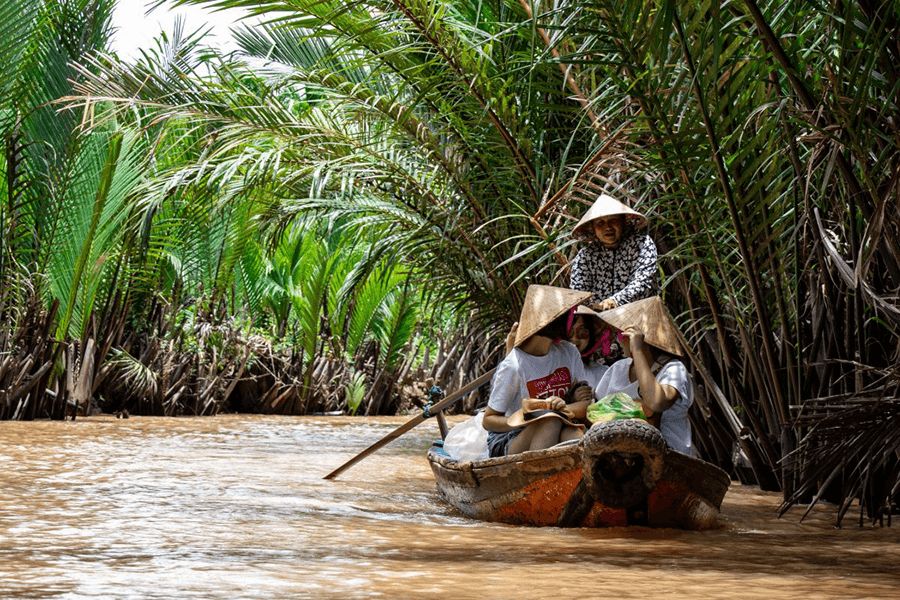 5. Contact Vietnam Tour Operator
This is the best way to ignore your worry burden, as they will help to design the perfect itinerary depending on your needs and wants, give you travel advice, take care of each family member, and also the paperwork. The local tour operator should be on the reference list, as they definitely understand their country and its culture more deeply than any outsiders. Arranging a private tour with the specialists will be cost-saving, less time-consuming, and much more conveniences added.
If you wonder about Vietnam Family Tour Packages, tell us your travel ideas and our travel experts are very glad to give you suggestions and guidance for your trip planning. We can also tailor-make your trip according to your interests and requirements, and we will help you to create the best Vietnam vacation in your life.
Top 10 Unmissable Things to Do and See in Vietnam Family Tours
A
trip to Vietnam
is a wonderful vacation for your family. Travel to Vietnam, this charming land will bring you a happy moment with your children. Start in the North of Vietnam, where you will visit the traditional village with a hundred years, or to the South, where you will dip into the stunning view created by the "Nature Mother". During your
Vietnam Family Trips
, your children are not only to learn about Vietnam Culture Beauty but also join in the activities, suit your ages so order to the last trip, Vietnam will always be in their mind. To make it easy to have a joyful trip with your family in Vietnam, Go Vietnam Tours offers you the top 10 best things to do and see in Vietnam with kids. Check it out now!
1. Water Puppet Show
Travel with Kids in Vietnam cannot miss the Water Puppet Show, which I bet that all of the children love it. Appeared in the 11th century, the tradition of water puppet theatre stems from a time when rice paddy fields were flooded and villagers would make entertainment by standing in the waist-deep water with the puppets performing in the water. Using large rods to support the puppets it appeared as if they were moving across the water with the puppeteers hidden behind a screen. The Performances are accompanied by a Vietnamese orchestra playing traditional music using drums, wooden bells, horns, bamboo flutes, and cymbals. There are also authentic Vietnamese operatic songs telling the story that is being acted out by the puppets. Finally, here is surely the show you must see with kids.
2. Take Part in Vietnamese Traditional Cooking Class
A forgettable memory when your family cooks Vietnamese traditional food. Your family will be experienced to buy the traditional ingredients of Vietnam at the local market. During the class, the master chef will guide you on how to cook the dishes of Vietnam, and of course, your children also join in. After that, your family has a great meal which is cooked by you.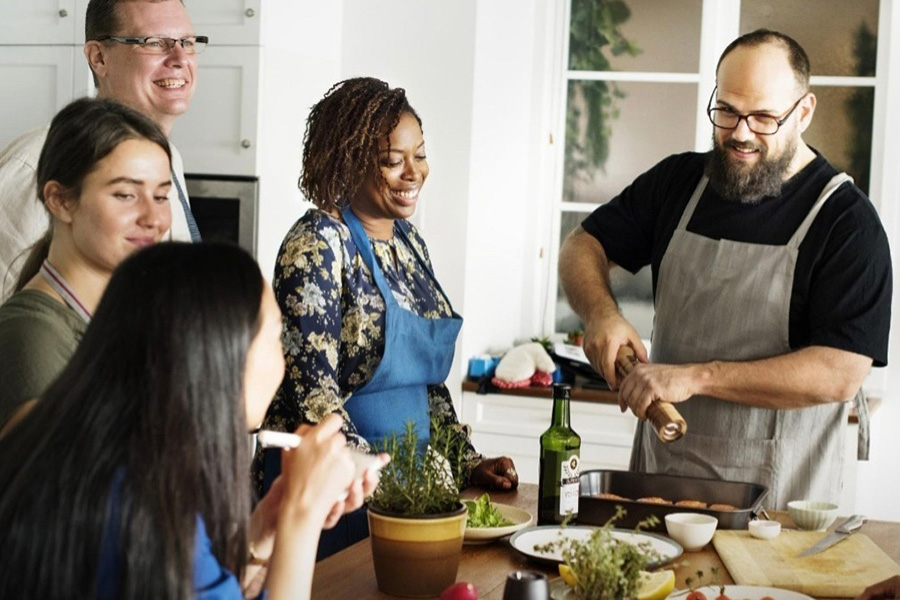 3. Hanoi - the Capital of Thousands of Years of Civilization
Leaving the ancient capital with the antique tracks, it's time to move up North to our busy hectic capital of Vietnam, Hanoi, where you must-not-miss destination for a family trip, which is suitable for any ages.
Ideas for Where to Take Your Kids in Hanoi:
It would be amazing for you just to peacefully take a walk around Hoan Kiem Lake and the nearby street in the ancient town.
The Old Quarter or known as the French Quarter can be amazing with beautiful and cultural spots. Especially, the thing you must not miss is the diversity of specialties which is popularly called the street food culture of Hanoi.
It is also highly recommended that you visit some famous spots a little further from the city center. Temple of Literature, Ho Chi Minh mausoleum, and Vietnam Museum of Ethnology are highly recommended.
Besides, don't miss out on the entertainment centers and amusement parks which are widely distributed in the city.
4. Halong Bay - One of the World's Natural Wonders
The exquisite limestone bay is the destination not to be missed on a tour in Vietnam and becomes a fantastic way to make some great family memories when exploring its other-worldly beauty. In Halong Bay, take a cruise to visit the treasures around the bay, or also take part in the activities such as kayaking and cooking classes, or even a spot of karaoke for your little superstars. In Ha Long Bay, the children can join in the activities in the Sun World complex with many kinds of entertainment for both parents and kids.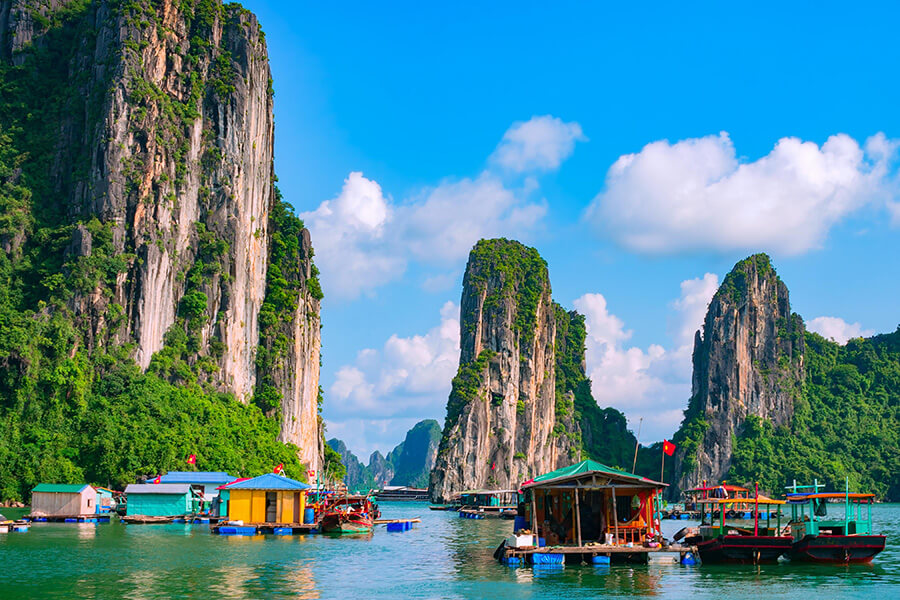 5. Hue - the Old Capital in Vietnam 
The next best destination in this central land of Vietnam to be recommended is Hue, a center of historical and cultural value. Hue is the place of many amazing places to visit including the Citadel, Forbidden Purple City, Thien Mu Pagoda, Dong Ba Market, Long An Palace Museum, and Tombs of the Emperors. At night, a boat cruise along the poetic Perfume river listening to the traditional music of Vietnam can give you and your loved ones the best experience you can ever have elsewhere. Besides, Hue Cusine is something special and unique that may get your children mouthwatering. Mussel rice, Hue beef noodles, spring roll with grilled pork, Hue lemongrass skewers, and lotus seeds sweet soup are among the most delicious dishes in Hue.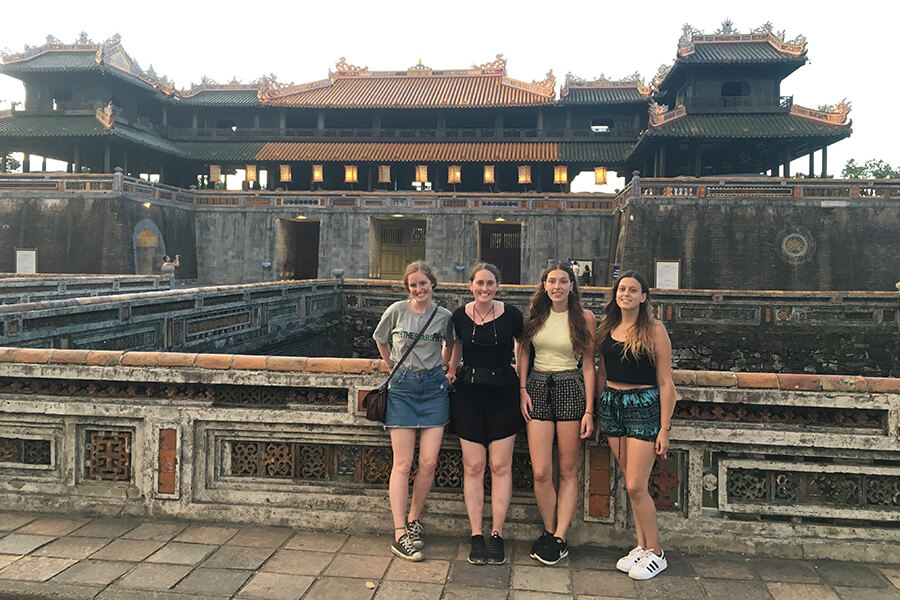 6. Hoi An Ancient Town
Moving a little up to the central part of Vietnam, the first of the best destinations to be mentioned is Hoi An, where the ancient town can be a good place to enjoy a tranquil moment on a Vietnam family vacation. It's suggested that you visit the tailors, the beaches and temples, go shopping and of course, take a food tour around the old town. A boat cruise along the Thu Bon River at night to enjoy the brightly colorful floating lanterns is a nice experience one should gain in Hoi An. Especially, each family in the old quarter holds a lantern in front of their home to celebrate the full moon every month on the 15th day in the lunar calendar. This is children's most interesting and worth-waiting activity.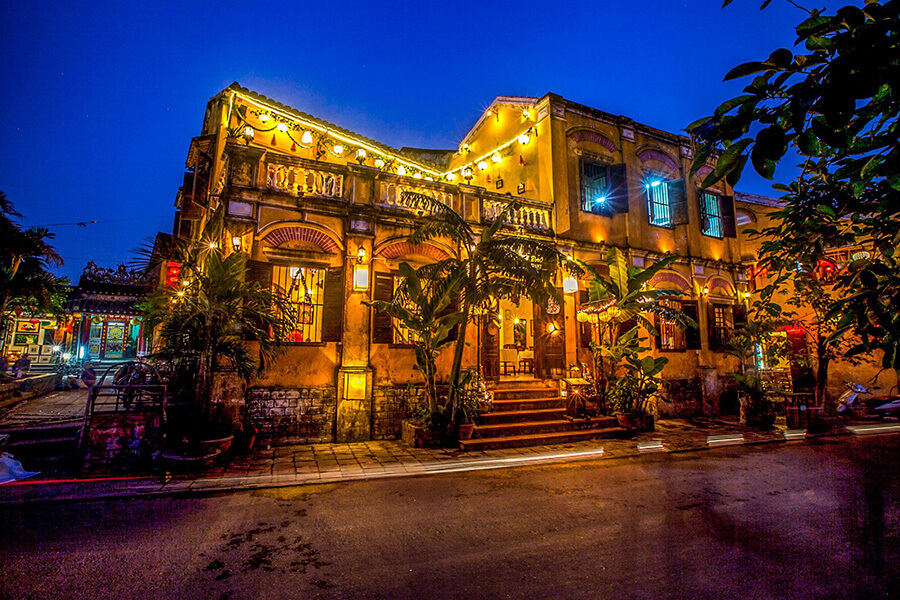 7. Da Nang - A Destination cannot Deny in Vietnam 
Only 30km from Hoi An, Da Nang should be the next destination in your Vietnam family holiday. Da Nang provides tourists with the most pristine beaches and beautiful sights.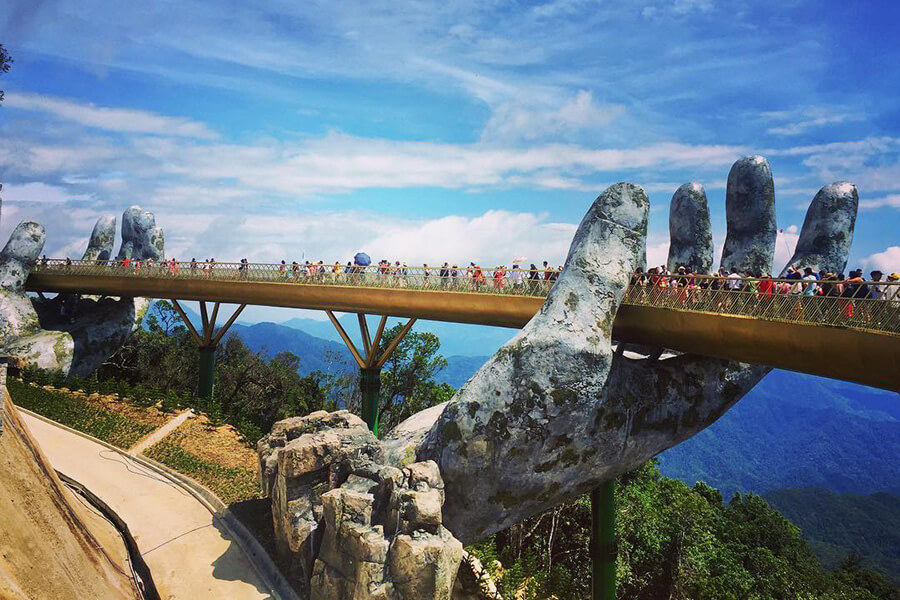 Ideas for where to take kids in Da Nang:
· The cultural museums and serene pagodas that the old people may like to visit are also offered to the list. · A family trip shouldn't miss these must-visit places such as Dragon Bridge, Champa Museum, Linh Ung Pagoda, My Khe beach, Non-Nuoc Beach, and Han river bridge. · Besides, Bana Hill and Asia Park offer the greatest entertainment, which is chosen by many tourists when traveling to Danang.
8. Ho Chi Minh City (Saigon)
Ho Chi Minh City is the biggest and most modern city located in the South of Vietnam where you'll find many best destinations suitable for children, adults, and old people. There are cultural places, historical spots as well as many entertaining centers and open spaces. Ho Chi Minh City will be an ideal destination for kids to join the activities and for both of you and your kids to get more understand about the highlight attractions in Ho Chi Minh City such as the Ho Chi Minh City Museum of Fine Arts, Sai Gon Notre Dame, Gia Long Palace, Sai Gon Opera House, Tao Dan Park, and Suoi Tien Park.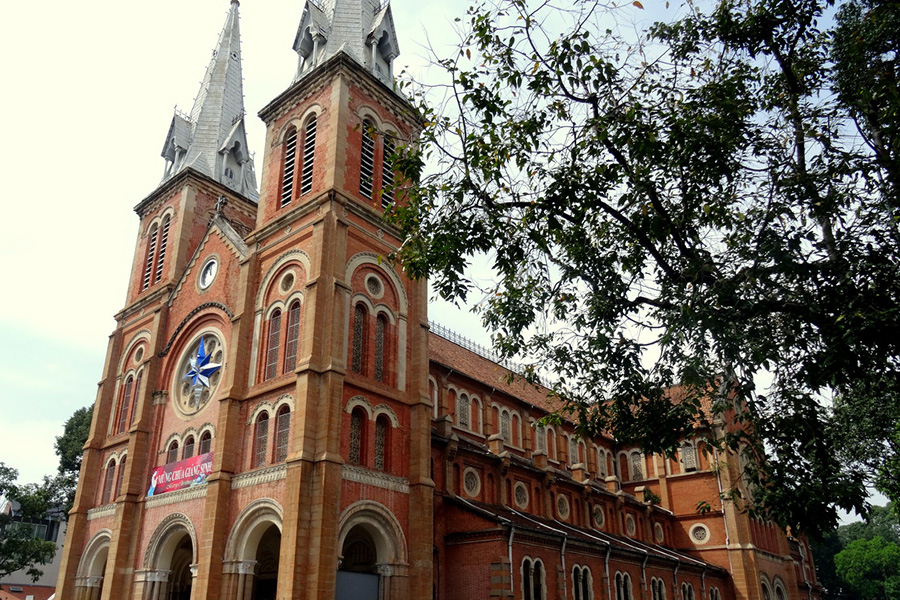 During these days in Ho Chi Minh City, an experience to explore the variety of tasty street food such as Banh Khot, Banh Tambi, Banh Da Cua. With the vendors selling especially dishes daily on every street corner, you don't stay hungry for a long trip in Ho Chi Minh City Tours. I bet that one of the destinations that your kids will joy is the water park, which is many entertainment activities that make you "forget the way back home".
9. Cu Chi Tunnels - Back to the War
Close to Ho Chi Minh City, this is the second destination recommended. With a distance of only about 60km, Cu Chi Tunnel is considered a heroic district for its role during the American war in Vietnam. The legendary for its network of tunnels extending over 220km can get the attention of those interested in history, especially adults and old people. Furthermore, there's delicious manioc, the main food for guerilla warriors in Cu Chi during the war. Here is a worthy destination for a Vietnam family tour.
10. Mekong Delta 
Located in the Southwestern region of Vietnam, where the tourists will be offered a wide range of different tropical fruits in the orchards as well as beautiful gardens full of flowering bonsai trees during the Mekong Delta tour. This is such an amazing destination as it attracts people of all ages, and the kids are no exception. And Mekong Delta is one of the best attractions to visit in Vietnam with family.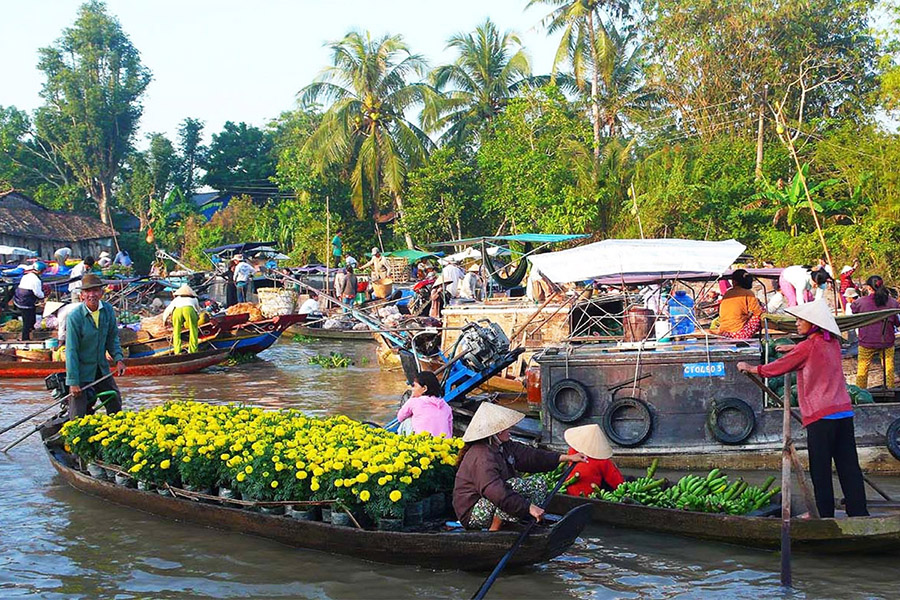 Nobody can deny the best chance to enjoy the activities and excursions overview here. Taking a mesmerizing cruise through the amazing floating market of Cai Rang riding the bike through small local villages and visiting fishing farms are highly recommended.
Best places to visit in the Mekong Delta with kids:
Can Tho – Cai Rang Floating Market
Cai Be – Cai Be Floating Market
Ben Tre
Sa Dec – Flower Village
Things to do in Mekong Delta with kids:
Homestay at a garden house
Boat trip to a floating market
Take a visit to the fruit garden in Mekong Delta and enjoy the freshness of local fruits
Visit local factories or handicrafts villages
Enjoy the beautiful landscape at Sa Dec flower village
Try local delicacies