Top 10 Unmissable Things to Do and See in Vietnam Family Tours
A trip to Vietnam is a wonderful vacation for your family.
Travel to Vietnam
, this charming land will bring you a happy moment with your children. Start to the North of Vietnam, where you will visit the traditional village with a hundred years, or to the South, where you will dip into the stunning view which created by the "Nature Mother". During your
Vietnam Family Tours
, which your children are not only to learn about Vietnam Culture Beauty but also they join in the activities, suit with your ages so order to the last trip, a Vietnam will always in their mind. To make easy to have a joyful trip with your family in Vietnam, Go Vietnam offer you the top 10 best things to do and see in Vietnam with kids. Check it now!
1. Water Puppet Show
Travel with Kids in Vietnam cannot miss the Water Puppet Show, which I bet that all of the children love it. Appeared from the 11th century, the tradition of water puppet theatre stems from a time when rice paddy fields were flooded and villagers would make entertainment by standing in the waist-deep water with the puppets performing in the water. Using large rods to support the puppets it appeared as if they were moving across the water with the puppeteers hidden behind a screen. The Performances are accompanied by a Vietnamese orchestra playing traditional music using drums, wooden bells, horns, bamboo flutes, and cymbals. There are also authentic Vietnamese operatic songs telling the story that is being acted out by the puppets. Finally, here is surely the show you must see with kids.
2. Take Part in Vietnamese Traditional Cooking Class
A forgettable memory when your family cooks Vietnamese traditional food. Your family will be experienced to buy the traditional ingredients of Vietnam at the local market. During the class, the master chef will guide you on how to cook the dishes of Vietnam and of course your children also join in. After that, your family has a great meal which is cooked by you.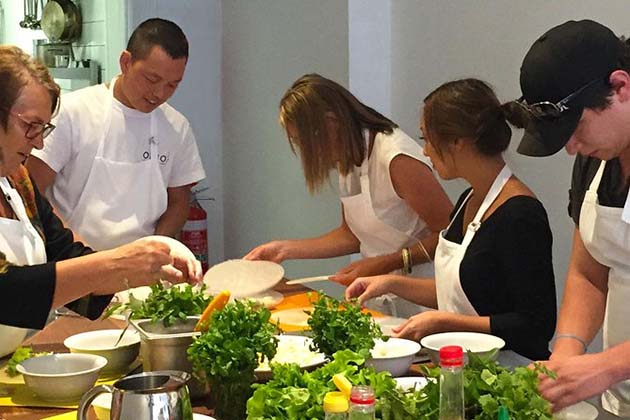 3. Hanoi - the Capital of Thousands of Years Civilization
Leaving the ancient capital with the antique tracks, it's time to move up North to our busy hectic capital of Vietnam, Hanoi, where you must-not-miss destination for a family trip, which is suitable for any ages.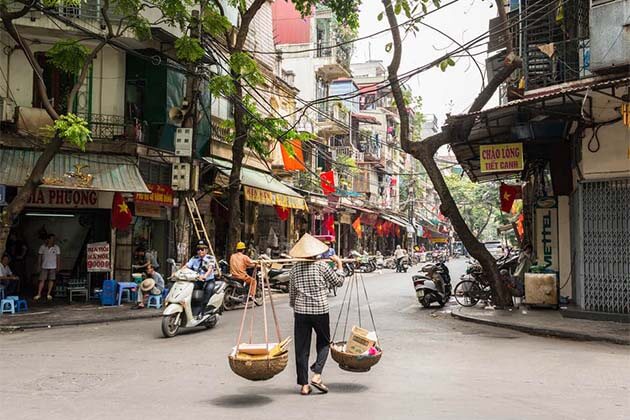 Ideas for Where to Take Your Kids to in Hanoi:
It would be amazing for you just to peacefully take a walk around Hoan Kiem Lake and the nearby street in the ancient town.
The Old Quarter or known as the French Quarter, which can be amazing with beautiful and cultural spots. Especially, the thing you must not miss is the diversity of specialties which is popularly called the street food culture of Hanoi.
It is also highly recommended that you visit some famous spots a little further from the city center. Temple of Literature, Ho Chi Minh mausoleum, Vietnam Museum of Ethnology are highly recommended.
Besides, don't miss out on the entertainment centers and amusement parks which are widely distributed in the city.
4. Halong Bay - One of the World Natural Wonders
The exquisite limestone bay is the destination not to be missed on a tour in Vietnam and becoming a fantastic way to make some great family memories when exploring its other-worldly beauty. In Halong Bay, take a cruise to visit the treasures around the bay, or also take part in the activities such as kayaking and cooking classes, or even spot of karaoke for your little superstars. In Ha Long Bay, the children can join in the activities in the Sun World complex with many kinds of entertainment for both parents and kids.
5. Hue - the Old Capital in Vietnam 
The next best destination of this central land of Vietnam to be recommended is Hue, a center of historical and cultural value. Hue is the place of many amazing places to visit including the Citadel, Forbidden Purple City, Thien Mu Pagoda, Dong Ba Market, Long An Palace Museum, Tombs of the Emperors. At night, a boat cruise along the poetic Perfume river listening to the traditional music of Vietnam can give you and your loved ones the best experience you can never have elsewhere. Besides, Hue Cusine is something of special and unique that may get your children mouthwatering. Mussel rice, Hue beef noodle, spring roll with grilled pork, Hue lemongrass skewers, lotus seeds sweet soup are among the most delicious dishes in Hue.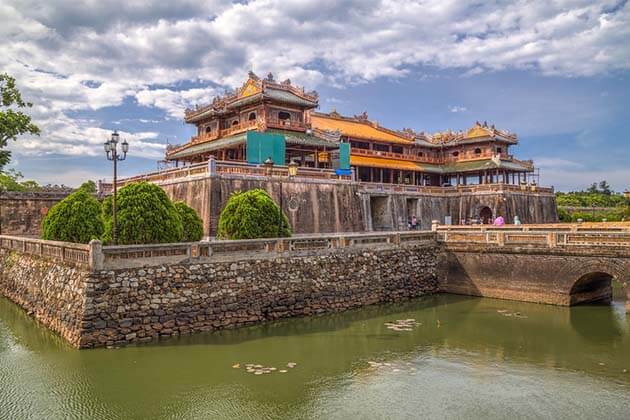 6. Hoi An Ancient Town
Move a little up to the central part of Vietnam, the first of the best destinations to be mentioned is Hoi An, where the ancient town can be a good place to enjoy a tranquil moment in Vietnam family vacation. It's suggested that you visit the tailors, the beaches and temples, go shopping and of course take a food tour around the old town. A boat cruise along Thu Bon river at night to enjoy the brightly colorful floating lanterns is a nice experience one should gain in Hoi An. Especially, each family in the old quarter holds a lantern in front of their home to celebrate the full moon every month on the 15th day in the lunar calendar. This is children's most interesting and worth-waiting activity.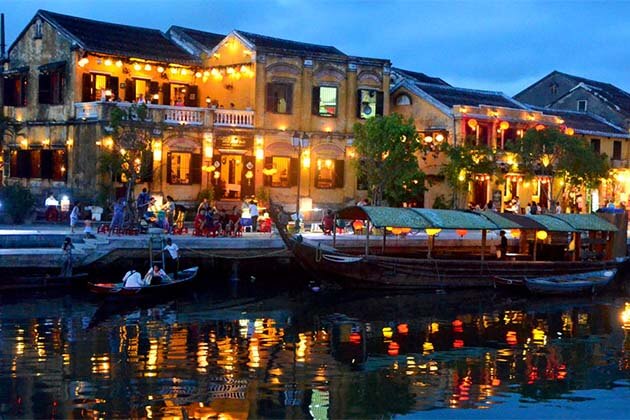 7. Da Nang - A Destination cannot Deny in Vietnam 
Only 30km from Hoi An, Da Nang should be the next destination in your Vietnam family holiday. Da Nang provides tourists the most pristine beaches and beautiful sights.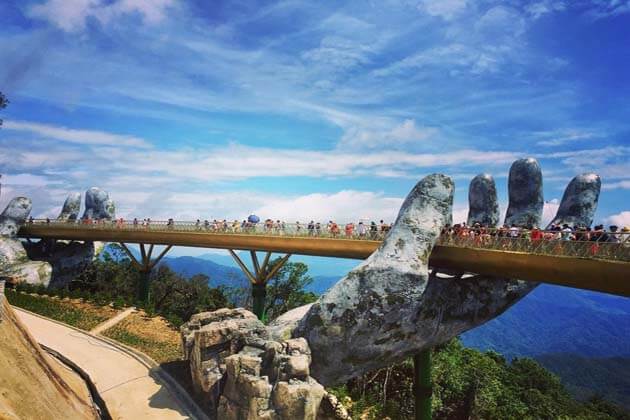 Ideas for where to take kids to in Da Nang:
· The cultural museums and serene pagodas where the old people may like to visit also offered to the list. · A family trip shouldn't miss these must-visit places such as Dragon Bridge, Champa Museum, Linh Ung Pagoda, My Khe beach, Non-Nuoc Beach and Han river bridge. · Besides, Bana Hill and Asia Park offer the greatest entertainment, which is chosen by many tourists when traveling to Danang.
8. Ho Chi Minh City (Saigon)
Ho Chi Minh City is the biggest and most modern city located in the South of Vietnam where you'll find many best destinations suitable for children, adults and old people. There are cultural places, historical spots as well as many entertaining centers and open spaces. In Ho Chi Minh City will be an ideal destination for kids to join the activities and both of you and your kids to get more understand about the highlight attractions in Ho Chi Minh City such as Ho Chi Minh City Museum of Fine Arts, Sai Gon Notre Dame, Gia Long Palace, Sai Gon Opera House, Tao Dan Park and Suoi Tien Park.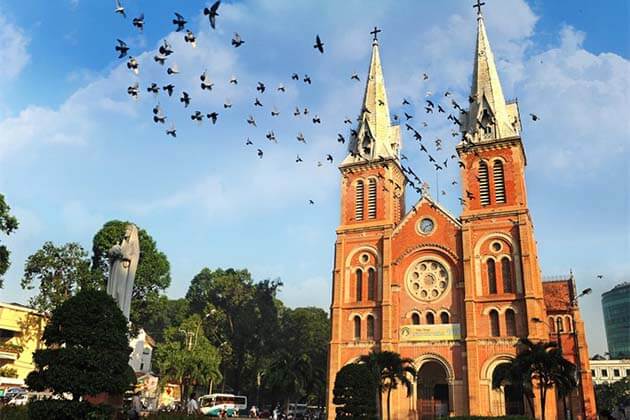 During these days in Ho Chi Minh City, an experience to explore the variety of tasty street food such as
banh khot, banh tambi, banh da cua.
With the vendors selling especially dishes daily on every street corner, you don't stay hungry for a long trip in Ho Chi Minh City Tours. I bet that one of the destinations that your kids will joy is the water park, which is many entertainment activities make you "forget the way back home".
9. Cu Chi Tunnels - Back to the War
Close to Ho Chi Minh City, this is the second destination recommended. With a distance of only about 60km, Cu Chi Tunnel is considered a heroic district for its role during the American war in Vietnam. The legendary for its network of tunnels extending over 220km can get the attention of those interested in history, especially adults and old people. Furthermore, there's delicious manioc, the main food for guerilla-warriors in Cu Chi during the war. Here is a worthy destination for a Vietnam family tour.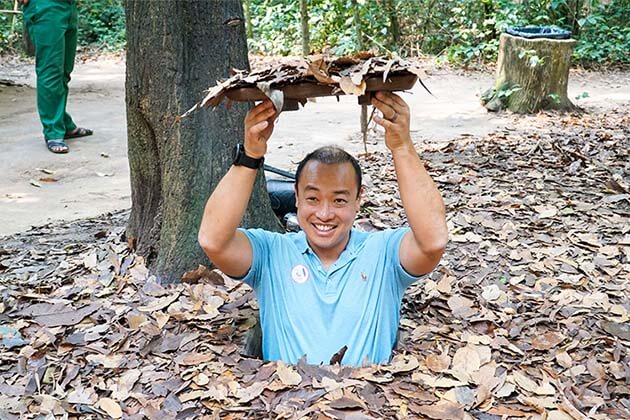 10. Mekong Delta 
Located in the Southwestern region of Vietnam, where the tourists will be offered a wide range of different tropical fruits in the orchards as well as beautiful gardens full of flowering bonsai trees during Mekong Delta tour. This is such an amazing destination as it attracts people of all ages, and the kids are no exception. And Mekong Delta is one of the best attractions to visit in Vietnam with family.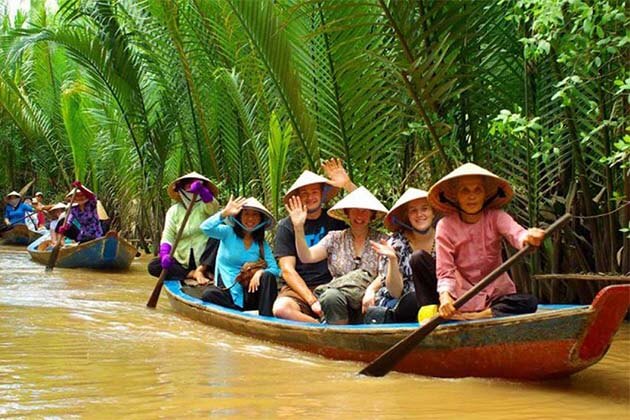 Nobody can deny the best chance to enjoy the activities and excursions overview here. Taking a mesmerizing cruise through the amazing floating market of Cai Rang riding the bike through small local villages and visiting fishing farms are highly recommended.
Best places to visit in the Mekong Delta with kids:
Can Tho – Cai Rang Floating Market
Cai Be – Cai Be Floating Market
Ben Tre
Sa Dec – Flower Village
Things to do in Mekong Delta with kids:
Homestay at a garden house
Boat trip to a floating market
Take a visit to fruit garden in Mekong Delta and enjoy the freshness of local fruits
Visit local factories or handicrafts villages
Enjoy the beautiful landscape at Sa Dec flower village
Try local delicacies