General Information
Tour route: Hanoi – Halong – Sapa – Hoi An – Nha Trang – Ho Chi Minh City – Mekong Delta – Ho Chi Minh Departure
Duration: 15 days
Date: No fixed departure dates. You may go whenever you wish
Start/End: Hanoi/Ho Chi Minh City
Tour Type: Landscape, Culture, Outdoor soft adventure, beach vacation
Tour Categories: Vietnam family vacation packages
Tour Customizable: Absolutely! (Tell us your specific requirements in the inquiry form)
Active level: Easy & Regular itinerary
Brief Itinerary
Day 1: Hanoi arrival
Day 2: Dong Ngac Cultural Village with a bike – Half day city tour
Day 3: Hanoi – Halong Bay (overnight on junk)
Day 4: Halong Bay – Hanoi, overnight train to Sapa
Day 5: Sapa trekking – Home-stay
Day 6: Sapa – Express bus to Hanoi
Day 7: Hanoi – fly to Danang –Hoi An – Walking tour
Day 8: Farming and Fishing Eco Tour (half day)
Day 9: Hoi An –Danang – fly to Nha Trang
Day 10: Islands and Snorkeling Tour
Day 11: Nha Trang (All day free)
Day 12: Nha Trang – fly to Ho Chi Minh City
Day 13: City tour & Cu Chi Tunnel
Day 14: Mekong Delta (full-day tour)
Day 15: Ho Chi Minh City departure
Day 1: Hanoi Arrival (D)
Welcomed by our tour guide and driver, we quickly transfer to our hotel in the city center. Here, spend the rest of the day recovering ourselves after a long-haul flight before visiting a local family which is can be the family of our sales or guides to have an informal dinner with them and experience the hospitality of Vietnamese people. We can cook with the host to learn how to cook some simple Vietnamese traditional dishes if we are interested. Experience daily activities of Vietnamese like watching TV while enjoying a meal together or anything we would like to do. Have a rest before our driver comes to pick us up at our hotel. Overnight in a hotel.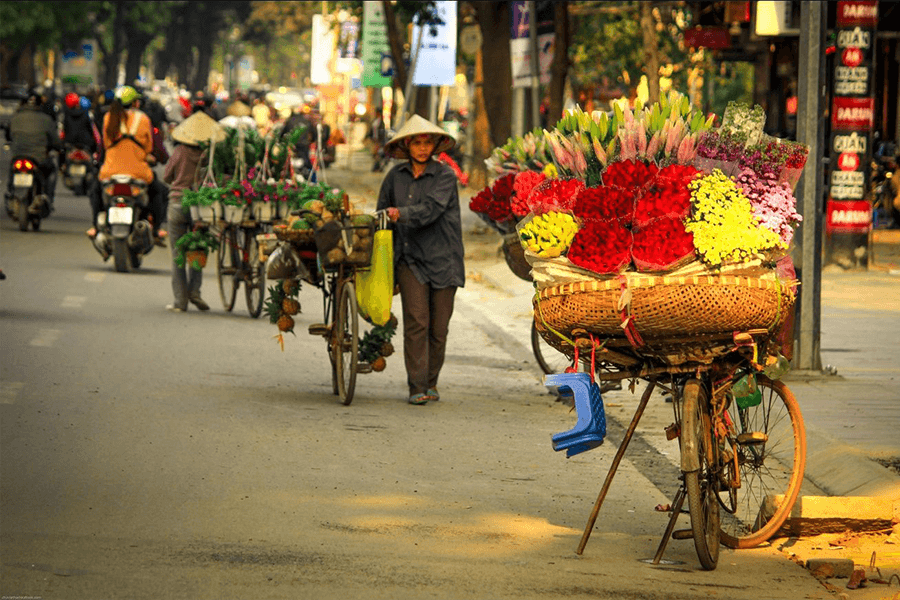 Day 2: Dong Ngac Cultural Village with Bike – Half day city tour (B, L)
Drive about 15 km to the northwest from Hanoi center, we attend Dong Ngac Cultural Village – an old village and a Cultural Heritage Site were to worship educated and heroic people recognized by the Kings of Vietnam. Then, we get the experience as a truly local people by taking a market tour in a hustling and bustling atmosphere, choosing fresh ingredients, and making lunch today by ourselves with the introduction of the tour guides. Afterward, take a short walk to Ms.Nham's or Ms.Quy's house to enjoy a warmly welcome drink and leave all those things we have just brought to prepare for a bike tour. Pedal around the village and interact with friendly villagers with the tour guide's help. Return to the traditional house where we will be taught to cook with all those ingredients we had bought by a vivid cooking demonstration by the host and enjoy dishes after finishing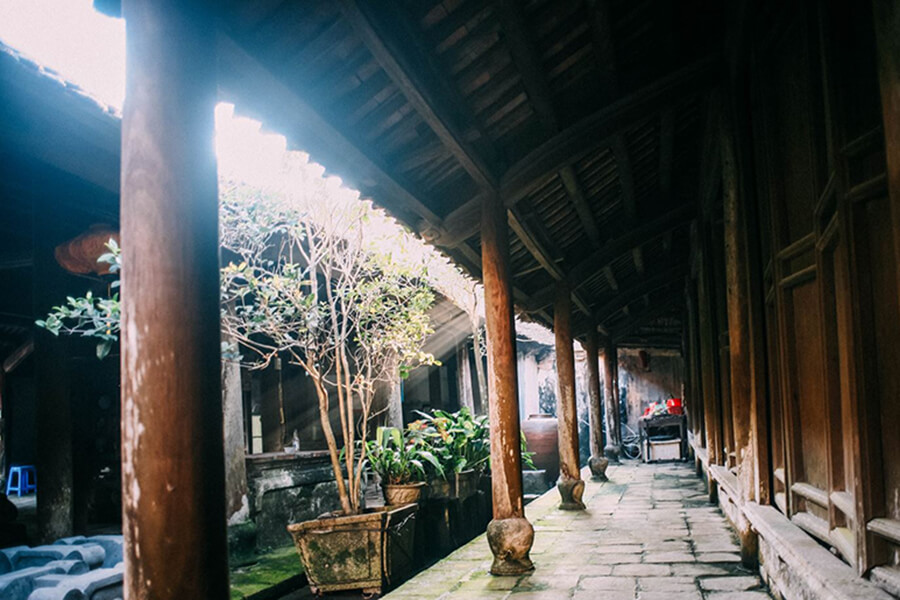 For the rest of the day, back to Hanoi and get more insights into the history and culture of this city. First to the Museum of Ethnology which exhibits valuable objects and documents of 54 ethnic minorities in Vietnam. Then, set foot on the Temple of Literature – the first university of Vietnam built in 1070 were still has remained quintessence in culture and education from the Ly Dynasty.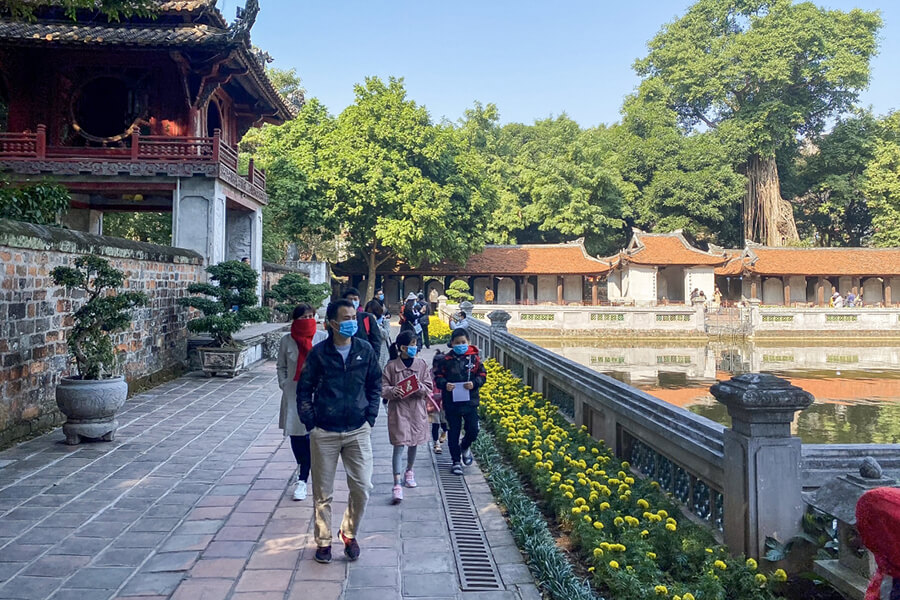 Ends the trip today by enjoying a water puppet show – one of the most famous Vietnamese traditional performances after back to our hotel. Overnight in Hanoi. If today falls on a weekend, we will visit extra sites like the Old Quarter and night market which is only available on Saturday and Sunday nights.
Day 3: Hanoi – Halong Bay (overnight on junk) (B, L, D)
Head to the Northwest within 3 hours, spend a full day exploring Halong Bay – one of the most worth- visiting destinations of Vietnam owning over 1600 mighty limestones and islets emerging from the blue sea. Being recognized by UNESCO in 1994, Halong Bay is also well-known for its bio-diversity, and historical and cultural values.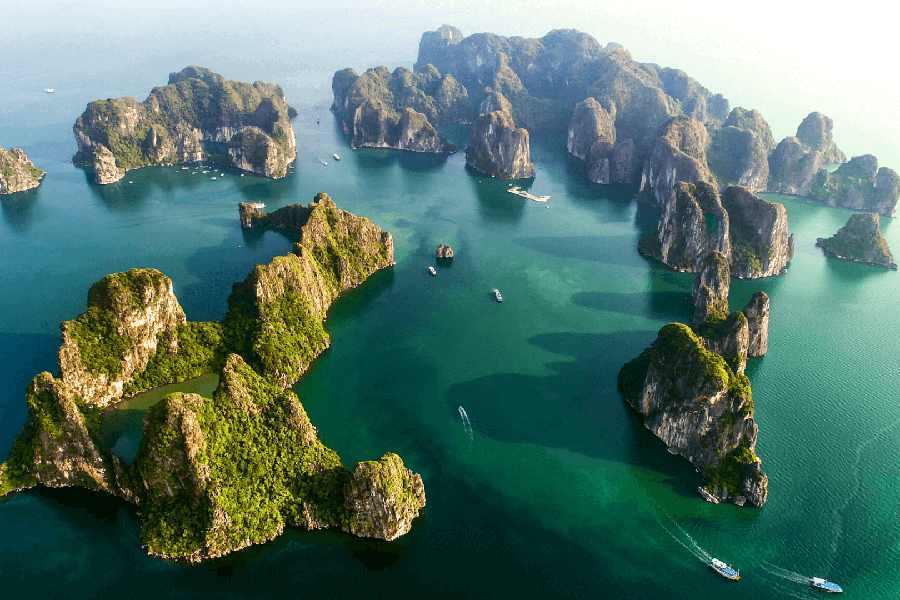 Embark is a junk that is designed as a floating hotel including sufficient facilities with private rooms, toilets, a spa, restaurants, sundecks, and Jacuzzi. Leave Hanoi in the morning, intent on Haling Bay, and check-in our junk in the noon. Enjoy our delicious lunch on the junk and have a rest before taking part in many interesting activities for the rest of the day. However, depending on the weather and seasons, we can visit some beautiful caves in the Bay, go fishing, kayaking, or just relax on the sundeck. Have dinner and overnight on the boat.
Day 4: Halong Bay – Hanoi, overnight train to Sapa (B, L)
It's up to us to wake up early to enjoy the sunrise on the sundeck with a cup of tea or coffee and join in Tai Chi exercises. Afterward, have breakfast with other tourists at the restaurant and then take part in some interesting activities together with the guideline of our guide on the boat. Then, we check out earlier than usual (at around 10 am) and put our luggage outside the room. At lunchtime, enjoy our meal before disembarking on the mainland where our driver is waiting for us to return to Hanoi. Head to the Northwest to Sapa by a night train. The cabin is clean with four berths that can ensure your privacy and comfort.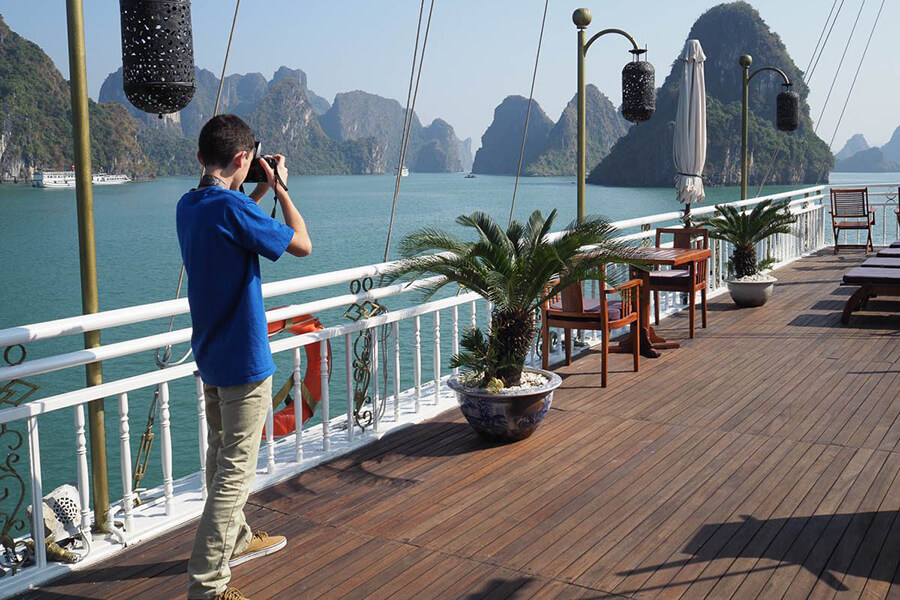 Day 5: Sapa trekking – Home-stay (B, L, D)
Itinerary today starts with a local guide taking us to Muong Hoa Valley where we will have a trekking tour to explore the rustic beauty of nature and the unique cultural identity of ethnic minorities. We first take a short ride to the village gate then we start trekking along buffalo paths, village lanes, streams, rice paddies, etc., and interacting with Black H'mong, Dao, and Day people to get more insights into their daily life with the tour guide's help. After a long day of hiking, we will rest in a homestay located in a hill tribe village where we are warmly welcomed by an ethnic host with a common saying: "You will arrive as a guest but leave as a friend". Overnight in homestay.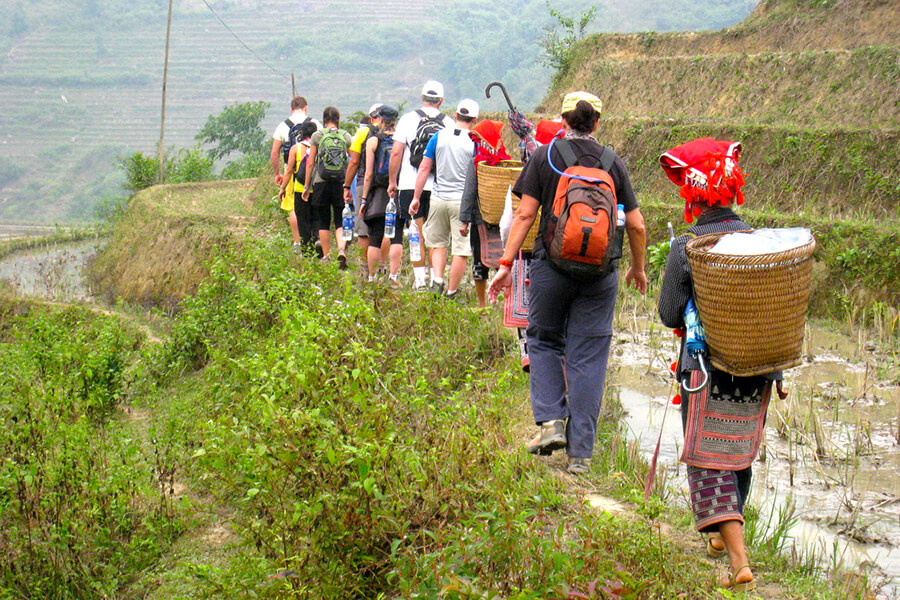 Day 6: Sapa – Express bus to Hanoi (B, L)
Say goodbye to our host, we continue trekking and enjoying the tranquil landscapes of the mountainous area on the way to visit the Red Dao people in a valley. Here, listen to our guide tell us many interesting stories about people and their unaffected life. The trip continues by passing a bamboo forest and catching up with a spectacular waterfall where we stop for our lunch. Have a short rest and back to the town for the departure drive to Hanoi lasting 5.5 – 6 hours by Express bus. Arrive at Hanoi then check-in at our hotel. Overnight in Hanoi.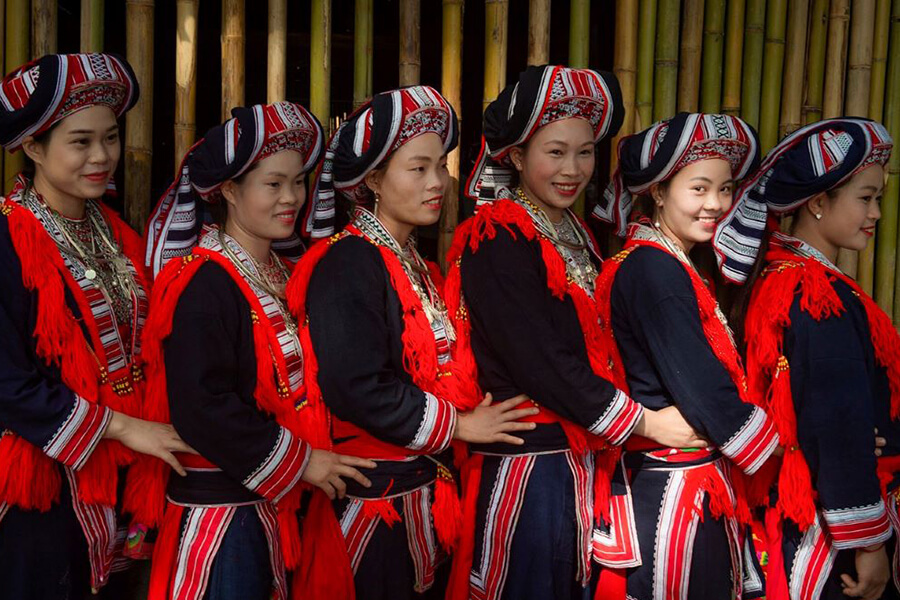 Day 7: Hanoi – fly to Danang – Hoi An – Walking tour (B)
Spend this morning resting until the early afternoon, we take a departure flight to Danang. After being welcomed by our guide and driver at Danang Airport, we transfer to Hoi An – one of the most must-visiting destinations in Vietnam. Located right next to Thu Bon River, Hoi An was a well-known town named Faifo were used to be a trading area of numerous businessmen from Japan, China, Spain, Italy, etc. in the 16th and 17th centuries. This ancient town was recognized as a World Culture Heritage and is very appropriate for the family tour with many splendid sites like shopping areas, rice paddies, beaches, restaurants, cooking classes, etc.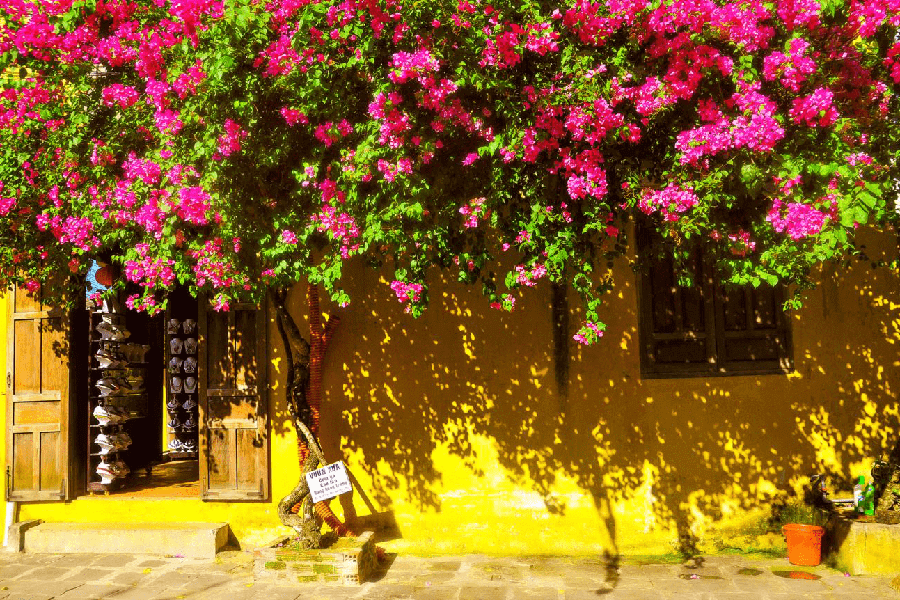 Afternoon sightseeing with a local guide introduces us to highlights of Hoi An including the Japanese Covered Bridge, Pottery Museum, Tan Ky Old House, Cantonese Congregation, silk streets, temples, and pagodas in Chinese style. It is free for us to stop at any sites we want to visit. Ends the walking tour and back to our hotel. Overnight in Hoi An.
Note: It is a chance for the family to experience the sparkling and fanciful scenery of the Lantern Festival if today falls on the middle day of the month according to the Lunar Calendar.
Day 8: Farming and Fishing Eco Tour (half day) (B, L)
Start the trip today with our Farming and Fishing Life Eco Tour to get experiences as a truly Vietnamese farmer. Before departing, listen to our guide give us the itinerary then we choose a bike for each member of the family. Head to Tra Que Village in the Northeast about 3km far from Hoi An, we will pedal through beautiful rice paddies before joining in some interesting agricultural activities with local farmers such as preparing land for sowing, fertilizing the garden by using seaweed from the river, watering it with big tin cans and picking vegetable, etc.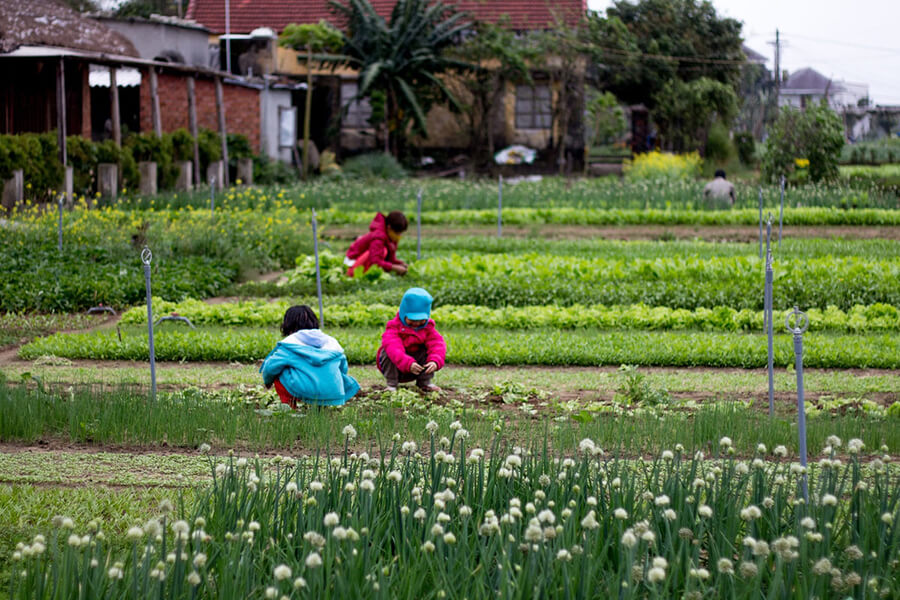 After that, transfer to the boat pier by bike or bus if someone does not want to pedal anymore. Here, meet a couple of fishermen and see how they traditionally catch fish with their nets in the middle of the river. Say goodbye to them, we continue exploring other fishermen making basket boats skillfully. Ends this tour by relaxing on the beach and enjoying lunch with dishes made from vegetables we have picked before. Back to the hotel. The rest of the day is at our leisure. Overnight in Hoi An.
Day 9: Hoi An – Danang – fly to Nha Trang (B)
We must take a morning flight from Danang to Nha Trang because there are not many choices of flight time for this route.
Known as a "Gem of the Far East", Nha Trang is a coastal city located on the South Central Coast of Vietnam and a center for marine science based at the Nha Trang Oceanography Institute.  Not only famous for its beautiful beaches, but Nha Trang also attracts tourists with its diverse activities like mud baths, golf, surfing and scuba diving, etc. that are available around the year. Historically, Nha Trang has an old name under the Champa which was Kauthara. Nowadays, it is still home to Cham ethnic minority with remaining famous historical vestiges, especially Po Nagar Temple Complex. Warmly welcomed by our tour guide and driver when arrival. Please feel free to ask the guide about our holiday in Nha Trang. After that, check-in at a hotel and then transfer to a beach for relaxing. Overnight in Nha Trang.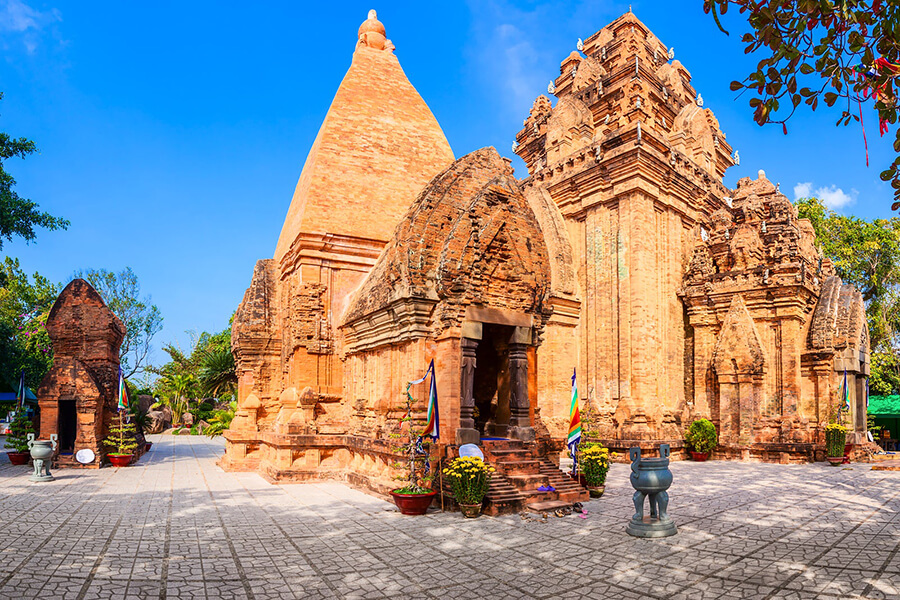 Day 10: Islands and Snorkeling Tour (B, L)
The itinerary today mainly focuses on Nha Trang's highlights are very appropriate for everyone on our tour. First to Tri Nguyen Aquarium where we will visit an amazing reduced ocean world with many species of fishes, corals, etc. Then, embark on wooden boats that will take the family to Mun Island for snorkeling and Mot Island or Tranh Beach Island for swimming or water activities, etc. On the boat, our guide will introduce us to a typical kind of bird in Nha Trang – skylarks and it is living habits. At lunchtime, a delicious meal is ready to be served to us at a local restaurant. Around 4 pm, back to the pier. Overnight in Nha Trang.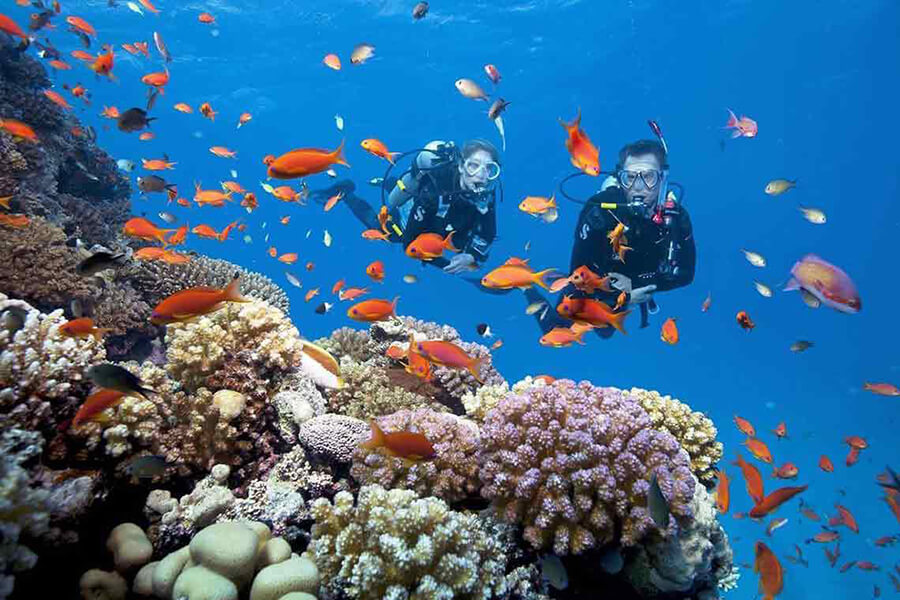 Day 11: Nha Trang (All day free) (B)
Today is at leisure. There are many choices for us which can be relaxing on the beach or swimming in the pool; exploring Vinpearl Theme Park or simply enjoying a mud spa at Thap Ba; gaining more historical insights at Thap Ba Temple or strolling around the local market to experience a hustling and bustling atmosphere, etc. It is totally up to us. Do not worry about transportation because taxi services are always available in Nha Trang. Overnight in Nha Trang.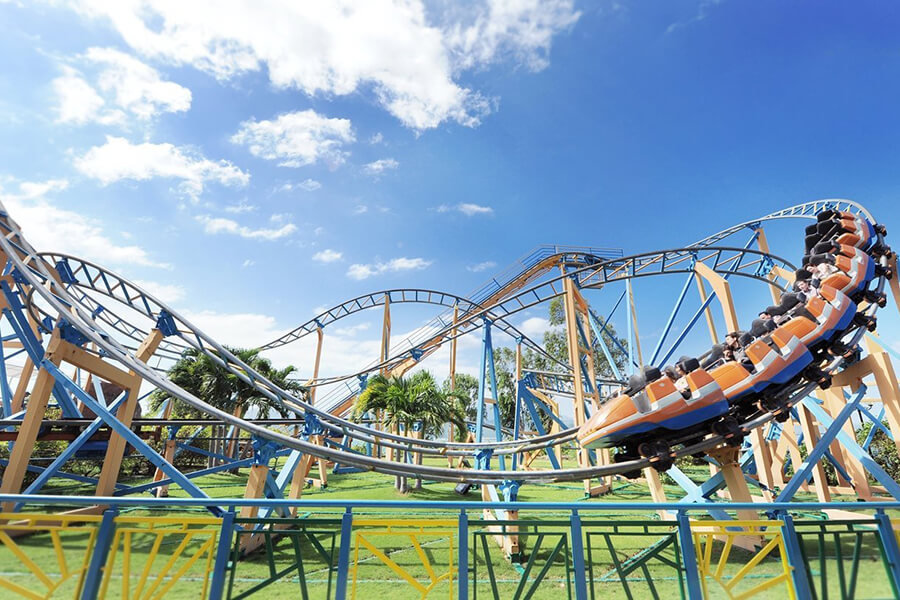 Day 12: Nha Trang – Fly to Ho Chi Minh City (B, D)
This morning is free for us until the mid-afternoon, we will take a 1-hour departure flight to Ho Chi Minh City (Saigon). Welcomed by tour guide and driver when arrival, then transfer to a hotel for checking in.
Spend the first night in Saigon experiencing the eventful atmosphere of this city from a boat on the Saigon River Cruise while having dinner. Overnight in Saigon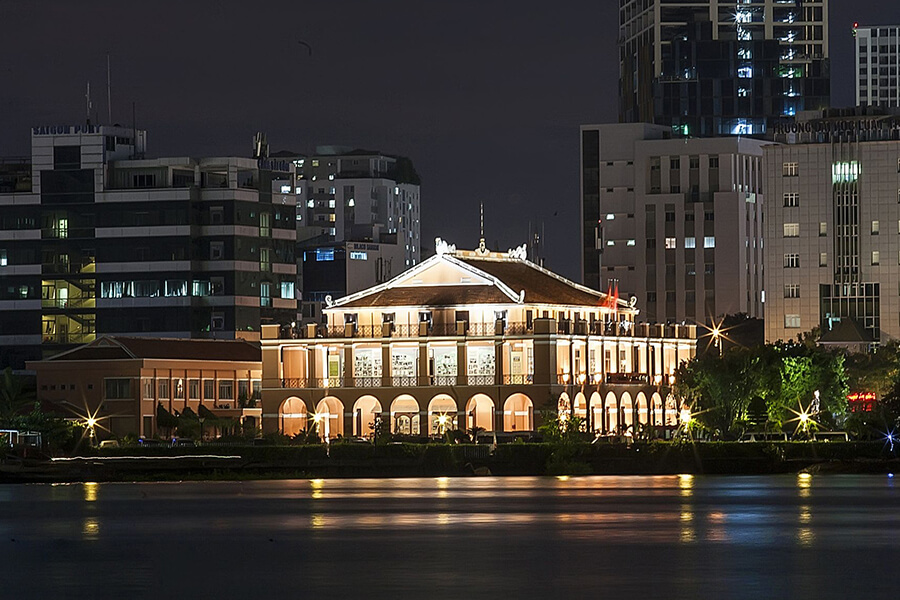 Day 13: City tour & Cu Chi Tunnel (B, L)
Full-day sightseeing with our guide takes us around the city center and introduces us to one of the most famous historical monuments of Vietnam – the Cu Chi Tunnel. First to Saigon's highlights with Reunification Palace, War Remnant Museum, Old Post Office, and Notre Dame Cathedral. A museum is an option if we are interested in it or not. Next, we will have a glance at Chinatown and Giac Lam Pagoda. Afterward, we quickly transfer to Cu Chi Tunnel which is 50 km far from Saigon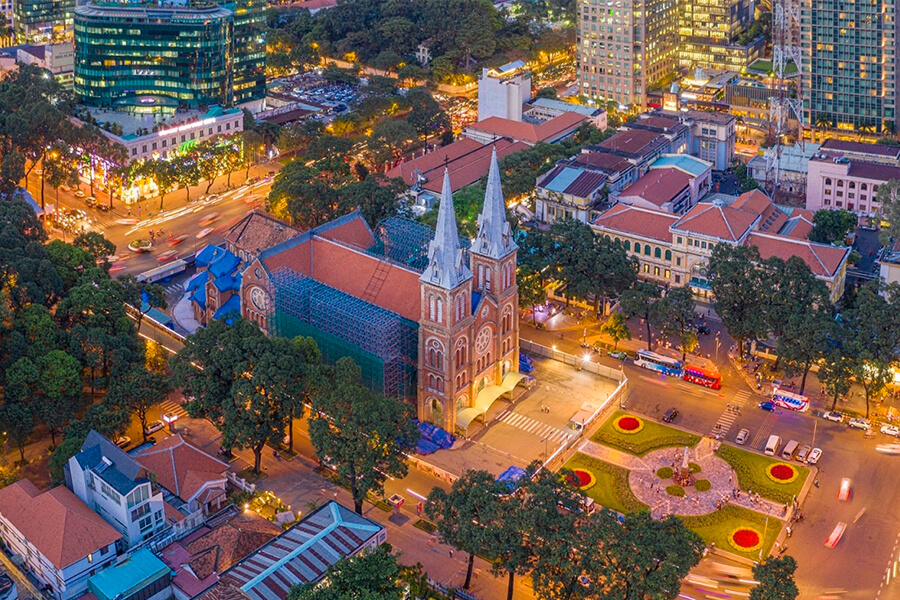 Cu Chi Tunnel is a secret underground system built during the Vietnam War and Indochina War including innumerable trap doors, living areas, storage facilities, hospitals, kitchens, weapon factories, and command centers with a length of over 250m in the total. Here, we can also witness other remaining historical vestiges of a magnanimous period like a US tank or many bomb holes made by 500lb bombs.
Note: Cu Chi Tunnel will be recommended to visit in the morning from May to October every year (rainy season).
At night, intent in Saigon and continue exploring it by visiting the night market in the Ben Thanh market area where the family can go shopping and have dinner.
Day 14: Mekong Delta Full-Day Tour (B, L)
Full-day explore a highlight of Mekong Delta – Cai Be Floating Market. Head to the Southwest about 120km, we will visit Cai Be at its busiest time (6 am- 9 am) to experience the hustling and bustling atmosphere of this colorful floating market. Here, we can find various kinds of agricultural products. Interestingly, boat owners will hang their products on a stick in the boat to show buyers what they want to sell which creates a unique feature for this kind of market. After that, on sampans, a boatman will take us to go farther to villages to visit workshops, and brick kilns, taste some seasonal fruits, and enjoy lunch at a local house. After that, join in a bike tour to discover the rustic beauty of the countryside in villages before getting back to Saigon. Overnight in Saigon.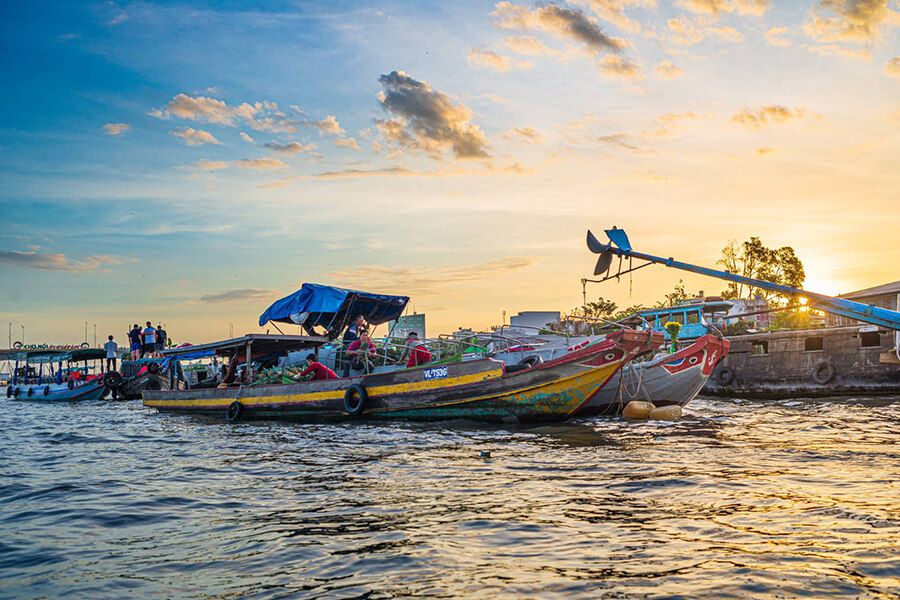 Day 15: Ho Chi Minh City Departure (B)
Say goodbye to Saigon and take a departure flight to your home. Our trip ends. See you soon on another Vietnam vacation package!
"Free Inquiry this tour or create your trip with our travel expert"