Neither the beautiful Maldives nor romantic Hawaii, Vietnam become a spotlight for honeymoon destination which chose by many couples. The inspiring landscape is given by the Nature Mother, and the ancient beauty existed from 1000 years ago, which surely will bring the couples unforgettable and meaningful experiences in the S- shape country. Here, we offer 10 best honeymoon destinations in Vietnam for your ideal on in a lifetime honeymoon holiday package as well as the main highlights during Vietnam Vacations.
Da Lat – The Love Paradise in Vietnam
Being situated on the Lam Vien (Lâm Viên) highland, in Lam Dong Province, to the southern area of Vietnam, Da Lat, one of the best places for honeymoon in Vietnam, has never failed in impressing couples.
Although Da Lat is a quiet city, you will never feel bored here. In the big day of your whole life, you and your special life partner can enjoy Dalat in different ways, be it admiring the landscape associated with loyal and faithful love, sipping morning coffee at the dreamy Ho Xuan Huong (Hồ Xuân Hương) lakeside, walking hand in hand on the quiet streets of Dalat when the night falls down. All of these will make you love Da Lat more.
Also called as "Le Petit Paris", this beautiful town offers couples a luxury retreat from the hustle and bustle of busy cities. In Dalat, there are many activities for both of you. You could play golf, visit sacred temples, and enjoy the cool and romantic atmosphere ideal for honeymoon with delightfully hokey tourist sites.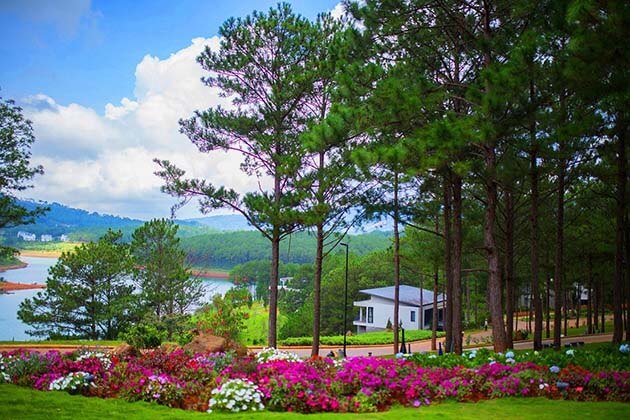 Da Lat is mercifully cool all year round, so there is no need for using air-conditioning. This beautiful town is a unique combination of European alpine resort and pastoral hillside Vietnam, which makes Da Lat is not the same as others. Strolling around under the romantic landscapes, there are relics of colonial mansions scattering and some serene pagodas in a lovely setting of nature, which all prove that you have just escaped from the big cities of the country for real. There are some ethnic minorities, like the Koho and the Lat (Lát), living in and around those picturesque hills surrounding the town and you could visit a few of rural villages when joining in local tours.
Danang – A Bright Spot in Vietnam Honeymoon
Vietnam is known as a beautiful country supplying an excellent escape for newlyweds due to its unspoiled landscape and quiet nature. For couples, planning on a memorable honeymoon trip in Vietnam, Da Nang is known as one of the most places must-see. Normally, visiting Hoi An means that travelers will go a common strip: Hue – Hoi An – Da Nang; nevertheless, if you two do not want to extend your time on the road, you could shorten it by visiting just Hoi An and Danang. Two of you will be surprised at the lively beauty of the green city with various tourist destinations, such as Ba Na Hills, Han (Hàn) River, Cham Museum, etc.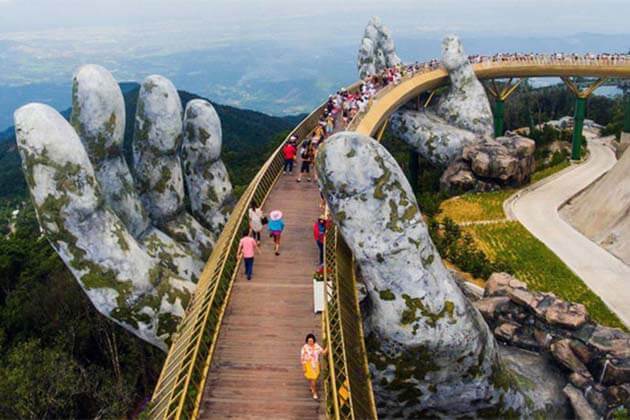 Mention to Ba Na Hill, which is famous as a fascinating place, was established by French colonists in 1919. Being best known as a hill resort and station, situated in Truong Son Mountains, right on the west side of the city of Danang, Ba Na Hill could give tourists an outstanding experience of nature, peace, clean air, and its prominent feature, the longest single-track cable car all over the world. Da Nang is also chosen by the newlyweds, which is as a dreaming destination for their honeymoon in Vietnam.
Hoi An – The Ancient Town in the Central
Famous for romantic and quiet beauty with quiet streets, old houses, friendly locals and tasty foods, Hoi An is one of the best places for honeymoon in Vietnam you should drop one in your lifetime. Additionally, you two could also immerse your own in the fresh blue water of the beautiful Cua Dai (Cửa Đại) Beach. It is said that the best time to visit Hoi An is the full moon day. This time, electronic lights will be turned off and lanterns will be burned on. Indeed, Hoi An is a perfect destination for a cultural, historical romantic getaway. Walking on the old heritage town of Hoi An is really a unique experience because you will find almost no pollution and traffic out there.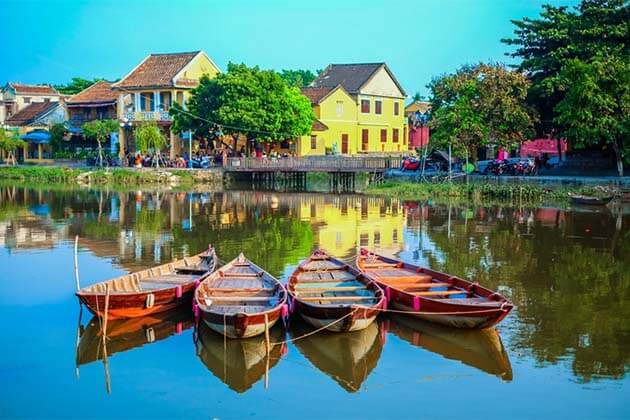 Hue – A Royal Romance in the Imperial City
Hue is an interesting city that has become the seat of the Nguyen emperors. It was also the capital of the Nguyen Dynasty from 1802 to 1945. Hue is not only romantic but also dreamy beauty when covered by the palaces, temples, and the Imperial City. The ancient citadel dating back to the 19th century is the most attraction here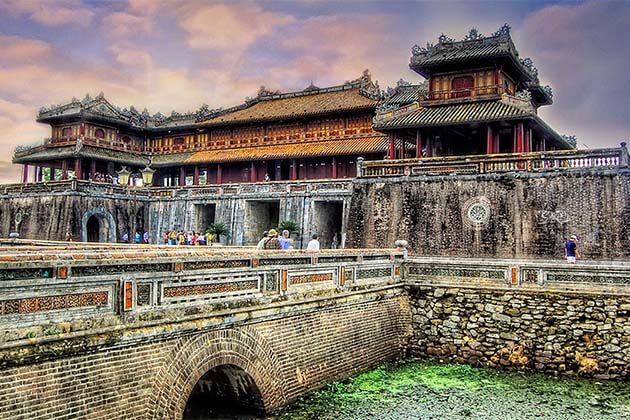 Sapa – The Rice Roof of Indochina
If Da Lat is the symbol for lovers in the central of Vietnam, Sapa is one of the suggestions for a honeymoon in the North. Known as the mountainous town which is always beautiful year-round, Sapa has dreamed, majestic and romantic beauty. Spending your honeymoon tour in this town, you will not only have an wonderful opportunity to enjoy the fresh air of an area of Vietnam's northwest, but also contemplate many scenic views, such as the old French villas, Silver waterfall which is 100 meters in height, the "Heaven Gate" – "Cloud Yard" and learn the daily life of H'mong people in Cat Cat (Cát Cát) village. I bet that the images of Sapa town engulfed in fog will impress your couple even a long time afterward. The price of hotels in Sapa is not expensive, but in order to enjoy your full honeymoon in Vietnam, you should select the hotels with 3 or 4 stars.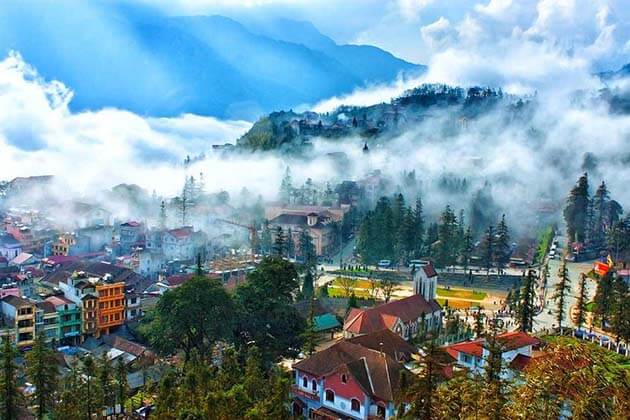 Phu Quoc – A Romantic Destination You Cannot Miss
If you want to spend your honeymoon in such a private space to avoid the noisy every day, Phu Quoc is your choice. Also known as the pearl island, Phu Quoc is considered the largest island of Vietnam. You can visit Phu Quoc by plane or boat. On this island, many hotels have free shuttle buses to and from the airport. It is very convenient for tourists to travel. However, similar to any other tourist destination, you should book a hotel early to avoid passive in case the hotel is out of the room or the price is too high.
Phu Quoc, a peaceful tropical paradise, floats in the warm turquoise water in the Gulf of Thailand, and about 50 minutes from Saigon. True to its name, Phu Quoc beach gives Vietnamese and international tourists the impression of different beautiful beaches such as Gach Dau (Bai Dau), Bai Truong (Truong) or Sao Beach ( Bai Sao), etc. You should also enjoy the wonderful scenery of famous landscapes such as Suoi Tranh (Suoi Tranh), Ba Dan (Da Ban Suoi), etc.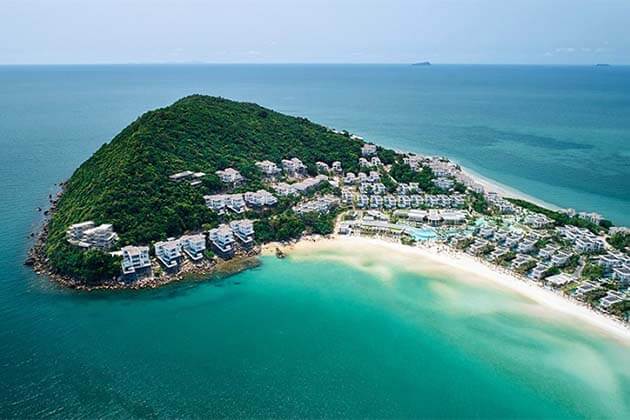 One day, you can experience the Vietnamese culture at the local market in the morning, relax on a remote and beautiful white sand beach of Phu Quoc in the afternoon, enjoy a delicious dinner at one of the restaurants and high-quality accommodation at this wonderful island or hotel.
Most of Phu Quoc Island is reserved for the National Park as well as the protected marine environment, providing a memorable experience with many interesting activities along with places to entertain your couple on vacation.
Halong Bay – The Bay of the Descending Dragon
Ha Long Bay, one of the most famous attractions in Vietnam, is also a UNESCO World Heritage Site, both magnificent and mysterious, which is an incredible miracle of Mother Nature that is almost never failed to impress.
These mountain-like islands sprout from the green-blue water create a mantra for tourists. Perhaps that is why the area is listed on UNESCO's world heritage list. And that is not all. The beautiful scenery also makes it one of the most sought after honeymoon locations in Vietnam.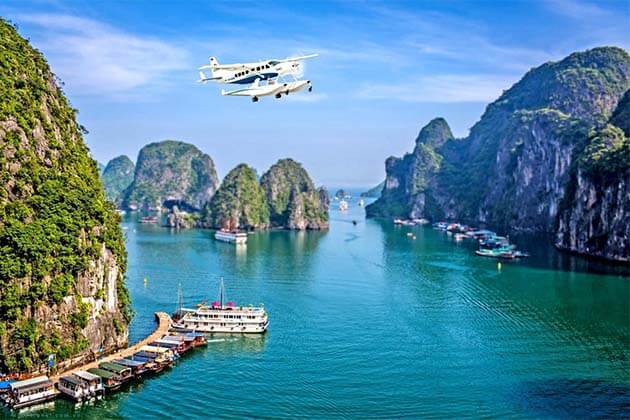 Hanoi – The First Stop in the Honeymoon Tour of Vietnam
You will be surprised, and will not understand why couples should spend the honeymoon in Hanoi. There is no blue ocean, no majestic mountains, nor the warmth of freshwater from hot springs, etc. But Hanoi has its own specialties that are nowhere to be found. Holding hands walking on the old streets in the autumn of Hanoi with the scent of the Blackboard tree in the chilly air is a unique memory. Spend your honeymoon in Hanoi to know why Hanoi's autumn is so popular. There are many hotels in Hanoi but couples should choose resorts far from the city center because these resorts have quiet space and very nice rooms.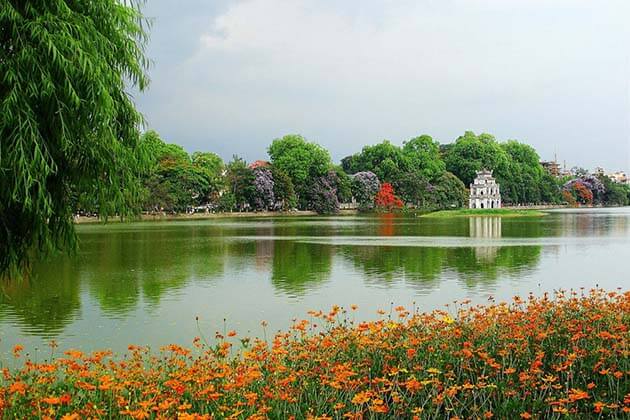 Ho Chi Minh – A Lively and Bustle City in the South of Vietnam
Ho Chi Minh, definitely! The place cannot miss the honeymoon itinerary in Vietnam. A bustle and hustle city in the south of Vietnam, both of you can enjoy the last day in Vietnam. Holding hand and strolling through the small corners on the street, visit the highlight attractions or simply you can sip a cup of coffee with your partner in the ancient space of Vietnam.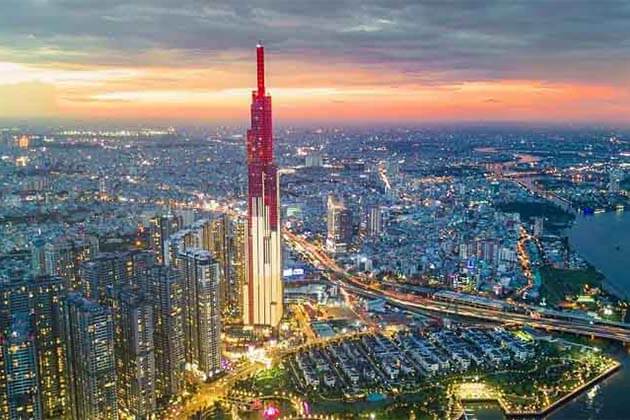 Nha Trang – A Romantic Beach in the Central of Vietnam
Despite Nha Trang does not have romantic and dreamy beauty like Da Lat (Đà Lạt), it still gives couples an impressively spacious space along with peaceful moments. Visiting Nha Trang, you two could join in parties on white sandy beaches, drowning in relaxing hot mineral springs, or under running water massage rays. Additionally, Nha Trang will warrant your best honeymoon in Vietnam because there is a wide arrange of entertaining beach activities for your own choice. You could select either Snorkeling or diving
Among the coral reefs in crystal blue waters, cooling off if your private plunge pool, hiking nature trails, indulging in great spa treatments, or just simply relaxing on the white sandy beach and admiring the unspoiled sea and mountain views. Experience memorable nights at one of the top-end resorts in Nha Trang or the hotel of your choice (depend on your budget).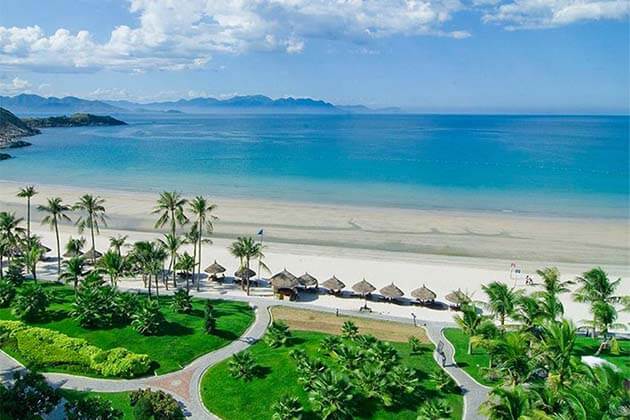 Indeed, Nha Trang offers a lot to keep visitors occupied, from historic sites, scuba diving, to hopping boat trips, mud baths. Yet, the major attraction for most tourists is to lounge around on the deckchairs at beachfront bars and drinking cocktails in their comfort.
Con Dao – Mysterious but Romantic
The last but not least attractive thing regarding the best place for honeymoon in Vietnam is Con Dao. Chose as one of the most mysterious islands in the world, Con Dao becomes more attractive to visitors, especially newlyweds on their honeymoon, due to the peaceful scenery and the pristine beaches.
Located in the southern part of Vietnam, over the years, people have been accustomed to calling Côn Đảo. However, Con Dao is also a vast blue sea and the sky is the top destination of the famous travel magazine. In fact, Con Dao is an offshore archipelago of Ba Ria – Vung Tau province (Ba Ria – Vung Tau). Also known as Con Son (Côn Sơn) or Con Lon (Côn Lôn), Con Dao is the largest of 16 islands. The most interesting thing when exploring Con Dao is immersed in the world of the ocean, admiring the colorful coral reefs stretching for thousands of kilometers and watching dolphins playing with the water. At low tide, a great picture of rock clamshells will appear before your eyes. You can wander in the Ong Dung forest (Ong Dung), watch the rainforest with rare 100-year-old timber trees and listen to the chirping on the branches, all creating a vivid picture of nature.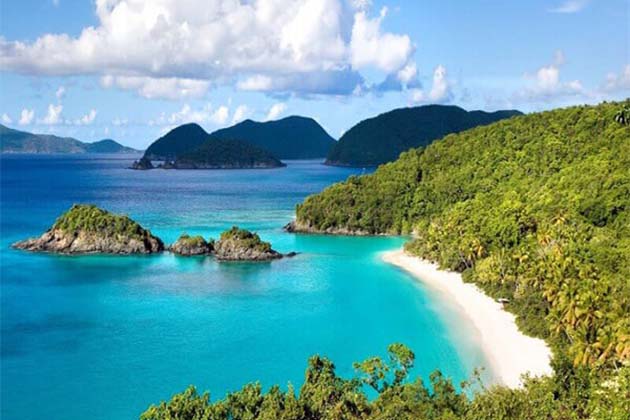 Mui Ne – The Collaboration between Desert and Sea
Dubbed the resort's capital, no matter what your budget, there are always suitable options for you to choose a resort to experience your real honeymoon in Mui Ne. Mui Ne is sometimes referred to as Vietnam's resort capital and this is an ideal paradise for couples to enjoy the most memorable honeymoon in Vietnam. In fact, Mui Ne may be one of the best honeymoon destinations across Asia. In particular, it's not too crowded, so you and your spouse will be able to enjoy your privacy. There are about 12 surf centers in this destination that you can choose from. Other interesting and interesting activities in Mui Ne can be red and white sand dunes, fairy streams, mini-golf courses, and Mui Ne harbor. The empty beach, sunny days and water throughout the year are the most interesting features of Mui Ne, making it a popular tourist in Vietnam.
Opt for Full Moon Village in Mui Ne as a hotel for your honeymoon in Vietnam. This site offers villa-style accommodation. Each villa has a small bar, fully equipped kitchen, hot tub, king bed, and fast WIFI. Overall, the resort offers room service, a bar and pool, a private beach, an arrangement, water sports activities, BBQ facilities and free shuttle to Mui Ne.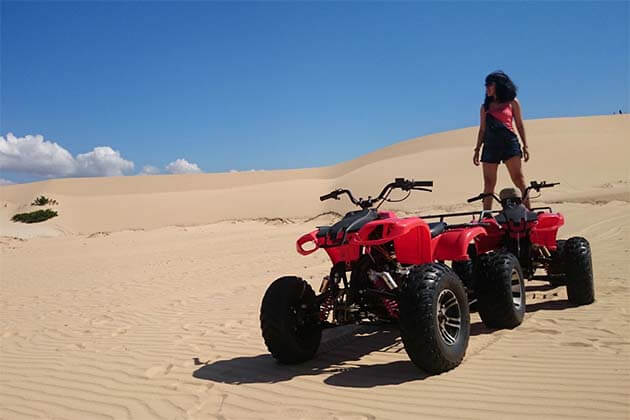 Rom Island (Hon Rom) is an ideal destination for couples to enjoy a honeymoon trip. Nature tends to Phan Thiet – Mui Ne (Phan Thiet – Mui Ne) a channel with endless sand dunes and coconut trees swaying on the waves. In a rare moment, there are couples who can keep the romance of love together.
Perhaps the most impressive thing when you visit Mui Ne is to admire the rows of coconuts along the armed-shaped coastline. Extremely tall trees facing the coast paint a beautiful image as if they show their strong vitality through time and storm. Having a crowded fishing port with a rich source of fish, Mui Ne also owns pristine beaches, fresh natural environments such as Bai Dai (Bai Dai), Bai Tram (Bai Tu), Bai Sau (Bai Sau), and breathtaking scenery.
After all, we also recommend a honeymoon itinerary in Vietnam that you can follow, which is sure that both of you have a great trip in your Oklahoma day.
We suggest to you the itinerary for the Vietnam honeymoon vacations you can follow. Check it out and choose one suit for both of you.