Vietnam is one of the countries in Southeast Asia that deserve to travel at least once in your lifetime. This developing country has a lot of sightseeing to offer for adventurous traveler/s.
If you are planning to start a Vietnam Local Tour Package, then knowing about Vietnam transportation is a necessary thing to consider. Here you can reach every part of the country either by air, land or even water. This article provides everything you need to know about transport in Vietnam to help you choose the best way to get around and avoid getting ripped off.
Airplane
For those short on time, flying is the most convenient way to see several destinations in Vietnam. Many travelers underestimate the distance between cities and choose buses or trains instead of flying. It's good to keep in mind that train rides from Hanoi to Ho Chi Minh City can run up to 30 hours, and from Central Vietnam to either point, 16 hours is quite common. Therefore, it is wise to opt for a one- or two-hour plane ride and spend more time at your destination. Domestic ticket fare is surprisingly reasonable and there are daily flights to all of the country's top destinations.
Vietnam Airlines is the national airline and has the most flights daily, while Vietjet and Jetstar both offer affordable deals for short trips around the country.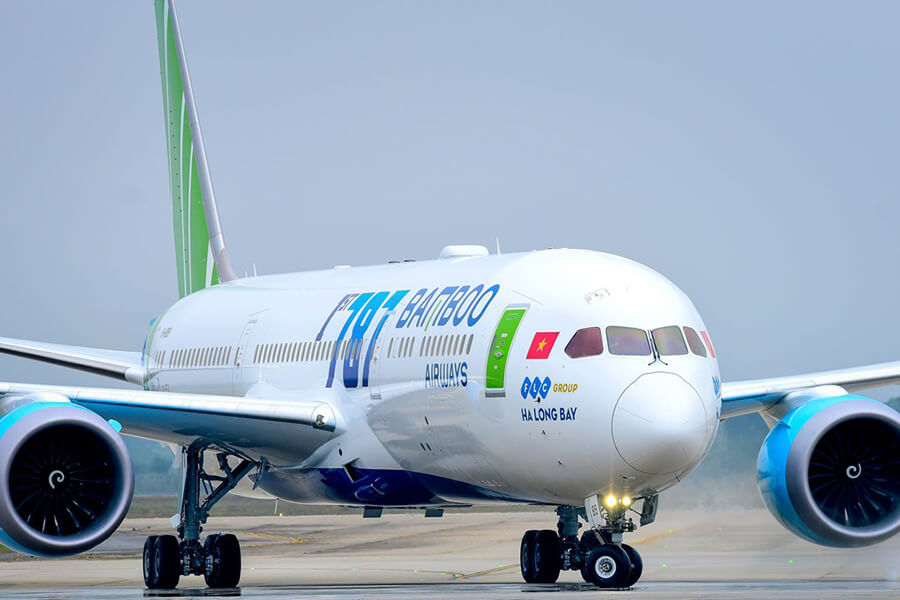 Bus
For short routes to get to cities or a specific area, public transport in Vietnam is a great option. This transport is cheap, but comfortable and convenient for all tourists when visiting Vietnam. Vietnamese buses include two main types which are interprovincial buses and local buses. Every province in Vietnam has buses to take tourists from one place to another. Normally, interprovincial buses have high-quality services and there is no limitation to your baggage size. Local buses are most prominent in Hanoi, Ho Chi Minh City, and some famous tourist destinations.
Vietnamese bus in these cities is publicly used for both local and foreign tourists. The ticket price is extremely cheap (less than 10,000 VND). Although the service quality is not very high, traveling by bus is one of the interesting ways to learn more about the locals and their life in a city.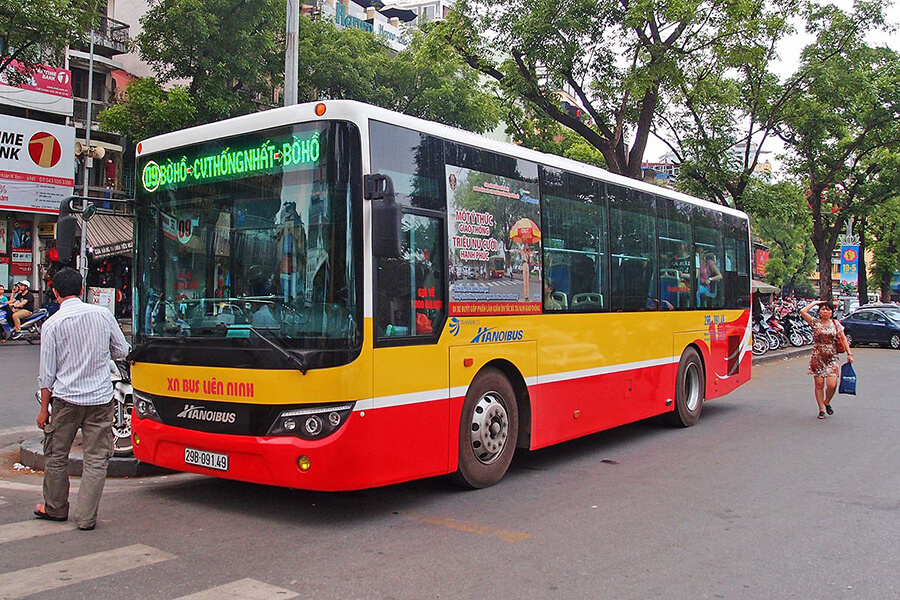 Taxi
Recently, the taxi has become widespread and convenient in Vietnam, especially in big cities and urban areas. The prices are cheap by international standards. It is considered a safe way to travel around, especially at night. The average tariff is from 10,000 to 15,000VND per kilometer.
There are two main types of taxis in Vietnam: taxis from reputable corporations and taxis from individual drivers. To travel to places where there is no public Vietnam transportation such as bus or taxi, tourists can rent a car to get there. Traveling by these cars, tourists will have the opportunity to enjoy and explore fascinating attractions. Moreover, renting a car will bring about independence, convenience, and flexibility to tourists during their journey.
Motorbike
Vietnam is one of the few countries in the world where motorbikes are still widely used. Motorbikes make up a large number of vehicles forming the transportation system in Vietnam. According to the Vietnamese State's rule on riding a motorbike, riders need to have a driving license to ride a motorbike, and both riders and persons sitting behind have to wear helmets to ensure safety. Motor Taxi (or Xe Om in Vietnamese) is a cheap way for locals or tourists to travel from one place to another within a city. Furthermore, motorbikes are favored by most Vietnamese young people and foreign backpackers in their adventurous trips to mountainous areas.
In addition, booking a motorbike online is also the best choice for you to travel short routes in Vietnam. The most common online-booking motorbikes are Grab, Gojek, or Bee. These services save you much time as you just stay at home and book a trip through your phone at a cheap price. All you need to do is getting a SIM card with an Internet package to use these services in Vietnam before downloading the respective app. SIM Cards are cheap and worth the money saved in getting around the city compared to relying on metered taxis. The routes are fixed and you should rate the driver on their honesty and driving skills giving an incentive to drive safely.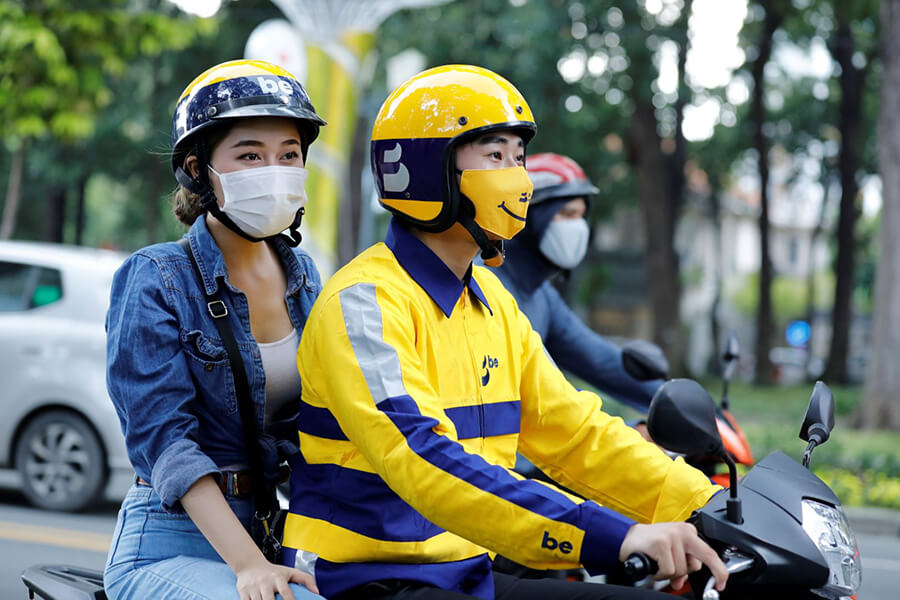 Train
Rail transport in Vietnam is also favored by a large number of tourists in Vietnam. The length of the Vietnam railway system currently is about 2.600km in total. These routes connect almost cities and provinces throughout the country. Traveling by train will take you to many cultural, social, and tourism destinations from the North to the South, which might be an ideal option for you to travel with inexpensive travel expenses. Because Vietnam railways pass through many types of terrain such as mountains, forests, valleys, plains, and the sea, it creates wonderful, magnificent, and attractive scenery.
The North-South Express Railway which is the national train route under the Vietnam Railways Corporation starts from Hanoi to Ho Chi Minh City. Three main stations of the Vietnam train are situated in Hanoi, Hue, and Ho Chi Minh City. These train stations are well-equipped and increasingly modernized with free Wi-Fi and other advanced services, which reflects the rapid development of the Vietnam railway system.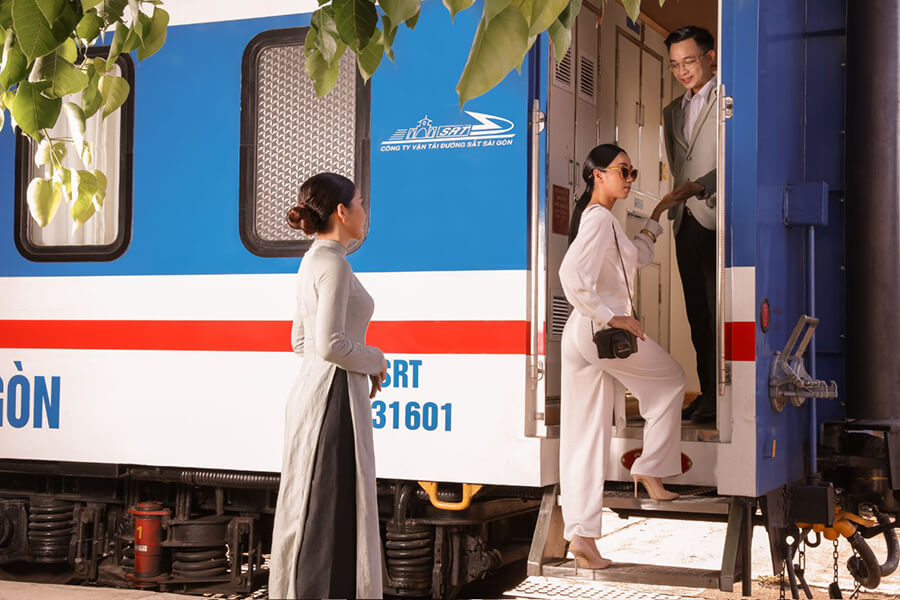 Car
If you have got the budget for your trip, going by car is the best and safest way to see Vietnam. Self-driving is unwise as there are many rules on the road, especially for the uninitiated, driving is chaotic. International driving licenses are not accepted in Vietnam so renting cars is not the norm. If someone recommends that, they'll usually mean complete with a driver. If you get around Vietnam in a group, this can be a great way to get a tour on your way.
Drivers are available for hire anywhere and for as little as $10 per day. Most hotels will rent wheels for day trips at inflated rates; budget hotels and guesthouses offer the best rates. Budget travelers often pitch in for a rented car between sites (from Hue to Nha Trang, for instance) where going by private car means you can set your schedule and stop at places like Bach Ma National Park, Lang Co Beach, and Hai Van Pass.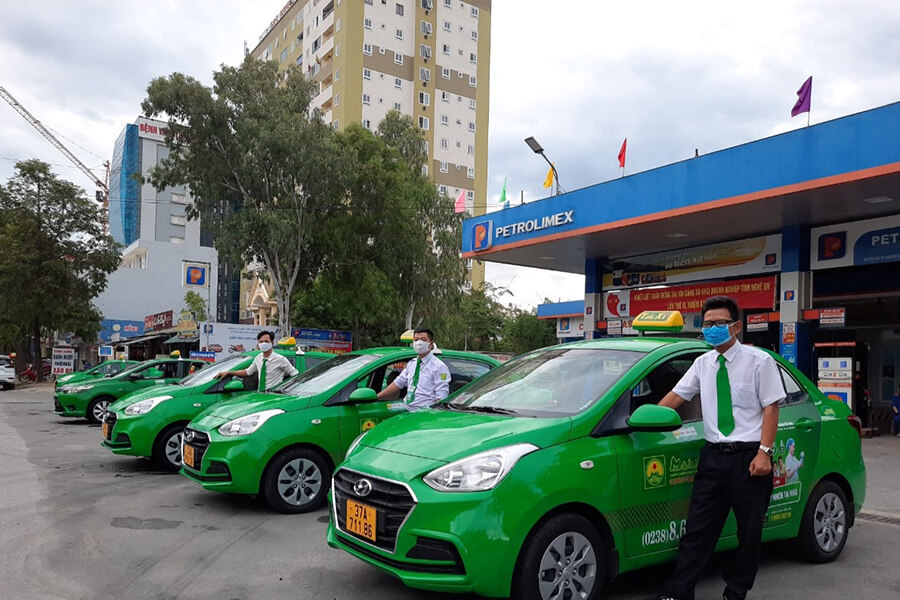 Bicycle
Cycling is an excellent way of sightseeing around towns, and you do not have to pay much at all for the privilege, even outside the main tourist centers. Whether you're an avid cyclist or just a normal traveler who enjoys a little pedal now and then, Vietnam will reawaken your love for this mode of transport.
Although it is possible to cycle in the cities, Vietnam's small towns and beach destinations are perfect for the two-wheeled expedition. Some of the country's best-guided tours are bicycle tours. These services are available in the Mekong Delta and Central Vietnam. In towns such as Hoi An and Hue, it's possible to get to everywhere you want by bicycle. Rentals are usually about 20,000 to 30,000 VND per day (about 1$.) Although a helmet isn't mandatory, consider wearing one anyway.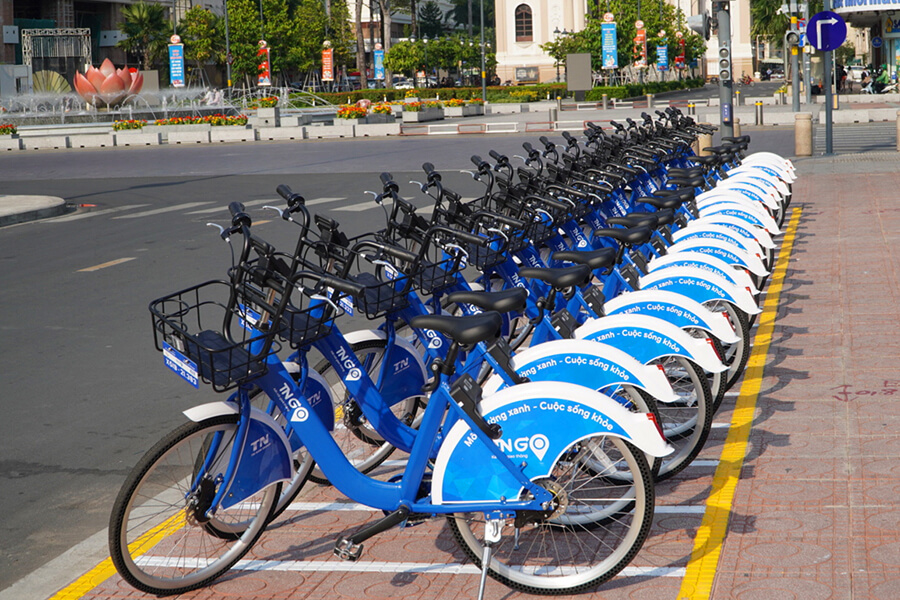 Cyclo
The Cyclo is a three-wheeled bicycle taxi that may be one of the favorite methods of transportation in Vietnam among international tourists when visiting Vietnam. Sitting on the little cart when the driver paddles behind will bring you a feeling of relaxation. Nothing can beat the feeling of sitting on a cyclo and strolling around the lakeside on summer nights.
However, groups of cyclo drivers always hang out close to some main markets and hotels and a lot of them could speak English, at least the simplest level. To make sure that the driver understands your intention of place to go to, it is a good idea to bring yourself a city map. Moreover, you had better settle on a certain fare before going anywhere otherwise you will get stiffed. Cyclo rides usually cost around 10000 – 20000 VND, and for a more extended tour, it will be about 20000 – 30000 VND.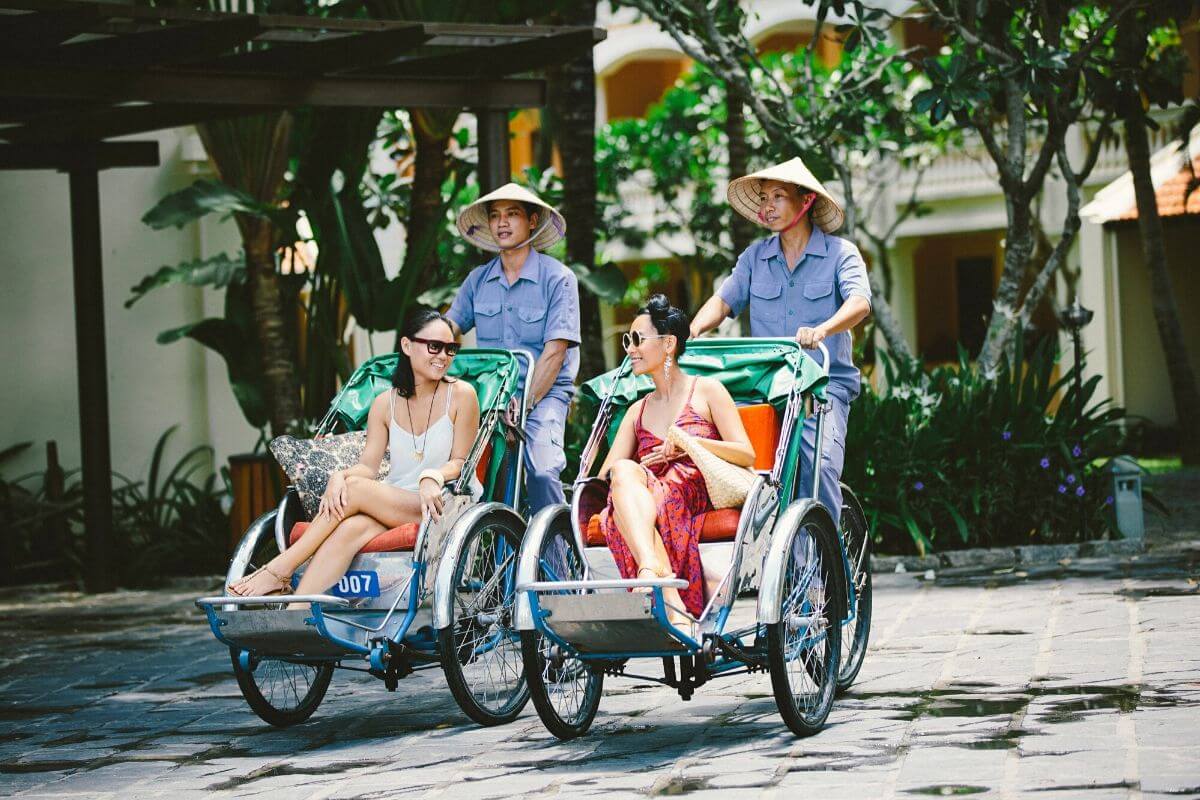 Boat
Besides, traveling by water is also considered a popular means of transportation in Vietnam. To approach offshore islands, cruises or boats are good options. Vietnam cruise contains three main types: international cruise, premium cruise, and river cruise. Though Vietnam cruises are new forms of traveling in Vietnam, there are still many attractive packages on cruises to famous destinations such as Halong Bay and the Mekong Delta River.
Tourists could travel by freighters or tourist boats for longer and short-haul trips. The former could maybe be at ease or sometimes less, the latter are comfortable. Boat transport is slow and seems to be more popular in the northern region of Vietnam. In general, boat travel is more expensive than bus travel over a single route.