Explore Vietnam at its best through this amazing 17-day tour, which will bring you to all major highlights from the North to the South. Experience old and new features of 2 biggest cities in Vietnam – Hanoi and Ho Chi Minh City, enjoy poetic beauty and gain deep insights into a part of Vietnam's history in the ancient city – Hue or challenge yourself with kayaking in one of the World Heritages, Halong Bay. With
17 days tour in Vietnam
, it will be the best trip ever in your life!
Tour Code:
Duration: 17 days/16 nights
Start/End: Hanoi/ Ho Chi Minh (Saigon)
Tour Route: Hanoi – Halong Bay – Hue – Danang – Hoi An – Ho Chi Minh – Can Tho – Phu Quoc – Ho Chi Minh Departure.
Tour Type: Landscape and Nature, Culture and History
Tour Categories: Vietnam classic tour
Tour Customizable: Absolutely! (Tell us your specific requirements in the inquiry form)
Guides: Local Guide (English Speaking Guide, Other Languages upon Request)
Transportation: Private first-class air-conditioned vehicles and plane
Accommodation: Listed below or equivalent. Rooms with private bath or shower, hotel taxes, porterage, tips, and service charges
Active level: Soft cycling, walking, boating, cycling, fishing
Brief Itinerary
Day 1: Hanoi arrival
Day 2: Hanoi 'Old and New' City Tour – Overnight in Hanoi
Day 3: Hanoi Walking Street Food Tour – Overnight in Hanoi
Day 4: Halong Bay – Overnight on boat
Day 5: Halong Bay Cruise – Overnight on boat
Day 6: Halong Bay – Fly to Hue – Overnight in Hue
Day 7: Hue City Tour
Day 8: Hue – Danang – Hoi An – Overnight in Hoi An
Day 9: Hoi An – Cycle Ride, Duy Hai,  Kim Bong,  River Cruise – Overnight in Hoi An
Day 10: Hoi An – Learn to fish like a local
Day 11: Hoi An free
Day 12: Hoi An – Danang – Fly to Saigon – Cu Chi Tunnels & Vespa Tour – Overnight in Saigon
Day 13: Ho Chi Minh City 'Old and New' City Tour
Day 14: Ho Chi Minh City – Cai Be – Private Sampan Cruise – Overnight in sampan
Day 15: Cai Rang Floating Market – Can Tho – Fly to Phu Quoc – Overnight in Phu Quoc
Day 16: Phu Quoc Free
Day 17: Phu Quoc – Fly to Ho Chi Minh City – Departure
Full Itinerary
Price & Inclusion
Accommodation
Photos
Day 1: Hanoi Arrival
Warmly welcomed by our tour guide and driver, then we transfer to our hotel. Being a capital of Vietnam for over one thousand year, Hanoi has been gone through ups and downs of a nation. Nowadays, Hanoi is the center of history, culture, economy and politics, etc. of Vietnam. Besides, Hanoi is also a harmonious combination between fine values of tradition and modern features of a developing city. The rest of the day is leisure time for us. Overnight in Hanoi.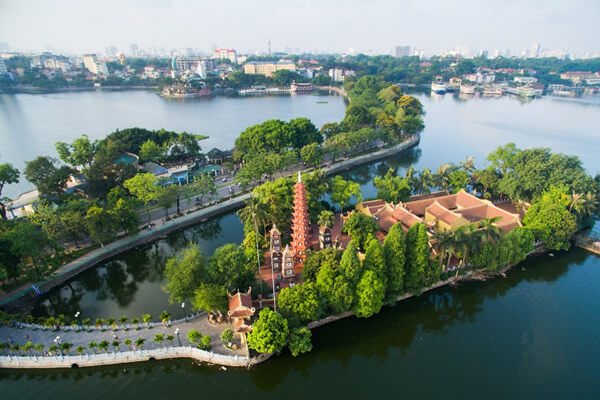 Day 2: Hanoi 'Old and New' City Tour (B)
A full day of exploring outstanding Hanoi's attractions with antique features of the long-standing city, a different view to Hanoi which is changing its look everyday and experiencing as a truly Hanoian.
Morning itinerary with bike tour starting from West Lake (Ho Tay). Known as green lung of the whole city, West Lake is the largest lake in Hanoi. Escape from noisy streets, we pedal our bicycles around the lake and enjoy the fresh air of the early morning and peaceful landscapes before visiting well-known historical sites surrounding the lake including Vietnam's oldest pagoda, Tran Quoc and Quan Thanh Temple  – one of the most sacred temples in Vietnam.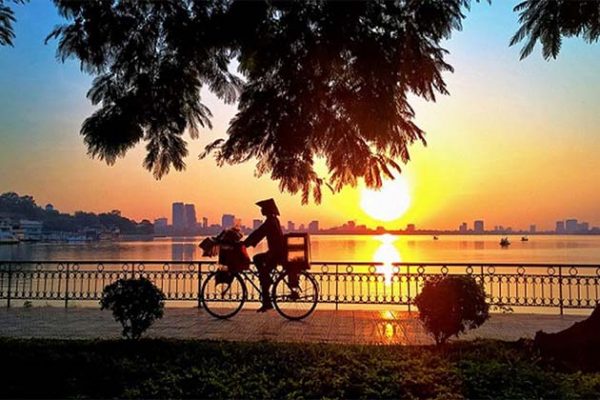 Along the way, we stop to visit an ancient pagoda to get more insights into a different religion – Buddhism and a lakeside coffee shop to have a break and enjoy a drink before continuing our trip. In mid-morning, transfer by car to Temple of Literature, we set foot to the first national university of Vietnam built from Ly Dynasty (1009-1225). At present, apart from a place to worship Confucius and scholars with 82 stone Stelaes of Doctors shaped like turtles, Temple Literature is also a well-known site attracting both Vietnamese and international tourists to visit. According to the Vietnamese's idealistic concept, they believe that visiting the Temple of Literature before taking important exams will bring them good luck. Besides, during Tet Holiday, Vietnamese also come to this temple to receive best wishes about their family, health and career, etc. in Han characters written by calligraphists.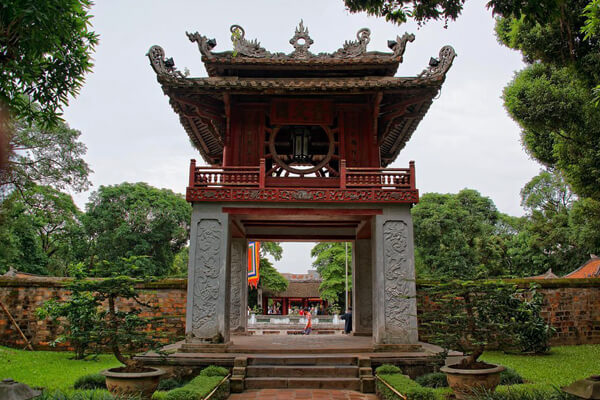 Have lunch with Vietnamese traditional dish – "phở" (noodle soup) and then enjoy some tasty desserts like fried rice and sticky sweet treats in Trang Tien Street where were filled up with many narrow alleys and food stalls along streets.
Afternoon sightseeing with tour guide introduces us to Hanoi's contemporary features including favorites attractions of youngsters like Hanoi Creative City and The Yard. Located on 6 floors of a building, Hanoi Creative City is a combination of entertainment zones, food and beverage zones and shopping zones created by young Hanoian. Discover youthfulness and eventfulness which we can find through unique work of art in walls and old containers or fairs taken place annually in there. Similarly, The Yard is also a combination like Hanoi Creative City but built-in Western-style with imitation of London's Shoreditch and Borough Market.
Leave those splendid sites, we visit Manzi Art Café – part nice café and bar, a part cool art gallery in an ancient French villa to enjoy the authentic taste of Vietnamese coffee or glass of wine and contemplate paintings, sculptures, and photographs before walking to Old Quarter which is not too far from here. At Old Quarter, we start exploring hustling and bustling atmosphere and daily life of local people in the most eventful streets in Hanoi with narrow alleys intersected like a maze and a thousand food stalls, street vendors, traditional workshops, souvenir shops, restaurants and pagodas located alternately together. Interestingly, each street is named by the kind of product sold. For instance, "Hàng Bạc" sells silver stuff, "Hàng Bông" sells cotton quilts, etc. End the tour by enjoying a cool fresh beer in Ta Hien Street – one of the most famous streets with foreigners in Hanoi. Back to the hotel and have a rest. It is up to us if we would like to explore more Old Quarter. Then, we can pick a taxi to return to our hotel. Overnight in Hanoi.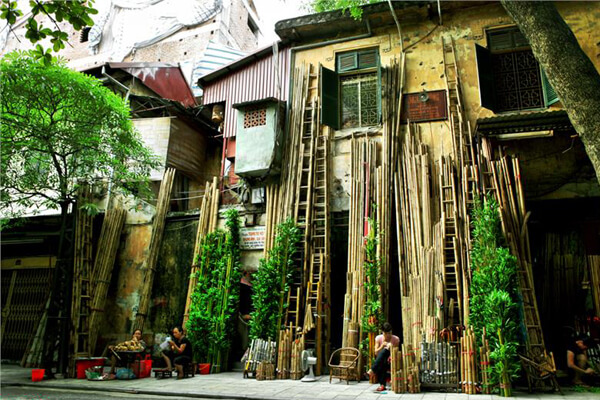 Day 3: Hanoi Walking Street Food Tour (B)
Our morning is at leisure.
Start our Walking Street Food Tour this afternoon with a local guide who takes us around the city to explore and enjoy Hanoi cuisine. Being famous for unfussy ingredients and subtle tastes, Hanoi traditional food always contains unique features that can not be mistaken with the cuisine of other regions in Vietnam. At first, let's enjoy the authentic taste of the most Hanoi traditional dishes including "Bánh Cuốn" (Hanoi Rice Rolls), "Chả cá Lã Vọng" (La Vong fried fish dish) and "Phở" (Noodle Soup). Absolutely!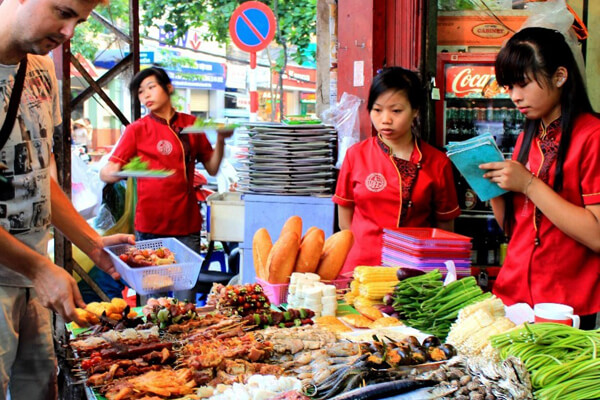 After having a rest, continue to discover a very different side of Hanoi by walking around tiny streets where are quite and peaceful totally in contrast with crowded streets out there. Back to Old Quarter when it gets dark, listen to our guide introduces us Hanoi's history and culture and have a chance to taste a unique kind of drink named "Egg Coffee" made from egg yolk, coffee blended with milk and butter.
Before back to the hotel, we have a few hours to enjoy Water Puppet Show – a Vietnamese traditional performance in the late afternoon or evening. Overnight in Hanoi.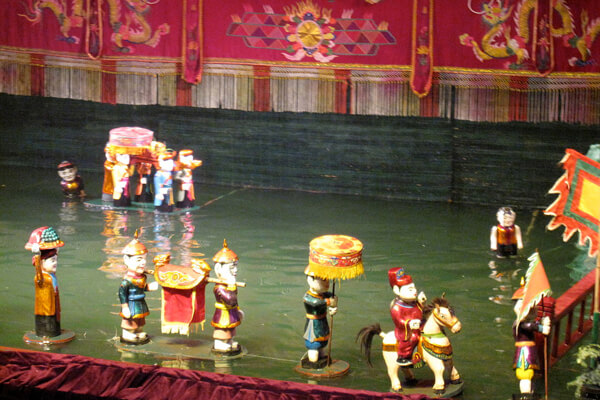 Day 4: Hanoi – Halong Bay Cruise (B, L, D)
Head to the Northwest within 3 hours driving, we will discover Halong Bay in the next 3 days. Located in the Gulf of Tonkin, Halong Bay is a mighty masterpiece by Nature with over 1,600 limestone islands and islets emerging from the blue sky. Its name means "descending of the dragon" derived from a legend of local people in a thousand years ago. To help Vietnamese people defend foreign aggression, God sent a family of dragons into this region. The dragons spat out gemstones to create long and consistent wall rising from the sea to barricade the enemy that helped Vietnamese people gain victory.
Have lunch after embarking then take a short rest. Next, our boatman will make us go deeper into the bay to enjoy majestic scenery with thousands of unique limestones such as a pair of a chicken standing together (Trong Mai islet), an old fisherman (La Vong islet) or an eagle looking for food (Dai Bang islet), etc.
In the middle of the trip, we disembark and try using smaller boats or kayaks to explore many beautiful and mysterious grottoes and caves or floating fishing villages by ourselves.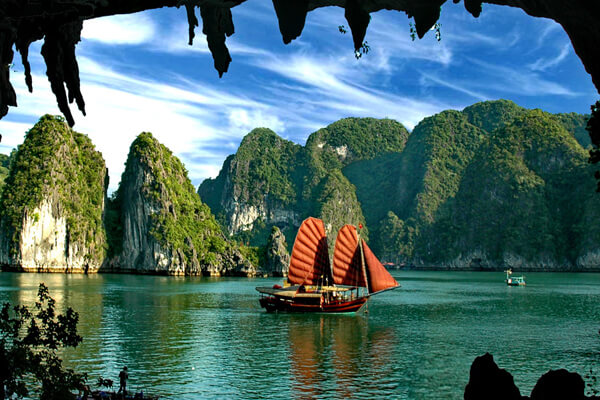 The cuisine will be one of the highlights of our cruise with tasty seafood. On the boat, we also have a dining cabin and bar where we can have fun and socialize with other tourists. Besides, the cruise has a private balcony to give us space to enjoy the beauty of the landscape without distracting.
Each junk operates a different itinerary and onboard, facilities vary. A consultant will be very happy to discuss each option with us.
Overnight on board.
Day 5: Halong Bay Cruise (B, L, D)
Continue discovering Halong Bay today, our boatman will take us to more beautiful and untouched areas of the bay. The itinerary will be depended on our chosen junk.  Besides, we will take more physical activities with swimming and kayaking and have the chance to explore some islands around Halong Bay. Overnight on board.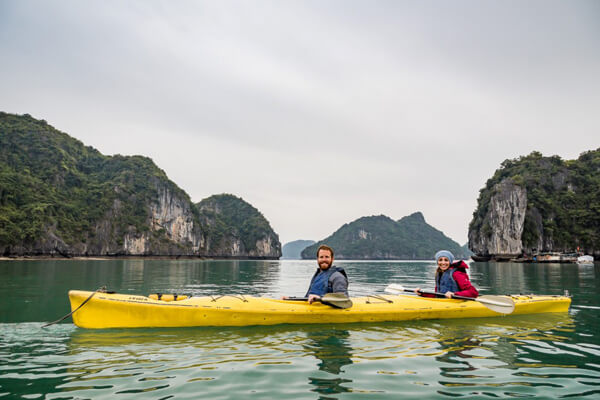 Day 6: Halong Bay – Fly to Hue (B)
Wake up early and relax by enjoy fresh air, listen to the sound of hundreds of sea birds nesting on the tree in the limestones and stretch our body with Chi Tai exercises (only available on chosen junks). Besides, we can join in the cooking class to know how to cook some simple Vietnamese traditional dishes. Enjoy the rest of the morning while the cruise turns back to the mainland where Halong Bay trip ends. Transfer to Van Don airport to fly to Hue.
When arrival, check-in our hotel and overnight in Hue.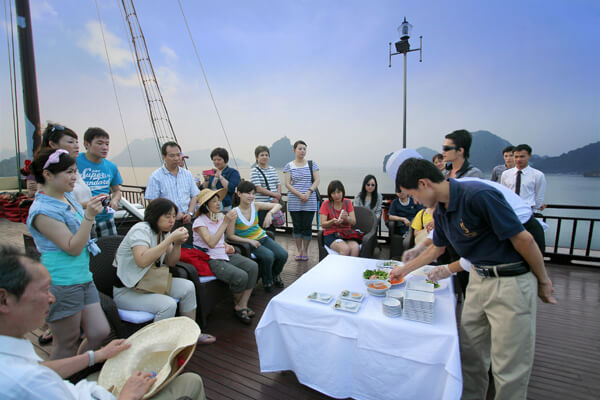 Day 7: Hue City Tour (B)
Our trip begins from a part of Hue formerly known as "New City" to another part "Old City" where is separated by Truong Tien Bridge built by famous architecture – Gustave Eiffel. Here, visit heavily bombed remains of the Imperial Citadel and Forbidden City built by the Nguyen Dynasty (1802 – 1945).
Explore the city by cycle tour along the banks of Perfume River, get more insights into a different religion by visit Thien Mu Pagoda or daily life of local people in Kim Long Village.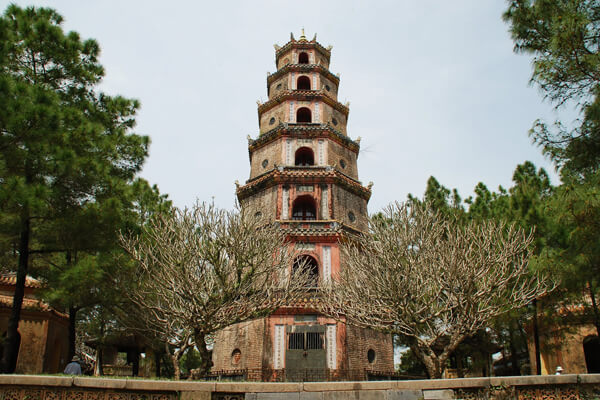 Back to the city center by car then transfer to fine and sophisticated mausoleums of Emperors Tu Duc and Khai Dinh – two of the eight famous Kings' tombs of the Nguyen Dynasty found along the Perfume River.
Return to our hotel and the remaining day is at leisure. Overnight in Hue.
Alternative tours are available in Hue.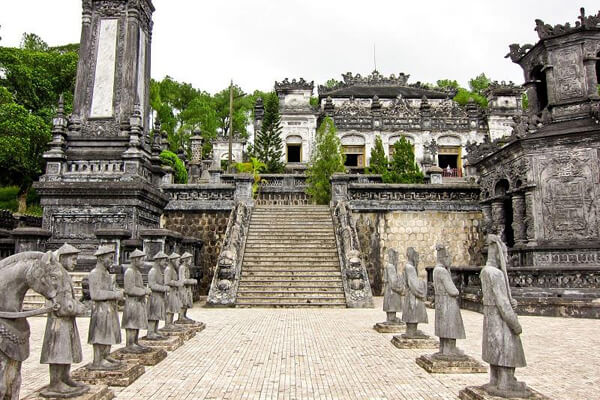 Day 8: Hue – Danang – Hoi An (B, D)
Take a scenic drive to Hoi An and pass through many breathtaking routes in the Central part which are Lang Co Beach, Hai Van Pass – one of the most magnificent pass in Vietnam (Ocean Cloud Pass) and Danang. During the trip, we can stop to visit Cham Museum – one of the most adequate collections of Cham Artifacts in the world if we want. Next, we also can set our foot on Ngu Hanh Son (Marble Mountain) including 5 limestone mountains rising on the beach to contemplate the majestic scenery of the city from the height of over 100m.
Afterward, we arrive at Hoi An and check-in our hotel.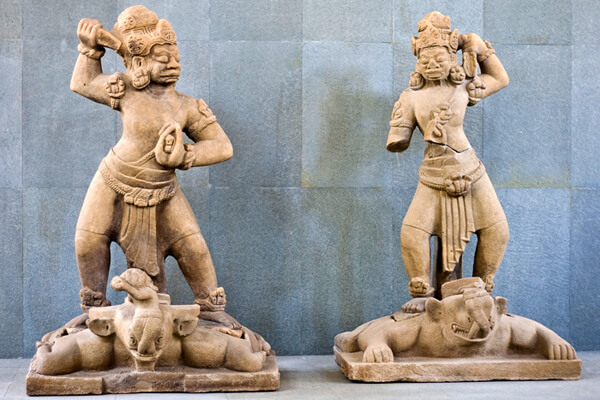 Located right next to Thu Bon River, Hoi An was a well-known town named Faifo were used to be a trading area of numerous businessmen from Japan, China, Spain, and Italy, etc. in 16th, 17th century. At that time, Hoi An had become a prosperous trading port, a huge and crowded commercial zone of Southeast Asia and one of the main harbor of merchant ships in the Far-east. Many foreign traders chose this town as a second hometown to settle down then, built houses, temples, and pagodas with the typical style of their own native land. That mainly created a unique combination of culture and architecture from other countries like Japan or China in Hoi An. After that, due to unexpected events, Hoi An gradually was taken its favorable position from Da Nang port. However, what a blessing in disguise! Not being urbanized, Hoi An still mostly kept its tiny streets and alleys, tiled-roof houses, ancient assembly halls, and Japanese Covered Bridge, etc. which are famous tourism sites attracting many tourists nowadays. Hoi An is also famous for its sparkling and fanciful scenery of the Lantern Festival associated with traditional handicrafts for a thousand years. This festival annually takes place at nights in the middle month based on Lunar Calendar especially the Mid- Autumn Festival and 7 nights of Tet Holiday are most monumentally organized. The cuisine is another highlight of Hoi An which can highly impress our senses.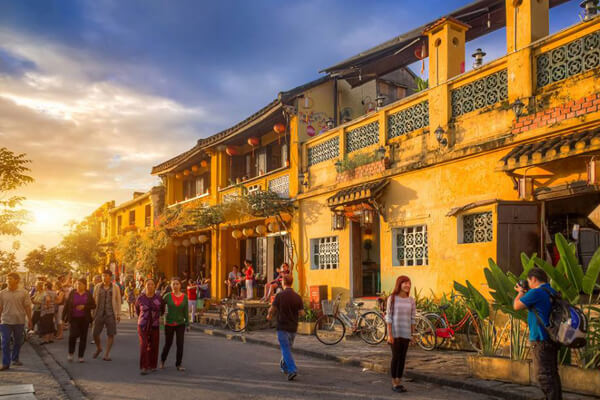 Have a rest before being warmly welcomed by our local guide for food tour starting in this late afternoon to get deep insights into Hoi An' cuisine while traveling in a US military jeep.
In the late afternoon, drive out of the town to a nearby beach to watch the sunset, enjoy a cold beer and tasty seafood with feet –in-the-sand style. Then, our driver will take us through rice paddies to a popular local eating site to taste "banh xeo"- crispy Vietnamese pancake filled with beansprouts, prawns and pork. Back to the town when it gets dark, have a BBQ in a local restaurant for the main event of the evening: a traditional BBQ feast. The next activity is taking a stroll around the hustling and bustling streets of Hoi An. We also can enjoy the eventful atmosphere in a local bar if we want or back to our hotel after finishing a walking tour.
Overnight in Hoi An.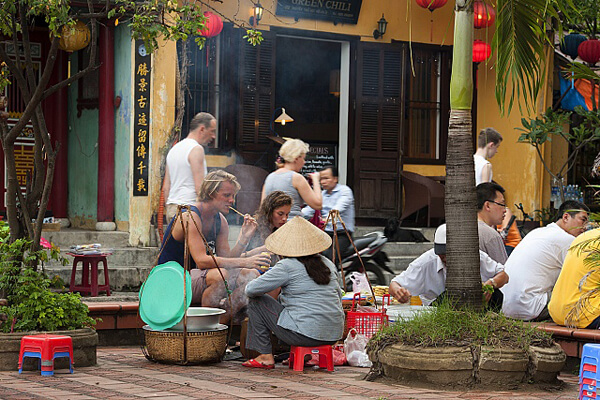 Day 9: Hoi An – Cycle Ride, Duy Hai,  Kim Bong,  River Cruise (B, L)
Our trip today departs from Cua Dau Bridge with local guide that introduces us to landscape and people here. Pedal carelessly with gentle cycles, we will visit the fishing hamlet of Duy Hai before see local people catch fish on small bamboo boats.
Afterward, let's enjoy the beauty of the peaceful countryside on small paths along the rivers under coconut palms before stopping at Noi Rang Market to see the eventful daily life of local people. The wheels continue rolling and take us to the village of Kim Bong which is famous for very skillful residents at carpentry inherited from Hoi An ancient architectures.
Spend the rest of the morning enjoying the poetic beauty of Thu Bon River, have lunch on the boat and relax. Transfer to Hoi An in the early afternoon. The remaining day is at leisure for us.
Overnight in Hoi An.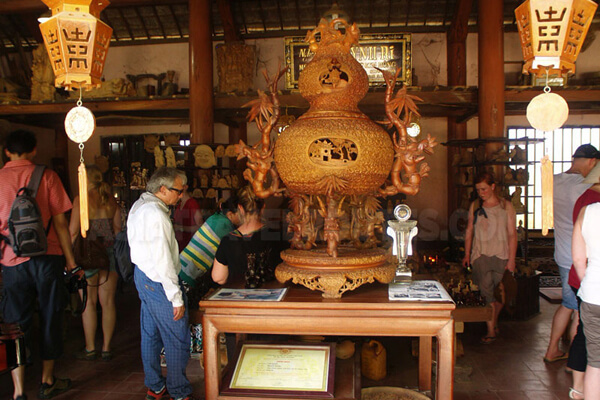 Day 10: Hoi An – Learn to fish like a local (B)
Full day experience as a truly local fisherman at Hoi An. Owning over 2000 km of coastline, seafood plays an important role with Vietnamese people especially people in the Central Part. Here, fishermen still use the traditional way with a micro-scale to catch enough seafood for their family in a day before get more for selling in the market.
After watching the daily activities of fishermen in the morning, we will spend the latter half of the day to learn about their craft before visit a nearby fishing village to Hoi An. Here, we will be taught specific steps of the process. Then, try controlling a unique bamboo basket boats, balancing it while throwing the nets. The tour today ends by enjoy warmly meal with local fishermen.
Please note: This is a small-group, half-day excursion.
Our afternoon is at leisure.
Overnight in Hoi An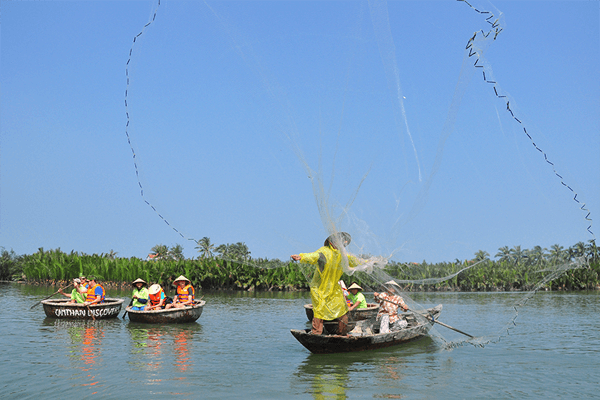 Day 11: Hoi An free (B)
The day is at your leisure. Overnight in Hoi An
Day 12: Hoi An – Danang – Fly to Saigon – Cu Chi Tunnels & Vespa Tour (B, D)
Depart from Hoi An to transfer to Danang Airport for our flight to Ho Chi Minh City. After arrival at Ho Chi Minh City, our itinerary today starts with our Local Tour Guide presents to us about one of the most well-known historical monuments of Vietnam – Cu Chi Tunnel. Head to the northwest about 70 km from the city center, it takes an hour driving. On the way, we can witness beautiful countryside landscapes with enormous rubber plantations and rice fields. Arrival at Cu Chi Tunnel, we spend a few minutes watching a short video introducing how the tunnel was built. Afterward, we explore and see with our own eyes a secret underground system constructed by Vietnamese people in the Indochina War and Vietnam War with a length of around 250 km. We can witness a US tank or numerous bomb holes made by 500lb bombs are remaining historical vestiges of a magnanimous period of time.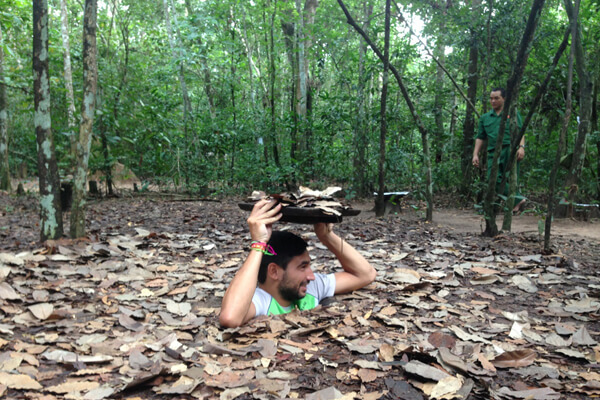 Leave Cu Chi, our driver will take us back to Saigon to check in our hotel and continue the itinerary. Considered as "A pearl of the Far-east" in the late 19th and the early 20th century, Saigon or Ho Chi Minh City (HCMC) renamed in 1976 has become one of the most eventful cities of Vietnam. This city is the combination of classic and modern features with ancient French buildings coming between skyscrapers and crowded metropolitan areas.
Our afternoon is at leisure until 6 pm when we will explore this city on unique Vespas taking us to the most interesting sites of Saigon. At first, let's enjoy a cocktail and appetizer in Café Zoom and watch hurry life of Saigon people. Next, our driver will take us through Chinatown, District 4 with crowded streets and small alleys to experience the nightlife of locals and enjoy tasty street food. The wheels keep rolling to take us to District 1 where we can taste Banh Xeo – a fried pancake made from wheat, pork, shrimps, onions, etc. eating with typical sauce. The trip ends by enjoying Vietnamese acoustic music performance while having a drink at a cool coffee shop.
Overnight in Ho Chi Minh City.
NB: If the idea of a moped ride doesn't appeal, we can easily switch the evening's arrangements to your car. Additional tour ideas for Ho Chi Minh City.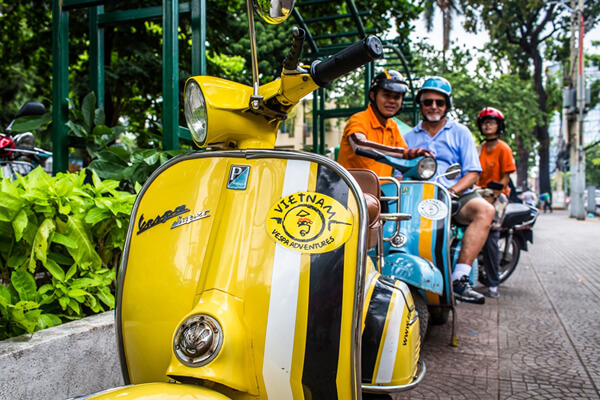 Day 13: Ho Chi Minh City 'Old and New' City Tour (B, L)
Full day sightseeing Ho Chi Minh City to discover its old and new beauty. We first start with District 1 where we can be impressed by unique architecture like Basilica and neoclassical facades lying between Saigon's most crowded wards.
Then, lost in another side of Saigon when strolling through tiny alleys in the back, local markets, and residential areas to get a different look from modern life out there.
Next, we will set foot on a national historical site to contemplate a Viet Cong secret weapons store, where undercover commandos of the Viet Cong's North Vietnamese Army collected munitions before beginning the Tet Offensive, on 30 January 1968, with the sound of Tết (New Year) firecrackers disguising the gunfire. This offensive was considered as the "bloodiest" part in Vietnam – American War. Most of the extensive weaponry is still kept on display to let visitors see the way Viet Cong hired and transferred them skillfully. Leave this site, we move to Cho Lon Market known as Saigon's Chinatown since
1778  where we can find various kinds of goods on sale like dragon artwork, masks, pet fish, sacks of rice, fabric and cooking utensils, etc. and enjoy tasty noodle dishes for lunch. Have a rest then continue visiting Quan Am Pagoda designed in Chinese style and built during the 19th century.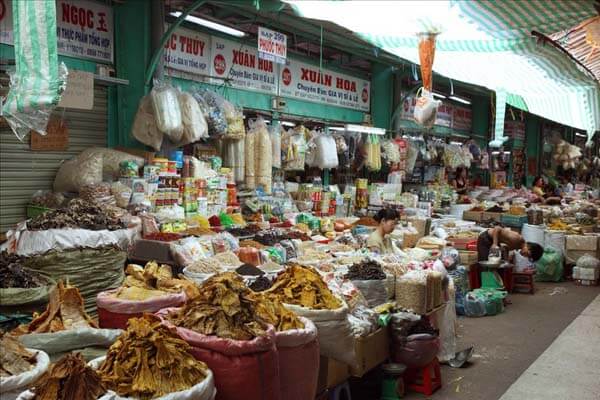 Afterward, we transfer to newer developing areas and see a visual feast of old and new architecture side by side before visit the city's tallest building – Bitexco. We will have free time to enjoy a sundowner (at our own expense) in the top of the building. After that, we can take a taxi to return to our hotel.
Overnight in Ho Chi Minh City.
Day 14: Ho Chi Minh City – Cai Be – Private Sampan Cruise (B, L, D)
Head to the Southwest about 120km, we set foot on Cai Be Floating Market where we will board our private sampan – a typical kind of boat commonly used in Mekong Delta. This tour includes boatman, deckhand and a local guide.
Begin the trip with a short visit to some nearby factories where we can see local people making rice paste, coconut candies, and other specialties. Rowing the boat along the river, we will see one of the most eventful floating markets in this region – Cai Be floating market where we can find various types of goods like fruits and vegetables. Interestingly, local people will hang their products on a stick in the boat to let customers know what they want to sell.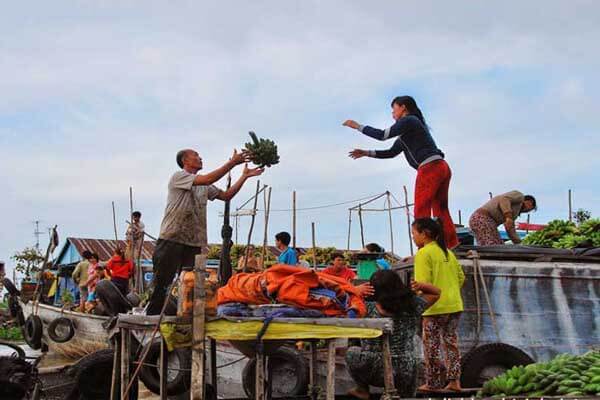 Disembark at Sa Dec town and stroll around the charming town to visit ancient French houses, Chinese temples, a central market and the home of Mr. Huynh Thuy Le – "the lover" in Marguerite Duras's famous novel.
Back to our sampan to move to Can Tho passing through narrow canals and wooden monkey bridges. Our boatman will take us to further sites like Cao Dai Temple and some villages.
Arrival at Can Tho in the evening, have dinner at an ancient house before taking asleep in the sampan.
Day 15: Cai Rang Floating Market – Can Tho – Fly to Phu Quoc (B)
According to previous itineraries, we usually spend our morning to visit Cai Rang Floating Market and enjoy the hustling and bustling atmosphere of early morning market about 15 minutes along the river. However, nowadays, to be honest, the market has lost a little bit of its attraction, authentic features and gradually became a "hot-spot" like nearby markets to Saigon.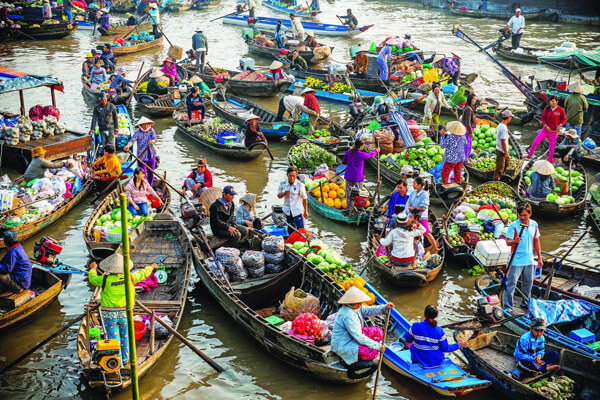 Therefore, in this journey, we can have a chance to have different experience instead of following the old one with a new site – Phu Quoc. Another reason why we should choose Phu Quoc is that Phu Quoc is on its the best time to visit. If we still want to visit Cai Rang Floating Market this morning, please tell our guide in the last night. Here is the new itinerary for the rest of the day:
After breakfast, we quickly transfer to Can Tho Airport for departure flight to Phu Quoc Island. When arrival, check-in our hotel and we will have a full leisure day at Phu Quoc.
Located in the Gulf of Thailand and 45km far from Ha Tien to the West, 15 km far from the South coast of Cambodia. During the late 17th century, this island witnessed many fights to gain territories between Vietnam's Emperor and other foreign aggression.
Nowadays, Phu Quoc Island is famous for its authentic beauty of nature with beautiful beaches and a valuable ecosystem. Besides, fish sauce is a typical specialty of this island.
Overnight in Phu Quoc.
Day 16: Phu Quoc Free (B)
The day is at your leisure.
Overnight in Phu Quoc.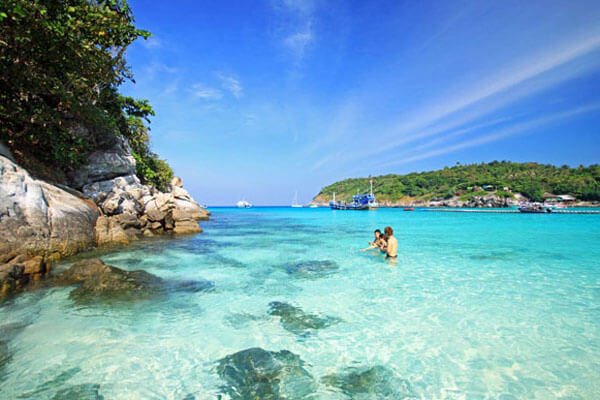 Day 17: Phu Quoc – Fly to Ho Chi Minh City – Departure (B)
The day is at your leisure until your transfer to Phu Quoc Airport for your flight to Ho Chi Minh City to connect with our onward flight to Adelaide in the evening.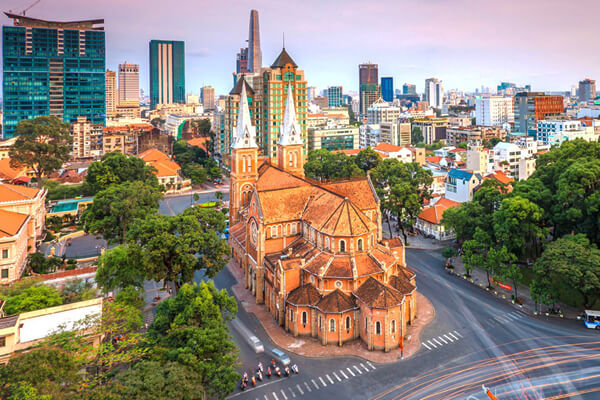 "Free Inquiry this tour or create your own trip with travel expert"
What's Included?
Accommodation with daily breakfast as per detail itinerary
Transfers by private air conditioned vehicle with experienced driver
Meals as specified in the itinerary with authentic local food. Western food is available (up on request) (B = Breakfast, L = Lunch, D = Dinner).
Local-stationed English-speaking tour guide. He or she will provide you with the best local knowledge available.
Entrance fees & permits (if have)
Boat excursions
Bottle of drinking water
What's Excluded?
International flights and airport taxes
Vietnam Visa
Travel insurance
Other meals which are not indicated above
Surcharge and Compulsory dinners (if any)
Beverages in the restaurants where meals are included
Gratuities to guides and drivers
Personal and other expenses such as porter, bar bills and laundry not stated in the itinerary
Recommended Accommodation List:
Location
3* Standard
4* Standard
5* Standard
Hanoi
Hanoi Authentic Hotel

Deluxe City view room

—
—
Halong Bay
V'Spirit Cruise

Deluxe Cabin

—
—
Hue
EMM Hotel

Deluxe room

—
—
Hoi An
Vinh Hung 2 Hotel

Deluxe room

—
—
Ho Chi Minh City
Silverland Central Hotel & Spa

Deluxe room

—
—
Mekong Delta
Cai Be Princess Sampan

Deluxe room

—
—
Phu Quoc
Chez Carol Hotel

Deluxe room

—
—