If you are interested in artworks in Vietnam, there is a variety of crafts and sculptures for you to admire and explore. Head to Hanoi – the capital city of Vietnam and pay a visit to Hoai Duc District where there is a famous traditional sculpture village called Son Dong, which is always in Vietnam on local tours.
Located on road 32 which is around 15 kilometers from the city center, Son Dong traditional sculpture village has made its name for one of the most famous sculpturing statues of Buddha and traditional crafts encompassing carved lacquer, fine arts, and wood products.
The village has existed for over 300 years with a long time producing beautifully traditional products for not only the local region but also for the whole country. It cannot be denied that Son Dong's traditional sculpture village has a strong vitality with potential development preserved and promoted by professional and talented artisans.
As a matter of fact, Vietnamese culture is famous for worshiping to show respect for later generations of their ancestors.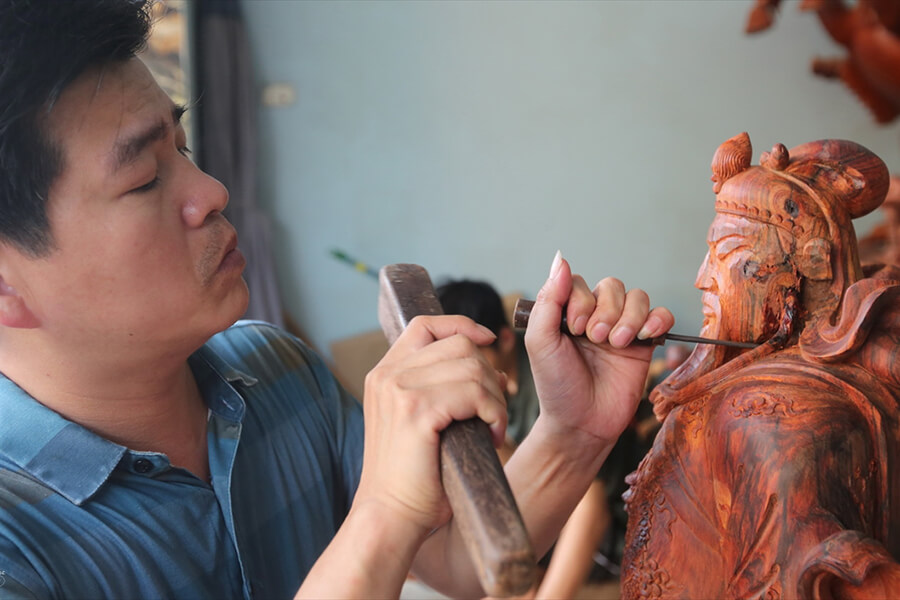 For that reason, products from Son Dong traditional sculpture village are produced to serve that purpose. Major products that are made by the village are statuses of Buddha, sacred animals, Vietnamese national heroes, and so on. The main materials used for making these respectable products are mostly from the core of jackfruit trees because they are durable and long-lasting, suitable for making statuses. More importantly, people believe that wood from jackfruits can be considered sacred wood, thereby demonstrating the respect of people for their ancestors. Thanks to skilled and talented artisans who have their own secrets to creating beautiful and unique artworks. Wonderful products look like the real ones with soulful and kindhearted expressions on the faces of statuses. As usual, the end of the year is the busiest time for local artisans because this is when the Lunar New Year is coming; therefore, there are a lot of orders from customers who purchase statuses and worshiping objects to show respect to their ancestors.
In our daily life, we can have a chance to see a lot of products from Son Dong traditional sculpture village. A lot of worshiping objects in pagodas and temples are from Son Dong village. Therefore, it is not exaggerative to claim that Son Dong's traditional sculpture village is the hub of craft and sculpture distribution. It has become the best place providing the largest quantity of statues and worshipping objects.
For sure, Son Dong's traditional sculpture village will exist forever regardless of any changes happening. It is still the highlight of the Vietnamese traditional artwork and has made a considerable contribution to the richness and uniqueness of artworks in Vietnam. A trip to Son Dong's traditional sculpture village will definitely broaden your body of knowledge about Vietnamese culture and history. If you are keen on exploring the beauty of art culture, don't hesitate to plan a trip to the best traditional sculpture village right now. You will have a lot of the best experiences there.