I have been to many different places in Vietnam by different means of transportation, but the most amazing experience I had when traveling to Hanoi is to take a cyclo in Hanoi Old Quarter. I want to ask you a question: Have you ever taken a cyclo tour around hustling and bustling streets in crowded Hanoi Old Quarter? If no, don't hesitate to take a cyclo tour. It's such an unforgettable experience to enjoy the slow pace of Hanoi people's lifestyle while witnessing every day exchanging activities. If you are in Vietnam local tour, let's try this amazing experience!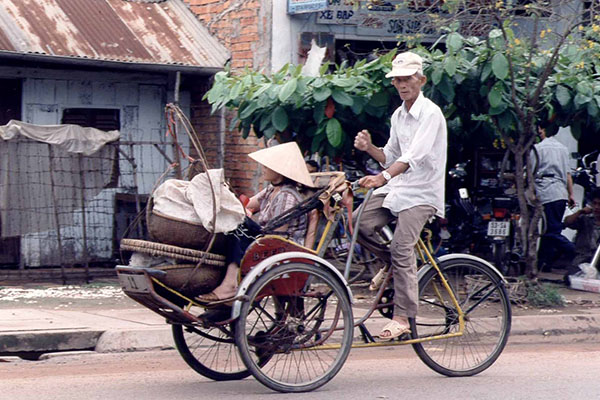 What's a Cyclo?
Popularly called 'Xich Lo', there is a tendency that a great number of foreign tourists prefer this kind of transportation which is also known as green tourism. The image of cyclo from the past to the contemporary time is closely attached to the charming and ancient beauty of Hanoi.
Where Can You Get a Cyclo?
Along crowded streets in Hanoi Old Quarter, you can easily encounter plenty of cyclo drivers who occasionally approach you and ask whether you want a cyclo drive or not. Therefore, if you want a drive, it's not necessary to be in a hurry. However, sometimes, if you cannot find one, there are some places that cyclo drivers often gather such as around the north of the Hoan Kiem Lake, or Ngoc Son pagoda and behind the soldier's monument along Hang Dau Street. Moreover, many of them can also be found in the area of Hanoi Opera House and Hilton Opera House or thereabouts.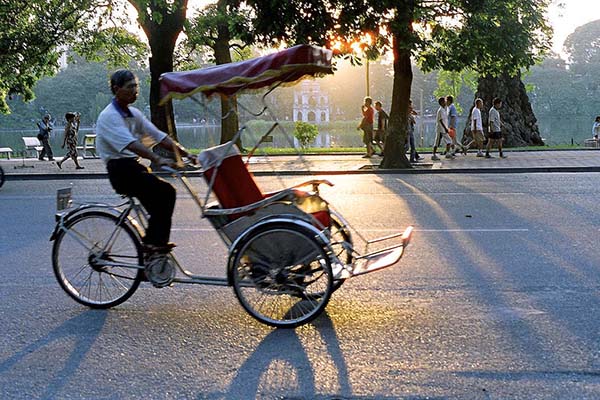 How Can You Enjoy a Cyclo Trip?
As a matter of fact, almost all cyclo drivers are able to speak English and always helpful as well as friendly towards their customers, especially international visitors. Also, they are the experts in driving you to explore corners and valleys of the Hanoi Old Quarter and also knowledgeable about Vietnamese culture and tradition in general and Hanoi's customs in particular. You can take advantage of this opportunity to ask them about Vietnamese culture, food and people. Then, for sure, you can gain a lot of things that you do not know before.
Spend your day with a cyclo trip, you can have a chance to wander around 36 old streets of Hanoi Old Quarter, enjoy some scrumptious street foods and learn about Vietnamese people's etiquette.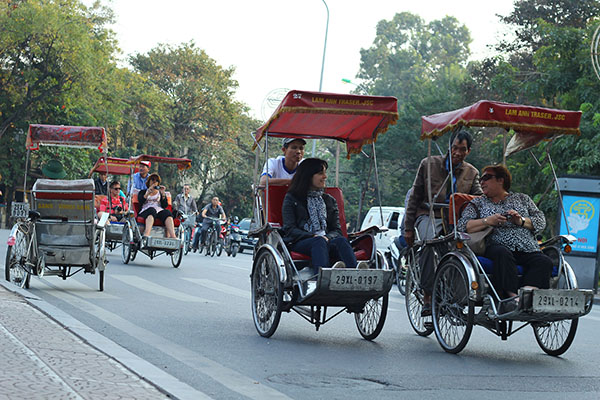 I strongly recommend having a cyclo tour in the morning around Hoan Kiem Lake. There is nothing quite like breathing fresh air in the morning, enjoying the simple beauty of uninterrupted old green trees and witnessing the lively ripples of the lake. At that moment, you can capture the most beautiful moments in your life and thus sense the strong vitality of this wonderful S-shaped country. For sure, everyone would wish to come back someday to enjoy that moment one more time. Additionally, a trip to visit such well-known sites as Quan Thanh temple, Hanoi Opera House or Thang Long Water Puppet Theater is an optimal choice.
What is the Best Price for a Cyclo Trip?
An hour for a cyclo trip may cost you around 150 000 VND. That would be a reasonable price to enjoy the taste of an ancient Hanoi Old Quarter. One thing you should remember is that if the cyclo driver charges you too high, a win-win negotiation would be more preferable.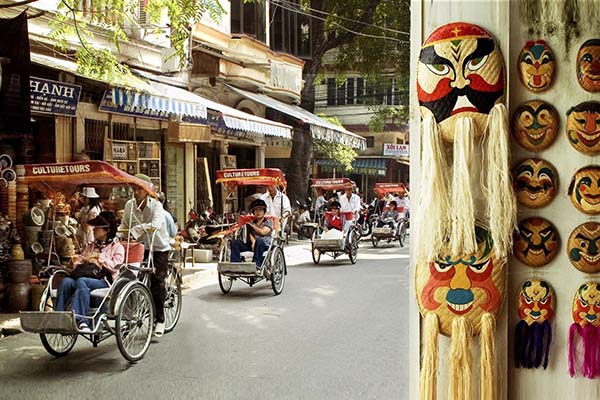 Actually, when experiencing this truly amazing ancient town, a cyclo tour is much more interesting than taking a taxi or motorbike. Therefore, don't miss this amazing cyclo tour when paying a visit to the Hanoi Old Quarter during Hanoi Tour & Day Trip.