Have you had a plan for your Christmas in 2019? If you haven't yet, why don't you go to Vietnam, the country is known as with many beautiful landscapes as well as the ancient churches, which built by the French. Immerse yourself in the crowded, surely that Christmas in Vietnam will be a special feeling you never taste in any country in the Western. If you are considering, Go Vietnam Tours will suggest 10 places to enjoy the Xmas in Vietnam!
Vietnam Christmas Weather
Christmas and New Year are ideal times for a tour to Vietnam since the whole country is endowed with pleasant weather with the average temperature of 16 degrees Celsius in the north and 26 to 28 degrees Celsius in Central and Southern Vietnam. You will not experience the scorching sun or heavy downpours like in summers. Bear in mind that there is a considerable variation in the weather between different regions, thus each region including North, Centre, and South will bring different experiences for your trip at Christmas.
Mountainous northern Vietnam such as Sapa, Ha Giang and Mu Cang Chai has a chilly winter from December to February and the temperature may drop to 0 degree Celsius. You can see the romantic scenery of snow covering all mountains, hills, and stilt houses. Meanwhile, the weather is more tolerable in the Red Delta region (Hanoi, Ninh Binh, and Mai Chau) where the lowest temperature ranges from 8 to 10 degrees Celsius.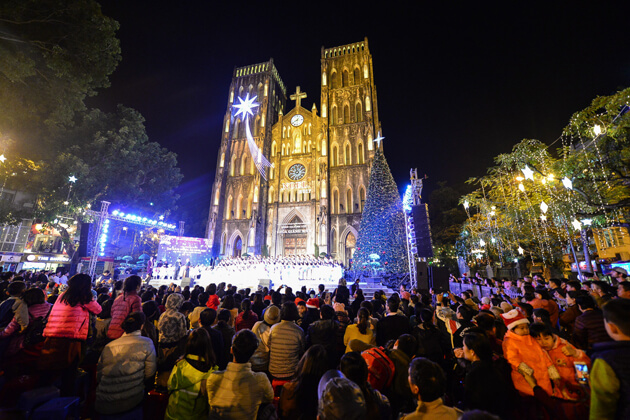 If you are thinking of a tour to Central or Southern Vietnam, you will be rewarded with a pleasant dry season in December. There may be some drizzles in Hue, Da Nang, and Hoi An, but overall it is sunny and warm all day. You can enjoy sunny days with a touch of breeze in attractive beaches in Nha Trang, Phu Quoc, and Mui Ne and participate in some water sports in Vietnam such as snorkeling, scuba diving, and kite surfing.
How Christmas is Celebrated in Vietnam?
Since our country is more influenced by Buddhism and Taoism than Christianity, Christmas is not a public holiday in Vietnam. Today, Christmas in Vietnam is greeted by both the Christian community and the locals, especially in big cities like Hanoi and Ho Chi Minh City. Christmas celebration lasts 2 days: Christmas' Eve on 24th December and the following day.
A few weeks before the occasion, many hotels, office buildings, and stores are decorated with Christmas trees and sparkling ornaments, which makes foreign tourists feel like they are at home. Some shopping malls offer special promotion campaigns to boost sales.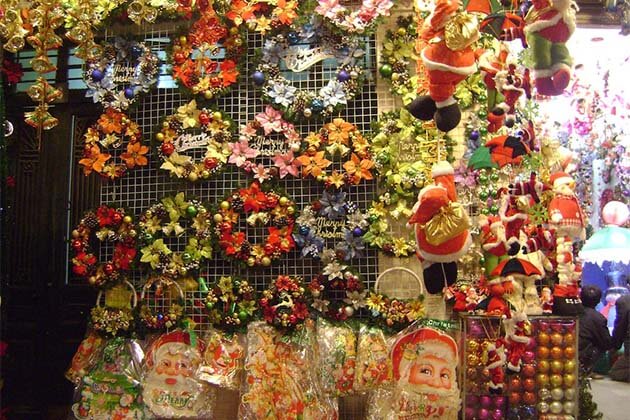 On Christmas' Eve, Christian people gather at a local church, pray for peace and happiness, and listen to Christian Hymns. In Vietnam, the are two biggest and oldest on this occasion are St. Joseph's Cathedral in Hanoi Old Quarter and Notre-Dame Cathedral in District 1, Ho Chi Minh City. On this day, not only for the Christian people dress up nicely to go out but also non-Christian people are too. They spend time together with their family and lovers, hold hands while strolling colorful streets or enjoy the delicious dishes at a restaurant.
Top 10 Places to Enjoy Your Christmas in Vietnam
What a coincidence! Christmas is in the high peak of tourism in Vietnam, which the landscapes drop in the most beautiful season. Below, we will offer you the top places to enjoy your Christmas time.
1. Sapa – The Fog City in the North of Vietnam
Sapa will undoubtedly dazzle your eyes with magnificent landscapes including unusual rice terraces, imposing Fan Si Pan Mountain, and peaceful ethnic villages. Sapa Church, the iconic feature in town, is absolutely worth checking out. Built-in 1895, Sapa Church seemly still keep its gothic French architecture up to now. In front of the church, there is a square where local people gather to sing and dance, as well as sell traditional brocade. Do not forget to explore ethnic culture, tradition, and handicrafts in some villages such as Cat Cat, Ta Phin, Lao Chai, and Ta Van.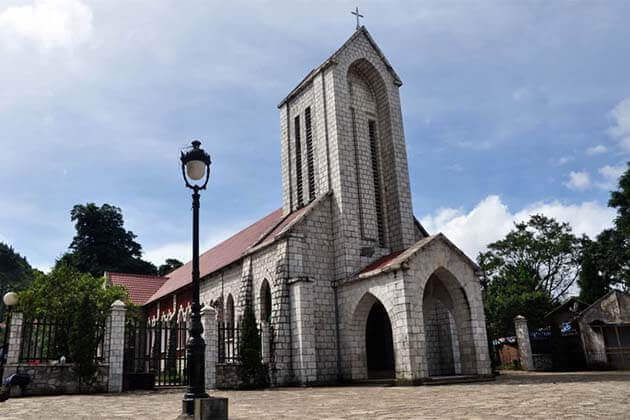 2. Moc Chau Plateau
200 km in the west of Hanoi, Moc Chau is one of Vietnam's most attractive places you can miss in December. Come to here you will be attracted by the poetic landscapes with endless grass fields, huge gardens of plum and apricot trees and various flowers, don't forget to take a lot of photo at tea plantations and large herds of milk cows.
During the Vietnam Christmas holiday, if you are a person who loves flowers, so here is your ideal stopover. Come to Moc Chau, you must see the forests of blossoming plum trees, Kia Cave, Paco, and Tan Lap tribal village, which is famous about the white plum flowers, a nice background for your pics What's more, you can also visit tea farms and learn how to pick tea leaves, dry them and then brew a cup of tea and enjoy it in the cold weather.
3. Trang An Complex, Ninh Binh
A trip to Ninh Binh is very suitable in December since the high domestic tourism season has not arrived yet. Tourists can have a chance to discover quintessentially limestone sceneries in Trang An Scenic Landscape Complex, the UNESCO World Heritage site and visit Bai Dinh Pagoda, the largest pagoda in Vietnam. A boat trip around Tam Coc, the 'Halong Bay on land' is recommended. If you are looking for a church, Phat Diem Cathedral in Ninh Binh is one of the most spectacular churches in Vietnam. Constructed from 1875 to 1898, it was built totally by stone and wood which were available in karst mountains around Ninh Binh.
4. Halong Bay
December is a great time for a cruise to Halong Bay as the weather is drier than it in the summertime. Not much foggy like Sapa, but Halong Bay is an idea to celebrate Xmas. Celebrating Christmas on the bay, you can immerse in the captivating landscapes with stalagmites and stalactites of various shapes and sizes, as well as emerald beaches. Sumptuous meal and cocktails are served on board as a part of the celebration. Also, there are several exhilarating activities, from kayaking, rowing boat and sightseeing to cooking demonstration class. It is a little bit cold for swimming, but you can experience comfort with state-of-the-art facilities such as Jacuzzi, spa, bar, and gym.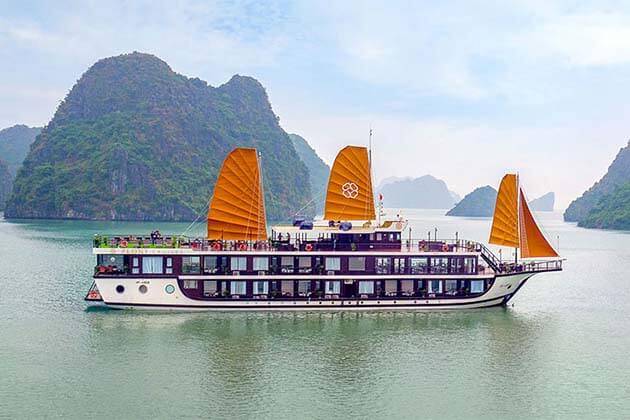 5. Hanoi – The Capital of The 1000 – Year Civilization
Hanoi is where you can entirely dip into the Christmas atmosphere thanks to its cold weather. From the beginning of December, the whole city is decorated with sparkling Christmas' patterns which make you feel like home. Here are our suggestions for some places you can come around on Christmas in the capital city.
Hanoi Walking Streets
The walking streets which contain the route around Hoan Kiem Lake attract tourists for numerous folk performances. You can understand Vietnamese culture and relax from the stressful workplace when coming to this area. On Christmas, the festive environment around the lake with glittering lights and twinkling ornaments will delight all travelers.
Hang Ma Street
Hang Ma Street always is the most crowed in Hanoi on special occasions such as International Children's Day, Mid-Autumn Festival, Halloween Day, Christmas and Tet holiday. This street becomes more colorful at Christmas' Eve with red Santa Claus' costumes, green Christmas trees, as well as numerous gifts and postcards.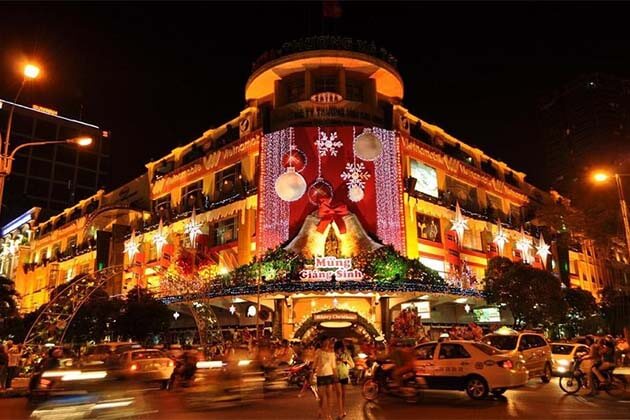 St. Joseph's Cathedral
Located in the heart of the Old Quarter, west of Hoan Kiem Lake, St. Joseph's Cathedral (Nha Tho Lon) is one of the oldest colonial buildings in Hanoi. You can see thousands of Christian people and the locals gather here to celebrate Christmas.
Shopping Malls
Vincom Centre Ba Trieu, Times City, and Royal City are the three most exciting shopping malls in the city where you can entertain and go shopping on this occasion. Do not forget to take advantage of this time to buy some cheap clothing.
6. The Ancient Town in Hoi An
Originally a seaport from the ancient kingdom of Champa, Hoi An then became one of Southeast Asia's major international ports from the 17th to 19th century. The architecture of the town is a combination of Vietnamese, Japanese, and French culture. You can walk around the town, take a picture of the iconic Japanese Covered Bridge, stop at a clothing store and have clothes tailor-made to you. Especially, It is really memorable to spend time with your beloved ones along Thu Bon River which is decorated with thousands of lanterns on Christmas. Hoi An is also a heaven for gastronomy in Central Vietnam with the signature Chicken Rice and Cao Lau (a kind of local noodles).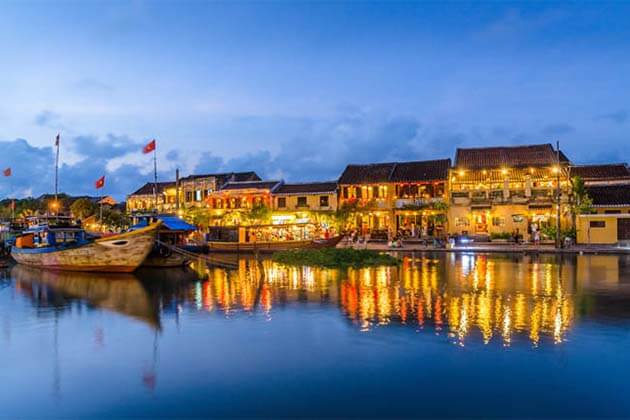 7. Nha Trang
When it comes to a beach vacation in Vietnam, Nha Trang should be on your bucket list. Praised as the beach city of Vietnam, Nha Trang offers a variety of beautiful landscapes as well as numerous dining options, bars, pubs, and clubs. Along with the famous Dai Beach in the city center, you can take a boat trip to some islands such as Hon Mun, Hon Mot, Hon Tam, and Hon Tre to enjoy a tranquil atmosphere and take part in water activities such as diving and snorkeling. Other attractions in the city center are Po Nagar Cham Tower, National Oceanographic Museum of Vietnam, Nha Trang Cathedral, and Alexandre Yersin Museum.
8. Da Lat – The Dreamy City
Considered as the dreamy city, Da Lat is the best place for couples in their vacation. Admiring the landscapes associated with faithful and loyal love, sipping morning coffee at dreamy Ho Xuan Huong Lake, and holding hands on the quiet street in Da Lat when night falls in the colder air will make your love more sublimated. Other attractions include the Da Lat flower garden, the Crazy House, Bao Dai's Summer Palace, the Railway Station and the Valley of Love. Coming to Da Lat on Christmas, you can have a chance to see thousands of colorful flowers at the Flower Festival organized in December in the city. Da Lat will be a little bit cold in the evening, so make sure you bring warm clothes.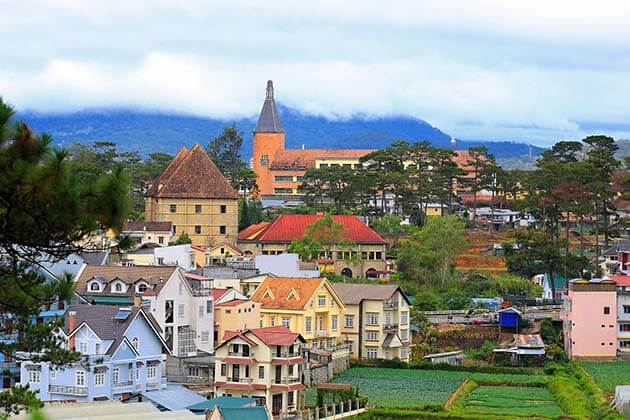 9. Ho Chi Minh City
Although it is warm in Ho Chi Minh City on Christmas, you can still fully enjoy the festive season here since there are many places for entertainment in this city. Check out some of the most exciting places to celebrate Christmas in Ho Chi Minh City
Notre-Dame Cathedral
One of the must-visit attractions in Saigon that you have to visit this Christmas is the splendid Notre-Dame Cathedral. Located in the city center, the cathedral is surrounded by various restaurants, cafes, shopping malls, and clubs.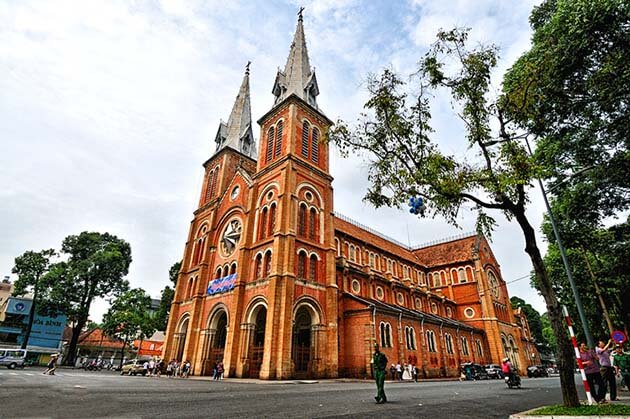 Nguyen Hue Walking Street
On Christmas, the locals often gather at Nguyen Hue Walking Street to immerse in the cozy atmosphere of this occasion as well as enjoy dancing, singing, and light water music performances, and cultural exhibitions. Along both sides of the road, there are food stalls, bubble tea shops, fast food restaurants, and convenience stores.
Bui Vien Street
Praised as 'the street that never sleeps', there is no kind of entertainment that you cannot find at Bui Vien Street. This is where the locals, expats, and tourists can meet each other. This street is filled with cafes, restaurants, sports bars, pubs, and nightclubs. Besides, you can tantalize your taste buds with local Vietnamese food such as snails and grilled meat, or just grab some craft beer when coming to this street.
Takashimaya Centre
Inaugurated in 2016, Takashimaya Centre has soon become one of the best shopping malls in Ho Chi Minh City where you can find products from luxury brands and try some delicious food. Remember to take a selfie in some elegantly ornamented stores here.
10. Mui Ne
If you are seeking for something extraordinary this December, come to Mui Ne for tranquil beaches and spectacular sand dunes. Compared to Hue and Da Nang, Mui Ne is sunny all-year-around and less stormy, so you can travel here any time a year. Phan Thiet hosts numerous international and local restaurants, luxury beach resorts, affordable guest house and amazing activities such as sandboarding and kite surfing.
Suggestion Vietnam Christmas Holiday Packages:
A Glimpse of Vietnam – 7 Days
The mystery of Vietnam 12 Days
Vietnam in Depth – 17 Days
A Glance of Vietnam – 18 Days
Southern Vietnam Tours – 10 Days