A glance of Vietnam in 18 days will be brought to you the great experience in Vietnam from the North to South. Designed by the travel expert by
Vietnam local tours
team, we understand what you need and then we will head you to discover the highlight destinations in Vietnam. So what are you waiting for? Contact to us!
Tour Code :
Duration : 18 Days/ 17 nights
Start/ End: Hanoi / Ho Chi Minh
Tour Categories: Vietnam Classic Tours
Tour Customizable: Definitely!
Tour Type: Outdoor Activity, Discover, Nature, and Landscape
Guide: Local Guide ( Engish Speaking Guide, other languages upon request )
Transportation: private transportation by air-conditioned car, cruise, boating
Brief Itinerary
Day 1: Hanoi Arrival
Day 2: Hanoi City tour –  Lao Cai (Overnight on the train)
Day 3: Lao Cai – Sapa – Y Linh Ho – Lao Chai – Ta Van – Sapa
Day 4: Black H'Mong Hill Tribe Village – Sapa – Hanoi
Day 5: Hanoi – Ninh Binh – Hoa Lu – Tam Coc
Day 6: Ha Noi – Ha Long
Day 7: Halong – Flight to Hue
Day 8: Hue Half Day City Tour
Day 9: Hue – Da Nang – transfer to Hoi An
Day 10: Hoi An City Tour
Day 11: Da Nang – Nha Trang by Day Train
Day 12 & 13: Nha Trang Free Day
Day 14: Nha Trang – Ho Chi Minh ( Overnight on train)
Day 15: Ho Chi Minh City Tour
Day 16: Ho Chi Minh – Mekong Delta – Can Tho
Day 17: Can Tho – Ho Chi Minh
Day 18: Ho Chi Minh Departure
Full Itinerary
Price & Inclusion
Accommodation
Photos
Day 1: Hanoi Arrival (D)
Welcome to Vietnam, as soon as you set your foot in Noi Bai International Airport, our tour guide and driver will be awaiting you. Check-in your hotel at Ha Noi and take leisure and our driver will transfer you to the outskirt of Hanoi and taste of the Quintessence of Tonkin show, one of the best performance you must see in Vietnam as well as in Hanoi.
Enjoy the dinner after the show and back to Hanoi for overnight.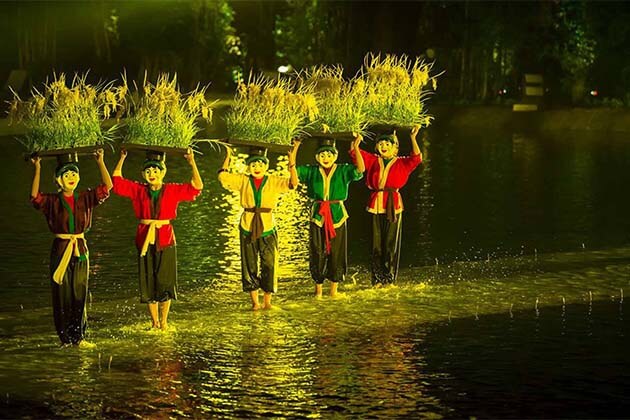 Day 2: Hanoi City tour – Lao Cai (Overnight on train) (B, L)
Good morning Hanoi, after the traditional breakfast (Pho), we will explore Hanoi. Head you off to the first university of Vietnam, the Temple of Literature was founded in 1076, and Quoc Tu Giam was established within a temple to educate Vietnam's royalty, mandarins and members of the elite.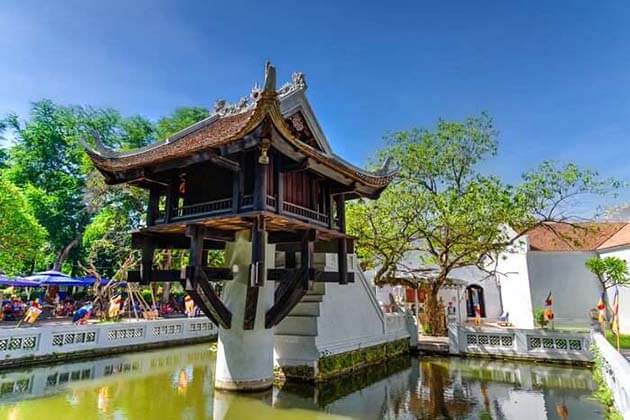 Continue to the trip, visit the iconic One Pillar Pagoda, which is one of the most Vietnam iconic temples, and was built in the Ly Dynasty. Next, let's visit Ho Chi Minh Mausoleum, which kept the mummy of Ho Chi Minh president, and visit his house on stilts to see how simple his life is. Let's our tour guide lead you to Ho Chi Minh Museum. At noon enjoy the lunch at the local restaurant, back to your hotel to have a short rest. At 14: 30, continue your tour to visit the Ethnic Museum where the culture of the 54 ethnic groups will display at the museum. We will enjoy a happy time at Walking Street where you can see teenagers with a variety of music. (If today is Saturday or Sunday)
Back to your hotel, check your belongings and our diver's head you off to Ha Noi Train Station.
Day 3: Lao Cai – Sapa – Y Linh Ho – Lao Chai – Ta Van – Sapa (L)
At 5:30 and 6:00 a.m Arrive at Lao Cai Train Station. Our tour guide will pick you up and move you to Sa Pa Town. At 9.30 am, meet up your local guide and start trekking. At the first part, we will stop at Y Linh Ho Village settled down by the Muing Hoa River and from here to the Black H' mong village of Lao Chai which is one of the biggest minority groups in the Sapa area. They use their language and were traditional indigo blue clothing. However, recently, they have changed their living way from sifting style into the sedentary one.
After that, let's move to Ta Van Village to visit Zay People who live mainly in the mountains in Northwest Vietnam. Then, move to Sapa. Free leisure the rest of the day
Overnight at Sapa hotel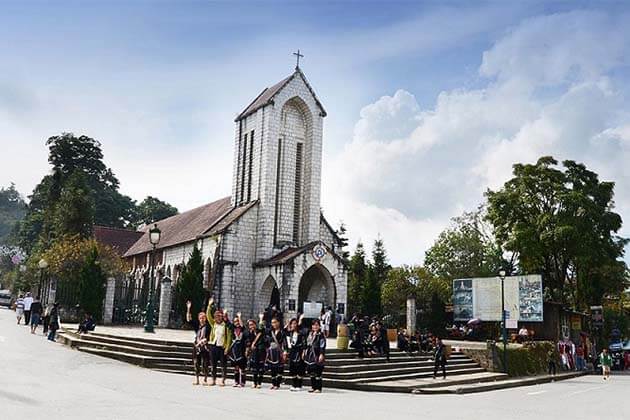 Day 4: Black H'Mong Hill Tribe Village – Sapa – Hanoi (B)
Just about 5 km most south of the Sapa town, Ma Tra Vay attracts visitors for its stunning scenery highlighted with impressive terraced rice fields. Continue to the trip at SaPa, we will visit Suoi Ho village beautifully sits on the top of the low hill. This will be a wonderful chance for you to more understand about local life. Don't forget to bring your camera to take amazing views from the beautiful scenery of the valley and terraced paddies as well as a flower farm. Then, back to Sapa town, before transferring to Hanoi.
Overnight at Hanoi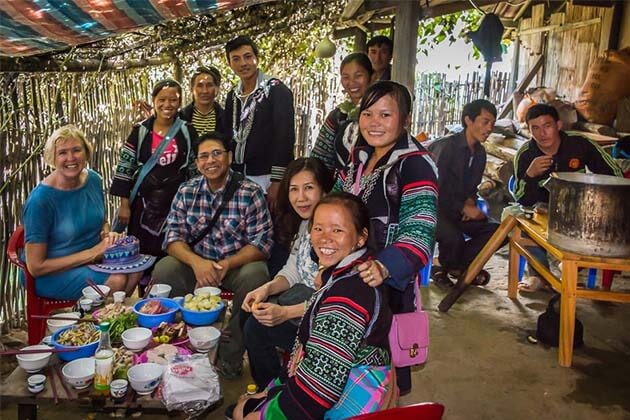 Day 5: Hanoi – Ninh Binh – Hoa Lu – Tam Coc (L)
Have breakfast before our diver and tour guide picks you up at your hotel to depart for Ninh Binh province. Ninh Binh is known as the prior capital of Vietnam under the Dinh Dynasty, so here is focus on many historical places as well as majestic landscapes. Arrival in Hoa Lu Ancient Capital, you will visit 2 temples of 2 kings Dinh Bo Linh and Le Hoan King. Then, our driver will transfer you from Hoa Lu to Tam Coc Wharf to have lunch in a local restaurant in Tam Coc and enjoy famous specialties of the Ancient Capital area.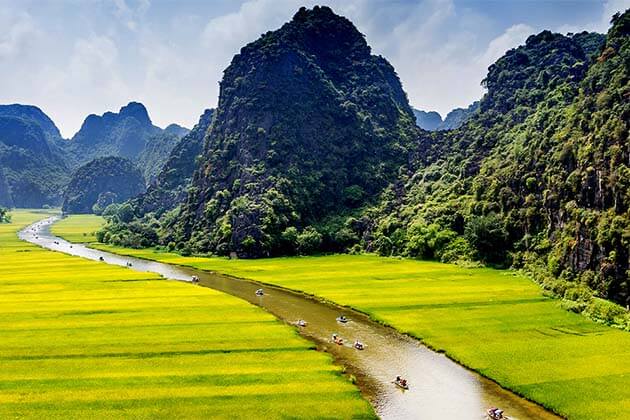 In the afternoon, let's explore Tam Coc Wharf and start the 2-hour boat trip to visit 3 caves: Hang Ca, Hang Hai, and Hang Ba. Each of the cave owns a unique scenery which will dazzle you as you get in.
A Cycling for an hour to Bich Dong and sightsee beautiful scenic pagodas, lush paddy fields, mountains, river, and caves.
Get on the bus and our driver will take you back to Hanoi
Overnight at Hanoi
Day 6: Ha Noi – Ha Long (B, L, D)
Enjoy the breakfast before our tour guide leads you to Ha Long which is listed by UNESCO as a World Natural Heritage and voted as a Wonder of Nature by the New 7 Wonders Foundation. At 11.30, you are at the pier, embark on the boat and set sail on a cruise through the limestone cliffs and emerald waters of Ha Long Bay, enjoy the spectacular scenery and have a delicious lunch on the cruise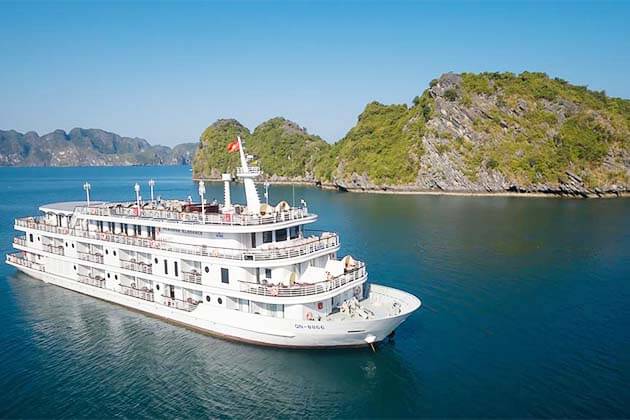 In the afternoon, the trip in Ha Long starts, where you will visit " the Dragon descending to the sea". Depending on each cruise's itinerary of the day, you may visit a beautiful cave, and have some swimming at Titop and Soi Sim beach.
Have a beautiful night at Ha Long Cruise
Day 7: Halong – Flight to Hue (B, L)
Wake up! Wake up to see the beautiful sunrise behind the mountains and listen to the sound of the wave. The Breakfast will be served on the cruise. Continue the trip to visit the stunning views of Bai Tu Long Bay.
In the afternoon, we transfer you to Van Don international airport to visit Hue. After 1 hour and 20 minutes, you are in Hue.
Overnight at Hue Hotel.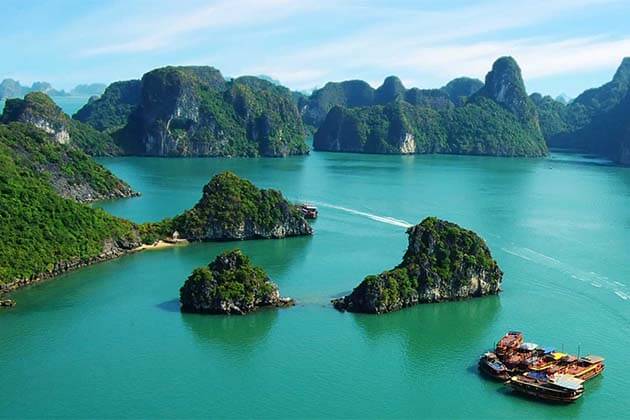 Day 8: Hue Half Day City Tour (B)
A beautiful morning at the poetic Hue, after the breakfast, we will take a boat trip to visit the seven-story Thien Mu Pagoda, which is known as one of the most beautiful and ancient architectural structures of worshiping in Vietnam. Thien Mu has become one of the most famous tourist attractions in Hue City now.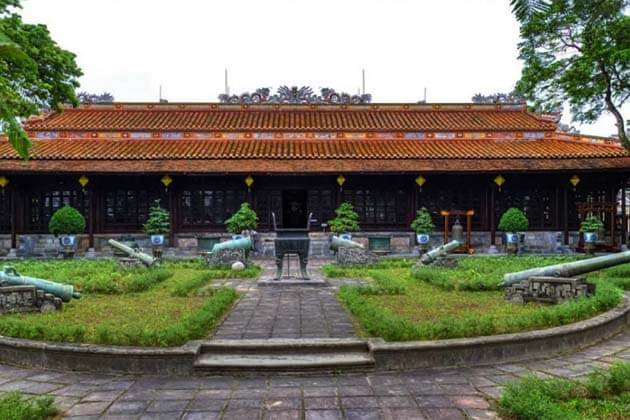 Dong Ba market will the next trip in Hue, which is the biggest and most significant merchant market in Hue in particular and central Vietnam in general. Continue to the highlights in Hue, let's visit Imperial Citadel which will lead you to visit the Hue Royal Antiques Museum to see a collection of ornaments. Hue Royal Antiquities Museum where preserves royal treasures under Nguyen dynasty. Built-in 1845 by Thieu Tri King, located on the north of Ngu HA River, It was a type of "isolated palace" for the king.
In the afternoon, free at leisure
Day 9: Hue – Da Nang – Transfer to Hoi An (B)
Today, we will transfer to Da Nang by shuttle bus to the enchanting town of Hoi An which listed by UNESCO as a World Cultural Heritage and was once a well-known trading center in Southeast Asia from the 16th to 18th centuries. Stop at some sightseeing on the way for a short break. Check-in the hotel and relax.
Overnight at Hoi An Hotel
Day 10: Hoi An City Tour (B)
Continue to these days in Hoi An ancient town, our tour guide will take you on a stroll through the ancient town, passing through the narrow streets, old houses, temple, and the wooden bridge remain its ancient characters. Head you to the temples and museums as well as preserved houses, here are nearly 850 building heritage protected, that pick you back into the past.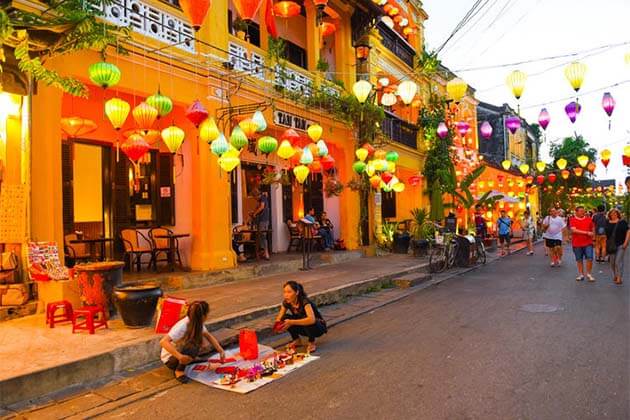 As everywhere in Vietnam, you can find the real Vietnam in unexpected places, such as a back street or turning down an unexpected alley or talk with the local people that will be an interesting experience. In the crooked street, there are many shops which display the art galleries, cafes, gastronomic gems, ceramics for sale, strolling at night you will see the street with full of the lanterns and of course, the silk for which the town is famed. And you also have a chance to talk with the woodworkers and carvers, artists at work, craft shops.
Overnight in Hoi An
Day 11: Da Nang – Nha Trang by Day Train (B)
Have breakfast at Hoi An, before transferring to Da Nang, to take the train to Nha Trang. Check-in your hotel and relax.
Overnight at Hotel in Nha Trang.
Day 12 & 13: Nha Trang Free Day (B)
Have a breakfast at hotel Nha Trang is a perfect choice which offers very nice weather and good reasons for traveling. Today is your free day in Nha Trang to discover the beautiful beach in Nha Trang and join in the activities on the beach.
Overnight at Nha Trang Hotel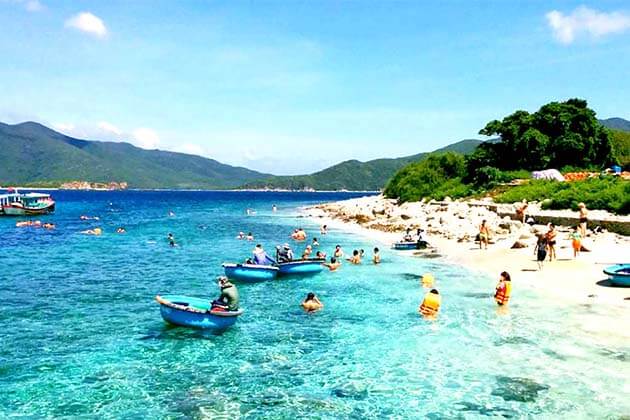 Day 14: Nha Trang – Ho Chi Minh ( Overnight on train) (B)
Continue to the day in Nha Trang until our driver picks you up at the hotel for transferring to train station in Nha Trang. Overnight train to Ho Chi Minh
Day 15: Ho Chi Minh City Tour (B)
Welcome you to Ho Chi Minh city, the lively and bustling city in the south of Vietnam. From your hotel, our local tour guide will head you off to visit the Reunification Palace, which was the residence of the President of the Republic of Vietnam. On April 30th, 1975 when the American War officially came to an end here.
Then, we will move to Sai Gon Notre Dame Cathedral, which was built in 1880 and the Post Office which was built between 1886 and 1891, both of them as the incandescent masterwork from French.
On the last stop, we will visit a local market where you can practice your bargaining skill while shopping for souvenirs. Enjoy the local life and to be a local and try to buy something at the local market.
Return to Hotel at Ho Chi Minh City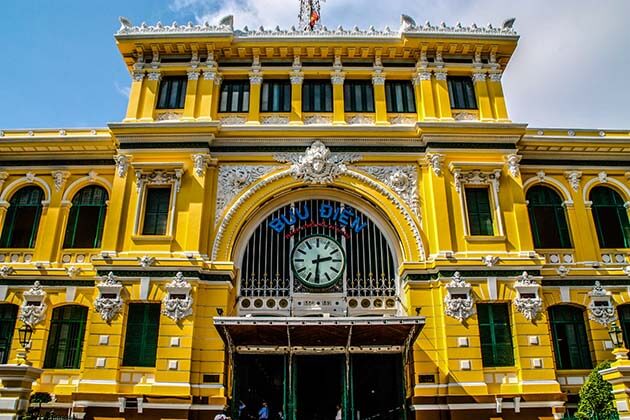 Day 16: Ho Chi Minh – Mekong Delta – Can Tho (B, L)
A visit to the Mekong Delta which is so memorable because of the region's diversity. Board on a long tail boat and experience the diversity of the Mekong waterways first hand as you explore fish farms and exotic fruit farms. Enjoy your time to visit the orchards, paddy fields and swamplands of the Mekong Delta, you could be forgiven for thinking you've stepped into the pages of the geography textbook. Using from one to two days in Can Tho, and enjoy one of the highlights in Mekong delta at Local market to see how crowed people are!
Overnight Hotel at Can Tho.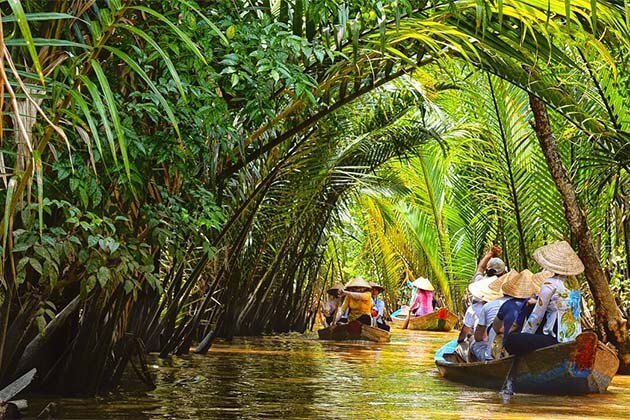 Day 17: Can Tho – Ho Chi Minh (L)
After the breakfast at your hotel in Can Tho, then take a moto boat to visit Cai Rang, the most fascinating floating market where you can see all trading activities on Mekong River. At Can Tho, you should taste a bowl of "Hu Tieu" which is traditional rice noodle of Mekong Delta or try to make a durian which is the most addicted to the local people, but it will be a challenge for the foreigners. Then, Stop at the rice husking mill a walk around the village. Enjoy the beautiful scenery and daily activities of the locals Disembark at Ninh Kieu and transfer back you Ho Chi Minh City.
Enjoy the beautiful day at Ho Chi Minh City, and if today is the weekend, try to the lively atmosphere at Nguyen Hue Walking Street.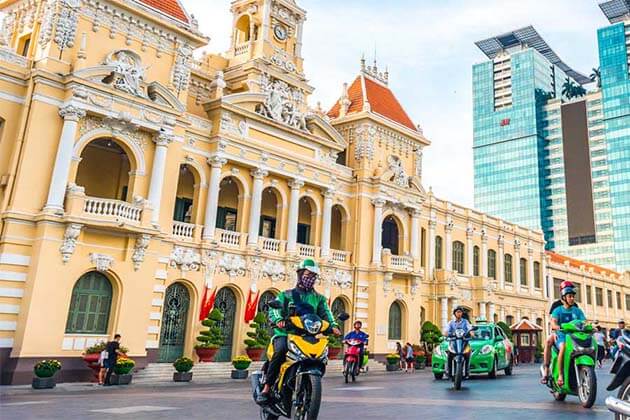 Day 18: Ho Chi Minh Departure (B)
On the last day in Vietnam, enjoy the morning at Ho Chi Minh City, and have leisure time before our driver transfer you to Tan Son Nhat International airport. We wish you have a safe flight and hope to see you on another trip to Vietnam. Don't forget to tell us about your trip to Vietnam. Once again, thanks for using our service.
"Free Inquiry this tour or create your own trip with travel expert"
What's Included?
Vietnam visa approval letter
International in/out flights (upon your request)
Accommodations with daily breakfast, hotels, cruise
Private transport in air-conditioned vehicles
Local English speaking guides
Entrance fees, performances, boat trips and excursions
Internal flights
What's excluded?
Travel insurance
Vietnam Visa Stamp fee
Early check-in and late check out surcharges at accommodations
Beverage
Personal expenses, tips, and gratuities for guides and drivers
Other services not mentioned above
Recommended Hotel List:
| | | | | |
| --- | --- | --- | --- | --- |
| Location | Accommodation | Room Category | | |
| Hanoi | Authentic Hotel | Superior room | | |
| Sapa | Homstay | … | | |
| Halong Bay | Paloma Cruise | Deluxe cabin | | |
| Hue | Asia Hotel | Deluxe room | | |
| Hoi An | Vinh Hung 2 Hotel | Standard City view room | | |
| Nha Trang | Asia Paradise Hotel | Standard | | |
| Ho Chi Minh City | Sai Gon Hotel | Standard | | |
| Can Tho | Sai Gon Can Tho Hotel | Standard | | |
Room type is based on Double bed or Twin-shared rooms by 2 people
Inclusive of Daily breakfast & taxes