Traditional Vietnamese food is known for its balance of fresh ingredients, intense flavors, and ease of cooking and preparation. Each dish is rich in history and represents a regional specialty. Many dishes vary depending on where you order them. These recipes have been passed down through families and communities in previous generations and are now daily staples.
Below are the 10 best traditional Vietnamese dishes, most of which can be enjoyed just about any time of the day. Please use this list as a resource and inspiration for your Vietnam Local Packages.
Pho (F-uh)
Pho (pronounced "Fur") has gained its position not only in Vietnamese cuisine but also in world cuisine. Pho can be seen everywhere from street stalls to expensive restaurants. It is usually cooked by combining chicken or beef broth with thin rice noodles and various herbs. Pho is prepared in a sophisticated manner with a technique to make a sweet pure bouillon, a soft but not crashed noodle and soft, sweet-smelling meat. When the weather is cold, having a hot, sweet-smelling bowl of Pho will make you experience the full flavor of this special Vietnamese dish.
Bun Cha (Vermicelli Noodles with Grilled Pork)
Buncha became international attention overnight after US President Barack Obama and famous chef Anthony Bourdain were pictured eating the dish together in Hanoi. Their choice of this dish is now surprising as bun cha originated from the Old Quarter in Hanoi and has been one of the city's signature dishes for hundreds of years.
What makes this dish special is the complex preparation involved in making it. Minced pork must be marinated overnight to fully absorb the flavor of herbs and shaped into balls, keeping attention to make sure the meat is tender and juicy. The sauce is what makes the dish spectacular as a good sauce will give a balance between the sweetness of the meat and the saltiness of the fish sauce. The Hanoi traditional dish is often served at lunchtime and comes with rice vermicelli, fresh veggies, and herbs such as basils, coriander.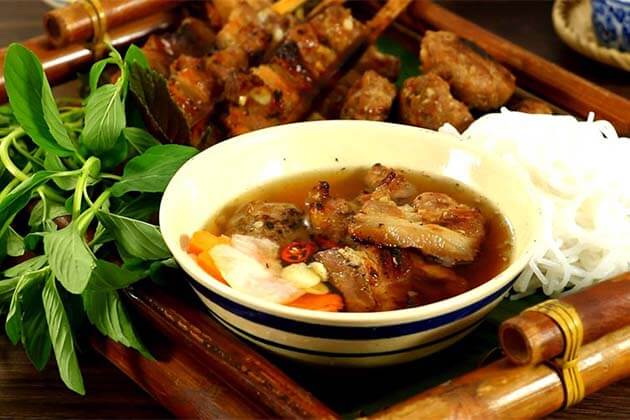 Com Tam (Broken Rice)
Com tam literally meaning 'broken rice' in Vietnamese and is traditionally served with a fried egg, diced green onions, and a variety of meats. While it's a popular choice for breakfast or lunch, it can be enjoyed at any time of the day as it is relatively inexpensive, with street markets and roadside food stalls selling for about VND 20,000 per bowl. Toppings options include suon nuong (barbecued pork chop), bi (shredded pork skin), and cha trung (steamed pork and egg patty). Com tam also comes with a side of pickled vegetables, cucumber slices and Vietnamese dipping sauce.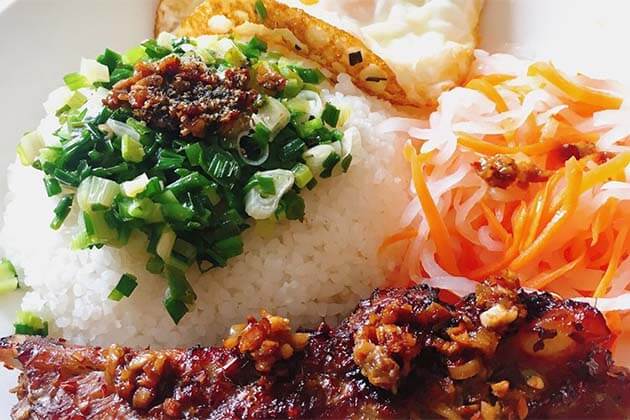 Nem Ran (Vietnamese Fried Spring Roll)
Nem ran (or fried spring roll) is one of the most popular traditional Vietnamese food, literally meaning fried minced pork roll. Contrary to the South, Hanoi style spring rolls are for fried food lovers. The main ingredients of Nem ran are seasoned ground meat, mushrooms and diced vegetables such as carrots and jicama rolled up in a sheet of moist rice paper. The roll is then deeply fried until the rice paper coat turns crispy and golden brown.
The crunchiness of the spring roll together with fresh herbs dipped in spicy fish sauce creates an irresistible flavor for this Vietnamese food. Nem ran is an essential dish for a meal on special occasions in the North.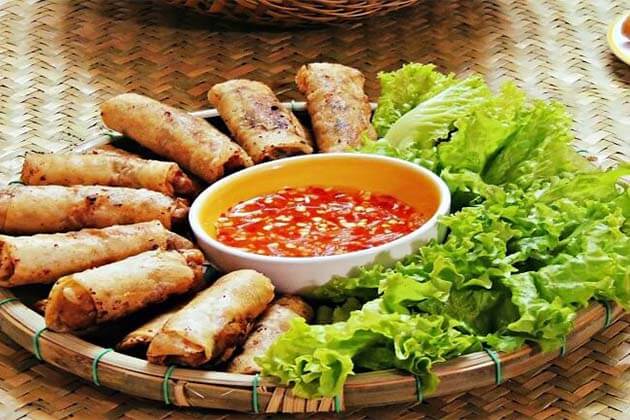 Banh Mi (Vietnamese Bread)
Along with pho, banh mi is famous Vietnamese street food. This delicious sandwich can be traced back to the French colonial period. This dish was originally imported and only sold by expensive bakeries, but it began to spread to the masses when the Vietnamese working class discovered ways to change the ingredients and make it more accessible. Today, the typical Vietnamese banh mi contains mayonnaise, pate, sliced ham and pork, pickled vegetables, coriander, and hot sauce. The mix of flavors between the Vietnamese fillings and French baguette makes this delicious meal a favorite of many.
In Vietnam, you can easily find banh mi stalls almost any corner of the busy intersection for less than $2. When you visit Vietnam, there is one shop that you cannot miss out on as it has been voted the best banh mi by Anthony Bourdain when he visited Vietnam: Banh Mi Phuong, 2B Phan Chau Trinh –Hoi An City.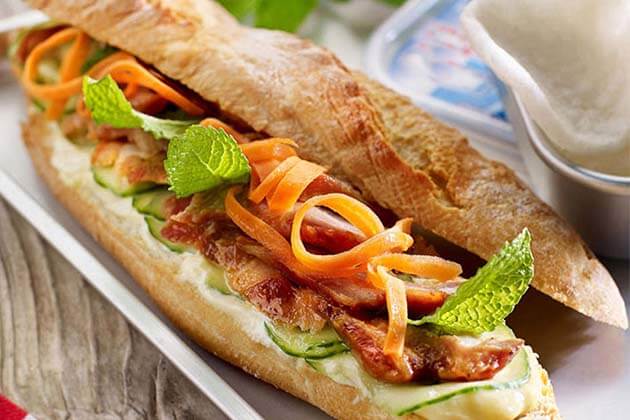 Banh Cuon (Rolled Rice Pancake)
Also known as rolled cake, banh cuon is very suitable when you're feeling peckish whilst sightseeing in Vietnam. Banh cuon is made in the combination of seasoned pork, finely chopped wood ear mushrooms, wrapped in steamed, fermented rice batter, and dunked in a fish sauce dip. The appeal of this dish is not only the great taste but also the special way it's made. Patrons can often watch their host steaming the extremely delicate pancakes moments before their dish is served. Due to its popularity amongst travelers, you can easily spot plenty of street vendors selling banh cuon close to tourist sights and nightlife districts.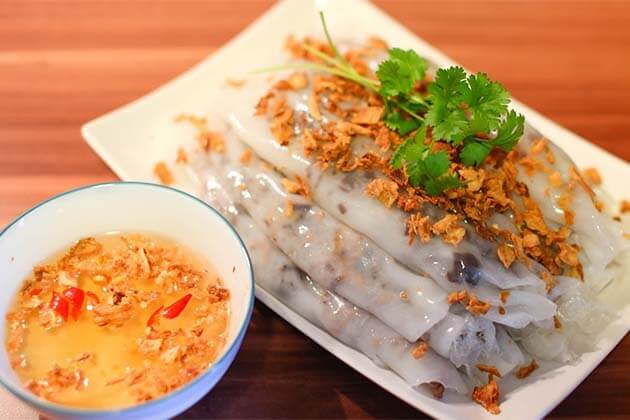 Banh Xeo
Banh Xeo is a Vietnamese version of the famous French crepe. The omelet-looking base is made of coconut milk, mixed flour, and a bit of curry powder and the filling is comprised of boiled pork, shrimp, bean sprouts, and bean paste. Banh xeo is served with many different types of herbs, lettuce, and sweet fish sauce
Most street stalls, local markets, and restaurants sell a platter of banh xeo for about VND 15,000 to VND 25,000, which usually comes with a side of fresh lettuce or rice papers. Eat like a local by wrapping your banh xeo in mustard leaf, lettuce leaves or rice papers together with nem lui (lemongrass pork skewers), mint leaves, basil, before dipping in fermented peanut sauce.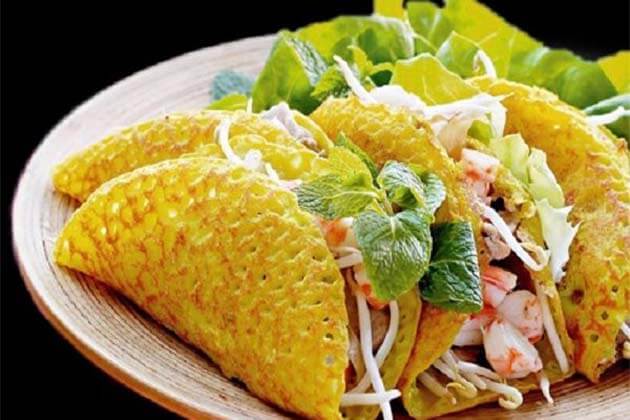 Bun Dau Mam Tom (Fermented Shrimp Paste Noodle)
Bun Dau Mam Tom is known as a rural food of Northern Vietnam. Vermicelli noodle is served with fried tofu, pork, "chả cốm" and shrimp paste. "Chả cốm" is made by a mixture of fried pork and green rice flakes which make it crispy and a bit greasy. These flavors decide how delicious a Bun dau mam tom's tray is. To eat Bun dau mam tom, add sugar, chili and kumquat juice into shrimp paste bowl, stir them up and pour the mix into main ingredients.
Bun dau mam tom restaurants can be found anywhere in Northern Vietnam. There're some famous restaurants in Hanoi such as Ma May Bun dau mam tom restaurant, 1B Ngo Tram restaurant, Ho Tung Mau restaurant. The price of a tray is usually about $2-$3.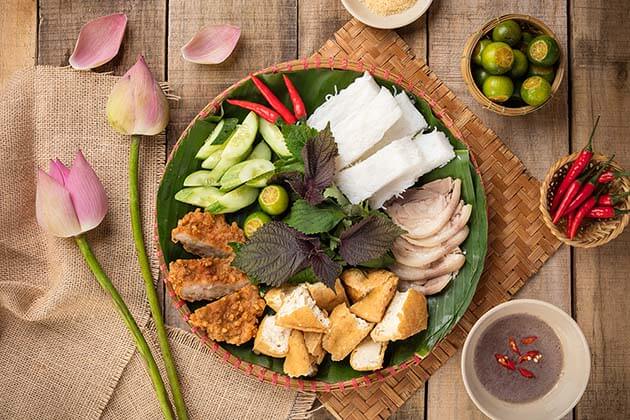 Xoi Xeo (Sweet Sticky Rice)
Xoi Xeo, "Sweet sticky rice" in English is a sweet-savory Vietnamese snack that's typically topped with green mung bean paste, soy sauce, and fried shallots. For a more diverse dish, many restaurants now offer a variety of ingredients such as pate, boiled chicken, Cha Lua (Vietnamese ham), marinated pork belly or preserved eggs. A basic bowl typically costs VND 15,000, while add-ins range between VND 15,000 and VND 30,000. Xoi Xeo may also be enjoyed for dessert including dried coconut shavings, roasted sesame seeds, and crystallized sugar.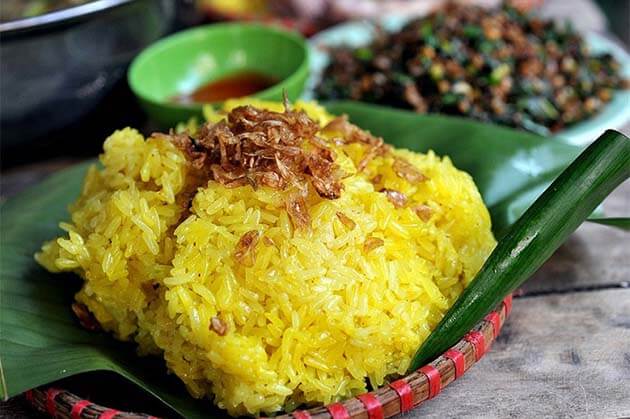 Goi Cuon (Vietnamese Fresh Spring Rolls)
With many local Vietnamese cuisines being unsparingly fried, grilled and boiled, you may find yourself occasionally craving something a little fresher which is "Goi cuon" (Vietnamese fresh spring rolls). These fresh spring rolls are typically packed with greens, coriander and various combinations of minced pork, shrimp or crab. In some places, they're served with a bowl of lettuce or mint. Due to its delicate flavor, Goi Cuon is usually dipped into ground chilies and a hoisin-based dipping sauce topped with crushed peanuts. This popular snack or appetizer is also a healthier alternative to nem ran, which is a deep-fried egg roll made with a combination of mung bean noodles, minced pork, and various spices.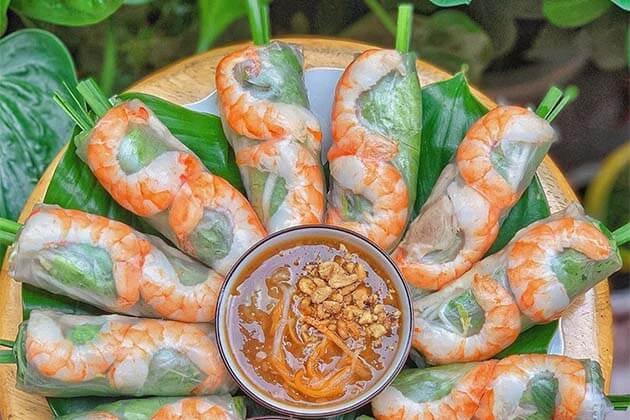 Above are the Top 10 Vietnamese dishes you must try when traveling to Vietnam. And now, it is time to close the tabs and grab some great foods on the street. Don't forget to let us know your experience in the comment box below.