Vietnam is a rapidly expanding and modernizing country where has a wide network coverage for mobile calls. You can call and use 3G mobile internet almost everywhere and anytime as any hotel or guesthouse and restaurant in Vietnam offers Wifi Internet access. Therefore, staying connected is inexpensive in Vietnam.
During your Vietnam Tour Packages, it is convenient to have a SIM card with a mobile data plan so that you can access to local networks and navigate around the country or stay updated on social media. Below is our information about Vietnam's internet status and a selection of the best mobile travel applications.
How to Access the Internet in Vietnam
Internet status ranges widely throughout the country. It is likely that if you are renting a unit in a populated area, there will already be a fast and stable internet connection. You can also enjoy free access to Wi-Fi in the majority of cafes and restaurants.
Prepaid Internet cards that do not require any kind of registration are available in case your rental accommodation does not provide the internet. These items are available in every supermarket and electronics stores from around VND 100,000.
Data for mobile devices are inexpensive and available to register across major cities. It is best to look into this when you arrive. However, you are strongly advised to ensure before departure that your mobile phone is unlocked to use SIM cards for networks outside of your country.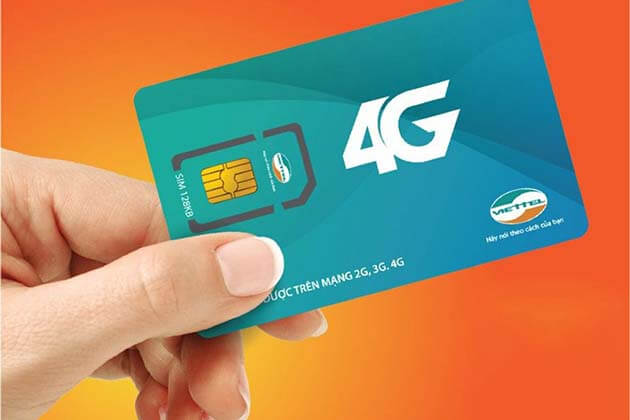 Four Major Networks in Vietnam
There are four main mobile Internet providers in Vietnam: Viettel, Vinaphone, Mobifone and Vietnamobile. Locals and tourists often use SIM cards from all four networks which offer reliable services. According to OpenSignal's coverage map, Vietnam has a good or above average signal for South-Eastern Asian standards.
Viettel
Viettel is the largest operator in Vietnam, owned by the government and the Ministry of Defence, providing customers with 2G, 3G, and 4G/LTE services on a GSM platform. Network coverage is strong around the main towns and cities and is reliable throughout the rest of the country. Prepaid SIM cards can be purchased from official stores and approved resellers with the price of VND50,000-VND60,000, and come with the same amount of credit. The standard default data rate is charged at VND 75 per 50 KB in one data usage.
To check account balance, dial *101#
To check remaining data capacity, dial *102#
To activate 4G, change the setting of Mobile Networks Mode or Cellular Data to 4G or LTE
| | | | | |
| --- | --- | --- | --- | --- |
| Data | Price | Domestic Calls | International Calls | Validity |
| 1 GB | VND 100,000 ($5) | 20 mins | 10 mins | 5 days |
| 2 GB | VND 200,000 ($10) | 40 mins | 20 mins | 10 days |
| 3 GB | VND 300,000 ($15) | 60 mins | 30 mins | 15 days |
| 5 GB | VND 500,000 ($25) | 100 mins | 50 mins | 25 days |
Vinaphone
Vinaphone is the second-largest operator in Vietnam which also offers customers 2G, 3G, and 4G/LTE services on a GSM platform. Network coverage is strong around the main towns and its internet speeds are good. Prepare SIM cards can be bought for VND 50,00 in most retailers across the country. The standard default data rate is charged at VND1.5 per KB.
Data packages:
Big Data (Monthly package on 3G/4G Network)
SPEED (Monthly package on only 4G Network)
To activate 4G service, send "4G ON" to 888
MobiFone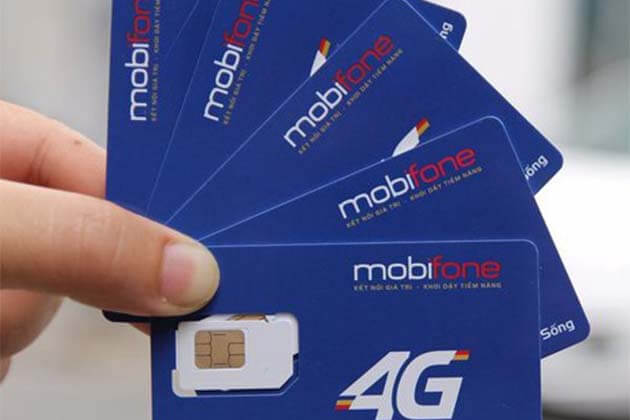 Mobifone is the third-largest operator in Vietnam. Network coverage is strong around the main towns and cities but will struggle in the remote regions. Prepaid SIM cards can be purchased for VND50,000. Top-ups can be found between VND5,000 and 500,000. Dial *101# to check balance. Text "DATA ON" to 999 to activate 4G service. The standard default data rate is charged at VND75 per 50 KB or VND8,000 for 150MB of data use in one day.
Activation
Price
Capacity
Scope
HP 2
VND 200,000 ($10)
6 GB Data
70 – minute Call
Domestic and international
30 SMS
Domestic and International
Vietnamobile
Vietnamobile is the smallest operator in the country with the best rates. It also provides customers with 2G, 3G, and 4G/LTE services on a GSM platform. Network coverage is strong around the main towns and cities but may struggle in the country areas. The "VMOne" prepaid SIM card can be purchased for VND25,000, which comes with VND10,000 credit, valid for 30 days. Credit vouchers can be purchased at various denominations from VND 10,000 to VND100,000. The standard default data rate is charged at VND25 per 50 KB.
Where to Buy a SIM Card in Vietnam
If you are traveling to Vietnam, it is highly recommended to get a SIM card at the main arrival gate where has numerous tourist information desks that sell SIM card packages. The ones that sell local SIM cards are often located next to the money exchange or the visa on arrival desks. Purchasing from these stores is convenient and time-saving. However, the prices and packages fluctuate and change from store to store. Don't hesitate to ask for help from the staff since they all speak English.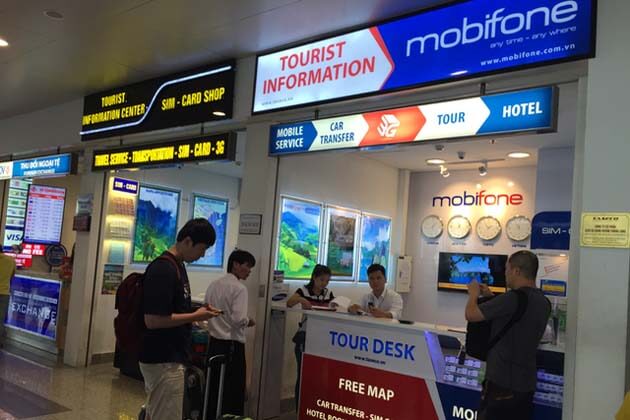 Besides the airport, it is suggested to buy a SIM card at the official stores of four major network brands mentioned above. The price is around VND 100,000 and VND 200,000. This kind of SIM card is only valid in a short period which makes it more suitable for short-stay trips.
With the convenience of mobile phones and being connected to the Internet and telecommunication services, traveling has become much easier than ever before. We hope that the above information is about the SIM Cards and Major Network Suppliers in Vietnam that would be useful for first-time travelers.
If you have some travel-related tips on Vietnam you would like to share with our readers, please leave a comment in the box below.