Festivals in Vietnam offer visitors the best chance for getting up close with the myths, customs, and fun-loving spirit of this proud nation. Despite undergoing modern developments, Vietnam is still a traditional country that conserves thousands of temples and shrines dedicated to Buddha as well as various deities and symbols.
There are also plenty of cultural events that are only celebrated during certain times of the year, so you'll never know when will the events be taken place. We've compiled a list of the best festivals in Vietnam as well as some suggestions on the best places so that you can fully experience these one-of-a-kind events during your Vietnam Local Tour Packages on these holidays.
Public Holidays in Vietnam
The following holidays are major celebrations of the whole nation when all Vietnamese can enjoy the day off to go on a vacation or reunite with their family.
| | |
| --- | --- |
| January 1st | Western New Year's Day |
| Late Jan or early Feb | Tet (Tet Nguyen Dan) – the Vietnamese New year |
| April | Hung King Festival |
| April 30th | Liberation Day |
| May 1st | International Worker's Day |
| September 2nd | National Day |
Vietnamese Lunar New Year (Tet Nguyen Dan)
The Vietnamese New Year, or "Tet," is considered the biggest and the most important Vietnam holidays of the year. It is originally celebrated by Vietnamese locals to thank the gods for the arrival of spring, a ritual date back thousands of years ago. Nowadays, Tet is a time for the Vietnamese to pay respects to their ancestors and welcoming the new year with family members. To prepare for Tet, Vietnamese families clean their homes. Cleaning is supposed to help get rid of any bad vibes. Much like Christmas in the West, Tet is a time when people put on their best behavior – a little extra niceness is supposed to set a good tone for the rest of the year.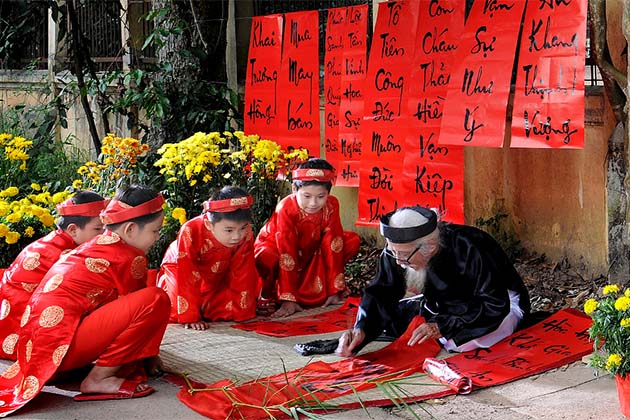 Hanoi is the best place to enjoy this holiday. When visiting Vietnamese temples like Quan Su Pagoda or Ngoc Son Temple, you can see locals lighting incenses and praying to their ancestors in the morning while Hanoi Opera House often organizes vibrant parties and fireworks displays.
Huong Pagoda Festival
Huong Pagoda is the most famous Buddhist pilgrimage place in Vietnam which welcomes hundreds of thousands of pilgrims to the sacred caves to pray for a happy and prosperous year ahead. The pilgrimage starts with a dragon dance at Den Trinh Pagoda where pilgrims travel by boat along the Yen River to the base of Huong Mountain, passing by limestone caves and rice fields. The journey continues on foot by climbing hundreds of stone steps towards Huong Tich Cave, offering a colorful display of food offerings, statues of deities, lit incenses, and praying locals. The Huong Pagoda Festival takes place on the 15th day of the first month of the Chinese lunar calendar. If you don't like a crowded place, you can head to Huong Pagoda in early December to contemplate in peaceful space and see fascinating waterlily flowers booming along Yen Stream.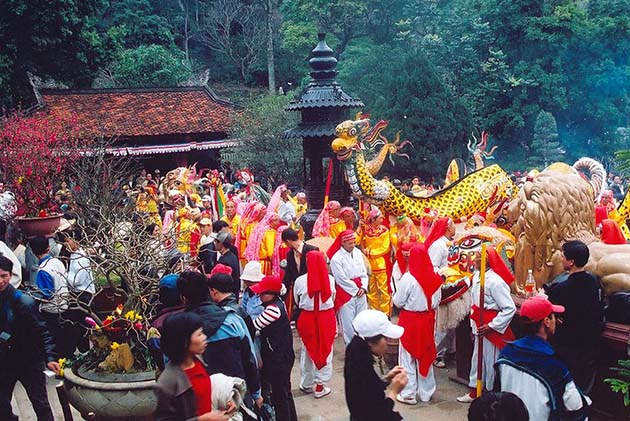 Elephant Race Festival
The elephant race is held annually in the third month of the lunar year, taking place in Buon Don or in the thin woods along the Steve River. Before entering the race, one of the jailers and the elephant was raised, but the supervisor was in the starting position. When the order comes, the elephants will compete in front of the gongs, drums, cheers cheering the mountains. The racing track of the festival has a length of about 400- 500m and width which allows 30 elephants to stand side-by-side.
The winning elephant is given a laurel wreath. Like its owner, the elephant showed its happiness and enjoy the canes and bananas from the festival participants. After this race, the elephants participate in a swim competition across the Serepok River, of tugs-of-war, or throwing balls and playing football.
Coming to this Elephant Race Festival tourists have an opportunity to indulge in the bustling atmosphere of the festival, the echo of gongs, and the spectacular performance of the elephants from the Central Highlands forest.
Lim Festival
Lim Festival is where you can enjoy UNESCO-listed Quan ho folk singing performances and a wide range of traditional games during your visit. Held on the 12th and 13th day of the first lunar month, several stages are built within the village where you get to see locals performing in traditional costumes. "Quan ho" are folk songs performed by traditionally dressed men and women who serenade each other from dragon boats. The songs cover numerous topics such as greetings, emotional exchanges, and even trivial objects like village gates.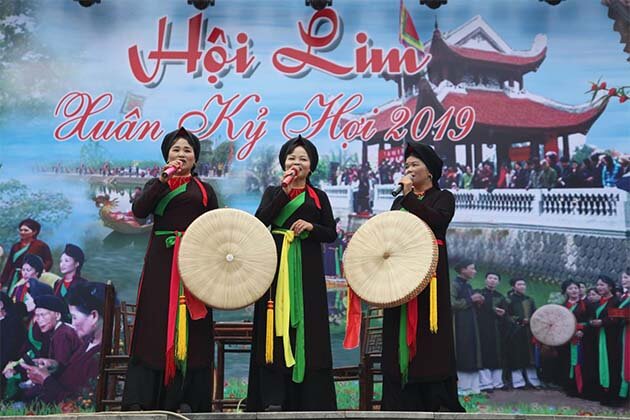 We highly recommend heading over to the lake outside the Lim Communal House to catch Quan ho singing performance on a dragon boat. The Lim Festival also hosts folk games such as danh du (bamboo swings), cockfighting, tug-of-war, wrestling, human chess, and blind man's bluff. The Lim Festival is held in Lim Village, located within the Tien Du District, Bac Ninh Province. It is only a twenty minutes' drive from Hanoi so you can easily make your way to this traditional village by bus or rental car.
Hung King Festival
Hung King Temple Festival is held in commemoration of King Duong Vuong, who became the first king of in 2879 BC. Details of its origin remain sketchy, but the story has become quite prominent over the years: born from the union of a mountain princess and a sea dragon, the Hung King came from a hundred sons hatched from a hundred eggs laid by said princess. Half of the sons returned to the sea with their father, while the rest stayed behind with their mother and learned to rule.
To remember the brave sons of this lineage, people gather at the Hung Temple which located near Viet Tri City in Phu Tho province, about 50 miles from Hanoi.
Festivalgoers light incense, make offerings, and beat bronze drums at the temple, then join a temple fair, which includes entertainments such as traditional Vietnamese operas and sword dances. This holiday is traditionally held on the tenth day of the third lunar month. Since 2007, the Vietnamese government has declared this to be a nationwide holiday.
Hung King Temple Festival not only attracts visitors across the country for its special traditional cultural activities, but it is also a sacred trip that goes back in time to the origins of Vietnam. People often show their love and pride of their homeland and ancestral land. This religious belief deeply embedded in the minds of every Vietnamese citizen, no matter where they originate.
Mid-Autumn Festival in Vietnam
The Mid-Autumn Festival, or Tet Trung Thu in Vietnamese, is marked with fanciful lanterns to help a legendary moon-bound figure back to the Earth. It is held on the 14th and 15th day of the lunar month which features a wide range of activities such as children carrying paper lanterns, lion dances, and food booths selling mooncakes, sticky rice, fruits, and various sweets. Also known as the harvest festival, households set up an altar during the Mid-Autumn Festival night, on which they display offerings to honor the full moon.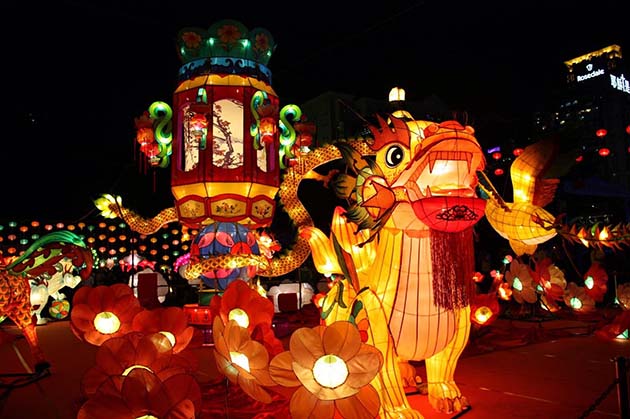 Mid-Autumn Festival is best enjoyed in Hoi An, where you'll get to see plenty of street performances, lantern processions and art exhibitions throughout UNESCO-listed Ancient Town. Children also participate in essays, drawing and coloring contests during Mid-Autumn Festival, while visitors can enjoy breathtaking sights of colorful paper lanterns along the Thu Bon Riverside.
Hoi An Lantern Festival
Hoi An Lantern Festival is a monthly event turning the UNESCO World Heritage Site into an awe-ínpiring display of paper lanterns in all shapes, sizes, and colors. On the 14th day of each lunar month, every shop, restaurant, bar, and business in the Ancient Town switches off all electricity and relies on hundreds of candles and lanterns. Meanwhile, entrance to all temples is free of charge, where you can see monks and locals holding candlelit ceremonies.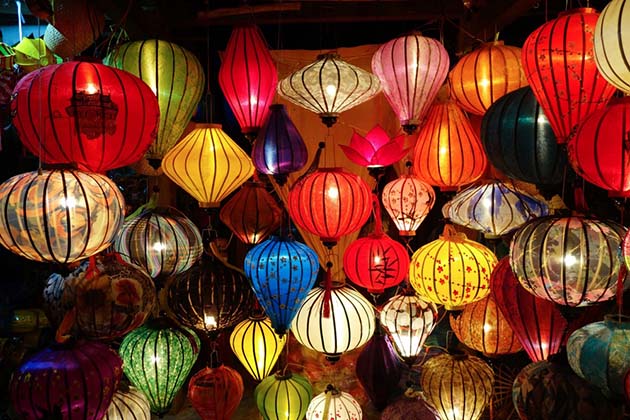 Though Hoi An Lantern Festival takes place in UNESCO-listed Hoi An, the best place to celebrate is along the Ancient Town area. Held until late, the streets are also filled with musicians playing traditional instruments, Chinese chess, poetry readings, and lantern-making classes. Visitors can light lanterns and set them adrift on the river. It's a magical sight, and most would agree it's worth the crowds.
Hue Festival
This is one of the biggest festivals in Vietnam. During this festival, there will be many community-based events held inside and outside the city to show the traditional values and Hue's beauty. Visitors can enjoy several games and a variety of art performances over a week such as Ao Dai Fashion Shows, Hue Poetry Festivals, Dialogue of Drums and Percussions, etc. This Vietnamese festival traces its route to the Nguyen Dynasty to preserve its traditional customs. Hue city is the only place where celebrate the event.
This is a great opportunity to experience and emerge yourself in this cultural festival of Hue. If you plan your Vietnam travel in even year, we recommend you to plan your visit to Festival Hue.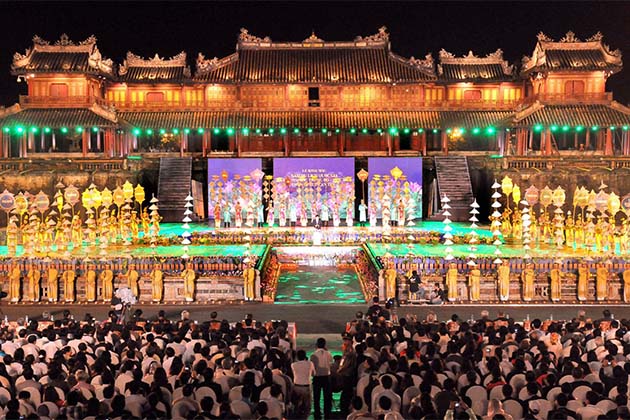 Buddha's Birthday
Buddha's Birthday is celebrated by devotees throughout Vietnam though it is a communist country. Celebrating on the 8th day of the 4th lunar month, many temples are adorned with locals offering fruit, flower garlands, and various Vietnamese dishes. This event often draws thousands of visitors looking to partake in street parades and prayer sessions.
On this day, in major cities such as Ho Chi Minh City, Hue, Hoi An, etc. There are many parades held by monks to give out gifts to the poor, the homeless and the ones in need. Many other rituals are performed in pagodas and temples these days include dropping flower pots to the river, washing Buddha's pictures and statues, organizing Buddhism teaching sessions and praying for peace. In the evening, candles are lit on the floating lotus and sent out into rivers around Vietnam by the Buddhists with prayers. An experiencing the local culture, Buddha's Birthday is also a great time to enjoy vegetarian dishes sold by street vendors in Hoi An.
Vietnam Independence Day
Historically, this was the day when President Ho Chi Minh read Vietnam's Declaration of Independence. Nowadays, this is not only the day to remember the proud moment of the nation, but it is also a Vietnam national holiday where workers get a day off to rest and spend time with their families. Each year, Vietnam's major cities will have special events to celebrate this day and serve the community such as Danang's display of fireworks by international teams, Sapa's Ethnic group performance and exhibition, Hue City's film screening and hot air balloon, Hanoi's parade and street decorations.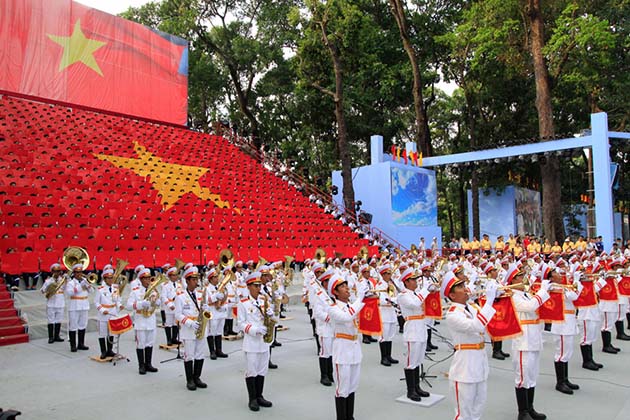 Many travel destinations and sightseeing will be crowded with domestic tourists. Hotels and restaurants are often overlooked on this day. It is not recommended for foreign tourists to travel in Vietnam during these days. However, if you do want to rejoice with the local as well as people watching, make sure you talk to your local tour operator to make bookings ahead of time.
Apart from 10 biggest yearly festivals above, Vietnam still has many festive events held in small cities and provinces across the country but these 10 festivals could be enough to make you overwhelmed with the diversity of Vietnam culture and customs. This also gives you a glimpse of such Vietnam traditional events that prompt an urge to visit this amazing country.
Explore the beautiful country of Vietnam with local experts on our Vietnam Travel Guide.