Ha Long Bay, one of the most popular destinations in Vietnam and a place listed on the UNESCO World Heritage List, is a magnificent seascape sculpted by nature. It consists of numerous islands and peaks, most of which are uninhabited by humans. Drowned limestone karst landforms, wonderful caves, and spectacular pillars make this natural scenery incredible. On the trips to Vietnam, Halong Bay cannot miss your tour.
Discover Halong Bay, and Go Vietnam Tours will share with you what to do and see at Ha Long Bay.
Explore the Overall Scenery via a Cruise or Seaplane
Ha Long Bay Cruise and Seaplane Tour
You cannot miss the opportunity to take a cruise as Ha Long Bay is the best sailing destination. Taking a cruise ship to see the islands is an ideal way to appreciate the overall scenery. From one to three days is enough for you to explore the stunning landscape.
You can enjoy sightseeing the caves and karst formations, visit uninhabited islands, an oyster farm, and a floating village, and experience sea kayaking.
Ha, Long Bay contains numerous limestone islands. Some have interesting shapes. The most famous are Cockfight Rock (looking like two cocks fighting, it's the symbol of Vietnamese tourism), Incense Burner, and Man's Head.
Upon your budget, it's interesting when explore the scenery with a seaplane flight. What's more interesting as you fly over the pillars reaching up to from emerald waters. Join in and enjoy this fresh moment.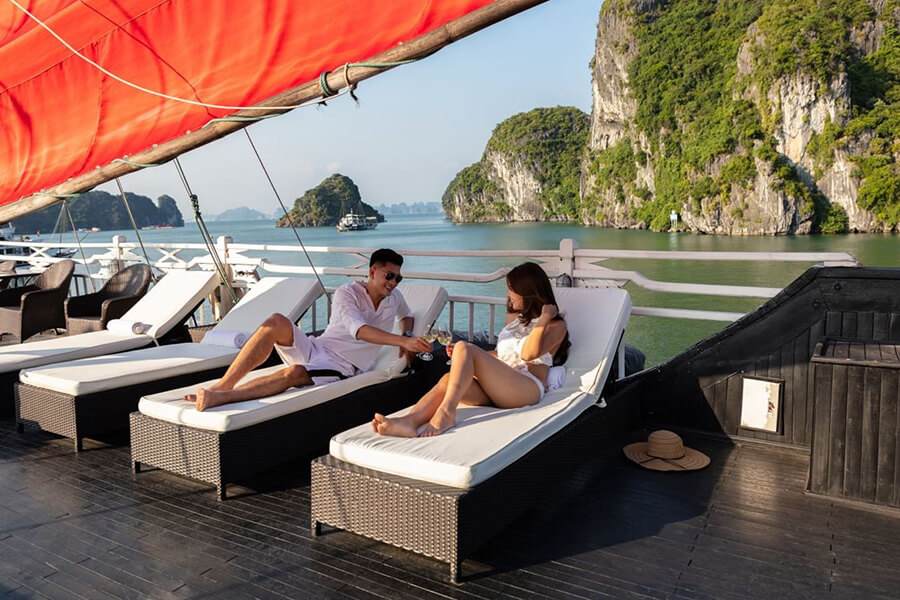 Have a Glimpse of the Unique Lifestyle in the Floating Villages
Visit the Floating Villages
Scattered all over the bay, four floating villages are home to around 1,400 people. They are Cửa Vạn, Ba Hang, Cống Dàm, and Vông Viêng. Floating on the boat and visiting the stilt houses, you will enter the "actual" floating village: several dozen wooden houses floating on the river.
These villages still maintain the style of a fishing village, but they are also major tourist attractions nowadays. You can have a look at the locals' unique lifestyle: they rely on their boats for their daily living, working, and communication with each other.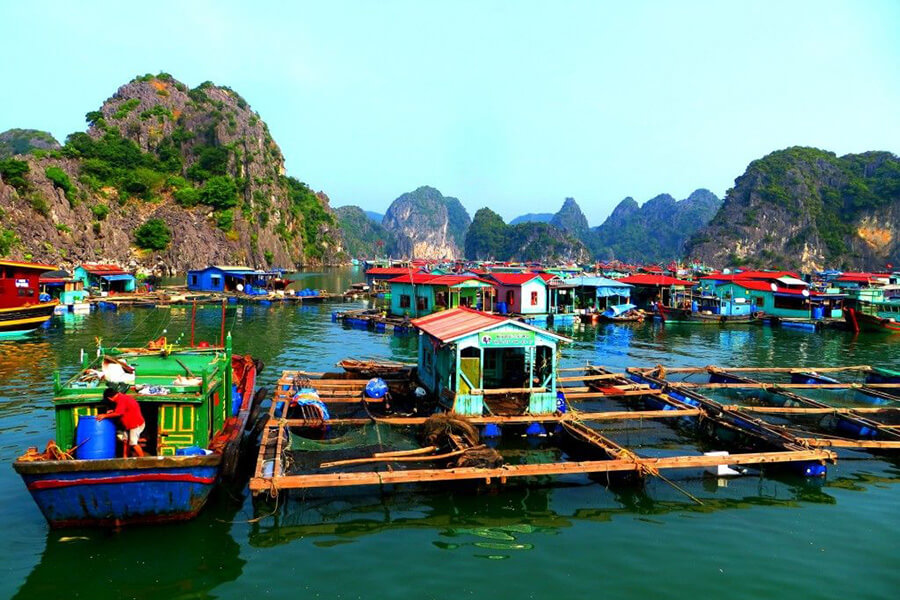 Capture the Beauty of the Small Islands
Small Islands
It takes about one day to visit the small islands including several stunning islands scattered in Ha Long Bay. Because of the precipitous nature, most of the islands are uninhabited and unaffected by a human presence. However, you can take a boat to visit the small island and spend a few hours there, exploring and enjoying the limestone and sandy beach. And don't forget to take a lot of pictures here.
Lying on the beach, you can experience its natural quietness, cleanness, and simplicity. Just cherish this peaceful moment — it will be a good memory.
Enjoy the Night on a Cruise
Squid Fishing
If choosing a two-day and one-night or three-day and two-night cruise, you should not miss the fun at night.
You can just enjoy a movie night, cap off the night with some beauty spa services, or take part in a special activity — squid fishing.
In the evening, squid fishing begins. The boat will anchor at the best spot to catch squid and the crew will teach you how to catch it. There are several ways to catch a squid, all of which can be pretty interesting. After that, the crew will help you to cook the squid.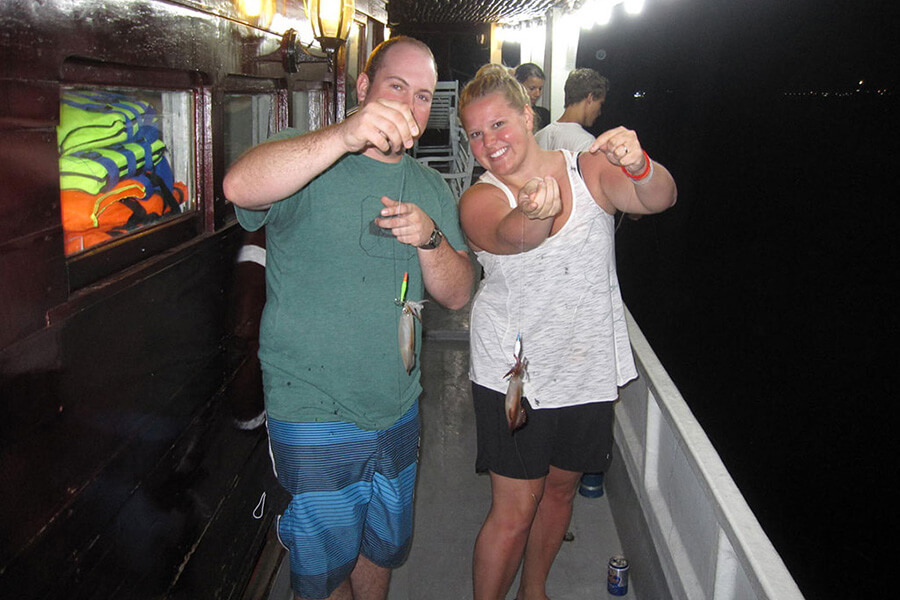 Indulge at a Beach Resort
3 days relaxing at Halong Beach Resort as you lost at the paradise, which will be a great choice for you during these days in Halong Bay. On the beautiful island, there are some stunning private beaches, which are quiet and clean due to the resort. Stay at a wonderful beach resort and you could go swimming, sunbathe, take part in all kinds of water activities, or just laze around all day. It's awesome when walking on the beach at sunset, listening to the waves drive against the shore, and exploring the landscape.
Discover Surprising Sights in the Caves
Visit Sung Sot Cave or Others
Once setting your foot at Ha Long Bay, you have admitted that Ha Long is home to many wonderful caves and grottoes. One cannot deny that every corner of each cave is unique and determined what you have to explore. The Sung Sot Cave and Dong Thien Cung are the most popular for tourists.
Inside these water-eroded caves, walls covered with corallite 'flowers', enormous boulders, refined columns, and a variety of stalactites and stalagmites are just stunning! Piles of stalactites and stalagmites in curious shapes look like wild beasts and human figures under the colored lights.
The deeper you go inside, the more surprises you will find.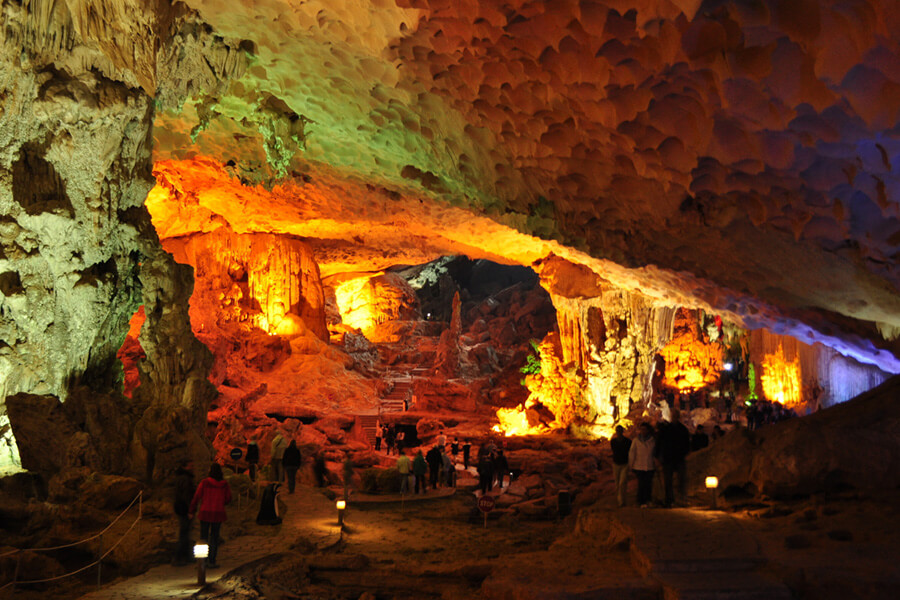 Cát Bà National Park
Ha, Long Bay includes two ecosystems: a tropical moist evergreen rainforest, and a marine and coastal ecosystem. Cát Bà National Park belongs to the first one.
Recognized as a UNESCO Biosphere Reserve in 2004, the park takes up more than half of Cát Bà Island. There are about 32 types of mammals, including golden-headed langurs (Vietnam's most endangered primates), wild boar, deer, and macaques, along with approximately 70 species of birds and more than a thousand species of plants.
When encountering them, you cannot help but admire their diverse ecosystem.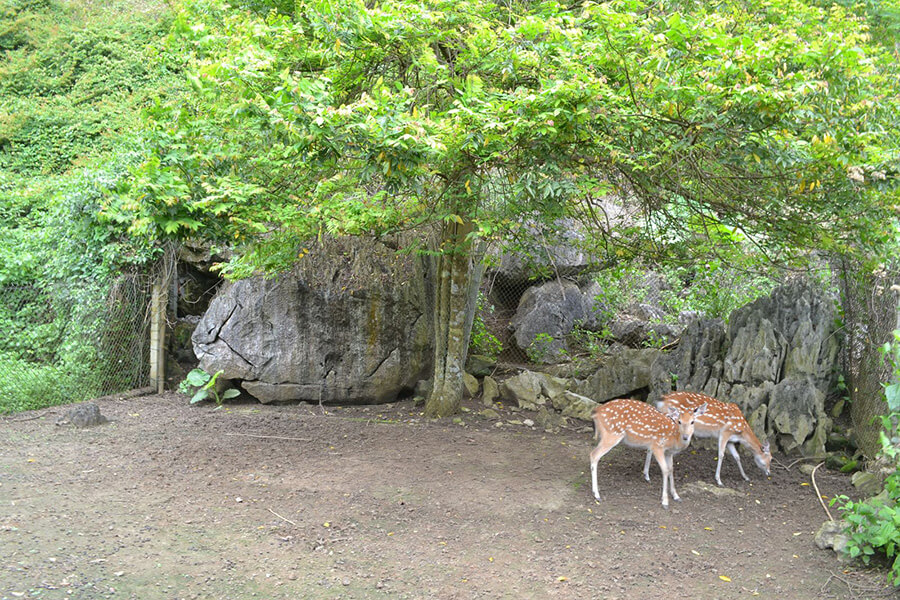 Sun world Ha Long Park
Sun World Halong Park is a complex amusement park. Located in the beautiful area of Halong Bay, here is the most attractive place for visitors recently. Of course, Coming to Sun World Halong will be a new entertainment experience to discover and feel the new angle is very different from the heritage city of Halong.
Travel to Halong Bay, and try a new experience to join in many attractive games including Dragon Park, which will be a world of adventure games opened before your eyes.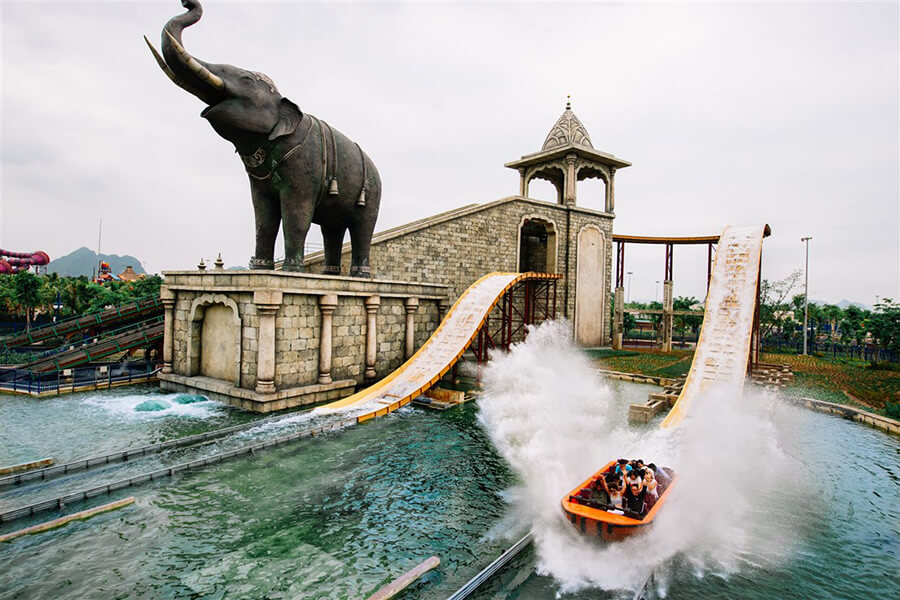 Enjoy a Special Dinner in Traditional Bao Dai Dress
From one to two hours to enjoy the meal like a king or a queen on the cruise. The onboard chef will tell you a short history of Vietnamese cuisine. After that, let's enjoy a luxurious dinner in the traditional Bao Dai dress. Taste the sumptuous set menu, which has been specially designed to make you feel like a king or a queen. This special experience is impressive and amazing. Surely, this will be an excellent trip during your Vietnam tour.
If you fall in love with some places above, we suggest some Vietnam Itineraries with Halong Bay: