The amazing S-shaped country attracts the number of tourists every year by its heroic history, fascinating landscapes and wonderful cuisine. Once visiting Vietnam, you cannot forget the special food name "Phở" or "Bún". The following list will name for you some mouth-watering noodle soups that you cannot miss when enjoying trip in Vietnam.
1. Phở bò
Phở is among the most well-known and favorite Vietnamese soups by Westerners. This food is also served in Vietnamese restaurants around the world but the best Phở in the world is in Vietnam. Phở means rice noodles with a flat and big shape which is thicker than rice vermicelli. It is combined with beef broth. This amazing dish will not complete without large chopped spring onions and cilantro on top. Sweet beef broth and chopped spring onions make an unforgettable taste for those who try it once. You can easily find phở everywhere in Vietnam but you should try at Phở Thìn (Dragon phở), Phở Vui (Happy phở) in Ha Noi and so on. Even small phở shop has very good taste.
2. Miến Lươn
Eel noodle soup is made of eel broth and cellophane noodle which makes a very amazing taste. Vermicelli in normal is quite crispy and easily fragile but dipped in the broth it becomes tough and yummy. The component of this soup is crispy fried eel, miến noodle, bean sprouts, and Vietnamese cilantro. The eels are deep-fried with salt to remove all their fishy smell. It is also just stir-fried with seasonings to make the best taste. One of the best places to try this soup is on Hàng Điếu street in Ha Noi.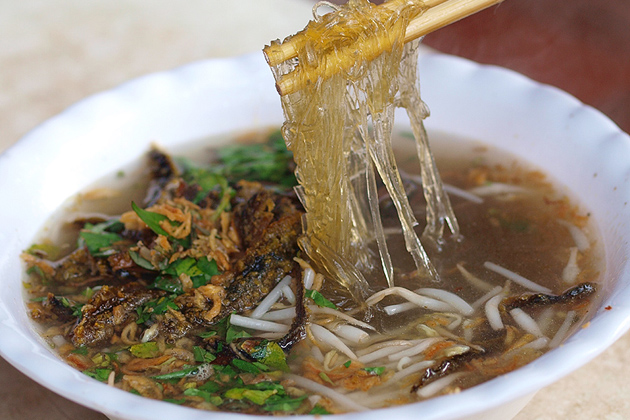 3. Bún thang
Bún is one kind of phở but it is smaller and rounder, not flat. It's also made from rice. Bún thang is a special kind of food that origins from China. It is a beautiful combination of rice vermicelli, thinly sliced chicken, omelets, Vietnamese ham, shrimp, mushroom, radish, and fresh Vietnamese cilantro. The sweetness of broth is from chicken and shrimp. This soup is decorated by arranging all ingredients all around the bow upper the bún to look like the step of the ladder. It's kind of funny to describe that dish but its favor is very wonderful. Bún thang is also found in many places in Vietnam but it seems Hanoi has all of good dishes. You can try some Bún Thang in Cầu Gỗ street.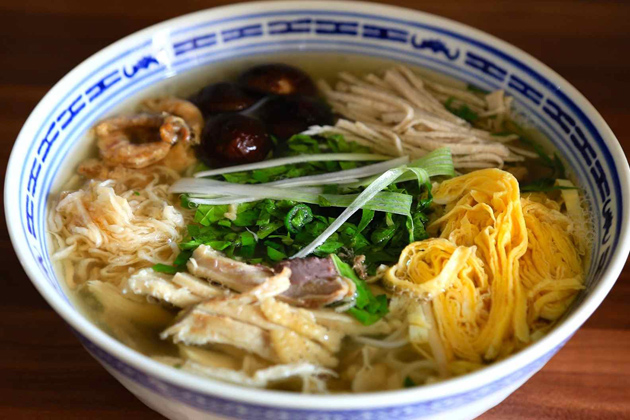 4. Bún ốc
Vietnamese people also eat snails but the same kind of snails that French choose for their meal. It is a freshwater snail named "ốc" in Vietnamese. This dish attracts people who try it by its interesting tomato soup, crunchy fried tofu and seasoned crispy snails and of course rice noodles. You cannot miss this wonderful food when you come to Vietnam and must try in Hàng Chai street in Hanoi. This noodle shop only opens for about 3-4 hours in the morning (from 6 a.m to 8 or 9 am) and is always full of people. Sometimes you have to bring the bow with you without the table. It's also a good experience for you to live like a local.