If there's someone those fond of trying much tasty traditional food all around the world, then Myanmar is a must for the top list of travel. However not every food-tourists came up at street or restaurant is traditional specialties. But do not too much bother, Karaweik Palace of Yangon is a right place for you.
Recommended by Go Myanmar Tours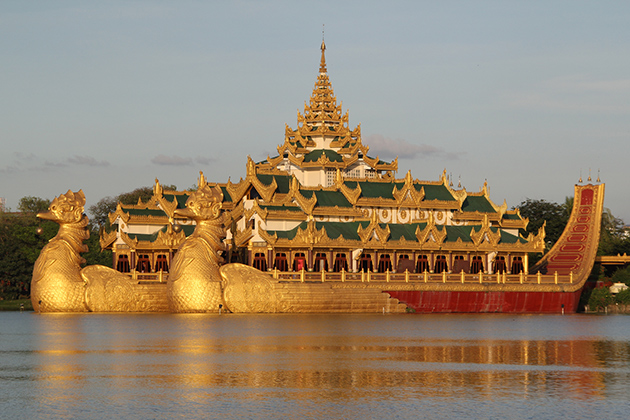 Let's imagine that you are deep into the impressive culture of the Burmese at Karaweik Palace, you are forced to explore all the authentic custom of performances, arts and crafts and – of course – delicious traditional food. All these are served with friendliness and hospitality of Myanmar people in the first class air-conditioned which brings a comfortable atmosphere. Karaweik Palace promises to offer a truly traditional Myanmar Restaurant as well as a cultural performance but with all the modern comfort serve.
Inside the palace, visitors can take a look back to the great history of the Burmese, from the Bagan era (1044 – 1287) until the time of Independence since 1948, wide range of entertainments along with engaging activities are fully highlighted in the Palace. Also, do not miss special shows of experienced dancers who are in traditional costumes of Burma and representing many old aged kinds of musical performances.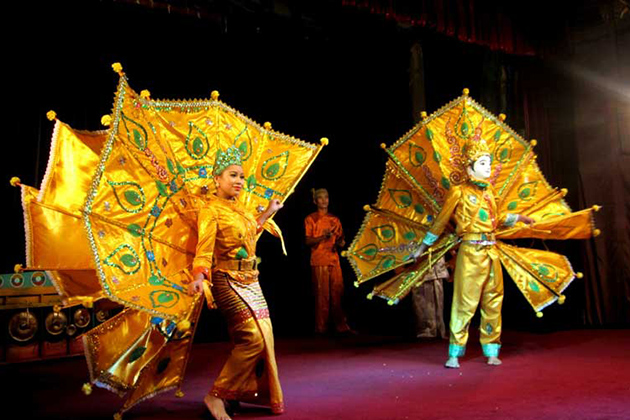 Buffet
In order to bring all the customers back to the authentic and traditional taste of the Burmese, our exclusive chefs intensively choose the freshest ingredients to prepare a tasty meal. Our Myanmar special dishes are served with subtle flavors and delicate spices and ranged from fragrant curries to sweet desserts. In case you have any problems with Myanmar food, don't worry, our restaurant always would like to invite you to try our European dishes, sushi, and fresh salads along with many delicious recipes to complete the tempting spread at the buffet.
Lunch
Be ready daily between 11 am and 3 pm, our cultural Burma lunch is accompanied with Myanmar traditional musical. In the most traditional way, our Karaweik serves lunch on a Daunlaun – a lacquer tray with many amazing tasty dishes. Any choice of a Royal Family set or an individual set menu are high quality concluded with soup, curry, vegetables, salads, condiments and seasonal fresh fruit. We highly recommend you enjoy Mohingar – a truly classic food as well as the mouth-watering favorite dish of Myanmar.
Palace
Karaweik Palace is definitely one of the most instantly recognizable landmarks in Burma. The outstanding golden Karaweik birds appear to float royally on the serene Kandawgi Lake, which makes an incredible site inside the palace. From the first sight of visiting the palace, almost all travelers from near and far are impressed by this wonderful architecture. All these are drawn by its uniqueness and beautiful representation of Myanmar culture which are created and practices by locals for decades.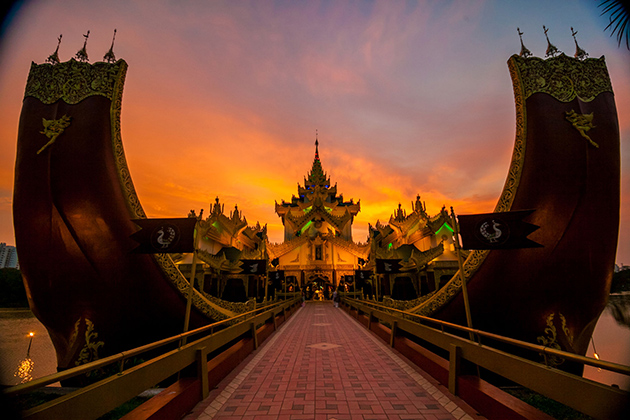 Go deep inside the structure, tourists can easily recognize the two giant halls with glorious golden, outstandingly white ornate high ceilings delicately decorated with Kanote, which is a kind of traditional handicraft wood carving. Each hall has nine grand windows and an impressive stage, bar and wood dining tables and chairs. Karaweik Palace brings you a cool, light and fresh atmosphere, to make sure that all visitors have the perfect place to relax and enjoy the dining time in comfortable surroundings.
Also, we have a variety of dining options for you to choose the suitable one. In the evening, the restaurant served all dishes with a culture show with an international buffet prepared by the excellent cook of the Palace. Dinner is available daily from 6 pm to 9 pm. For lunch, we have traditional Myanmar Menu and Traditional Myanmar Harpist on stage, which are served every day from 11 am until 3 pm.