Halong Bay – the Shining Pearl in Vietnam 
Being a part of Gulf of Tonkin and Van Don island district (Quang Ning Province) and comprising Halong City's and Cam Pha City's sea area, Halong Bay is a mighty and magnificent masterpiece by Nature with unknown 1,969 and named 989 islands limestone islands and islets covering a total area of 1,553km². The average geological age of the islands is between 250 and 280 million years old.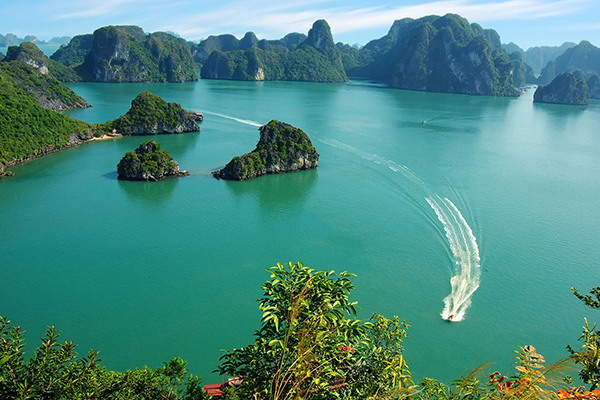 Its name means "descending of the dragon" derived from a legend of local people in a thousand years ago. To help Vietnamese people defend foreign aggression, Gods sent a family of dragons into this region. The dragons spat out gemstones to create long and consistent wall rising from the sea to inhibit the enemy that helped Vietnamese people gain victory.
Halong Bay is famous for its variety of islands and islets with unique shapes like a pair of a chicken standing together (Trong Mai islet), old fisherman (La Vong islet) or an eagle looking for food (Dai Bang islet), etc. The beauty of Halong Bay was demonstrated poetically through a lyric poem composed by great poet Nguyen Trai on his travel to Van Don:
"How innumerous mountains to Van Don
A wonder of the earth erected toward the high sky"
(Extracted from the poem "The way to Van Don")
The shape of mountains, islands and the color of the water are not only uniquenesses of the beauty of this bay. That beauty is also shown in its diverse system of grottos and caves such as Thien Cung (Heavenly Palace Grotto), Dau Go (Driftwood Grotto), Sung Sot (Surprise Grotto), Tam Cung (Three Palace Grotto), Trinh Nu (Virgin Grotto), etc. Moreover, witnessing superb sunset or sunrise on a cruise, kayaking, swimming in the bay or squid fishing at night are attractive activities in Halong Bay. In 1994, it was recognized as a World Heritage site by UNESCO.
Phong Nha – Ke Bang National Park
Located in Quang Binh Province occupying a part of Quang Ninh, Bo Trach and Minh Hoa district and covering a total area of over 343,000 hectares (central zone of 123,300 ha and surround the area of 220,000 ha). Phong Nha – Ke Bang was recognized as a world natural heritage site in terms of geologic and geomorphology criteria by UNESCO in 2003. In 2015, this national park continued being recognized with the same title but in biological diversity.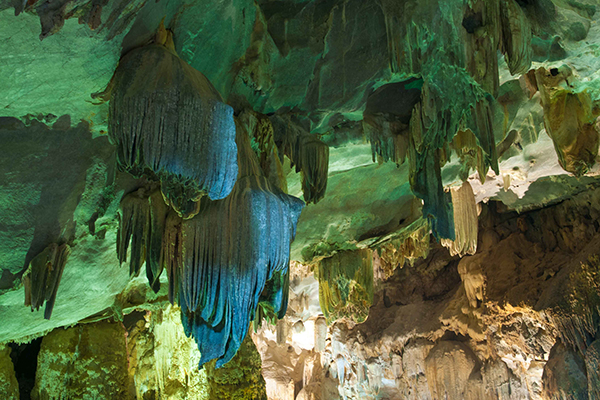 Known as a giant geological museum, Phong Nha – Ke Bang owns diverse geological structure with different categories of stone like quartz, siliceous limestone, schist, granite, sandstone, diorite, granodiorite, applet, pegmatite, etc. Besides, aged 400 million years during the main geological periods of the Earth, Phong Nha – Ke Bang is the oldest and largest tropical karst with the original topographic and geologic characteristics. The establishment of high mountain ranges and the depressed sedimentary basins also had a part in the variety of geology, topography, and geomorphology.
Based on researches about Phong Nha – Ke Bang, scientists have found a lot of valuable information about the Earth's extended geological process through many periods from the Ordovician Age Silurian Age (around 463.9 – 430 million years ago) to the Quaternary Age (1.75 million years ago). Besides, there was also a discovery of the system of rivers and grottos under the limestone mountains containing precious sources for study.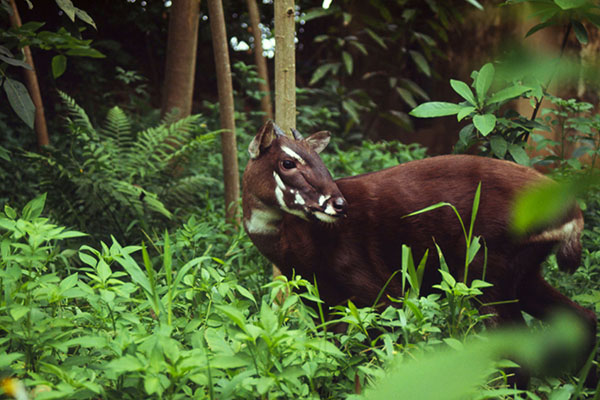 Apart from karst geomorphologic area, Phong Nha – Ke Bang also has a non- karst geomorphologic area including a lot of mountains covered by a floristic carpet. Due to the erosion, many abrasion-accumulation terraces have formed along the valleys of the Son and Chay rivers and at the margins of the central limestone massifs. Being intercalated between limestone mountains, there is a diverse system of rock formed from the transition terrain.
Trang An Landscape Complex in Ninh Binh
It' s about 2 hours from Hanoi to Ninh Binh, the land in the South of Red River Delta, Trang An Landscape Complex is really a must-see destination during your trip to Vietnam as it offers awesome views of limestone karst peaks, valleys, and steep cliffs. Evidence of human activities dating back to 30,000 years ago have been found in this area. The complex also consists of pagodas, temples, rice paddy fields, and small villages. This place is known as a Halong on the ground by amazing landscapes mixed with the ripe rice field make Trang An is highlighted as a picturesque. It also becomes the pride of Vietnam as well as of the local when becoming one of the main places of Hollywood Film. By its beauty, nowadays, it is one of the main destinations in Vietnam attracting many tourists each year.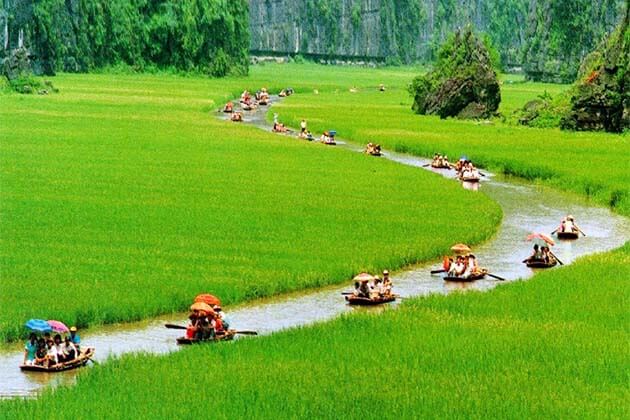 Read more about: Mixed heritage sites, cultural heritage sites