Vietnam, along with the abundance of natural resources and the wealth of cultural treasures, the spirit of 4000 years dragon has contributed to making Vietnam become one of the most fascinating destinations in the world. Here are some of the outstanding monuments from the North to the South throughout the S-shaped elongated region. Keep scrolling to get more information about Vietnam cultural heritage sites to choose it as one of the must-go destinations in your Vietnam tour packages.
The Complex of Hue Monuments
Located along the Perfume River in Hue City and several nearby areas of Thua Thien Hue Province, Complex of Hue Monuments was recognized as a world cultural heritage site by UNESCO in 1993. Nowadays, this complex is also placed in the list of 62 important national monuments requiring a high level of preservation.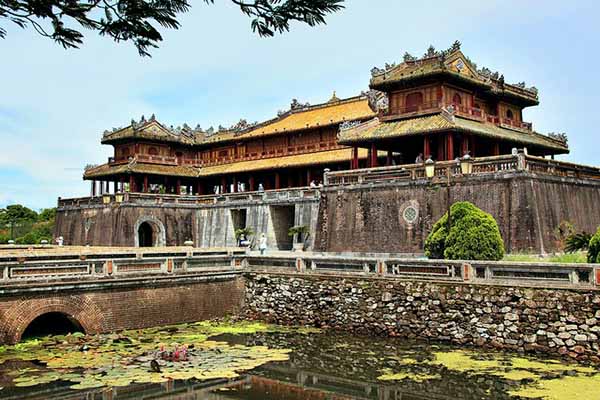 Hue City was the old capital of Vietnam under the Nguyen Dynasty (1802 – 1945). After the wedding of the princess, Huyen Tran of Tran Dynasty with Che Man – the Cham King in 1306, the territories of Chau A and Chau Ly (accounting for Quang Tri, Thua Thien Hue and a part of Northern Quang Nam today) was named into Thuan Hoa. In the late 15th century, the name of "Hue" appeared for the first time under the governance of King Le Thanh Tong. In 1636, Nguyen Lord settled down at Kim Long (Hue). In 1678, he continued moving to Phu Xuan where the Complex of Hue Monuments is located today. In the early of the 18th century, Phu Xuan became the cultural, political and economic center of the Southern part of Vietnam. After that, it was the capital of the Tay Son Dynasty from 1788 to 1801.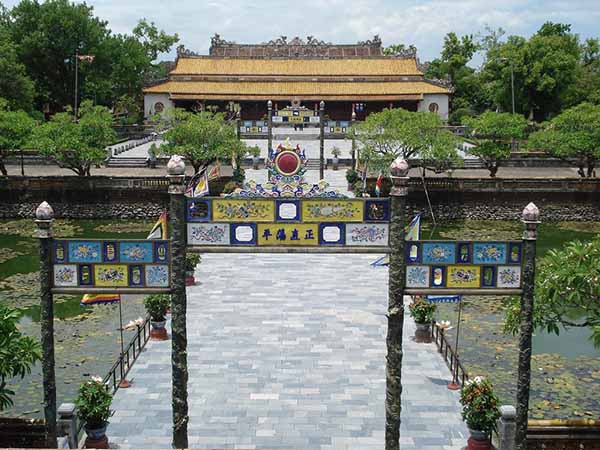 Has gone through many ups and downs of history, Hue was the capital of Vietnam reigned by the Nguyen Dynasty from 1802 to 1945 with 13 generations of Nguyen Kings. During this period, they had built many architectural works with the highlights of the Citadel including the Imperial City (253 constructions), 7 Royal tomb of 9 Nguyen Kings, the Esplanade of Nam Giao, the Ho Quyen arena and the Hon Chen Temple.
Hoi An Ancient Town
Situated right next to Thu Bon River, Hoi An Ancient Town was a famous town named Faifo were used to be a trading area of numerous businessman from Japan, China, Spain, and Italy, etc. in 16th, 17th century. At that time, Hoi An had become a prosperous trading port, a huge and crowded commercial zone of Southeast Asia and one of the main harbor of merchant ships in the Far-east. Many foreign traders chose this town as a second hometown to settle down then, built houses, temples, and pagodas with the typical style of their own native land that mainly created the unique combination of culture and architectures from other countries like Japan or China in Hoi An. After that, due to unexpected events, Hoi An gradually was taken its favorable position from Da Nang Port. However, thank to not being urbanized, Hoi An still mostly kept its tiny streets and alleys, tiled-roof houses, ancient assembly halls, and Cau Bridge, etc. which are highlights attracting many tourists in nowadays.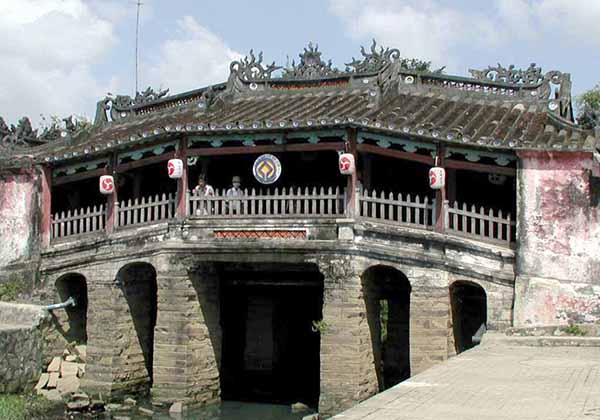 After many centuries, Hoi An has still retained its traditions, folk festivals, beliefs and sophisticated culinary art. Situated in a quiet place, Hoi An is covered by peaceful villages that are famous for handicrafts like bronze making, ceramic, carpentry etc.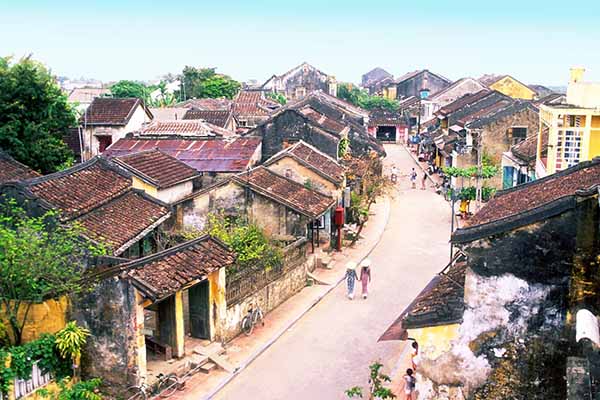 Visiting Hoi An, tourists can have an opportunity to witness the sparkling and fanciful scenery of Lantern Festival associated with traditional handicraft for a thousand year. This festival annually takes place at nights in the middle month based on Lunar Calendar especially Mid- Autumn Festival and 7 nights of Tet Holiday are most monumentally organized. In 1999, Hoi An Ancient Town was recognized as a world cultural heritage site by UNESCO.
My Son Sanctuary
Heading to the Southwest from Danang City about 70km and Hoi An about 40km, My Son Sanctuary is located in a valley in Duy Phu Commune, Duy Xuyen District, Quang Nam Province. Nowadays, My Son has 71 monuments and 32 epitaphs in a total of 225 Cham vestiges that were found in Vietnam. In 1999, My Son Sanctuary was recognized as a world cultural heritage site by UNESCO.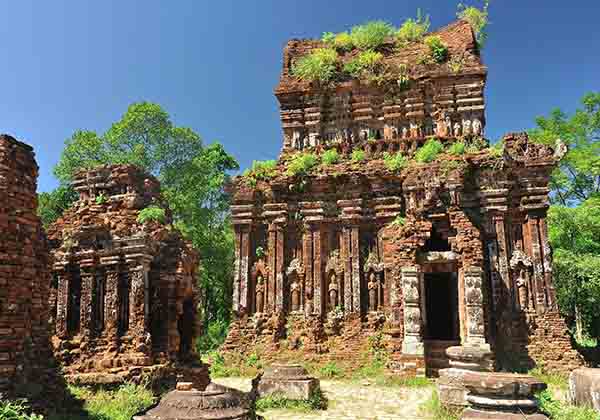 In the part, the Cham Kingdom had 2 sanctuaries owned by 2 main opponent clans. My Son was a place for the worship of God Srisana Bhadresvara, belonged to Dua Clan who reigned over the north of the kingdom. Another sanctuary was called Po Nagar – a place to dedicate Goddess Po Nagar which belonged to Cau Clan who ruled over the rest of the kingdom. However, My Son was acknowledged as the sanctuary of the Cham Kingdom.
My Son Sanctuary was built in the 4th century by Bhadravarman to dedicate God Shiva Bharesvara. Unfortunately, the temple was destroyed after that. Until the early of the 7th century, King Sambhuvarman rebuilt and rebaptized Sambhu-Bhadresvara. At My Son, there were ceremonies of purification taken place for each new monarch to present offerings and erect new monuments. That is also the reason why Cham art was very prosperous without interruption from the 7th to the 13th century in only My Son Sanctuary.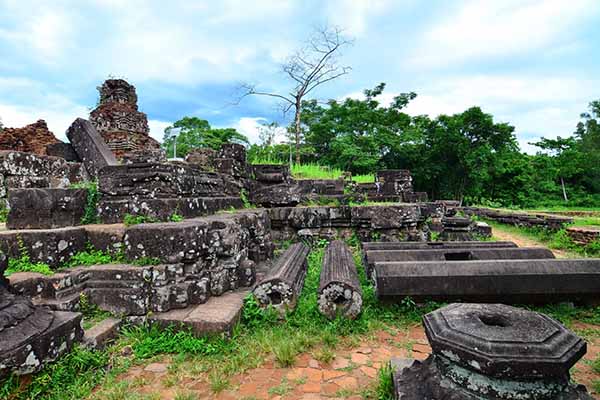 My Son has temples built into different groups in the same model. There is the main sanctuary called kalan in each group that is covered by towers and additional monuments. Representing for Mery Mountain – a center of the universe and the living place of Gods, kalan is a place for the worship of Shiva. The other small temples are used to dedicate the spirits of the eight compass points. The top of the towers with tiled and curved roofs was covered by the offerings and sacred objects of the pilgrims. Due to having no windows, it is very dark inside the temples. They are only designed on the towers.
Central Sector of the Imperial Citadel of Thang Long – Hanoi
Occupying a huge area of 18.395ha, the central sector of Imperial Citadel of Thang Long – Hanoi includes archaeological area at 18 Hoang Dieu Street and several monuments in Hanoi Citadel which are Hanoi Flag Tower, Kinh Thien Palace, Building D67, Bac Mon, Doan Mon, Forbidden City Wall and 8 gates from the Nguyen Dynasty. These monuments are located in Ba Dinh District and covered by Phan Dinh Phung Street in the north; Bac Son Street and National Assembly Building in the south; Hoang Dieu, Doc Lap Street and National Building in the west and Nguyen Tri Phuong in the east.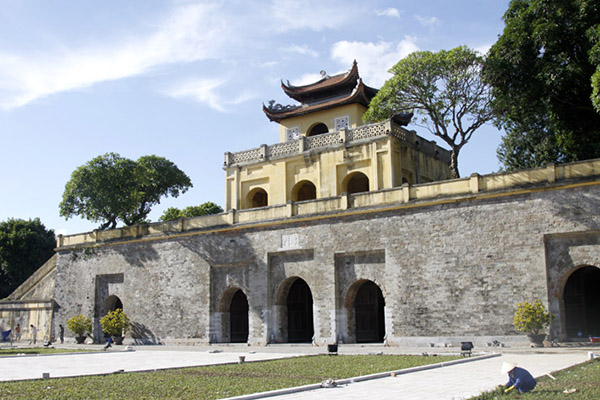 In 1009, Ly Cong Uan came to the throne and establish the Ly Dynasty. In 1010, he ordained a royal decree named Chieu Doi Do to move the capital from Hoa Lu (Ninh Binh) to Dai La Citadel (Thang Long). After that, he issued an order to build a new citadel named Thang Long then its construction was finished in early 1011.
The Citadel of Thang Long was protected by three incorporated and solid forts. The covering fort was Kinh Thanh (Imperial City) surrounded by To Lich River, Kim Nguu River and Red River with the purpose of a dyke system for the city. Hoang Thanh (Imperial Citadel) was the middle fort where the offices, residence of mandarins and royal court were set. The smallest area in the center where the king, queens and other royal relatives lived with very strict protection was Tu Cam Thanh (Forbidden City).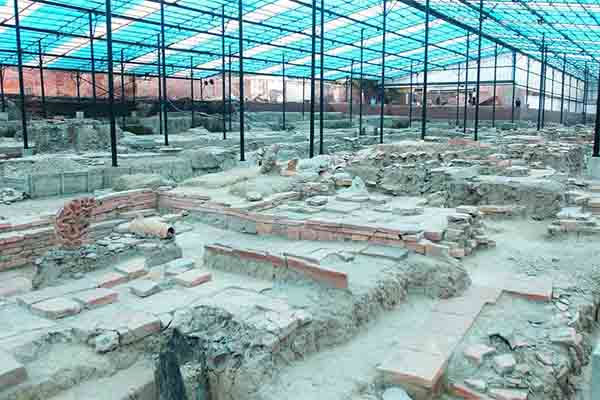 In the Tran Dynasty, the Citadel of Thang Long was repaired and continue being expanded until Le So Dynasty. From 1516 to 1788 under the reign of Mac and Le Trung Hung Dynasty, it was ruined many times before becoming a defensive fortification in the northern of Thang Long called Bac Thanh in 1789 when King Quang Trung transferred the capital to Phu Xuan. Its remaining part was transferred to Phu Xuan for building new citadel in Nguyen Dynasty. Kings Nguyen only maintained Kinh Thien Palace and Hau Lau for their business trips when they were in Bac Thanh. In 1805, King Gia Long commanded to build a new and smaller citadel in the architectural style of Vauban (France) to exchange the surrounding part of the Imperial Citadel of Thang Long. In a big administrative reform in 1831, its name was changed to Hanoi Province by King Minh Mang. When all Indochina was invaded by French colonists, Hanoi was chosen as the capital of French Indochina Union and Hanoi Citadel was ruined to build French military camp. Until 1954 when the Vietnamese army gained control from French colonists, they chose Hanoi Citadel to be their headquarters of the Ministry of Defense. Because of retaining those historical values, the Central Sector of the Imperial Citadel of Thang Long – Hanoi was recognized as a cultural heritage site by UNESCO in 2010
Citadel of the Ho Dynasty
Being the old citadel of Vietnam from 1398 to 1407, Citadel of the Ho Dynasty is located in communes of Vinh Tien, Vinh Long, Vinh Quang, Vinh Yen, Vinh Phuc, Vinh Ninh, Vinh Khang, Vinh Thanh and Vinh Loc Town (Vinh Loc District) of Thanh Hoa Province.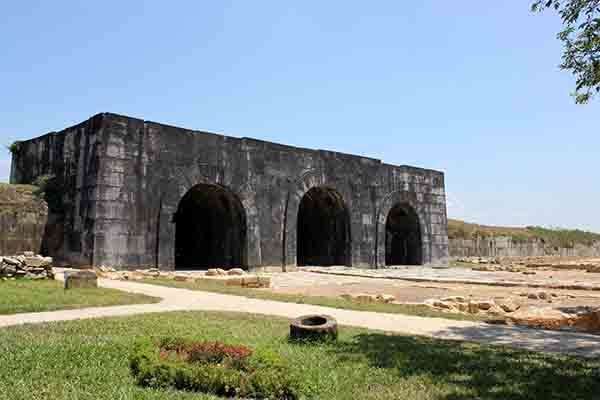 In 1397, Ho Quy Ly – the highest-ranking mandarin of the Tran Dynasty directed the construction of this citadel. After finishing the building, Ho Quy Ly forced King Tran Thuan Tong to transfer the capital from the citadel of Thang Long to Thanh Hoa. In 1400, Ho Quy Ly replaced King Tran to get the throne then he renamed the country into Dai Ngu and recognize Ho Dynasty as a capital citadel. This citadel is also known as An Ton, Tay Do, Tay Kinh, Tay Nhai and Tay Giai.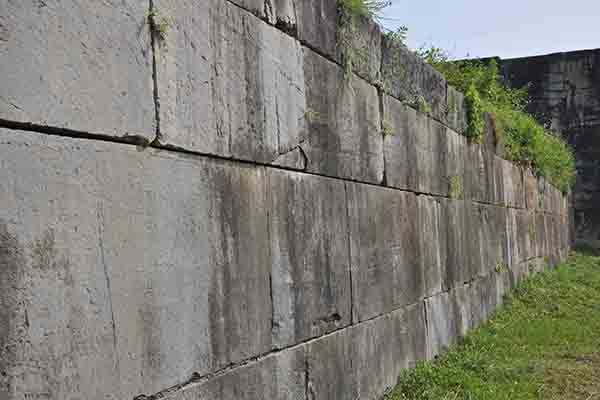 Nowadays, the citadel of the Ho Dynasty is recognized as the only remained stone citadel in Southeast Asia and is one of several remains in the world. In 2011, the Citadel of Ho Dynasty gained the title of world cultural heritage sites issued by UNESCO because of responding 2 criteria which are "to exhibit an important interchange of human values, over a span of time or within a cultural area of the world, on developments in architecture or technology, monumental arts, town-planning or landscape design," and "to be an outstanding example of a type of building, architectural or technological ensemble or landscape which illustrates (a) significant stage(s) in human history." After all, we offer Vietnam Heritage Tour in 7 Days if you love Heritage Sites in Vietnam