Located in the province of Khanh Hoa by the Nha Trang Bay, the opulent resort city of Nha Trang lies in the southern coast of Vietnam. The beaches in Nha Trang are famous for the crystalline blue waters glistening under the sunlight and tropical savannah climate. Often regarded as being among the most picturesque bay-front areas, Nha Trang organizes the biennial Sea Festival. The city is flanked by mountains on three sides and East Sea facing the main area with one large and 4 small islands, thereby protecting the beachfront and the main city from natural calamities. If you are planning to Vietnam Beach Holidays, consider the beaches below, which bring to you the best trip in Vietnam.
1. Hon Tre Beach
Popularly known as Bamboo Island, Hon Tre is the largest among the beaches in Nha Trang. The festivals like Ba Chua Xu (February), Ong Nam Hai memorial festival (April), Ba Thuong Dong (September) and July full moon day are celebrated here. The Gold Stream, Chen Beach is the top beach, which will mesmerize you at first glance. Another attraction is the Vinpearl Land for its virtual games, gliders, animal swings, water park, movie theatre, etc.
Location: 5 kilometers east from Nha Trang center
How to get there? You can take an over-water cable car, speedboat and taxi canoe to reach from Nha Trang to Hon Tre island. The ferry is the cheapest but would take 20 minutes approx.
2. Doc Let Beach
If you are looking for budget Nha Trang beach resorts, the Doc Let beach, with its pristine blue water sweeping over the soft white sand and lines of fishing boats and palm trees, will be your best bet. The attraction lies in the salt fields full of whitish salt mountains. Relatively untouched as compared to other beaches, here you can snorkel around the reefs of the archipelago or go for kayaking, relaxing on sunbeds, playing beach volleyball or sipping vodka.
Location: 45 kilometers from Nha Trang
How to reach: Public bus from Nha Trang to Doc Let via Ninh Hoa or taxi from Ninh Hoa through National Route 1
3. Nhu Tien Beach
When you are looking for quiet beaches in Nha Trang, Nhu Tien should definitely be on your list, thanks to the picturesque setting of Diamond Bay City. The perfect blend of green mountains, azure waters and white sands laden with palm groves will offer a serene atmosphere at this private beach. At the spa resort, you will enjoy the best service with a large golf course, tennis court, spa etc along with restaurants serving Asian, Western and Vietnamese cuisine. Enjoy yoga, banana boating, snorkeling, jet-skiing and kayaking here.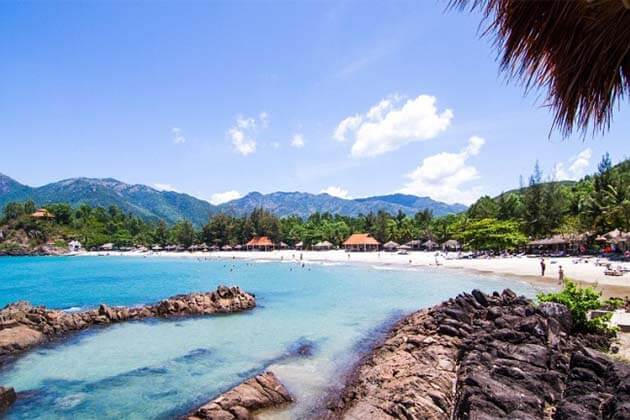 4. Bai Dai Beach
For those who are finding an easy-breezy day trip with cool and casual ambiance, Bai Dai Beach will be a paradise for them. This beach is famous for the hippy-like ambiance for which it is mostly visited by backpackers coming for a day-long trip. Dip into the cool water, spend your leisure time swimming in clear water or relax on the beach, play volleyball or go for surfing are the best choice for you. Satiate your stomach with seafood delicacies, western cuisine, beer or fruit juices from any of the beachside restaurants.
Location: 28 kilometers from the southern coast of Tran Phu
5. Bai Tru Beach
During mid-February through May is considered the best time to visit Nha Trang Beach. Located in private island, with only VND 1,100,000 as entry fee to enjoy buffet lunch, beach hopping and swimming in the pool. Don't miss out the massive aquarium, shopping center, rides and amphitheater at the amusement park.
Location: Hon Tre Island off Nha Trang coast
How to get there? Cable car, taxi canoe and motorcycle from Nha Trang to Vinpearl Amusement Park or speedboat and ferries from Nha Trang's Cao Da Port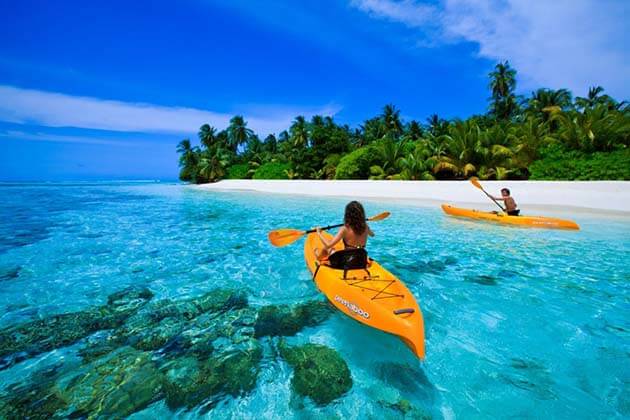 6. Hon Chong Beach
Separated by the boulder promontory named as Chong rocks, the Hon Chong Beach is one of the best beaches in Nha Trang City, Vietnam. The secluded and serene beach has many accommodations available within budget and various seafood restaurants on the oceanfront. Entrance is free but to enjoy the panorama of nearby islets and moon-shaped Nha Trang by climbing on the rocks, you need to pay VND 22,000.
Location: 4 kilometers from Nha Trang Tourist Centre's northern coast
How to get there? Blue and White city bus from Tourist Center or bus from Hon Xen to Vin Pearl, or a 5-minute drive from Po Nagar Cham Towers.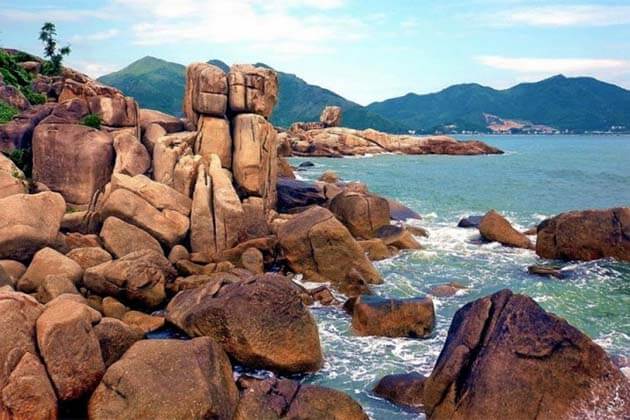 7. Tran Phu Beach
Among the main beaches in Nha Trang, Vietnam, Tran Phu is easily accessible from anywhere of the city. The main attraction is the boulevard running from north to south laden with swaying palm trees. Blue waters, clean powdery sand and the Lotus Tower square with kite stalls, coconut, ice cream, and cotton candy stalls will keep you busy. Nightlife here is bustling with the bars, nightclubs, souvenir shops, people swaying with rollerblades, etc. You can enjoy meditation, spa, surfing, biking, and snorkeling too.
8. Jungle Beach
The Jungle Beach in Nha Trang can provide you everything from no-frills resort to lush jungles, fishing villages to freshly caught seafood like jellyfish, lobster, and octopus. While going through the jungle, sighting the native fauna namely slow loris, fishing eagles, wild monkeys, douc langurs will be an added bonus for those who came for trekking in Vietnam. After that, you can enjoy beach volleyball, swimming, surfing, and snorkeling. You will see the Whale Island on Van Phong Bay to its northeast.
Location: Ninh Phuoc village, 60 kilometers from Nha Trang
How to get there? Take motorbike or taxi from Doc Let