Top 12 Best Beach in Vietnam You Cannot Miss 
As the gateway of Southeast Asia, Vietnam is known as the country rich in the forest and sea, which in the East of Vietnam is Sea. So, there is no denying that Vietnam is the home of the most beautiful beaches in Southeast Asia. If you are planning your
trip to Vietnam
, and want to enjoy your
Vietnam beach holiday
, Go Vietnam Tours offer you top 12 the best beaches in Vietnam.
1. Halong Bay
Though not really a beach, any of Vietnam's "to-do" list seems incomplete without Halong Bay is a part of it. Located in the northern part of the country, Halong Bay is known for its spotless oceanic beauty and is also often considered as one of the natural wonders in the world. Ha Long Bay archipelago consists of approximately 1,900 islands, many of which are still uninhabited. Due to its popularity among locals and international visitors, the Bay can be reached quite conveniently from any part of the country.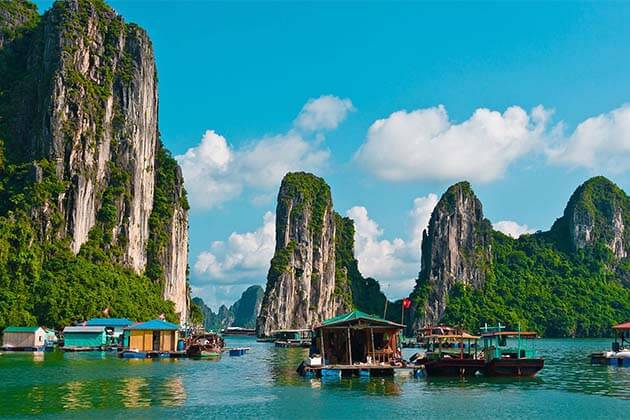 Needless to say, there is no dearth of hotel, restaurants, bars, stores, travel agencies, and other tourism-related businesses in the area. Plan a few days when you visit Halong Bay because one day can never be enough.
2. Long Beach in Phu Quoc
Phu Quoc is by far the largest island in Vietnam, a country famous for its 2000-mile-long shoreline and one of the best cuisines in the world. The island has a long list of beaches scattered around, however, Long Beach is the most famous of all for its long stretch of sandy beaches enclosed in a palm-fringed coastline.
While sunbathers and swimmers find the waters of Long Beach extremely convenient to venture in, these beaches are also a highlight for photographers and sunset lovers. Squid fishing, hiking, snorkeling, kayaking, jet-skiing, stand-up paddle-boarding and biking around the beach town are some of the other usual activities enjoyed at Long Beach. Located only 4 miles from Phu Quoc International Airport, the beach is easily accessible. Long Beach is one of the most popular towns in the country, with lots of hotels, beach resorts, bars and restaurants, tour agencies and other tourist facilities.
3. Nha Trang Beach
Situated on the south-central coast of Vietnam, Nha Trang is a beach city known for its spectacular turquoise-colored waters and a high-energy vibe that attracts visitors, especially backpackers from all over the world. Famous for one of the most beautiful bays in the world, Nha Trang Beach, also known as City Beach, has developed into a popular scuba diving site over the years. Visitors also enjoy kite-boarding and sailing in the clear waters of City Beach which remain warm throughout the year.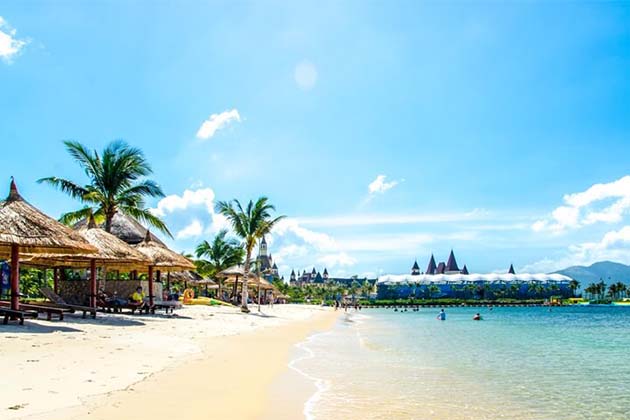 There are several high-end hotels and luxurious beach resorts in and around Nha Trang Beach, the most notable of which is Vinpearl Resort and Spa on the Bamboo Island which has Cable Car connecting the resort to the mainland. Except for the party scene, you can also join in a traditional Vietnamese spa treatment along with a visit to a mud bath.
4. Doc Let Beach in Hon Khoi Peninsula
turquoise waters, white sand, palm beaches, and the surrounding fishing boats are some of the important features of Doc Let Beach, located about 28 miles from Nha Trang, in Hon Khoi peninsula. The beaches cater to all types of travelers - from budget to luxury, and offer suitable accommodation and dining options. There are a number of shops and sheds around the beach for easy access.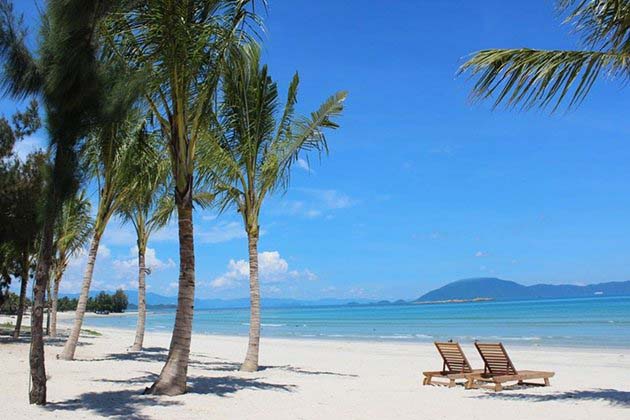 Doc Let Beach, which is most admired for its salt fields, is also a great opportunity for photographers to visit the area. Unlike most other beaches in the area, Doc Let is quiet and therefore offers the tranquility you seek during a rejuvenating beach vacation.
5. Danang Beach
A central fighting area during the notorious Vietnam War, Da Nang beach, at the present time, is known for its white sand beach stretching from Monkey Mountain to Hoi An with the famous Marble Mountains in the middle of it all. With a pristine coral reef, palm-fringed shoreline, and some top-notch beach resorts, Danang Beach is definitely one of the most well-liked beaches not only in Vietnam but the entire world. The Beach is an excellent spot for water activities such as surfing, scuba diving, sunbathing, and swimming. Additionally, the area is known for its active expat scene.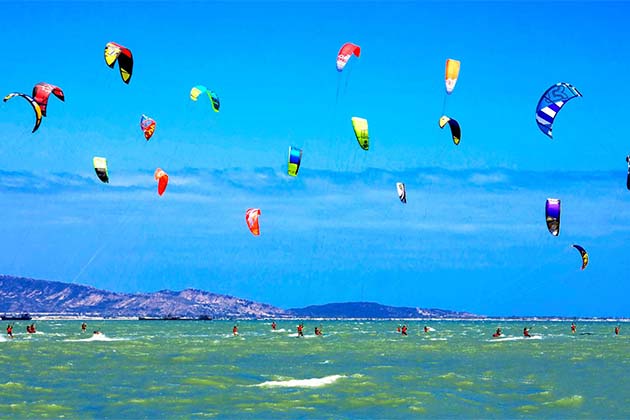 There are several sections of the beach, some of which are My An, My Khe, Cua Doi, and Non Nuoc, of which My An, My Khe, and Non Nuoc are collectively known as 'beaches of Da Nang'. Getting to Da Nang is easy and the beach can be accessible by train, bus, flight, and motorbike.
6. Mui Ne Beach in Phan Thiet
Located around 125 miles from Ho Chi Minh City, Mui Ne is a beach resort town in the fishing district of Phan Thiet. Over the years, this area has grown into a trendy holiday destination. Although the fishing scene around Mui Ne remains unchanged to this day, mass tourism and urbanization are fast taking place in this beach town.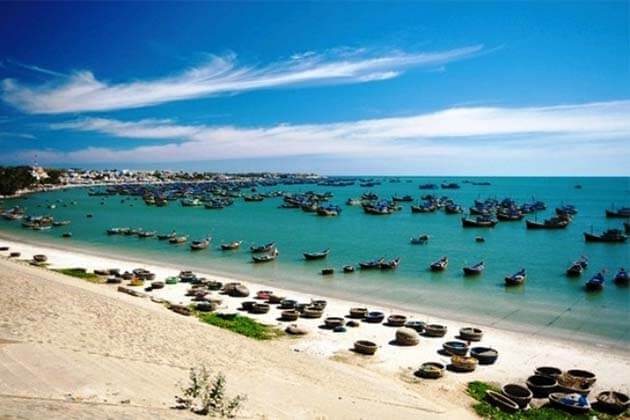 The serene atmosphere around the beach makes it idyllic for sunbathing, walking, and jogging. The atmospheric tranquillity and the beauty of the surrounding coastal landscape are not to be missed. Kitesurfing, swimming, surfing, and windsurfing are some of the other common beach activities in the area. The beach town of Mui Ne is also known for its sailing scene, so much so that it is considered as one of the best locations in the world to sail.
7. An Bang Beach in Hoi An
Hoi An's new go-to beach, An Bang Beach is located 19 miles from Da Nang International airport and 2.5 miles from Hoi An's UNESCO World Heritage Site. Frequented by the expat community in Hoi An, An Bang Beach is lined with perfectly manicured gardens, lively bars and restaurants, and plenty of accommodation facilities.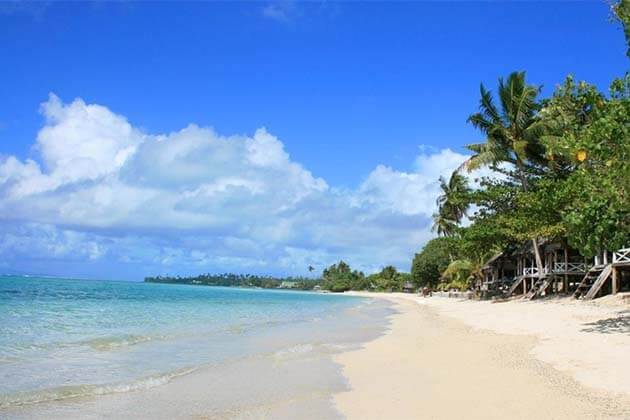 Noted for its surf, swimming, and scuba diving scenes, An Bang Beach is best visited in the summer when you can really put yourself into a meal, swim, sleep, repeat mode. If everything else doesn't suit your taste, try spending the day sunbathing and sipping fresh cocktails until the sunset on the exotic beach hits the scene.
8. Cua Dai Beach in Hoi An
Located about 2.5 miles from Hoi An City Center, Cua Dai Beach is claimed to be one of the main jewelry one of the beach jewelry in Vietnam. The beach is recognized by the white, soft sand, clear blue water, clear sunlight, and gentle waves. Despite being visited by hundreds of tourists all year round, the Beach retains its natural beauty and is not affected by the proportion of tourism in the area.
Cua Dai can be quite crowded on weekends and holidays, so it's best to avoid visiting later if you're looking for a little alone time. If nothing else, come here for the biking experience that you will enjoy riding around the town and exploring the sweet nothings every now and then. Don't think that you only swim in Cua Dai beach, there is plenty of water activities to offer those looking to spend their vacation indulging into an adventure.
9. Thuan An Beach in Hue
Perched on the spectacular Tam Giang – Cau Hai Lagoon, in the northeast of Hue, lays the spectacular beaches of Thuan An. Due to its close distance from the city of Hue, it is a top choice for locals, especially during the summer.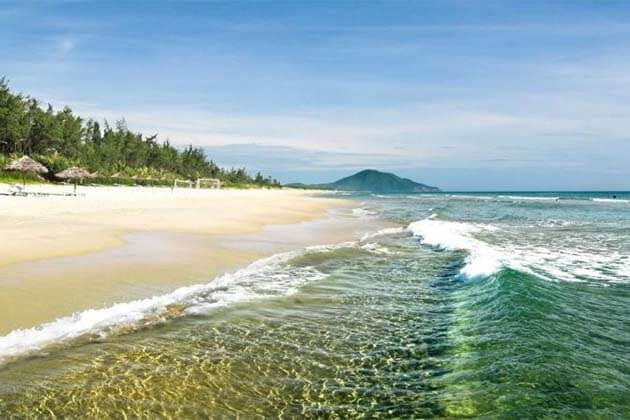 Though it lacks in pictorial beauty, it makes up for it being fun, with lively local beach town where you can hang around with the locals, get to know the local life as well as the culture in Vietnam. Moreover, let's enjoy your summer away from the normal touristy crowd that lines the beaches of the country all around the year. Enjoy the seafood, and some mugs of beer with natives cherring merrily is a usual view here.
10. Ho Coc Beach
Considered as the most enthralling beach in Vietnam by visitors from all around the world, Ho Coc is a small beach town located around 78 miles from Ho Chi Minh City. Ho Coc Beach is a long, and about 3-mile stretch of fine, golden sand and crystal-clear waters. The coastline is dotted with large boulders and coracles with sand dunes in the background. Ho Coc is still aloof to mass tourism and commercialization but there are plenty of modest accommodation and dining businesses around the beach area.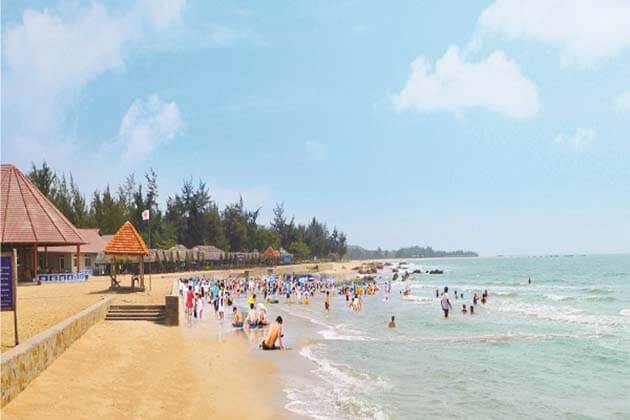 The area gets really busy during the weekend with locals as well as a western crowd but remains pretty deserted and calm during the weekdays. One of the most notable places aside from the beach itself is the nearby hot springs and rainforest that are a good stopover in case you wish to explore the area.
11. Quy Nhon Beach in Binh Dinh
Stretching from the port in the north to the mountains in the south, Quy Nhon is a blessed stretch of long, sandy beach. Quy Nhon Beaches have everything to offer you that the beaches of Nha Trang claim to provide minus the crowd.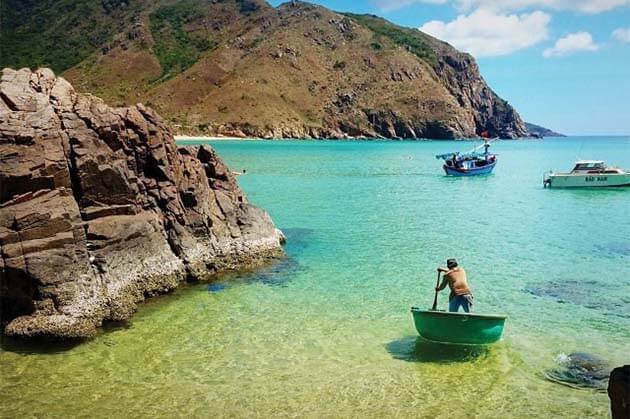 An amazing seaside and well-planned, litter-free town, Quy Nhon is often considered as one of the best options in Vietnam for tourists who wish to spend their holiday unwinding and relaxing in a luxurious ambiance. There are several landmarks in the city, one of which is the giant statue of Tran Hung Dao, offering a beautiful range to walk around. Down south, the beaches are quieter and make for the great romantic locations.
12. Vung Tau Beach in Ho Chi Minh City
Perhaps the closest beach to the main HCMC center. Vung Tau, once named as Cape Saint Jacques by the French, is one of the most liked beaches in the southern part of Vietnam. The four beaches in Vung Tau are coined as per their geographical location and every beach is different from the other.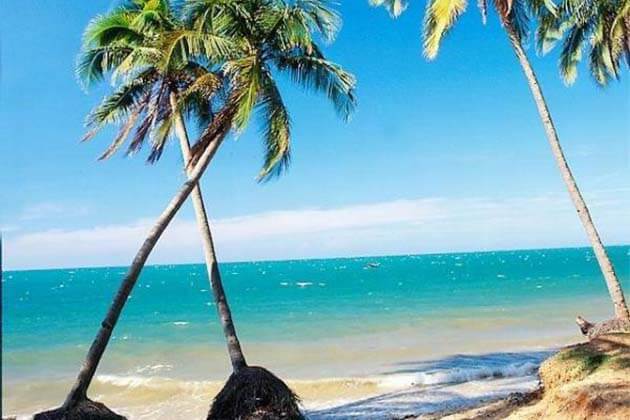 Even though HCMC is well-known in the world for its vibrancy and urbanization in today's world, people living in the city have well-maintained the natural beauty of their beaches and landscapes. Due to its proximity to the city center, Vung Tau is frequented by visitors during weekends and public holidays.