It would be fair to say that kayaking is one of the best ways to enjoy Vietnam's most beautiful landscape and seascape. There is no better way than kayaking to obtain the ultimate adventurous feeling, or experience exciting things and explore unknown places. Especially, landscape and scenery in Vietnam are ideal for those being interested in delving into such sublime beauty of majestic scenes. Here are the best recommended amazing places for kayaking which you have to choose during your Vietnam local tour. 
1. Halong Bay
Explore Halong Bay by kayak, visitors will be captivated by the charming and elegant beauty of the land. Travelers can choose a kayak tour to take in the spectacular view of peaceful floating villages, limestone karst, and mysterious stalactite caves.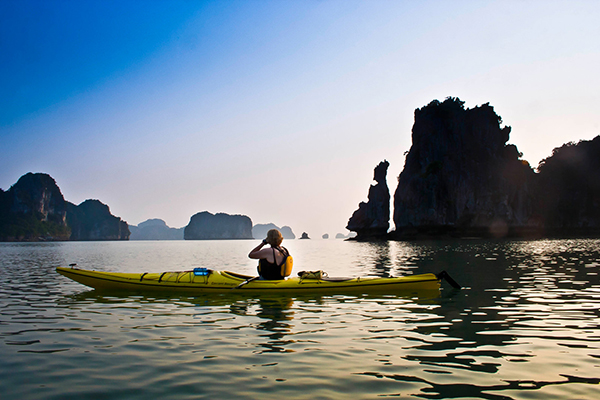 2. Phong Nha – Ke Bang
Highly renowned as the 'kingdom of caves' with various types of terrains, the Phong Nha – Ke Bang system will fulfill your passion for those in search of kayaking. The kayak will take you to every corner of the cave, fresh and quiet streams and enable you to have a closer look at colorful stalactite with a number of caves including Dark Cave, En Cave, and Huyen Khong Cave.
3. Lan Ha Bay
Located in the eastern part of Cat Ba Island, Lan Ha Bay is the home to approximately 400 islands and islets. From a far distance, the Bay is almost like a brilliant patchwork of natural painting with impressive landscape and seascape. Also, you can easily catch a glimpse of 139 pristine stretching areas of sand waiting out there to be explored. Kayaks floating on the emerald water surface allow you to get access to tiny bays and marvel at the colorful underwater world.
4. Cai River, Nha Trang
Discover Cai River in Nha Trang on a small kayak – this is one of the best ways to enjoy the fresh air, visit local farms and villages.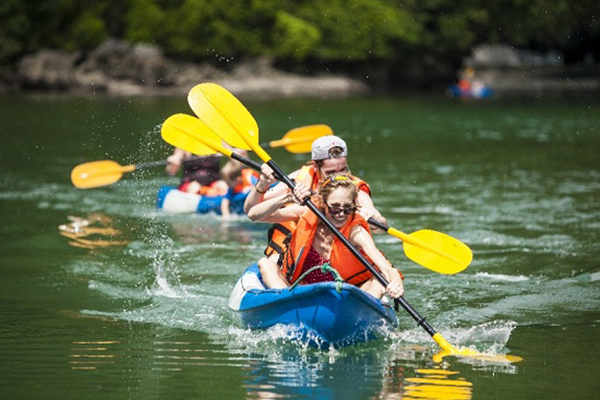 5. Ninh Kieu Quay, Can Tho
Discover Can Tho River by kayaking, visitors have a chance to live to the utmost. Here, you can see more shade of green than you can imagine. Moreover, it is also a good idea to explore the system of canals here.