Tet Nguyen Dan, commonly known by its shortened name Tet, is the most important holiday for Vietnamese marking the arrival of spring. Derived from the Han script, "Nguyen" means the beginning and "Dan" means the early morning. Therefore, the Feast of the First Morning is the meaning of the name Tet Nguyen Dan. Tet takes place in the morning of the first month to at least 3 days after based on Lunar Calendar (around late January or early February). However, to prepare for Tet thoughtful, Vietnamese usually spend about 2 weeks before it, especially for a traditional custom on December 23 of the previous lunar year, named "Ông Công Ông Táo" – Vietnamese's kitchen Gods according to a legend of forefather.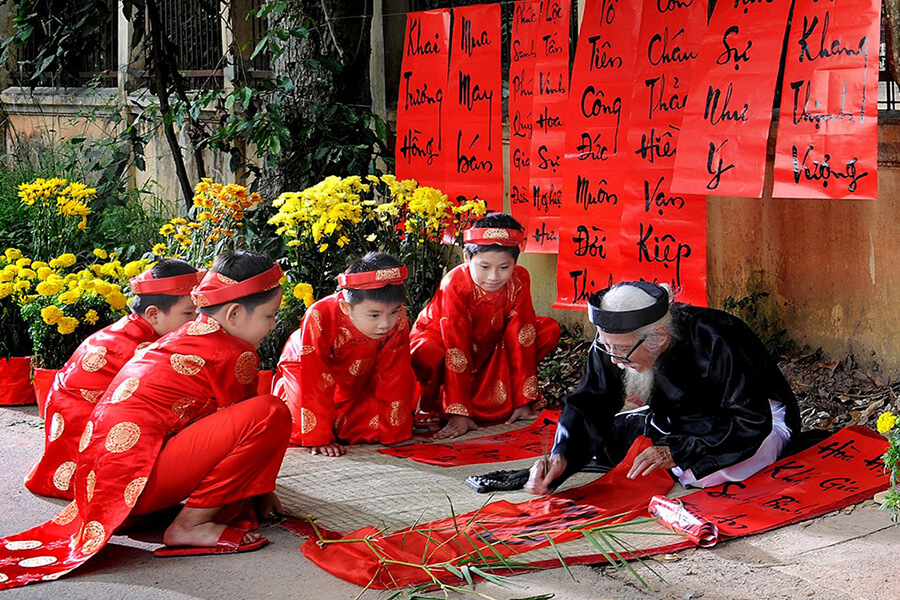 What are the Meanings of the Tet Holiday?
As for the Vietnamese, Tet has many profoundly human cultural values that they have been preserving for a thousand generations. Tet is the expression of the sympathetic relationship between humans, gods, heaven, and earth. Considered from the relationship between humans and Nature, Tet falls at the beginning of a new harvest when the weather gets warmer and plants start budding and blossoming out after a long cold winter. As the result, people assume that Tet is the appropriate occasion to show their commemoration of the Gods like Gods of the Sun, water, earth and thunder, etc involved in a poor or good harvest. This is also a chance for them to express their gratefulness to the plants, cattle, and poultry that helped them for over a year.
Tet is the Day of Reuniting Family Members
When Tet almost comes, wherever you are, whatever you do, people try to come back home to reunite with their family for at least the first 3 days of Tet, visit their relatives, reform the graves of ancestors or burn incense on the ancestral altar, etc.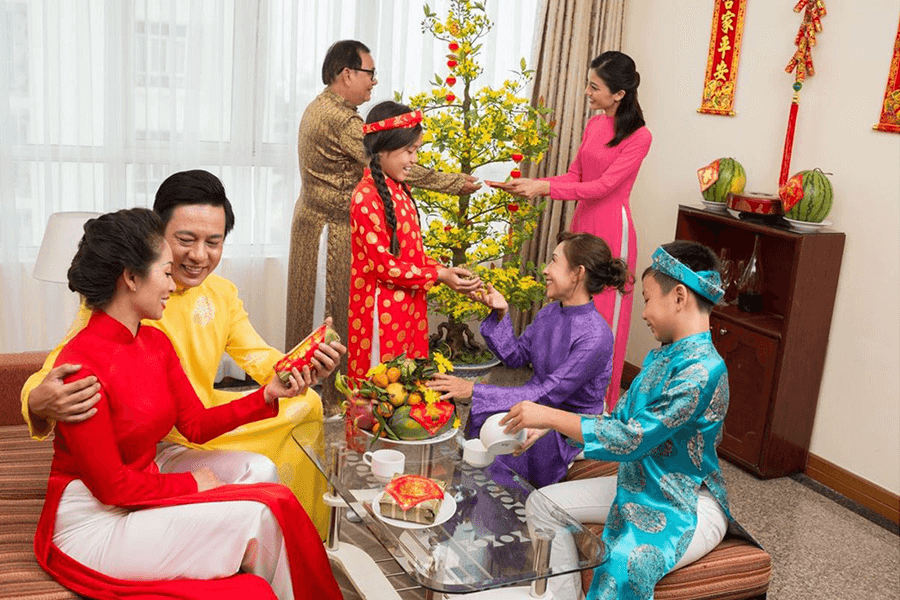 Tet is to Refresh Ourselves
Tet is the first day of the year, therefore, everyone will clean their house, buy new clothes, try to pay off all debts, and forget all the trouble of the past year. Everything must be done to be ready for an upcoming year with good things waiting ahead.
Tet Holiday Cuisine
Banh Chung (Steamed Square Cake)
Known as one of the must-have dishes in a meal of Vietnamese in Tet, "Bánh Chưng" is made from sticky rice, mung bean, green bean, and pork with many different spices and ingredients. Invested by Prince Lang Lieu of the Hung King Dynasty, "Bánh Chưng" represents the Earth with the cover of mung bean in a square shape and the middle of the rice, then mixed green bean and pork. Other traditional dishes Vietnamese eat for Tet are "gio" and "cha". "Gio" is boiled, otherwise, "cha" is deep-fried. Vietnamese usually eat them with "Banh Chung" or sticky rice.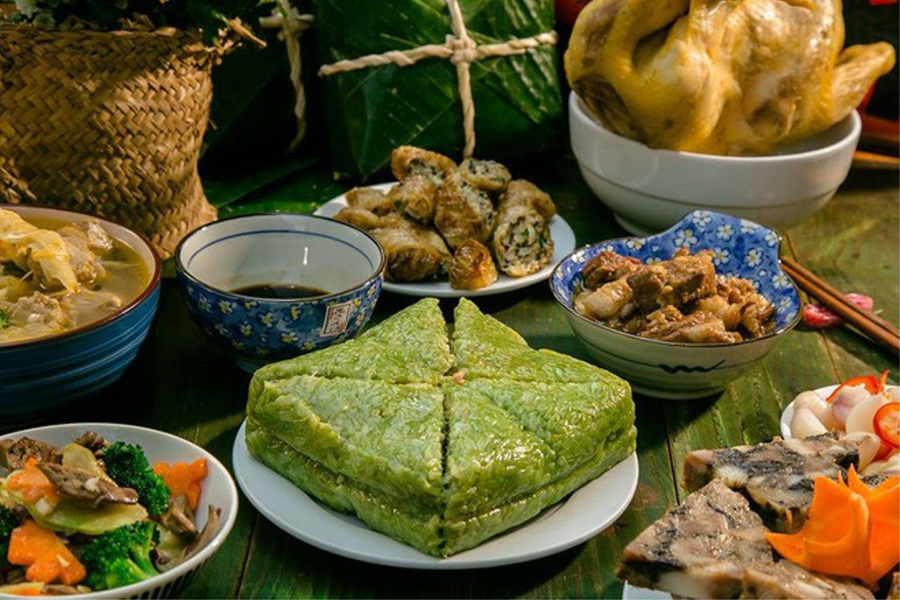 Thit Ga (Boiled or Steamed Chicken)
Nowadays, some families have changed the cooking method of "thịt gà" by roasting or firing it. However, the most common way is still boiling or steaming chicken and then serving it on a plate in the whole or slices. Besides, lemon leaves, salt, and pepper sauce are spices that can be missed when eating this traditional dish. Some parts of chicken include legs, heads, and bones that will be used to cook other food like soups.
Mut (Candied Fruits)
Not be a dish in a meal, "Mứt Tết" is a favorite kind of snack Vietnamese use to greet their guest on this special occasion. This jam can be made from various types of fruits like coconut, carrot, ginger, star fruit, pineapple, or lotus seed, etc. with an eye-catching look and delicious flavor.
How Vietnamese Lunar New Year is Celebrated in Vietnam?
Before Tet Holiday
House Cleaning & Decoration
According to Vietnamese culture, luck and fortune will come to the clean, neat, and tidy houses during Tet Holiday. Therefore, it is commonly believed that the cleaner the house is, the luckier the host will be. The flower is an important decorating item for each family during Tet Holiday. According to each region in Vietnam, people will buy different flowers. Peach blossoms and kumquat trees are the popular flowers of the North. On the other hand, in the central and southern, people like using "hoa mai" – Ochoa intermarriage. Vietnamese believe that the more flowers bloom, the more prosperous their family will be.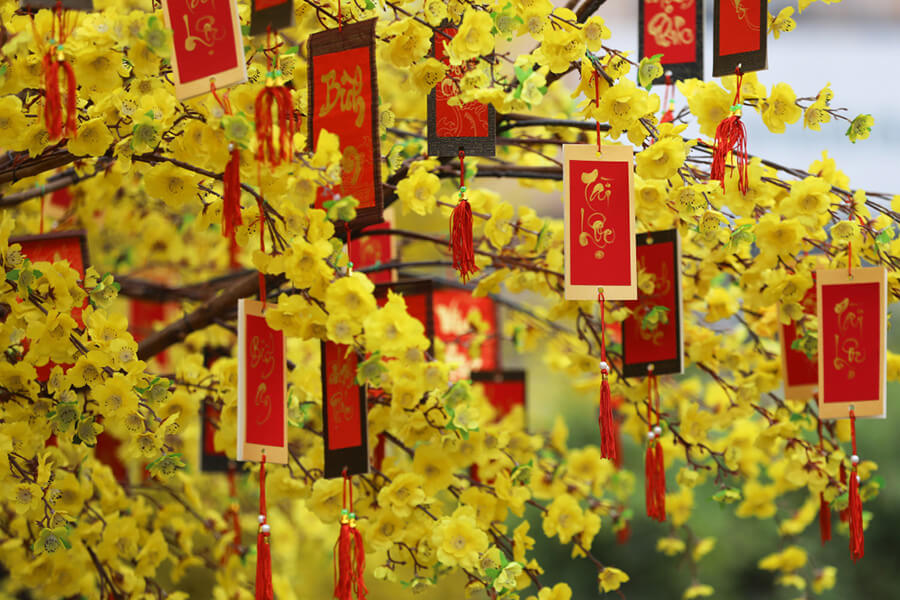 Kitchen Gods Farewell Ceremony
In some people's opinion, the Vietnamese New Year even starts on the 23rd of December with the Kitchen Gods Farewell Ceremony. In more detail, Kitchen Gods are the ones who know everything happening in your house, and their responsibility is to report to the King of Heaven about the family's affairs throughout the year and to wish the best things for the new year. People often release the carp to the nearby lake or river as their means of transportation.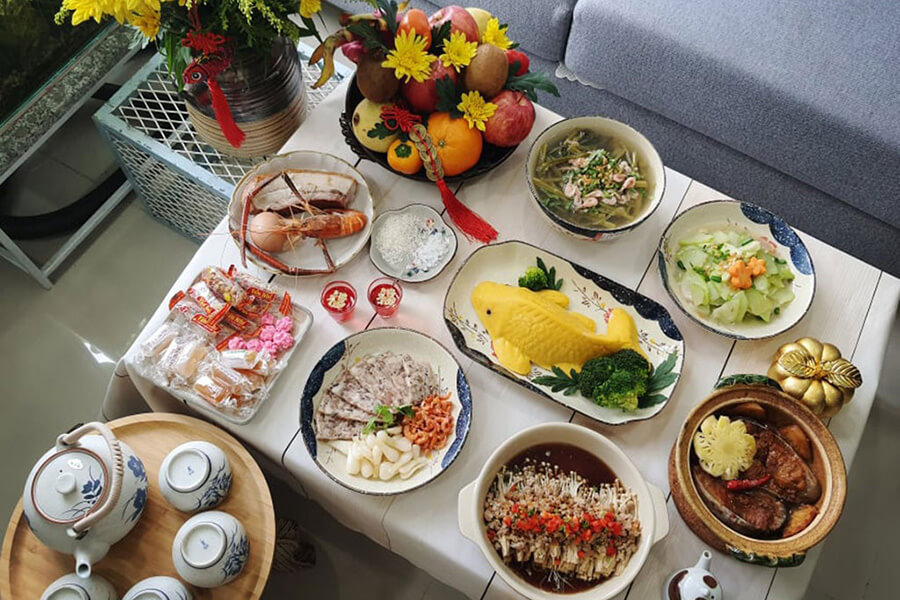 New Year's Eve Offerings
New Year's Eve, as known as "Giao thua", is the connection time between two years when the Vietnamese people prepare the altar and traditional dishes to worship the gods. Its meaning is to say goodbye to the previous year and welcome the next year. The offering simply includes a boiled chicken, a bowl of cooked rice, flowers (usual roses), fruits, beverages, and Joss paper.
During Tet Holiday
Xong Nha (First Guest Visits your House on the First Day of the Year)
All Vietnamese believe that the first guest visiting a family will dispose of their future for the whole year. The age of the visitor supposes to be appropriate to the age of the host based on the zodiac signs. Besides, a person who is moral, good temper, and success are usually more invited by the Vietnamese.
Lucky Money
In Tet Holiday, along with new clothes, Vietnamese children are very excited because they will also receive lucky money contained in small red envelopes from their elders after giving them best wishes about health. Vietnamese call this tradition "mừng tuổi" in the North and lì xì in the South.
After Tet Holiday
It is time for Vietnamese people to spend vacations at pagodas or temples where colorful and exciting festivals are taken place. They also come to visit the houses of neighbors and relatives to give them the best wishes for the new year.
Guidelines for Tourists When Visiting Vietnam in Tet Holiday 2023
Vietnam Tet Holiday 2023 takes place for 5 days from 22 January to 26 January 2023. Here are some useful tips for tourists if they want to visit Vietnam on Tet Holiday.
Make sure your travel plans and arrangement are in advance because these days most of the transportation means do not work especially train, bus and renting services of motorbike or car, etc. However, Vietnamese do not travel much during Tet Holiday, as a result, there is no worry about booking a hotel or restaurant.
As for sightseeing, tourists can not visit some attractions like museums, mausoleums, indoor exhibition places, and art houses since they usually open after at least the first 4 days of the Tet Holiday.
Fortunately, at that time, in some big cities like Hanoi, and Saigon, the first 3 days of Tet are very quiet without transportation means because a large number of people returning to their hometowns to visit their families already. Therefore, this is a good chance of enjoying the peaceful landscapes.
Most of the stores will be closed during Tet. Otherwise, a few big markets like Dong Xuan Market and Ben Thanh Market are still open. Moreover, sellers will not raise the price because based on idealist conception, they want to their business be fluent in the early of the year.
Do's & Dont's on Tet Holiday
What Should be Done on Tet Holiday?
Paying all the Debts before Tet
The Vietnamese people believe that it is bad luck if you are still keeping the debts and borrowing things of the old year. It can also mean they can be stuck in debt in the New Year as they did in the old year. Thus, pay all debts and give things back to the owners before Tet, even the tiny ones!
Cleaning & Decorating the house
On the last few days of the old year, the Vietnamese will clean their houses, gardens, and altars. They also decorate their house with colorful stuff like peach trees, balloons, or couplets. Not only does it bring a bright appearance to the house but it is also considered a successful brand new start for the family members.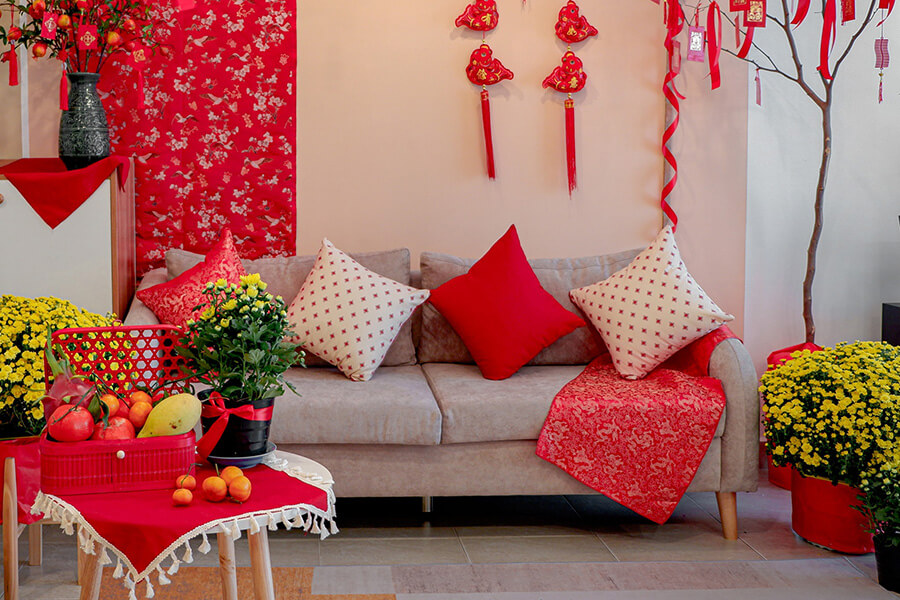 Beauty Makeover
Though people can dress up every single day, Tet is still a special occasion to wear new and beautiful outfits. According to the conception of getting more luck in the New Year, the Vietnamese often choose bright colorful clothes such as red, yellow, and blue, which are some common colors symbolizing good luck and prosperity. Besides, traditional costumes like colorful "ao dai" are dominantly chosen, which are easily seen overwhelmingly all over this S-shaped country.
Smiles
A smile could be a magical tool to put anyone in a relaxed mood since it brings joy and enhances relationships among people. When visiting Vietnam during Tet, you'll rarely see someone not smiling. During Tet, people refrain from getting angry or depressed and put an instant smile on their faces to hope for a happy new year.
What Should not be Done on Tet Holiday?
Saying Bad Words or Negative Topics
The Vietnamese people do not say bad things and avoid debating with others during the Tet holiday because it can bring them an inharmonic and stormy year. When there are any conflicts, remember to keep calm and solve them peacefully.
Sweeping the House
Sweeping the house or emptying the trash bin during the Tet holiday, especially on the first day of the Vietnam new year, is considered to give away all luck and money out of the house. Therefore, when visiting the Vietnamese house during Tet, you should avoid throwing trashes onto the floor. If necessary, ask the homeowner first to avoid unwanted problems.
Wearing Black or White clothes
Black and white are mainly used in Vietnamese funerals, thus it is an unlucky sign if you wear these colors of clothes on the Tet holiday. However, if you really want to wear your favorite white shirt, just add some colorful accessories, such as a pair of red shoes or a yellow handbag.
Breaking Glassware
It is obvious that no one wants to have a "broken" year with a chaotic relationship or terrible study and work, right? Therefore, besides being extremely careful, you should also prepare plastic plates or cups to make sure everything is intact.
So, a trip to Vietnam in the lunar new year, why not? if you want to have a meaningful vacation in Vietnam during the Vietnamese Lunar New Year, here, we special offer you Vietnam Local Packages, which make your day in Vietnam more delightful. Contact us if you have any questions about Tet vacation packages.
Tet Holiday Dates and its Attached Zodiac Signs
| | | |
| --- | --- | --- |
| Year | Vietnamese Lunar New Year Date | Vietnamese Zodiac Sign |
| 2000 | 2000-02-05 | Dragon |
| 2001 | 2001-01-24 | Snake |
| 2002 | 2002-02-12 | Horse |
| 2003 | 2003-02-01 | Goat |
| 2004 | 2004-01-22 | Monkey |
| 2005 | 2005-02-09 | Chicken |
| 2006 | 2006-01-29 | Dog |
| 2007 | 2007-02-18 | Pig |
| 2008 | 2008-02-07 | Rat |
| 2009 | 2009-01-26 | Buffalo |
| 2010 | 2010-02-14 | Tiger |
| 2012 | 2011-01-23 | Cat |
| 2012 | 2012-01-23 | Dragon |
| 2013 | 2013-02-10 | Snake |
| 2014 | 2014-01-31 | Horse |
| 2015 | 2015-02-19 | Goat |
| 2016 | 2016-02-08 | Monkey |
| 2017 | 2017-01-28 | Chicken |
| 2018 | 2018-02-16 | Dog |
| 2019 | 2019-02-05 | Pig |
| 2020 | 2020-01-25 | Rat |
| 2021 | 2021-02-12 | Buffalo |
| 2022 | 2022-02-01 | Tiger |
| 2023 | 2023-01-22 | Cat |
| 2024 | 2024-02-10 | Dragon |
| 2025 | 2025-01-29 | Snake |
| 2026 | 2026-02-17 | Horse |
| 2027 | 2027-02-06 | Goat |
| 2028 | 2028-01-26 | Monkey |
| 2029 | 2029-02-13 | Chicken |
| 2030 | 2030-02-03 | Dog |