Those visiting Hue admitted that the beauty of Hue by night is at its best. Explore the ancient and poetic Hue, the gorgeous and sparkling beauty of the city at night will definitely leave you in awe with a chance to experience the most exciting things. If you fancy yourself a joyful night, there is no better way to get the full taste of Hue than spend time discovering the beauty of Hue by night. If you have a chance to stroll through Hue street during Vietnam Local Tour, don't miss this wonderful opportunity.
So how you can taste the full flavor of Hue nightlife? Yeah, of course! Hue nightlife has so much to offer that you will feel like you need days to explore to the fullest. Here are some suggestions for a night hanging out that promises an enjoyable experience.
Admire the shimmering Trang Tien Bridge
With its sparkling beauty at night, Trang Tien Bridge is a must-see. This Hue's most beautiful bridge will offer a promisingly joyful nightlife experience. Reward yourself with a stroll around this poetic and picturesque attraction in order to capture the full vivid picture of Trang Tien Bridge and pamper yourself with delicious street food offered by street vendors.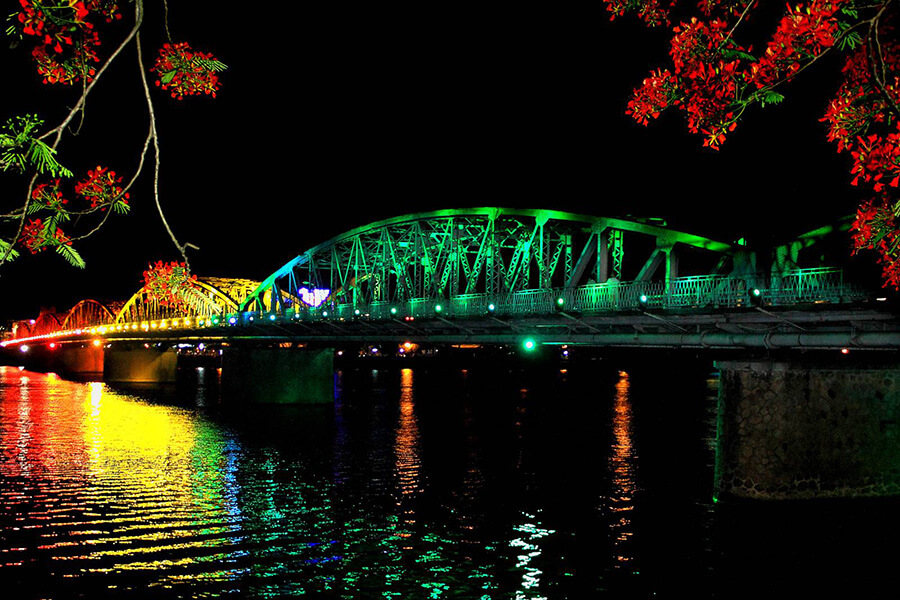 Get Entertained by Wonderful Hue Singing on Perfume River
Another way to sense the taste of Hue by night is to listen to the wonderful ancient melody of Hue singing on the Perfume River. Hue folklore songs, born in the Central Province, have been recognized as the national intangible heritage and also become the soul of Hue for centuries. The performance of Hue folklore songs easily captivates anyone, even the jaded travelers. The melodies of Hue singing are simple but meaningful in which the daily lives of local people with sorrowful and delightful moods are depicted via lyrics.
It would be much more enjoyable to enjoy a Hue singing show on stage. What's more, if you want to fill your night with color, you can join a wonderful night with skillful vocalists and instrumentalists wearing traditional costumes and providing offer artful performances represented by the flawless combination of literature and music together in perfect harmony to create a poetic beauty. Enjoying a Hue folklore performance, with no doubt, is one of the most wonderful experiences for travelers to Hue to absorb themselves in the poetic beauty of the city at night.
Take a Leisurely Walk in Hue's Night Street
If the hustle and bustle atmosphere of a crowded street is of your interest, do not hesitate to take a stroll around Hue's Night Street. Compared to Night Street in Hanoi Old Quarter, Hue Night Street is no less exciting. Run from Truong Tien Bridge to Phu Xuan Bridge, along the Perfume River, the night street is the home to up to 122 stalls divided into three main sections: traditional handicrafts, scrumptious cuisine, and consumer goods. Stroll through the sprawling market and explore the narrow footpath to feast our eyes on fantastic musical performances. Then, if you dream of a unique shopping experience, head to purchase eye-catching souvenirs and grab delicious local street foods. Exist with time and significant changes in daily life, Night Street now is an indivisible whole of Hue's vibrant nightlife.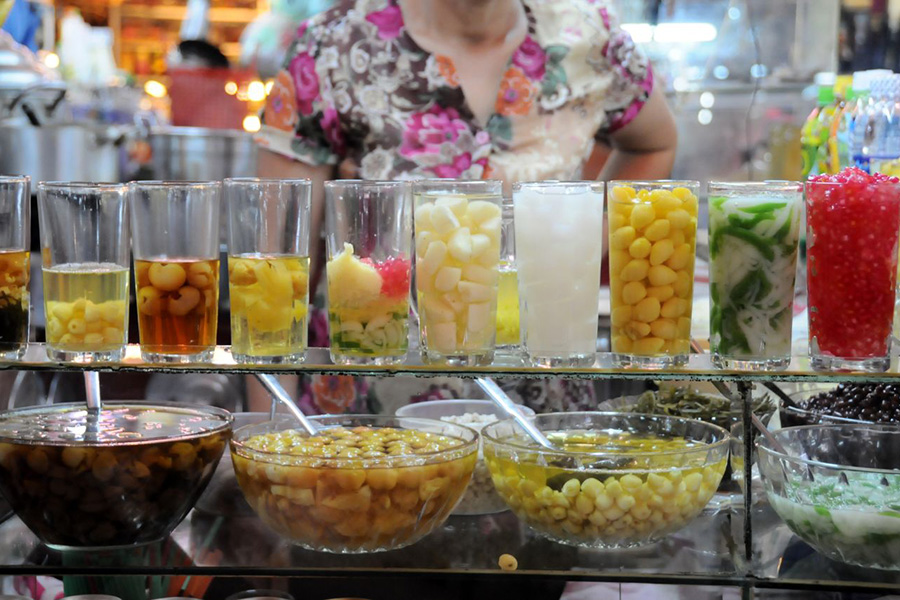 Sip a Cup of Hue-Style Coffee near the Lakeshore
The night falls, and Hue becomes more beautiful and vibrant than ever. Sitting in a coffee stall with an open space would be an optimal option to enjoy the nightlife in Hue. For Hue people, they prefer 'bệt' coffee which has become the trend in Hue. It is one of the best ways to get the taste of the ancient capital at night with its lively atmosphere. Sip on a hot black coffee while laying your eyes on beautiful Hue at night is such a fantastic experience.