Discover Vietnam in our 12-day tour to get a general view of a beautiful and charming country located in Southeast Asia. Join in our journey, you will have chance to visit the most outstanding destinations in Vietnam spreading out from the North to the South like Hanoi, Halong Bay, Hue, Hoi An, Ho Chi Minh City and Mekong Delta where their natural beauty and cultural values are harmoniously blended in each region. Take a Vietnam Local Tour and explore the hidden treasures waiting for you.
General Information
Duration: 12 Days/ 11 Nights
Start/End: Hanoi/ Ho Chi Minh City (Saigon)
Tour Route: Hanoi – Halong Bay – Hue – Hoi An – Ho Chi Minh City – Mekong Delta
Tour Type: Landscape and Nature, Culture and History
Tour Categories: Vietnam Tour Vacations
Tour Customizable: Absolutely! (Tell us your specific requirements in the inquiry form)
Guides: Local Guide (English Speaking Guide, Other Languages upon Request)
Transportation: Private first-class air-conditioned vehicles and plane
Accommodation: Listed below or equivalent. Rooms with private bath or shower, hotel taxes, porterage, tips, and service charges
Active level: Soft cycling, walking, boating, farming, fishing, home-stay
Brief Itinerary
Day 1: Hanoi arrival – Welcome Dinner
Day 2: Dong Ngac Village – Hanoi Food Tasting tour
Day 3: Halong Bay, overnight on boat
Day 4: Halong Bay – Hanoi – Overnight train to Hue
Day 5: Hue River Cruise & Royal Tombs
Day 6: Cycling to the outskirt of Hue
Day 7: Hue – Danang – Hoi An, – Afternoon walking tour
Day 8: Hoi An Eco Tour – Afternoon free
Day 9: Hoi An – Danang – Morning fly to Saigon – Cu Chi – Saigon After Dark by Vespa
Day 10: Ho Chi Minh City – Mekong Eco Lodge
Day 11: The Mekong – Ho Chi Minh City – Farewell Dinner
Day 12: Ho Chi Minh City Departure
Day 1: Arrive in Hanoi – Tonkin Show
Your private driver and guide will pick you up from Noi Bai International Airport and take you to check in our hotel.
After a relaxing time, escape from the hustling and bustling city to soak into The Quintessence of Tonkin traditional show which is next to Thay pagoda.
With the combination of ancient history and ultramodern technology, this amazing live show is a must-see for Hanoi tours.
Day 2: Dong Ngac Cultural Village & Hanoi Food Tasting Tour (B, L, D)
Start your tour with the historic tour in Dong Ngac Cultural Village to visit Cultural Heritage Site which worships local heroes. Next, you will have an amazing experience with the market tour and have a chance to prepare your lunch with food buying with the tour guide's help.
Next, you will visit 300 years old house of the Do family with ancient architecture and back to a traditional house to cook lunch by yourself. You will surely have a delicious meal with the host's guide and a special Vietnamese recipe. After lunch, you will relax in the host's peaceful garden.
For the rest of the day, we back to the Hanoi center to join Food Tasting Tour. We first walk around Old Quarter, taste various kinds of local food, and drink along tiny and bustling streets like tofu, rice pancake, oil-fried pastry, pillow cake, stuffed pancake with pork, egg coffee, draught beer, etc. Then is a pleasant time when we stop at Dong Xuan Market – one of the largest markets in Hanoi and visit many small booths where local businessmen sell a hundred kinds of goods. To end our trip today, we will have a light dinner in the cozy Rue Lamblot Restaurant with spring rolls, grilled pork noodles, fried rice cake, and banana flower salad. Around 8 pm, we back to our hotel to rest.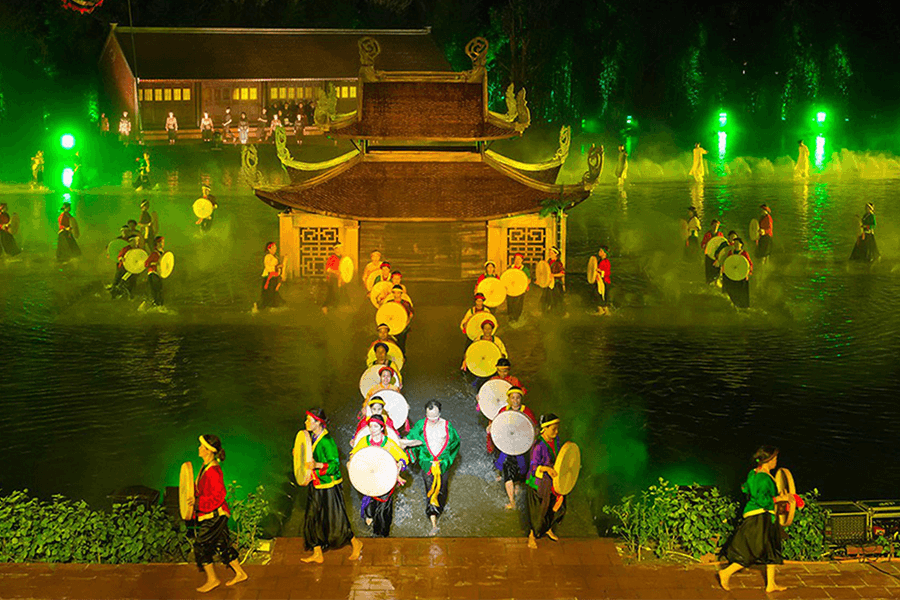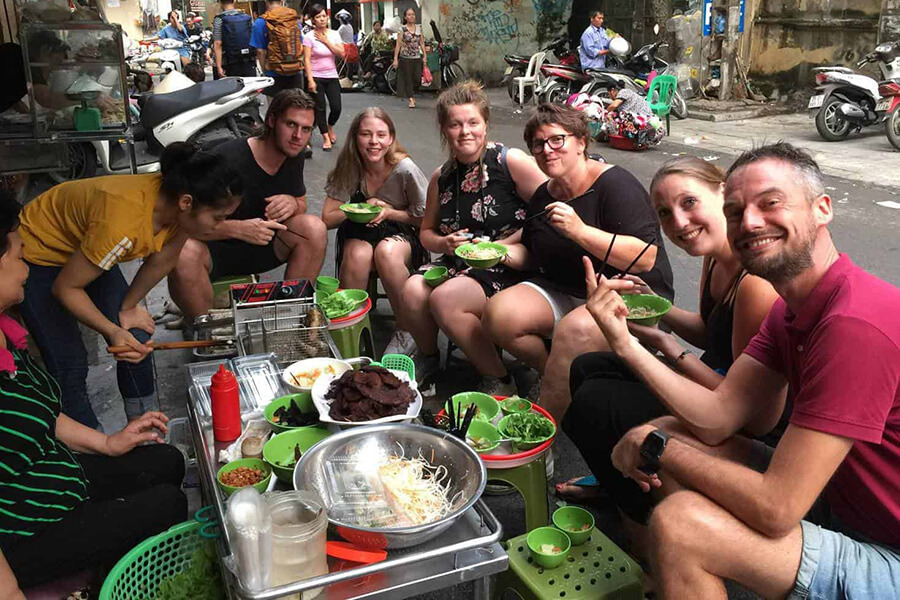 Day 3: Hanoi – Halong Bay (B, L, D)
Leaving Hanoi to travel to Halong Bay – The World Natural Heritage which is known for stunning landscapes and amazing cruise tours. We will then savor a delectable lunch while the cruise sails among the limestone islands. In the mid-afternoon, we will kayak among the hidden areas of the bay, around the Bo Nau Cave area before going back to our and continue cruising to Soi Sim Island. Go swimming and relax at the beach of Soi Sim or climb up to the top of the island for a panorama view of Halong Bay.
To sight-see Halong Bay lively, we will board V'Spirit Classic Cruise when we arrive. While cruising deeper into the bay, we enjoy our tasty lunch and marvel at magnificent landscapes. In the mid-afternoon, we will warm up our bodies by kayaking around the Bo Nau Cave. Then, the cruise takes us to Soi Sim Island where we will swim and relax on the beach or enjoy the majestic view of Halong Bay from the top of the island.
The itinerary today will end when we back to the cruise for having dinner and taking a rest after a long day. Overnight on the boat.
Day 4: Halong – Hanoi – Overnight Train to Hue (B, L)
Wake up early in the morning and have breakfast on the cruise, we then start our journey with Tai Chi exercises or a photo hunt. Sung Sot Cave (Amazing Cave) is our next site which is considered the most beautiful cave in Halong Bay. We embark back on the boat to check out our cabin before continue discovering the bay with Ba Hang Fishing Village and Dog Islet, etc. Heading back to the port is an interesting time for us to enjoy a Vietnamese traditional meal immediately after watching a cooking demonstration by the chef. At noon, we disembark the cruise and then back to Hanoi.
Our driver will take us to Hanoi Railway Station for the train to Hue (SE1, 7.30 pm – 8.48 am) after resting and having dinner (on our own account). Overnight on the train.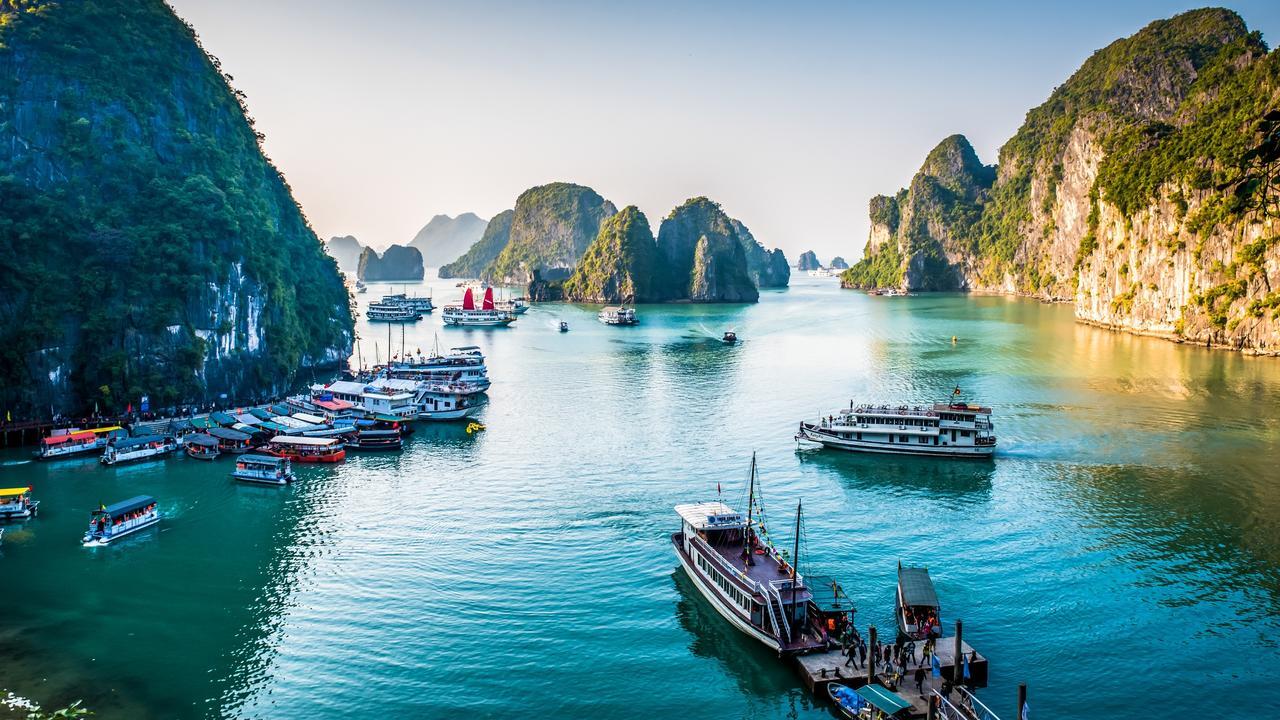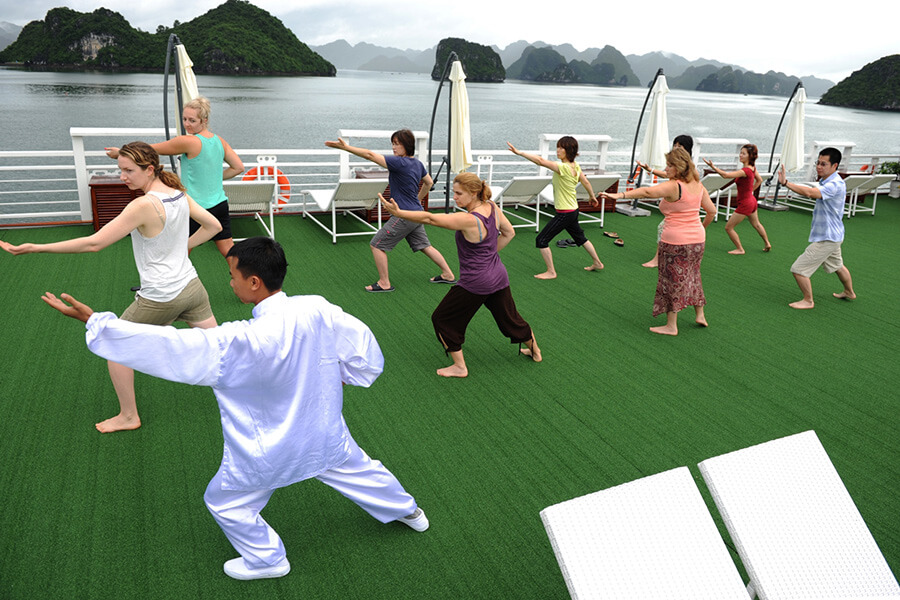 Day 5: Hue- Riverboat & Royal Tombs (B, L)
When arrival, let's recover ourselves after a long haul train with Bun Bo Hue (Hue's noodle with beef) – a typical dish of Hue. After check-in at our hotel, we board Dragon Boat to enjoy the tranquil scenery of this city along with the beautiful and poetic Huong River (Perfume River).
Next, we will visit the charming Thien Mu Pagoda (Lady Pagoda) – one of the most Buddhism pagodas in Vietnam built in the 18th century. Here, our tour guide will present to us Buddhism and Monk Monastery before having a vegetarian meal with potatoes, carrots, mung beans, mushrooms, lotus seeds, soy sauce, etc together.
Being the old capital of Vietnam, Hue today is famous for its remained antique tombs and citadel. Therefore, for the rest of the day, we will visit Tu Duc Tomb, Hue Imperial Citadel, and many monuments to gain more insights into a part of the history of Vietnam. End our trip by walking around Dong Ba Market. Overnight in Hue.
Day 6: Cycling to the outskirt of Hue (B, L)
Take the scenic route this morning for a visit to the suburb of Hue toward Thanh Toan Bridge (built-in Chinese style). Relax while riding a bike through the small village and viewing vast verdant fields along the road. On the way, we can stop for photo shooting or talk with local residents. Thanh Toan Agricultural Museum is our next site where we can know more about the origin of Vietnamese agriculture over a thousand years. Besides, our guide also gives us the history and importance of the Thanh Toan Bridge when we visit it. We can have a closer look at local life by riding to a local market where various kinds of countryside goods are sold like vegetables, meats, fish, shrimps, and other poultry. Continue setting foot in traditional villages making "non la" (Conical hat) before returning to the city center to explore every Hue corner by bike tour for the rest of the day. Overnight in Hue.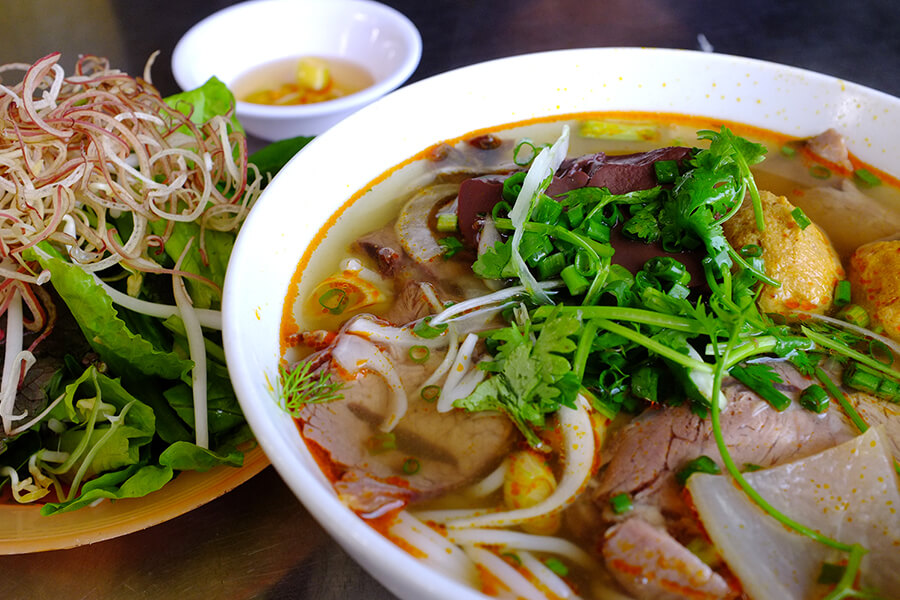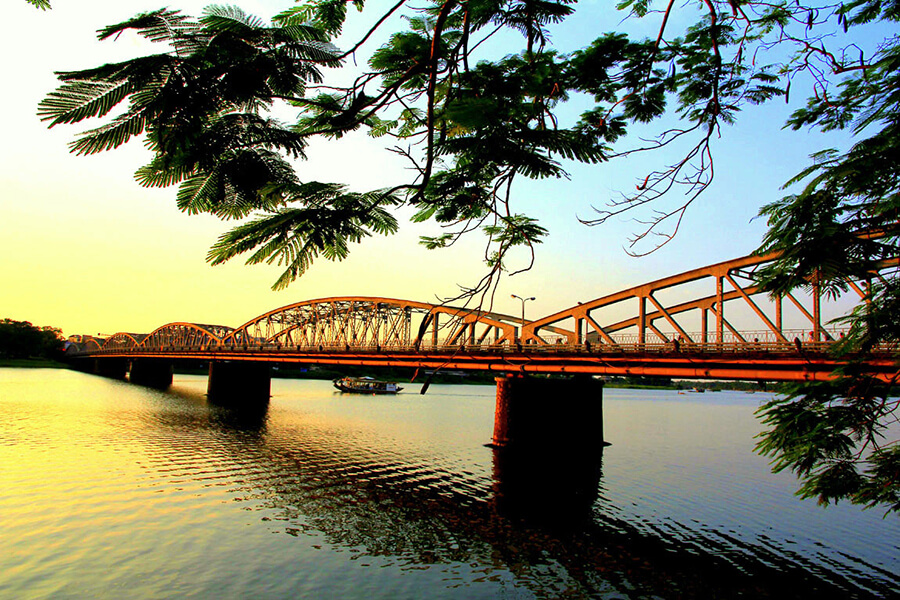 Day 7: Hue – Danang – Hoi An (B, L)
This morning, south through Hoi An Ancient Town along Highway 1A. During the trip, we will stop to marvel at the breathtaking landscapes of the north to Lang Co Beach and the south to Danang City. When in Danang, the Cham Museum – one of the most adequate collections of Cham Artifacts in the world will be the first site we visit. Next, we moved to China Beach were used to be a relaxing place for Americans. Last but not least, we will set foot on Ngu Hanh Son (Marble Mountain) including 5 limestone mountains rising on the beach to contemplate the majestic scenery of the city from the height of over 100m.
In the afternoon, we transfer to Hoi An – one of the most worth-visit destinations of Vietnam which are famous for its ancient and tranquil beauty. Your walking tour includes many well-known attractions in Hoi An like the Japanese Covered Bridge, Pottery Museum, Tan Ky Ancient Assembly Hall, Cantonese Congregation, silk street, temples and pagodas of Chinese appearance, etc. End the day by returning to the hotel and taking a rest. Overnight in Hoi An.
Day 8: Hoi An Farming & Fishing Eco Tour (B, L)
Start the trip today with our Farming and Fishing Life Eco Tour to get experiences as a truly Vietnamese farmer. Head to Tra Que Village in the Northeast about 3km far from Hoi An, we will join in some interesting agricultural activities with local farmers such as preparing the land for sowing, fertilizing the garden by using seaweed from the river, and watering it with big tin cans.
Continue to witness Vietnamese life in the countryside by taking a bike tour before boarding Hoi An Eco-Tour boat in the late morning. Cruise on a river and watch how local fishermen catch fish then experience it by ourselves with a traditional fishing net. Here, we also have a quick race by rowing unique Vietnamese traditional bamboo basket boats and riding down to a coconut palm-lined waterway. Back to our boat and have lunch made with vegetables from Tra Que Village. After lunch is your free time to walk around Hoi An, relax on the beach and shopping, etc. Overnight in Hoi An.
Optional for Day 8 Afternoon: My Son Sanctuary
Itinerary this afternoon is optional for us with one famous attraction of Quang Nam Province – My Son Sanctuary which is 75km far from Hoi An. My Son Sanctuary is considered one of the foremost Hindu temple complexes in Southeast Asia and the foremost heritage site of this nature in Vietnam. From the 4th to 14th century, My Son Sanctuary was ruled by Champa's Kings and then became a burial place for Cham heroes. Here, we also visit Simhapura (Tra Kieu) capital – the old administration center of Champa Kingdom and other remained ancient towers from the 4th century.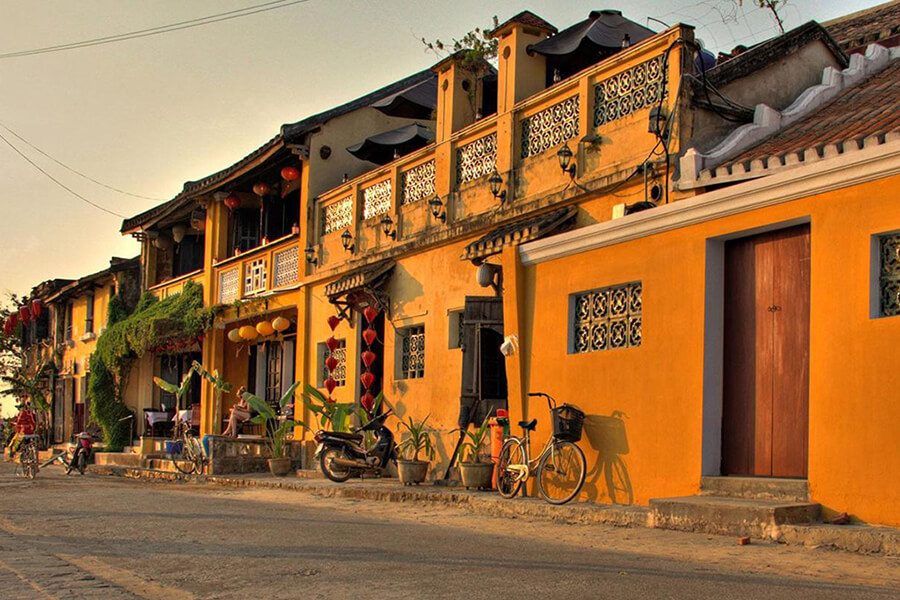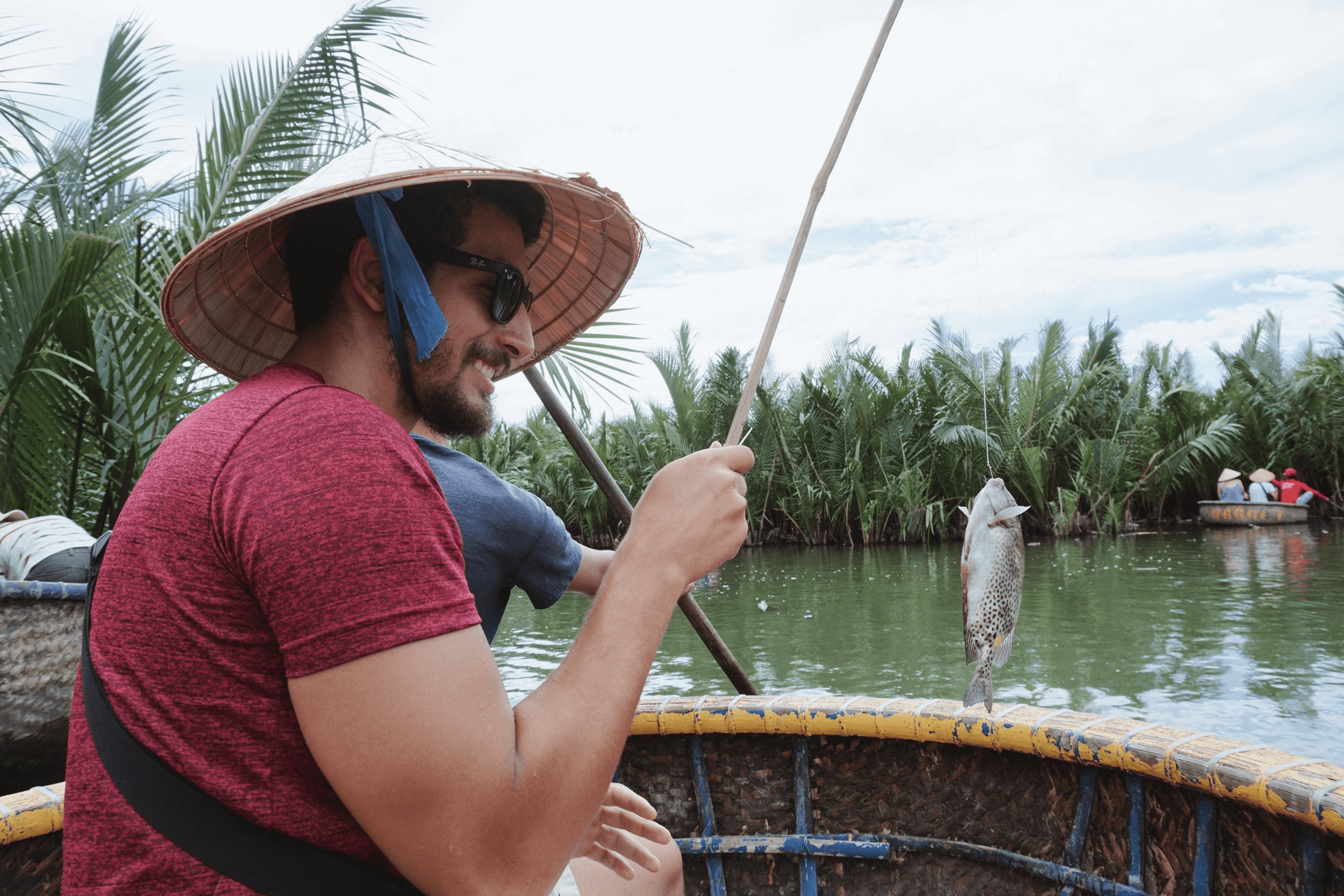 Day 9: Hoi An – Danang – Fly Ho Chi Minh City – Cu Chi Tunnels – Vespa Tour (B, L, D)
Warmly welcomed in Ho Chi Minh City this morning after a short flight (VN 7113, 9.30 am – 10.20 am) then we quickly transfer to Cu Chi Tunnel – one of the most well-known historical monuments of Vietnam. Cu Chi Tunnel is a secret underground system built-in the Vietnam War and Indochina War including innumerable trap doors, living areas, storage facilities, hospitals, kitchens, weapon factories, and command centers with a length of over 250m in total. Here, we can also witness other remaining historical vestiges of a generous period of time like a US tank or many bomb holes made by 500lb bombs.
Check-in our hotel when back to Ho Chi Minh City and take a rest before joining in the Vespa tour in the evening. Depart from the hotel, our guide will pick us up and drive us around the city for a street food adventure. Firstly, let's enjoy a cocktail and appetizer at Café Zoom in District 1 and get an interesting glance at local people's life. Then, we drive to Chinatown and the bustling and hustling streets and alleys in District 4 to taste street seafood, and seafood and blend with the eventful atmosphere of the nightlife with locals and other foreigners as well. Shift the direction to District 1 where we can enjoy the unique taste of one of the most well-known specialties of Saigon – Banh Xeo (Saigon Special Pancake). Continue the tour with a Vietnamese-style coffee shop to relax with live music performances. At 10 pm, the tour ends and we come back to the hotel for recovering after a long busy day.
Day 10: Ho Chi Minh City – Mekong Eco Lodge (B, L, D)
Head to Cai Be in the Mekong Delta after breakfast at the hotel, we will set foot in Cao Dai Cai Be Temple and Cai Be French Gothic Cathedral to get insights into the different religions of the local people.
Embark on a boat, we then visit the inland and floating market of Cai Be where we know more about agricultural, and aquatic products and buy them for our dinner with the help of the guide. Next, we check into our room in Mekong Eco Lodge on Tan Phong Island and have lunch.
In the afternoon, we will have an enjoyable time when catching fish on the river for dinner by ourselves. Back to Mekong Eco Lodge, we will bring all the ingredients we had bought and caught for chefs and join in the cooking process with them. Overnight in Mekong Eco Lodge.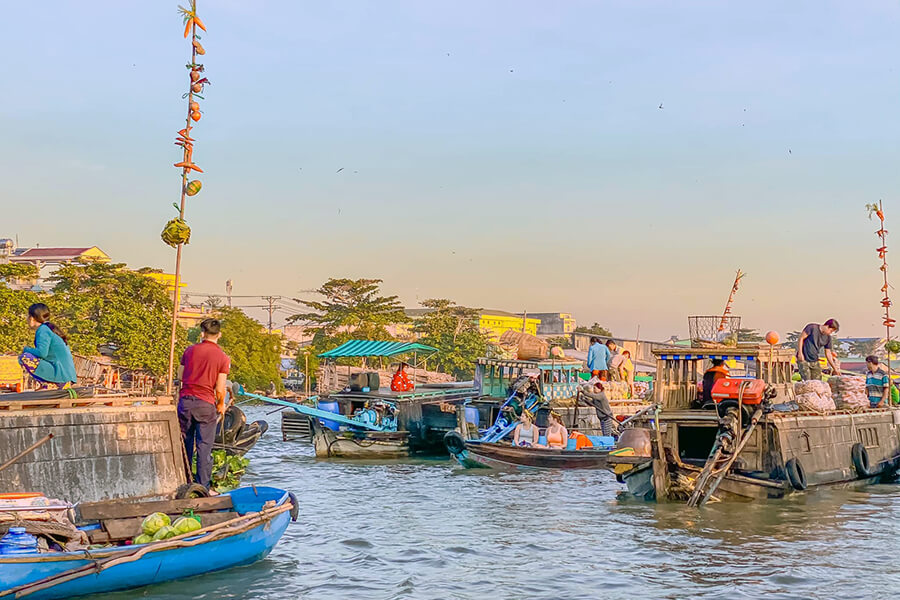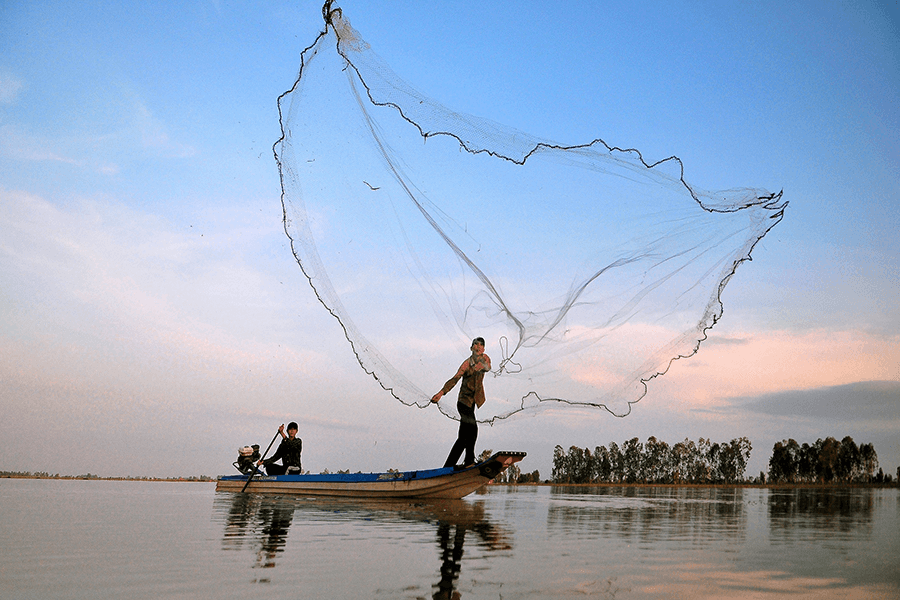 Day 11: Mekong Rustic – Ho Chi Minh City (B, L, D)
Morning sightseeing with our guide introduces us to Tan Phong Island. By bike, we will visit traditional handicraft workshops selling handbags, wooden chairs, and tables. We can also know how a local farmer takes care of their garden by visiting their house then having an informal talk with them while tasting the fruits that are just picked from the garden. We leave the rural area, return to Ho Chi Minh City and have a farewell party in a cozy local restaurant. Overnight in Ho Chi Minh City.
Day 12: Ho Chi Minh City Departure (B)
Your holiday ends with breakfast this morning. Thank you for joining Vietnam vacations with Go Vietnam Tours!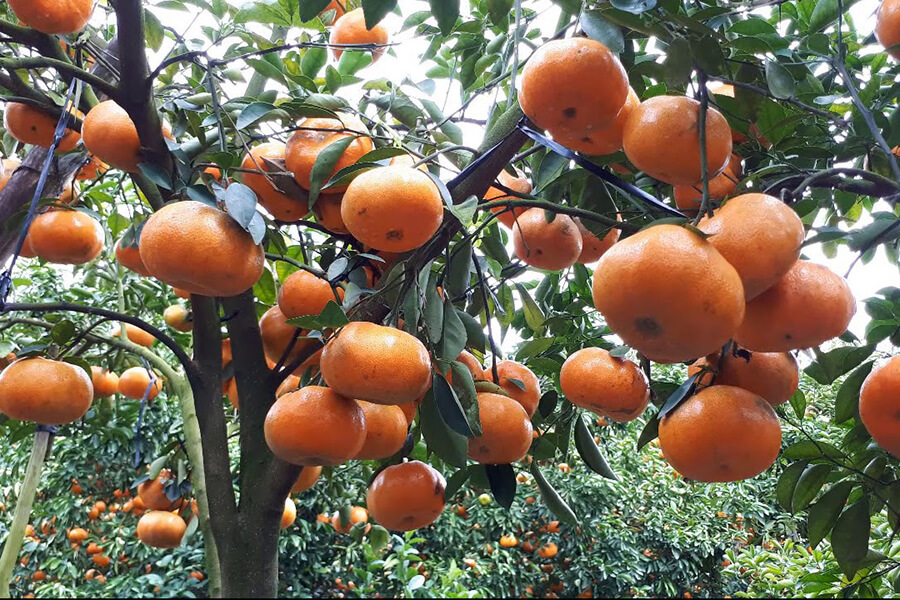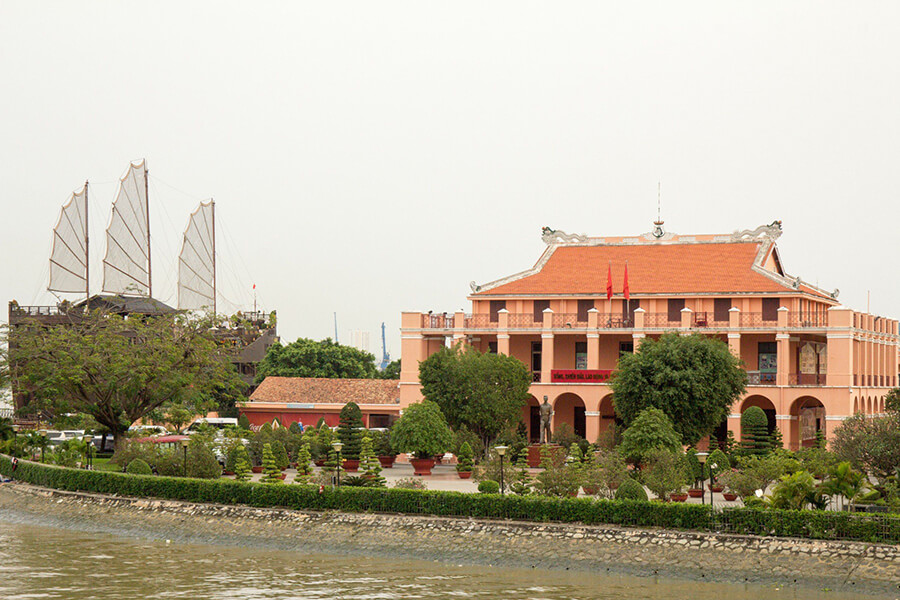 "Free Inquiry this tour or create your own trip with travel experts"