Favored by nature, Hon Tre Island is well-known for its beautiful scenery, crystal clear blue seawater, as well as numerous famous scenic spots. It is an ideal destination for those who love exploring the sea, going sight-seeing, climbing mountains and having other exciting experiences. If you desire to spend a one-day tour on Nha Trang, Hon Tre island is totally worth paying a visit during your Vietnam Trip Package.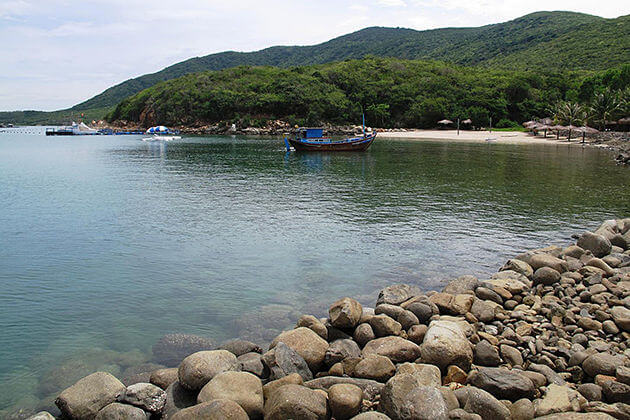 Brief Introduction of Hon Tre Island
Hon Tre is a huge island in Kien Hai district, western of Kien Giang province, Vietnam. Located in Vinh Nguyen Ward, it is the largest one in Nha Trang Bay with an area of 36 km² and the highest peak of about 460m. The waves around here are fairly gentle thanks to Hon Tre Mountain lying as a firm standing wall that prevents the ocean storm and strong wind. There is also a small village nearby located at the foot of the mountain, in which visitors can witness the habits of the fishing village and enjoy coconut and fresh fruits.
Hon Tre Island Attractions
Bai Chen
Bai Chen is the most well-known tourist place with lots of unique-shaped stones stretching nearly 2 km.  When the water rises, most of these stones immerse in seawater. Looking from the long-distance they seem like these ones turning upside down on the beach, which is fairly stunning and picturesque. Besides, sitting on these "bowls" to look at the distant fishing boats of local fishermen and enjoy the peacefulness is highly recommended. Besides, visitors will have an exciting experience with meals including shrimp, crab…eaten at the beach.
Con Se Tre Island
Con Se Tre Island is a part of Hon Tre Island that every tourist chooses as a must-visit site in their Nha Trang trips. However, many out of them often make mistake in distinguishing these two places. It is an attractive destination, which is a special tourist area with a completely bamboo design, unique items such as Bien Hoa pottery or cattle cart from Cu Chi (Ho Chi Minh City).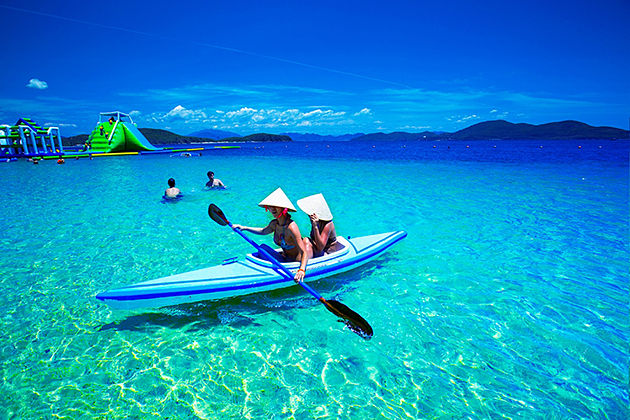 Explorers can take a 15-minute boat trip to get to Con Se Tre Island where you can easily find old countryside scenes that are familiar in childhood memories, enjoy a peaceful space full of poetry and be immersed in the old-but-gold lifestyle. Many tourists are also in favor of walking along the white sandy beach along the coast and watching the wild beauty of the forest, which brings us a sense of peacefulness and relaxedness.
Bai Soi
Once you set the first footstep on Bai Soi, the strange feeling of bare feet placed on the small pebbles is hard to express by words.  It seems like the little pebbles gently massage your feet. The combination of cool blue water, sea breezes, and warm sun lights are perfect to set you free from worry. Under the rock near the beach lies a wide world of beautiful coral reefs, which local people explore this natural beauty to boost tourism by offering diving gear and diving skills courses.
Vinpearland Hon Tre Island
It is a complex of an amazing aquarium, amusement parks, resorts, cable cars to enjoy the island at its best. However, pristine nature can be found here with mountains and lagoon bringing your peaceful moments far from the hustling and bustling cities.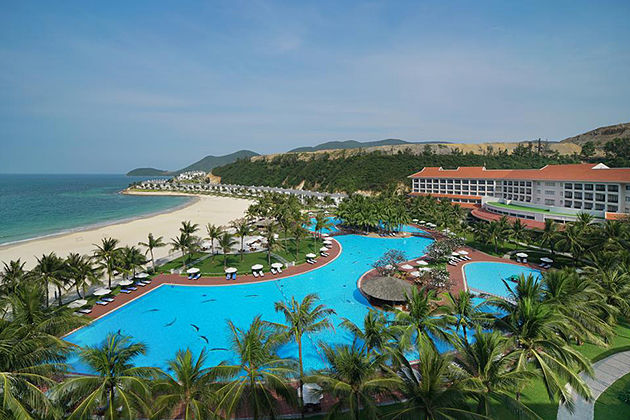 Hon Tre Island Travel Guides
Best Time to Visit Hon Tre Island
Hon Tre Island is one of the highlight attractions in Vietnam Beach Holidays. I can say that there is no best period of time to go to Hon Tre Island. In other words, anytime during the year can be favorable for a trip to Hon Tre Island thanks to the warm and comfortable weather.
The summer often starts in May with sunlight and hot weather, suitable for natural tourism like ecotourism, ocean tourism or water sports. For example, if you're a diving enthusiast, plan your holiday vacation between April and August to enjoy clear blue water as well as the great view around Hon Tre Island. It is also the most preferred time for beach lovers. However, visitors should keep your eyes on the local weather forecast since tropical storms and typhoons may annoy you.
If your trip is firmly scheduled for the other months, don't worry too much. Everything is still as gorgeous and stunning as usual. In addition, it is the off-peak season travel, which means the prices and the number of visitors will be in decline. It's quite suitable for those whose travel budget is limited.
How to Get to Hon Tre Island
There are a variety of means of transportation to get to Hon Tre Island from Nha Trang or Rach Gia such as canoes, boats and cable cars. However, visitors are advised to choose boats or canoes due to the reasonable price and fairly safe security services.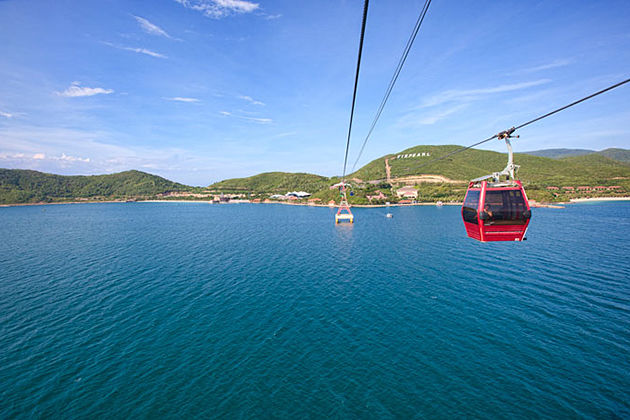 For boats: 300,000 VND/ turn
For canoe: 350,000 VND/ turn
For Hon Tre Island Cable Car: 650,000 VND (Adult) and 550,000 VND (Children)