You may not believe this but there is a treasure that has appeared in Southeast Asia, Vietnam.
Travel to Vietnam
, you are not only overwhelmed by the stunning views but also you are lost in the paradise of the variety of cultural colors. From the heart of Vietnam, Hanoi where you will be enjoyed the unique shows to the South of Vietnam, where you will be back to the Vietnam war to see how resilient Vietnamese is. Don't stop in Vietnam, during 15 days tour, you also have a visit to the neighborhood of Vietnam, Cambodia. What's more interesting when visiting the world heritage site, Angkor Wat, or enjoying life like a local at the traditional villages. All in 15 days tour Vietnam and Cambodia. What are you waiting for? Take your backpack, and travel with us!
Tour Code:
Duration:15 Days /14 Nights
Start/ End: Hanoi – Siem Reap
Tour Route: Hanoi – Hai Phong – Mai Chau – Hue – Ho Chi Minh – Siem Reap (Cambodia)
Tour Type: Landscape, Culture, Culinary and Folk Art
Tour Category: Vietnam Tour Vacations 
Tour Customizable: Definitely!
Tour Guide: Local English Speaking Guide
Transportation: Plane, Private transportation by air-conditioned car
Brief Itinerary:
Day 1: Hanoi Arrival
Day 2: Hanoi Walking Tours – Life along the railway
Day 3: Hanoi – Hai Phong
Day 4: Hai Phong – Mai Chau
Day 5: Trekking in Mai Chau
Day 6: Mai Chau – Fly to Hue
Day 7: Hue City Tour
Day 8: Bao Vinh ancient Town and Rural cyclo tour
Day 9: Hue – Fly to Ho Chi Minh City
Day 10: Retracting the past
Day 11: Full day at leisure
Day 12: Ho Chi Minh City – Fly to Siem Reap
Day 13: Angkor Thom and the Bayon (Half Day)
Day 14: Dawn at the temple
Day 15: Airport Transfer
Full Itinerary
Price & Inclusion
Accommodation
Photos
Day 1: Hanoi Arrival (D)
Welcome to the beautiful country, as soon as you set your foot in Noi Bai international airport, our experience and tour guide will be waiting for you and then transfer you to the airport. In the evening, our local and driver will come and pick up you for welcome dinner at a nice restaurant.
After the fest, the Tonkin show is a suggestion for you.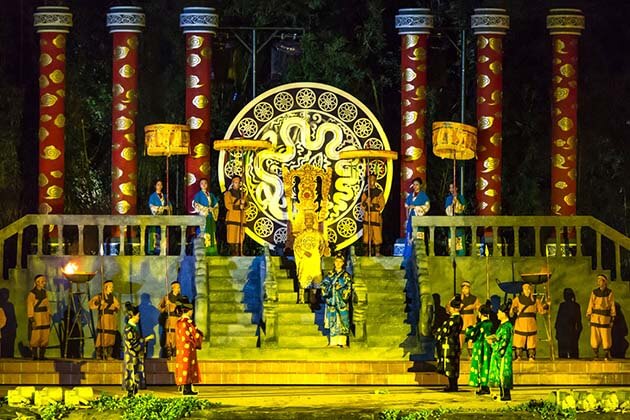 FYI: Tonkin Show, Daily operated (Tuesday, Thursday, Saturday), The Quintessence of Tonkin Show is one of the most interesting shows in Hanoi at this stage. The show lasted from 7:30 am to 8:30 pm and was inspired by the spiritual history of a nearby temple, telling the story of a temple founded by the monk Tu Dao Hanh, and explaining the ancient association between religion and Monarchy. Years of establishment and with hundreds of performers, an interactive stage, cutting-edge technology, and a stunning setting, this lively scene is a highlight not to be missed in any trip to Hanoi. Internal. Buffet dinner is included before the show.
Overnight at hotel in Hanoi
Day 2: Hanoi Walking Tours – Life along the Railway (B, L, D)
Enjoy the breakfast at the hotel and our local guide and driver will come and pick up for the city tour. First up we will drive to the Ho Chi Minh complex where we will spend time at Ho Chi Minh's mausoleum, his former stilt-house, the Presidential Palace, the Ho Chi Minh Museum and One Pillar Pagoda. Following we visit the first University of Vietnam, the Temple of Literature, which originally built as a temple to Confucius.
After lunch, the Museum of Ethnology will be the next stop, which is widely acknowledged as the best in the country and has an extensive display dedicated to Vietnam's 54 Ethnic minority peoples.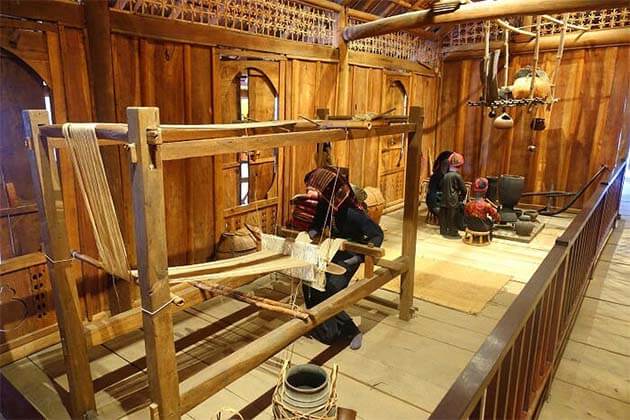 Then, we start your tour between the rails a few meters north of Hanoi's main train station. Strolling along the very narrow streets hosting the rails sometimes not even a meter away from the entrance door of the houses, and see the train go through will be unforgettable feeling for you during these days in Hanoi, which has taken a lot of feeling from the foreign tourists.

Enjoy this original and photogenic scene walking along the street until 153 Phung Hung, where you return to the road and follow the street sidewalk. Walk past the funeral home where you will probably see a group of people mourning and wearing the traditional white fabric around the forehead, which is equivalent to the western tradition of wearing black clothes. Continue walking toward Long Bien train station. From Long Bien train station, start crossing the bridge and stop halfway to go down the stairs to the urban island. Rest and visit orchards.
Continue to the trip by crossing the bridge and meet the driver who will transfer you to Gia Lam train station. Meet the car when disembarking and transfer back to your hotel.
Overnight in Hanoi
Day 3: Hanoi – Hai Phong by road, Orchid Cruise (B, L, D)
Have a great breakfast at the hotel. At 9h30 our private driver and guide will come and pick up you for Hai Phong on the new highway to Got Ferry Terminal – Cat Hai Town, Haiphong City where we arrive at around 11h30. The passengers have a chance to experience the longest and newest bridge in the South East Asia area. What's more interesting to enjoy a special tea at Orchid Cruise's lounge as a warm welcome.
Transfer by tender to the Orchid Cruise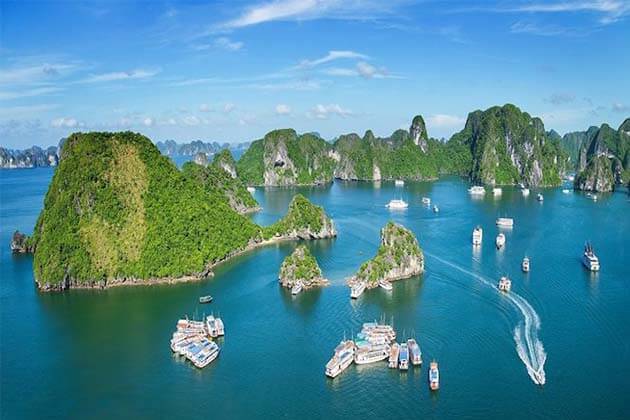 At 12:30 we welcome our guests aboard the ORCHID CRUISE and then check-in, enjoy Welcome Drinks, get itinerary information, safety instructions and check-in. Start cruising and exploring Halong Bay – one of the Seven New Natural Wonders.
At 13:00 ORCHID CRUISE head to Da Chong Island, where you can see a lighthouse built by the French over 100 years ago. Have an international buffet lunch while passing through the islets of the Con Vit area. These amazing limestone formations emerge from the sea impressively. This area is untouched, as not many cruise ships use the route via the Cat Ba Island – Thoi Quyt area – Coc Ngoi islet – through Gia Luan which is lied in Cat Ba National Park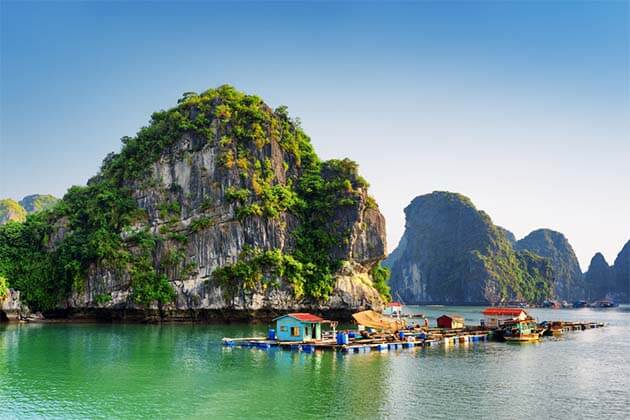 14h15 We progress to Trung Trang cave by our bus on Cat Ba island which is located in the middle of Cat Ba National Park with Kim Giao forest around the cave.
Trung Trang Valley is known as the largest valley on Cat Ba Island. The valley has an area of about 300 ha, a depth of 10m to 30m and is located between Cat Ba National Park about 15km. Trung Trang cave has a length of 300m through the mountain. The cave was carved by nature for more than 2000 years. The cave has many stalactites that encourage visitors to use their imagination.
17h00 Orchid Cruise gets in the less populated area at Tra Bau where is located in Lan Ha Bay where you will enjoy the green emerald and dip into the cool water by swimming
17h45 Returning ORCHID CRUISE, enjoy your time to watch the magnificent sunset over the Gulf of Tonkin. Onboard if you love the traditional cooking class, you also join into. Our master chef will instruct you how to make some Vietnam traditional dishes.
Option: Massage service available. You can book with Cruise Manager directly.
At 19h30 Menu Set, Candlelight dinner is served for you. Enjoy delicious local food that is prepared and served to you by our excellent service staff. This is an interesting meal in an intimate romantic setting.
At 21h30 Enjoy the landscape of the bay at night up on the top deck. Or you also choose to relax whilst enjoying drinks from the bar.
Overnight on board
Day 4: Orchard Cruise on Lan Ha Bay – Mai Chau Ecolodge (B, L)
06h15 Get up early to witness the bay at its very best whilst enjoying an invigorating Tai Chi session on the sundeck. Finish the lesson, the breakfast is willing for you. Full the energy in the morning, we will explore the bay in Ao Ech area by kayaking and discover the hidden charm of Lan Ha Bay.
At 10h30 Tea Ceremony is served at the restaurant. You will learn how to enjoy Vietnamese tea and also know more about Vietnamese cultural at this ceremony. Joining Tea Ceremony with our crews' team where you will have great fun with us!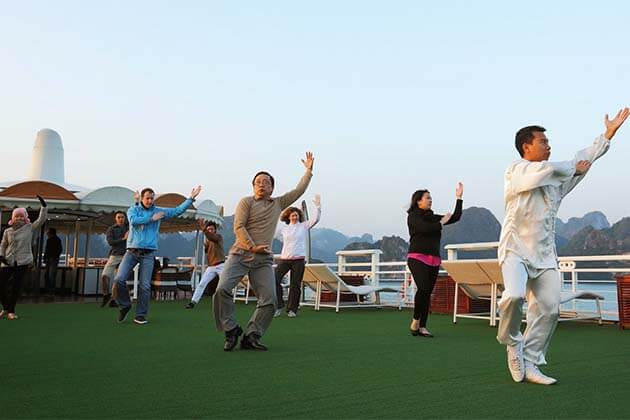 11h45 We return to the quayside in the south of the bay, where our visitors disembark.
The private guide and driver are ready to pick up you, transfer to Mai Chau. It takes 4 hours for the transfer today.
Overnight at Mai Chau Homestay.
Day 5: Trekking in Mai Chau (B, L)
Wake up early, Mai Chau welcome you by the fresh air of the countryside. Enjoy the breakfast before trekking tours to the ethnic villages. Passing through the green rice fields, mountains in the backdrop, gently flowing streams. The dirt roads of Mai Chau won't be a challenge and you can always stop to rest and admire the scenery. Get into the Lac village to enjoy their hospitality, their authentic way of life. Homestay at a local stilt house, you'll have the chance to watch traditional dances and singing performed by the villagers. It's an absolute must-do activity in Mai Chau.
Lying next to Lac Village, then head you to Pom Coong Village is a Thai village that is less touristic than its neighbor with just equally beauties and attractions. Come to Pom Coong to enjoy the idyll nature, wooden stilt houses, traditional performances and Can wine – a communal and festive drink.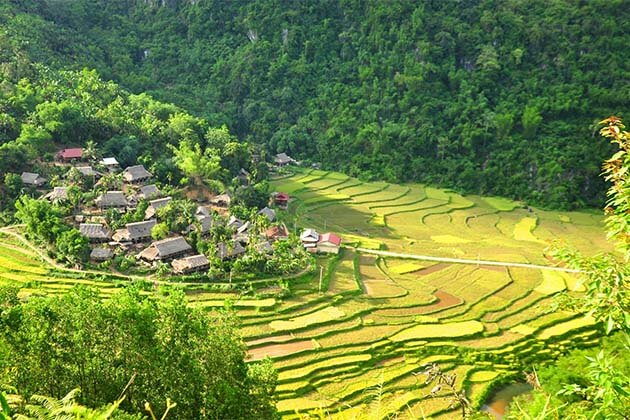 Enjoy the lunch with a local family, then we go to Thung Khe Pass, a famous Mai Chau site to enjoy the views. The pass is on an altitude of about 1000 meters above sea level, cutting through mountain cliffs with a perfect curve. To be more comfortable to enjoy Thung Khe's views, it's best to come to Mai Chau by motorbike.
Overnight at homestay in Mai Chau.
Day 6: Mai Chau – Hanoi – Fly to Hue (B, L)
To make sure that full of the energy in the morning by a great breakfast.  You are leisure until noontime, our driver and guide will take you to get back Hanoi.
Arrive in Hanoi around 6h00, we transfer directly to Hue. After a short flight to Hue, our local tour guide and driver will pick you up and transfer to your hotel.
Overnight in Hue.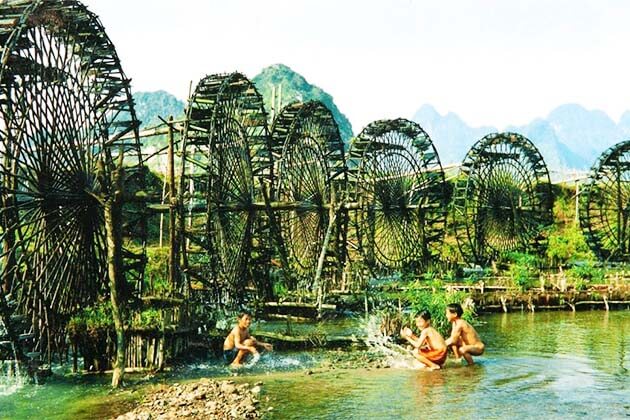 Day 7: Hue City Tour (B, L)
Pick up at the hotel at 8:30 AM, we will board the Dragon Boat on the romantic Perfume River heading out for the countryside. As the former capital, Hue is surrounded with ancient tombs of past emperors, and a visit to the most beautiful tombs will be on the itinerary for today.
Thien Mu Pagoda will be the first stop of the day at Hue. We will enjoy a wonderful view of the Perfume River and the surrounding area. Thien Mu Pagoda is considered a symbol of Hue and Vietnamese Buddhism.
From here, we rejoin our van and go visit King Khai Dinh's Tomb and King Tu Duc's Tomb.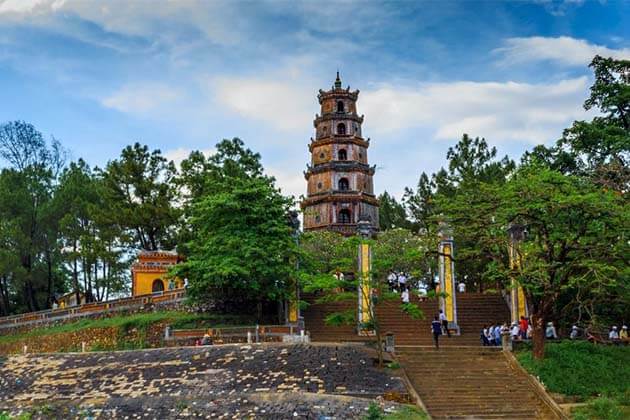 In the afternoon, we visit the Imperial Citadel where the Nguyen Dynasty reigned from 1802 to 1945, after discovering the ruins of this wonderful monument. We will then depart to Hue Royal Fine Arts Museum, located in the former Royal Palace of Long An. End of our day at Dong Ba market where you will see the daily life of the locals.
Overnight in Hue.
Day 8: Bao Vinh ancient Town and Rural Cyclo Tour (B, L)
Around 8h00, Departing from Hue, this 4-hour tour begins with a 2-mile (4-km) bike ride through the imperial city. Follow your guide along small paths to Bao Vinh, a village featuring traditional Vietnamese houses. Cycling to Dieu De Pagoda boarding a boat for a sunset cruise along the Perfume River and you will be served a complimentary cup of Vietnamese coffee or tea before cycling back to Hue.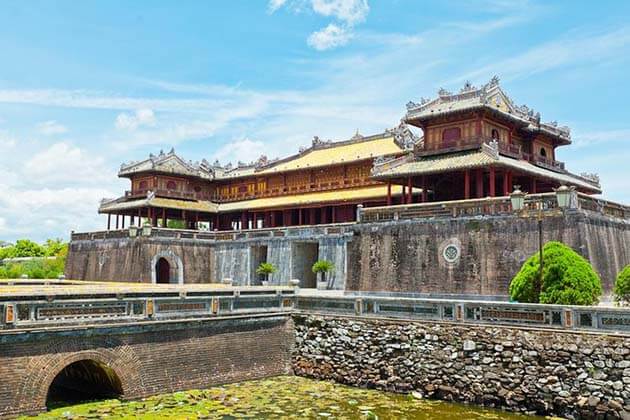 This is a typical itinerary for these products by Hue Imperial City (The Citadel), Hue, Thua Thien – Hue province start our ride with a 4km cycle to Bao Vinh an ancient Vietnamese town. From the 17th to 19th centuries, it used to be a very busy and important trade center in the central region. Then, we will stop to visit the old traditional house in Bao Vinh Village and visit Dieu De pagoda, the entrance of the pagoda is on the banks of the Dong Ba Canal. Dieu De Pagoda was one of the three pagodas in Huế to be declared as a "national pagoda" by Emperor Thiệu Trị and was under the direct patronage of the Nguyễn dynasty. From Dieu De, we take a boat along the Perfume River and enjoy the sunset with a cup of Vietnamese coffee/tea, before ending our day with a cycle back to Hue.
In the afternoon, you are leisure and free in the hotel.
Overnight at Sai Gon
Day 9: Hue – Fly to Ho Chi Minh City (B)
After breakfast, we will be free until your driver arrives to take you to the airport for your departure flight to Ho Chi Minh.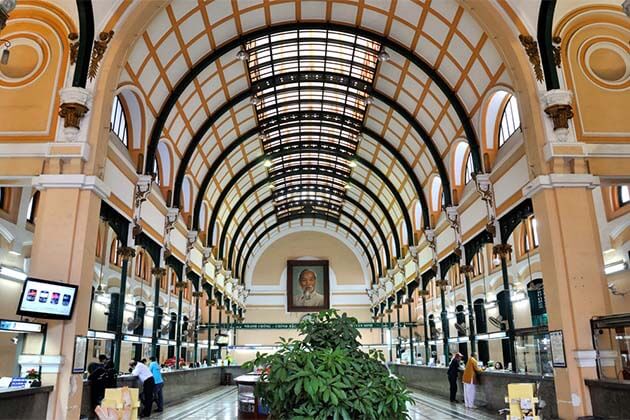 On arrival at Tan Son Nhat airport in Ho Chi Minh City, we will be greeted and driven to our hotel in the city center. After check-in, strolling around the hustle and bustle city and spend the night in Ho Chi Minh City.
Overnight at Sai Gon.
Day 10: Retracting the Past (B, L)
In the morning, we will visit the shrine outside of the US Consulate. Afterward, we will visit the former CIA building – 1st war site (22 Ly Tu Trong street) here helicopters evacuated the remaining US citizens in 1975. Normally, this building is often missed by travelers but it is an important landmark in one the wars most cataclysmic events.
We also visited Independence Palace with the Unified Front Gate – the second war site was the former headquarters of the South Vietnamese Government and the presidential residence. When Northern forces entered Saigon, the palace was their first target. The moment the tank crashed through the front gate bearing the North Vietnamese flag marked a turning point in Vietnamese history and changed the country's path forever.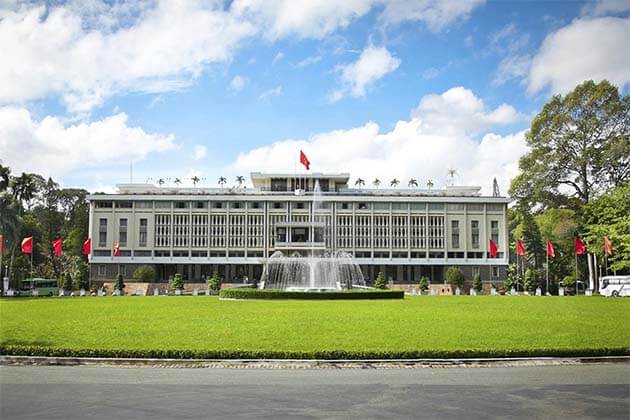 Our next visit is the Venerable Thich Quang Duc Monument – 3rd war site honoring Thich Quang Duc – a Vietnamese Mahayana Buddhist monk who burned himself to death to anti the war. We will go the place Thich Quang Duc burned himself is the intersection between Nguyen Dinh Chieu and Cach Mang Thang 8. There is also a statue of Thich Quang Duc here, to mark an event which shocked the world.
Then, we will get to a historic venue for a late lunch of "pho" at Pho Binh restaurant which was the secret headquarters of the Viet Cong in Saigon. We will take a walk upstairs to learn more about history through the family's photo collection before sitting down and enjoy the traditional taste of pho downstairs.
After that, we move to 197 Ngo Gia Tu, District 10 HCMC – 4th war site for short visit the place, where the Viet Cong soldier, Nguyễn Văn Lém – was being condemned for war crimes and was executed here.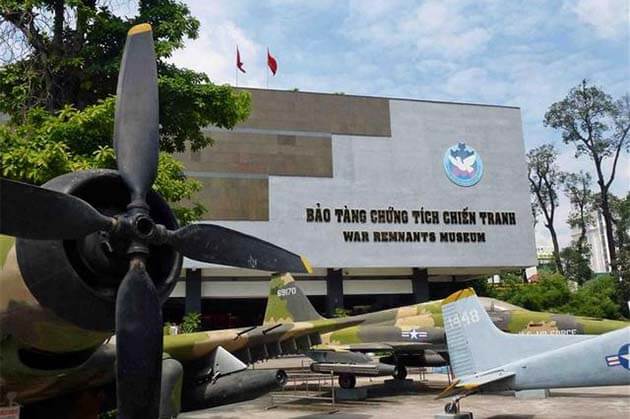 Keep moving War Remnants Museum and learn more about the American war through the local's eyes. Come back hotel after the tour.
Overnight at Sai Gon
Day 11: Full Day at leisure (B)
The day will be free for strolling in the city, shopping or whatever takes your fancy. We'll spend the night in Ho Chi Minh City.
Overnight at Sai Gon
Day 12: Ho Chi Minh City – Fly to Siem Reap (B, D)
Time will be free until our car arrives at the hotel to take us to the airport in good time to board our departure flight to Siemreap.
Welcome to Cambodia!
Upon your arrival at Siem Reap International Airport, after clearing a custom & immigration, welcome by our tour guide and driver who will transfer to selected hotel for check-in (Availability check-in time at 1400). On the way, your tour guide with his/her professional will tell you a little about the history and culture of Cambodia.
Tonight, your first welcome dinner with Apsara Dance Performance show
Overnight at Siem Reap.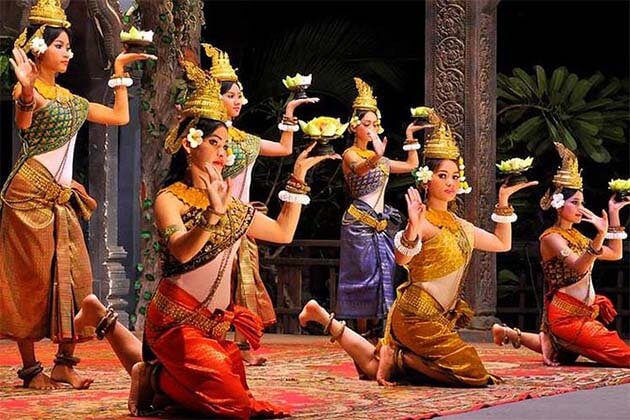 Day 13: Angkor Thom and the Bayon (Half Day) (B)
After enjoying breakfast at the hotel, you will head to see the capital city of the Khmer Empire "Angkor Thom". It is perhaps the best-preserved of all the temples, and the layout and scale are equally breath-taking. At Angkor Thom, you will explore from the South Gate, Bayon, Baphuon, the Terrace of the Elephants and the Terrace of the Leper King, where you cannot miss during your trip in Cambodia. Then going to visit a jungle temple overgrown by balsa wood trees and vines.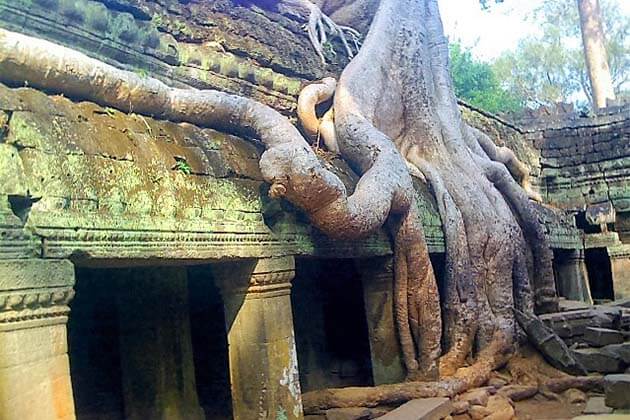 Continue to the trip to visit Ta Prohm Temple with its air of mystery. Once finish, transfer back to the hotel to relax and enjoy hotel facilities.
Overnight at Siem Reap
Day 14: Dawn at the Temple (B)
Early morning rise to see the sunrise over the five towers of Angkor, experience once in your lifetime. Return to the hotel for taking breakfast, you then head back to visit the famous Angkor Wat, built for King Suryavarman II in the early 12th century as his state temple and capital city. The largest and best-preserved temple in the area, this is the only time remaining to be an important religious center of Hinduism first, then Buddhism since its inception. Once finish, transfer back to the hotel to relaxing and enjoy hotel facilities.
Overnight at Siem Reap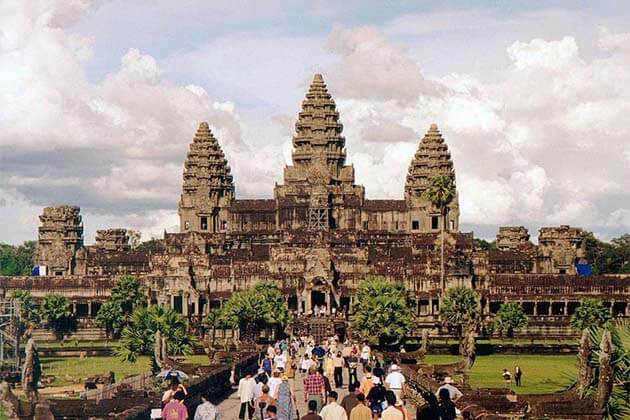 Day 15: Airport Transfer (B)
Having your breakfast at the hotel then you have some free time to relax or discover the little Siem Reap town on your arrangement to Old Market or Angkor Silk Farm. If your time permits, it's good if you can experience with Khmer traditional massage. Your hotel checks out at noon mid-day, based on your departure flight time the guide and driver are ready for transfer you to the airport for taking a flight home.
Trip End!!!
"Free Inquiry this tour if you interest or share your plan with our travel expert"
What's included?
Private Transfer with professional driver for airport transfers and tours
Flights: Hanoi – Hue, Hue – Ho Chi Minh, Ho Chi Minh – Siem Reap. Economy class of Vietnam Airline
Local speaking guide during the trip to take care of you very well
Cruise 5* in Lan Ha Bay, Orchid Cruise with kayak
Hotel 5 * with daily breakfast as per detail itinerary
Apsara show in Siem Reap
Biking in Hue
Trekking in Pu Luong
Meals are mentioned clear on each day in program (Breakfast = B, Lunch = L, Dinner = D)
All sightseeing entrance fees on the program
Bottle of drinking water on bus and room
Go Vietnam Tours will offer free of charge for Vietnam and Cambodia Visa
What's Included?
International flights and airport taxes
Travel Insurance
Other meals which are not indicated above
Surcharge and Compulsory dinners (if any)
Beverages included in the meals at the restaurants
Gratuities to guide and drivers
Personal and other expense such as porter, bar bills and laundry not stated in the itinerary
Notes: 
Please note that hotels and all other logistics, services and travel dates are available. In case of canceled or delayed flights, Go Vietnam Tours will endeavor to ensure the alternative arrangement has the same value as noted in our booking conditions.
The traveling times mentioned in this itinerary are approximations only. The time varies upon the weather, road, traffic or any other prevailing conditions.
This itinerary and additional information was prepared in good faith and were correct at the time of writing. However, it DOES NOT form part of a contract between the client and Goes Vietnam Tours
Special Offer: 
Free of Charge for Vietnam Evisa
Free of charge for Cambodia Evisa
1 local sim card for Vietnam and Cambodia for more convenience